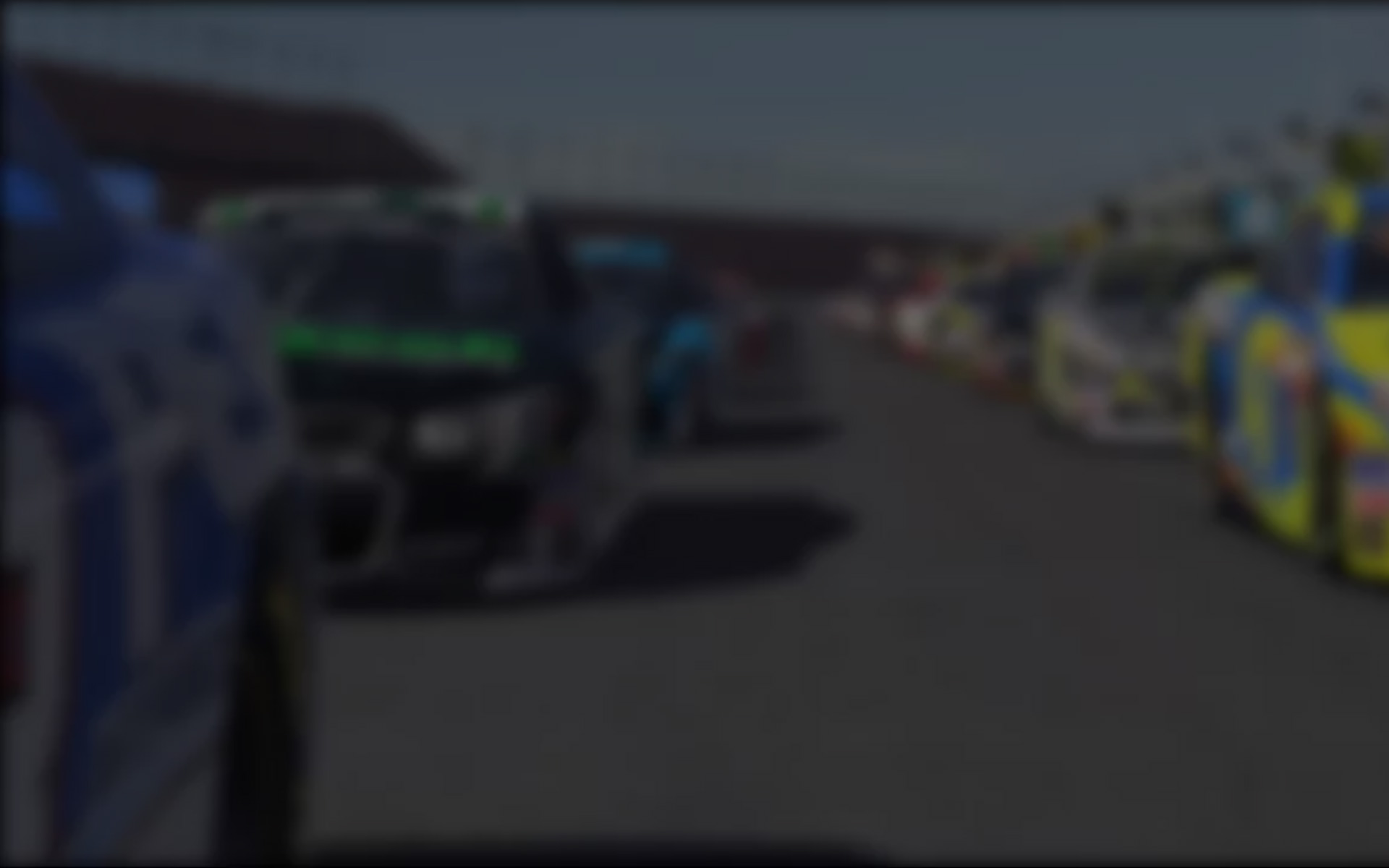 Having survived the thrills of last week's race at Zandvoort, members of the Red Sox Racing League returned to the United States for week eleven of the 2012 Season One schedule where the rolling hills of the Virginia International Raceway (VIR) hosted the 18 lap "Oak Tree Tavern 30 at VIR Full".
VIR has been hosting races since 1957.  It features a 3.27 mile, 17 corner layout which can exhaust even the most seasoned road course drivers.  Texas native and winner of the 1959 24 Hours of Le Mans, Carroll Shelby described VIR this way.  "One lap at VIR is like a hundred at Watkins Glen".  RSR drivers would likely agree with that assessment, as many learned the hard way that 50+ years of racing have not tamed the track.  Two drivers in particular would see opportunities for victory slip from their clutches as the challenging terrain at VIR knocked them out of contention.
Andrew Gantman and Les Turner were the fastest drivers during qualifying in the Class A field.  Gantman earned his 2nd pole of the season with a blistering lap time of 1:38.354.  Turner's lap of 1:38.525 was the only other sub 1:39 lap time posted in the session.  Jim Albertson, Terry Daul, Andrew Feldman, Gary Jorgensen, William Kabela, Divina Galica, and Wilbur Gildersleeve, Jr. completed the HPD grid.  Gildersleeve Jr. was forced to start from his pit stall due to an unprecedented error when league officials noticed that he had forgotten to remove his trousers before hopping in the car.
Reed Rundell led the way in the Class B field when he secured his first RSR pole in recent memory with a lap time of 1:43.952.  Tommy Rhyne started in 2nd place with a lap time of 1:44.115.  Dean Moll, Jeff Thomas, Scott Husted, Ed Sutcliff, Bill Hadden, Larry Krupp, and James Prostell, Jr. completed the Corvette grid.
Things were calm during the pace lap, but the normally cautious RSR drivers were unable to make it safely through Turn One once the race went green.  The first corner at VIR is perhaps one of the most daunting corners on the schedule.  It is a narrow one groove hairpin with virtually no run off area.  Getting sorted out for a single file run through the corner is critical.  The front HPD drivers got through the corner without incident, but things turned ugly when Jorgensen, Kabela and Galica were forced to brake hard to avoid the accordion-like effect of traffic slowing in front of them.
It was a classic case of just too many cars trying to file through the narrow corner at the same time.  By the time Divi reacted to the slowdown in front, she had already been engulfed by Corvettes on either side.  Galica initially managed to avoid contact with Kabela, but a hard hit from behind by Rundell pushed her into the rear of Kabela with enough force to lift his rear tires off the track.  Her momentum carried Galica into the right side of Moll's Corvette, forcing him off track.  His return to the track caused heavy wheel damage to Divi's left front.  Galica retired from the event before the leaders had cleared Turn Five.
The first corner contact dropped Rundell out of first place in the Corvette class and allowed Rhyne to take the lead.  Rundell never recovered.  His race went from bad to worse when he went off track, then crossed back in front of the field during a lazy spin in Turn Four.  Despite a gallant effort to recover, Rundell spun and went off track again in Turn Five.  The Class B pole sitter eventually collected twelve incidents before retiring on Lap Four.
Feldman was the next driver to suffer heavy damage when he went off track and hit the outside tire barriers in Turn Eleven.  He survived the incident with enough car left to return to racing action, but retired after a hard impact with the railing while exiting Turn 5A on Lap Seven.
Moll must have been watching Feldman, because he drove off the track in almost the exact spot in Turn Eleven on Lap Three.  Moll was able to continue driving, but hard impact affected his car enough to cause another spin in Turn Eight two laps later.  Moll would drop four spots before climbing his way back up through the field in the latter half of the race.
Gantman led the early laps, but spun out in Turn Four on Lap Five in an incident which looked identical to the spin Rundell had suffered a lap earlier.  The race leader's car was stopped sideways in the infield grass when Turner drove past into the lead and waved goodbye.
Several other drivers made critical mistakes which cost them valuable track position during the race, but the last incident to impact the race occurred when Albertson mistook Husted's wide approach to Turn Ten as an invitation to pass.  Albertson hit Husted hard enough to send both cars into 360 degree spins through the grass.  Albertson recovered from the accident, but the time it took for him to rejoin the track eventually cost him 2nd place.
Turner, Daul, Sutcliff, and Prostell earned bonus points for completing the event without collecting an incident.
Class A results:
Turner and Gantman gave the fans plenty to cheer about in the opening laps as they battled for the top spot.  Gantman's only mistake of the race allowed Turner to take the lead on Lap Five.  It was all that the past RSR champion needed as he would go on to an impressive 13.6 second margin of victory.  The win was Turner's fifth of the season and cemented his lead in the overall championship.  Turner holds an insurmountable 19 point lead over Gantman going into the final race of the season.
Gantman's 2nd place finish at VIR was his ninth top-5 finish of the season.  He has an eight point lead over Albertson going into the final race.  Albertson escaped disaster during his Lap Twelve incident and hung on to cross the line in third place at VIR.
Daul and Jorgensen rounded out the top five.  Kabela (6th) was the last driver to cross the line on the lead lap.  Gildersleeve (7th) was scored one lap down.  Feldman (8th) and Galica (9th) both retired from the race with damage.
 
While Turner appears to have locked up the HPD season championship, second place is still up for grabs between Gantman and Albertson.  Daul is the only other driver with a shot at a podium position, while Feldman may still have a chance to catch Kabela for 5th place overall.
Class B results:
Rundell gave up the lead to Rhyne in Turn One of Lap One.  Rhyne never looked back, despite a series of challenges from Moll, Thomas, and Husted.  Rhyne's smooth driving and ability to remain focused allowed him to earn his first victory of the season.  It was also his tenth top-5 finish.
Moll crossed the line in 2nd place.  Thomas followed in 3rd place.  Thomas was happy with his effort.  "We had a fun race tonight.  I thought I had 2nd place, but Dean hunted me down, so we'll settle for 3rd.  It was one of our best finishes of the season and helps us stay in the top five in the standings.  TeamDraft has drivers in the top-5 of both classes this season!  I'm looking forward to next week's night race at Daytona RC."
 
Sutcliff (4th) and Prostell (5th) rounded out the top five.  "I was very pleased with the way our team bounced back this week", said Sutcliff.  "We worked hard to keep the car on the track and out of trouble.  The effort paid off."  Prostell had a similar strategy.  "We just concentrated on keeping all four wheels on the track.  The result was another top-5 finish that I'll certainly take!  I've had a great time racing with RSR this season."
Hadden (6th), Husted (7th), Krupp (8th), and Rundell (9th) completed the scoring.
Rhyne has a 3 point lead over McGrew in the championship battle, while Moll, Thomas, and Sutcliff round out the top five spots.
Next event RSR drivers travel to Florida for next week's "RSR Continental 24 Season Finale", at the Daytona Road Course under the lights.
EDIT: Tonight's final event at Daytona RC  has been re-scheduled for April 5th due to torential rains moving in 10 minutes into the qualifying session.
Results / Standings / Video coverage:
Race Results:
https://ileaguerace.com/champ/show_event_result/Red-Sox-Racing-League/1098
League Standings:
https://ileaguerace.com/champ/show_champ/Red-Sox-Racing-League/227
League Video Site:
http://www.youtube.com/user/draftin11
Joining Red Sox Racing League
The Red Sox Racing League is currently accepting driver applications for next season.
The deadline for applying is May 3rd.
Email Jeff Thomas at (jt@teamdraft.com) if you are interested.
---
You may also like...
---