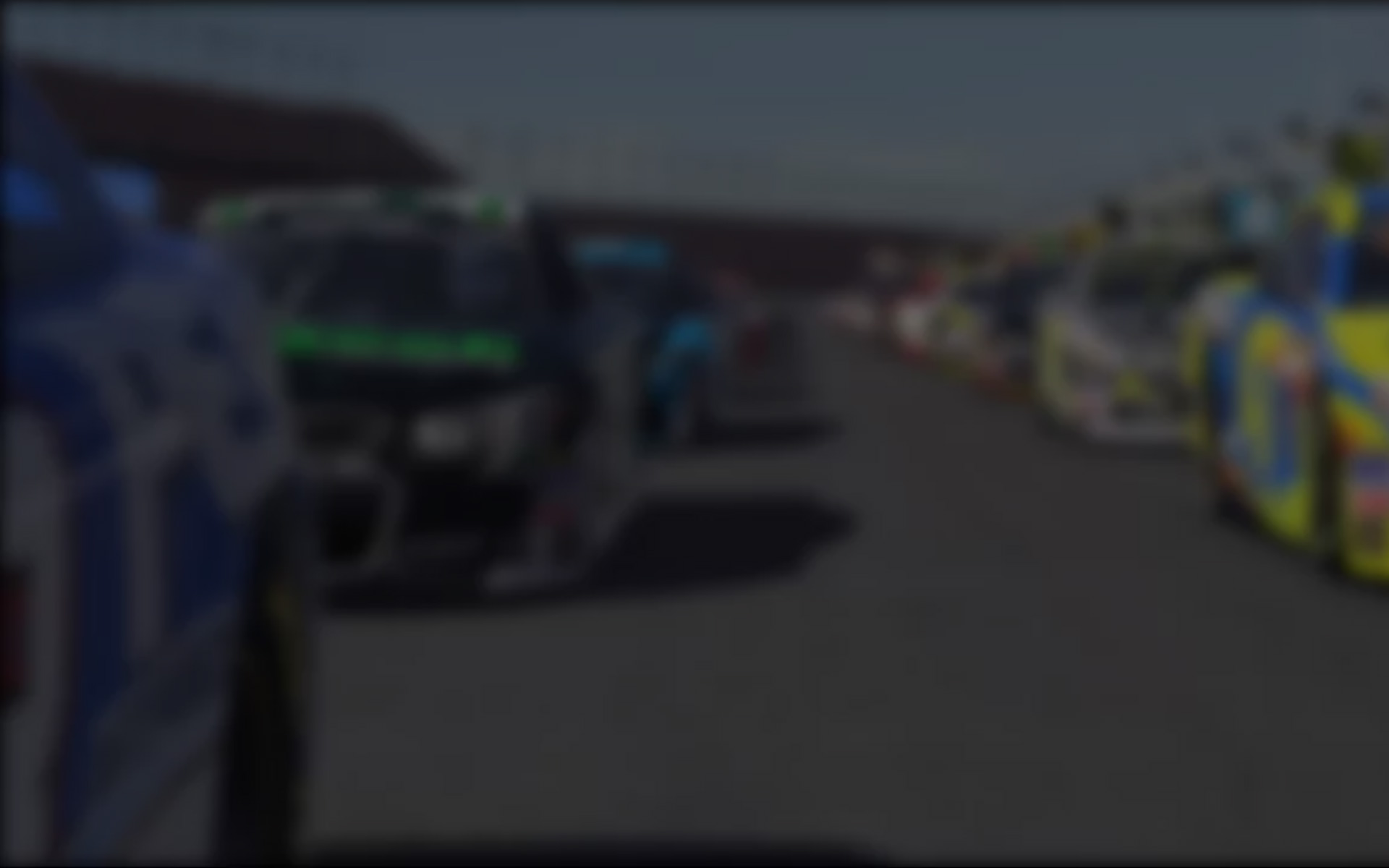 The Ford Falcon V8 Supercar, if it could pick a home, would probably choose Phillip Island Grand Prix Circuit in Victoria, Australia.  The track suits the V8 perfectly with its long sweeping corners and incredible top-speed, making racing here a joy for the V8 drivers.  Home to the L&H 500, a premier Australian endurance race, it would serve as the host for ISRA's O'Neil PC Systems Grand Touring Championship (GTC) Round Two.  Always a popular track in iRacing, this online race would not disappoint with entries from 37 sim racers all eager for a great result.
With such tight competition qualifying can be crucial.  Although the races are over an hour long a poor qualifying performance will almost certainly ruin an otherwise promising race.  The top six V8 Supercars representing the GT class all qualified within one second of each other.  Most V8 drivers have lots of track time here, and it showed!  Pole position would go to David Sirois with a 1:32.924 to claim his second consecutive pole of the season.  The GS class order was a little more evenly spread out.  The victor at Mazda Raceway Laguna Seca, Marc Payne claimed the pole in his Mustang FR500S with a 1:45.1.  In the ST class, iRacing veteran and professional racing driver, Eric Foss put his Mazda MX-5 on the pole with a 1:51.5 ahead of Round One winner Colin MacLean.
With 37 cars on the grid it takes a whole lot of co-operation and respect to pull-off a clean race start but the GTC drivers always seem to perform brilliantly in these conditions.  Blasting into Turn One everyone left room, drove smart and the result was a clean run to the hairpin.  Unfortunately for the three Mustangs of Jim McInnis, Randy Wolfgram and PJ Losey, the race would only last one lap as a spin by McInnis caught-up Losey and Wolfgram ending their race in the hairpin.  Their early exit opened up the GS race, putting their second and third spots up for grabs.  Previous seasons have shown that literally every point counts and these drivers will have to work hard to make up the lost points.
Avoiding the incident in the hairpin, Payne was able to pull away for a dominating win.  With the absence of previous series champions Mike Young and Jaymz Mynes and the early exit of his closest competition, Payne's only goal was not to make a mistake and throw away a certain victory.
"Wow! That was amazing seeing 37 cars on the grid at this picturesque track and congrats to all the finishers and podiums," said Payne.  "The ISRA GTC really is special to get these fields of cars racing every week.  I look forward to seeing how the championships unfold and good luck everyone!"
With Payne driving off into the distance the battle was for the remaining podium spots was on!  Gilles Mourette led the rest of the pack with Lance Snyder hot on his heels in third.  It didn't take long for John Roussetos to catch them up and join in the fun.  While watching the cars ahead Roussetos was quickly reeled-in and passed by Chuck Chambliss, who had been delayed in the first lap incident.  With damage to his suspension it was all Chambliss could do to keep the car on the track.
On Lap Seven it all went wrong for Mourette in the long and challenging Turn Two.  Entering a little hot he put two wheels on the grass, which was enough to relinquish the second and third spots to Snyder and Chambliss.  Clawing his way back to contention with some fast laps Mourette put the move on Chambliss into Turn One on Lap 10 to reclaim third place.  Chambliss had no answer, as his damaged car would not perform at 100%.  Collecting his thoughts and dialing in his damaged car, Chambliss began a methodical push for the front.  Mcleish and Snyder would make their pit-stops on Lap 18.  By this point Chambliss was hot on the tail of Mourette and elected to make a pit stop on Lap 19.
Once the pit-stops shook out the big winner was Mcleish who vaulted ahead of Chambliss and Snyder into third.  His fastest laps of the race came immediately following the pit stop which allowed him to make the pit lane strategy work for him.  By Lap 30 Mcleish had closed up to Mourette and then joined the fight for second place.  Mcleish was the quicker car at this stage of the race and pressured Mourette hard for the position.  With two laps to go Mcleish attempted the outside pass into the hairpin.  Although he got his nose ahead, Mcleish left Mourette plenty of room to reclaim his position with a better exit.  Mcleish knew he had the pace and kept the pressure on.  It was not to be though.  Mourette defended his position hard and Mcleish had to settle for a hard-fought third place behind Mourette and Payne.
The ST class MX-5s were extremely close in qualifying, as less than a second covered the first six cars.  Needless to say the drivers all knew any mistakes on the opening lap would spell disaster, as you could go from first to sixth and never regain the positions running with cars whose pace was within hundredths of of second of your own.  That also meant, however, that any places gained on the opening lap could be held for the remaining 36!
As the green flag fell, fourth staring Daniel Graulty, got an absolute flier to catapulting himself past Jerry Knitter and second fastest qualifier MacLean to slot in behind Foss into Turn One.  MacLean had no intention of letting Foss, an old SCCA Club Racing competitor, get away and dived under Graulty into Turn Two.  Graulty pushed hard for the remainder of the lap and almost made it past but MacLean held him off.  Foss, MacLean and Graulty hooked up at the front of the field and started to pull away from the rest of the pack.
Working through Turn Two, Alex Ulleri got a great run on Knitter who was forced to defend into the hairpin.  Ulleri ran the wide line and pulled ahead of Knitter.  Mike Kelley was a big beneficiary of the Lap One incident in the hairpin and worked his way up to fifth behind Ulleri.  Lap Four saw Kelley get a great run out of the final turn and use Ulleri's draft to slip by into Turn One.  Ahead of Kelley, Graulty was pushing as hard as he could to keep-up with Foss and MacLean.  As the V8s closed in to lap the Mazdas, Graulty moved offline and was collected by a crossed-up, sliding Chris Damron Jr. who was doing his best to avoid a collision.  Although he didn't receive any damage, Graulty was nonetheless knocked way down the order making a podium finish a tough proposition.  A great battle would then develop with Ryan Cornes leading the pack with Graulty, Knitter, Gerry Moersdorf, Gary Miller and Daniel Quaroni all within inches on the track.  Under intense pressure from Graulty, Cornes would eventually run wide into the grass and relinquish his hard-fought fourth position.  The MX-5 pack battled hard for many laps, putting on a great show for the GT and GS cars that were passing almost every lap it seemed.  Ahead, Ulleri had caught up to Kelley and was fighting for the position.  In an attempt to relive the pressure, Kelley brought his MX-5 into the pits on Lap Nine with the intent of running in clear air without the pressure of another MX-5 bearing down.
At the front Foss was pulling a gap to MacLean who was beginning to formulate a pit strategy that would bring him in and out of the pits ahead of the leader.  When Foss pitted from a sizable lead on Lap 20, MacLean knew he had no option but to make a fast pit stop and not take tires or fuel.  MacLean had to build up a gap to Foss in order to exit the pits first.  The magic number was 25 seconds but Foss returned to the track only 20 seconds behind MacLean.  MacLean pushed as hard as he could but couldn't gain the required five seconds.  He exited the pits a scant five seconds behind Foss but that was enough of a gap for Foss to carry it to the finish.
"Eric is a very fast and consistent driver who had my number today," said MacLean.  "I knew my best chance was for an aggressive pit strategy and it almost worked!"
Foss took the win in his stride.  "Great fun everyone!" he said.
The mandatory pit stop made for some great strategy.  I look forward to the next race!"
Behind the leaders Daniel Graulty was working as hard as he could to try and build up the gap to Kelley while battling with Ulleri.  Graulty and Ulleri pitted together on Lap 21 and exited the pits five seconds behind Kelley.  This was too much of a gap to overcome so the two settled into a fight for fourth place as Kelley drove his MX-5 home for a well-earned third place.  Graulty bided his time and on Lap 23 made the pass.  Graulty tried his best to catch Kelley but it was not to be.  An entertaining race for him for sure!
In the GT class an exciting race was almost a foregone conclusion with the top five drivers all in the 1:33s, a rapid pace indeed.  Throw in 26 slower Mustang and MX-5s and you have the recipe for an incredible mental challenge.  Timing the passes and not giving up any time to your close opposition is the name of the game for the V8 drivers.  Sirois was determined to avenge his defeat at the hands of Kevin Savoie in the first round at Laguna Seca and made no mistake getting off to a clean start.  Savoie slotted in behind Sirois with Andre Michaud and Damron close behind.  Damron quickly realized he could not let the leaders get away and pushed hard — t00 hard — into the hairpin, turning Michaud around and letting Martin Dube slip by into third place.  Luckily Michaud and Damron both got away without any damage.  Damron would quickly catch up to Dube and again there was slight contact with Dube's rear bumper, just enough to spin Dube as Damron passed into third.
The intensity would soon ratchet up as the V8 leaders caught a massive gaggle of Mazdas on the front straight on Lap Six.  With seven MX-5s spread all over the track, battling nose-to-tail for position, the leading V8 drivers had to make some quick decisions as a 40mph closing speed does not give much time for reaction or indecisiveness.  Dean Ayer, deep in the MX-5 pack, didn't see Savoie in his blind spot and in an attempt to resume the racing line unfortunately pulled directly into the path of the Falcon who was doing 160mph.  Savoie had nowhere to go and absolutely annihilatied Ayer's car, ending his day.  Luckily Savoie's car received only relatively minor front-end damage and he was able to continue albeit slightly shaken.
"I tried to drive it but it was super tight and I was losing time to Chris and Andre," he explained.  "So I decided to short pit and hope I could get ahead far enough to stay there.  Pitted on Lap 12 and leap-frogged into second hoping to have a big enough gap. It was not to be.
I finished the race with the right-front tire worn to the cords.  That said, I'm happy I was able to get a third place finish.  It could have been a whole lot worse."
Savoie's incident opened the door for Damron and Michaud to apply the pressure and push the wounded Canadian.  Savoie immediately ran wide in Turn Two as he got a feel for the damage to his car which let Damron and Michaud grab the two podium spots.  Savoie had no option but to gamble on pit strategy and pitted for an extremely early stop on Lap 12.  The V8 is notoriously hard on rubber, so Savoie would have to be gentle on his tires if he wanted to have any hope of passing and holding Damron and Michaud behind him for the full race distance.
Life for Savoie and Damron would get much easier on Lap 14 as Michaud made a mistake exiting the final turn onto the front straight and spun, making hard contact with the inside wall which launched him across the track right into the path of Damron who barely missed him.  Incredibly Michaud's suspension received no damage and he continued on.  However, the incident took him out of contention for the podium and that battle would play out in the second half of the race.  Exiting the pits on Lap 20 Damron found himself five seconds behind Savoie.  Damron knew Savoie not only had race damage from his incident but was also nursing tires that he changed on Lap 12.  Damron guessed that a mistake was just a matter of time so did not take any risks with a pass and sure enough Savoie went wide in Turn One giving Damron the second podium spot.  That's how the GT class finished, the first win of the season for Sirois, a second place for Damron and third for Savoie who definitely earned that spot after a tough night behind the wheel.
"Starting from pole, after six laps, everything was looking good. I was not pushing too much – especially under braking – and I think tire wear was looking good.  Then, Kevin had his contact.  The rest of the race was pretty quiet,"- said a composed Sirois
"I kept a good pace, taking care of my tires and keeping an eye on the gap with André and Chris.  Nice race everyone!"
Road Atlanta is the venue for Round Three of the series; a track much better suited to the MX-5s and Mustangs than the V8 Supercars.  Road Atlanta is a difficult track which does not tolerate any mistakes: its concrete walls have claimed their fair share of cars and all drivers need to be on their toes if they don't want to add to the tally.  Visit inRacingNews for the full story next week!
Visit http://www.israleague.com to get involved and to get in line for a highly sought after race seat.  There are always one or two slots open at each race so sign up to the waiting list and 15 minutes before the race starts you will receive a "fill the grid" notification.  You can then join in what is rapidly becoming the premier iRacing hosted multi-class racing series.  See you on track!
---
You may also like...
---