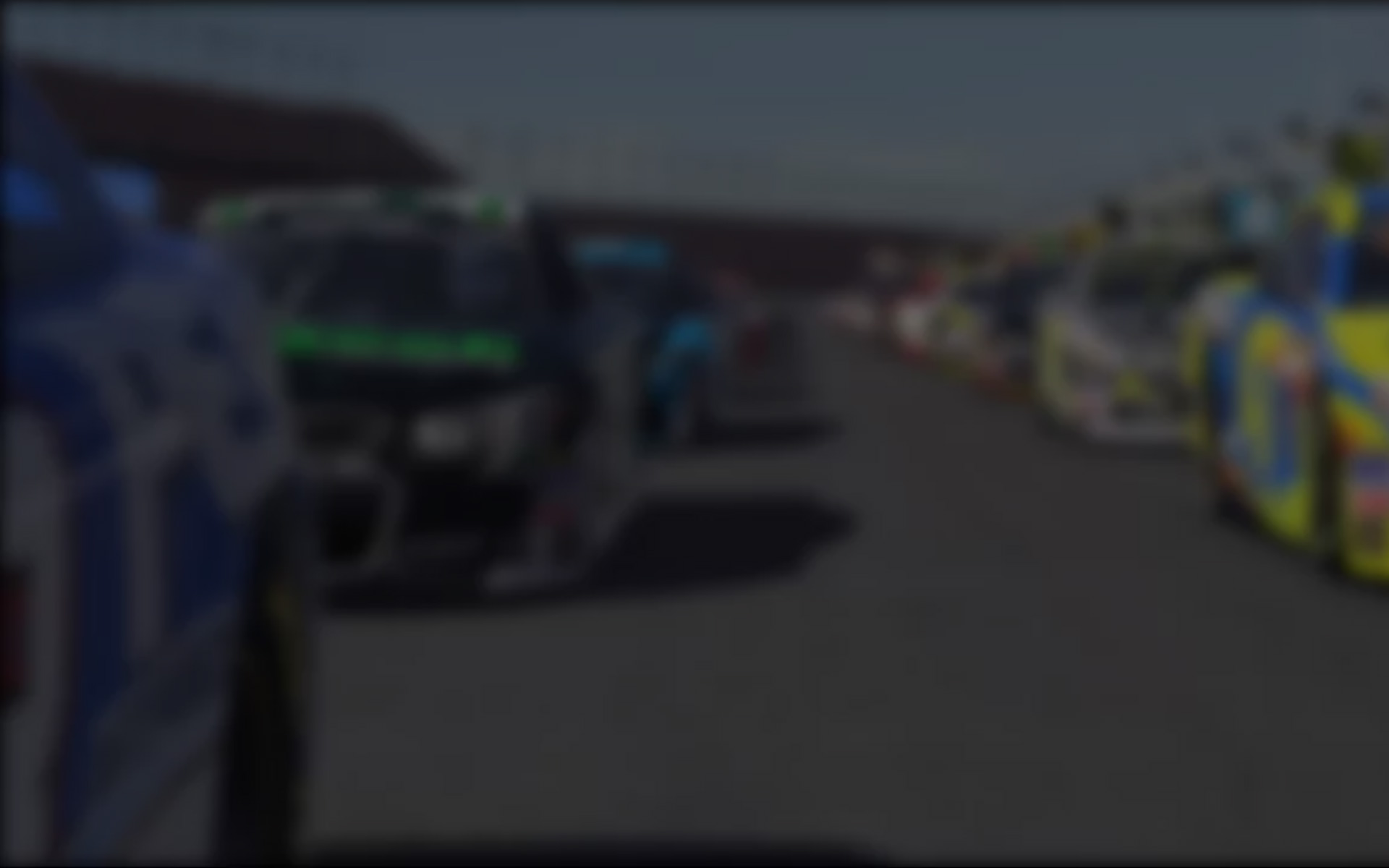 As the opening round of the 2013 iRacing.com World Championship Grand Prix Series at Spa-Francorchamps on March 2 edges ever closer, we can look forward to seeing some new and familiar names battling for the most coveted sim-racing title in the world . . . and prizes valued at nearly $20,000.   One fresh-faced individual who will be debuting and looking to make his mark on the championship is Mogar Filho, who recently qualified for the iWCGPS by securing second position in the 2012 iRacing Road Pro Series in January.
For Filho, it's another step in a long-established online racing career that has seen him progress from blocky pixels to high definition. "I always preferred racing games when I started playing video games (back on Atari days), but always looked for the most realistic ones," the Brazilian told inRacingNews this week. "On 2003 I had contact with racing simulators and bought a steering wheel for my computer, and this became almost my only choice for gaming. On 2005 I started racing on private leagues for sim-racing on Live for Speed, and on 2010 switched to iRacing.
"Initially the iRacing service made me quit from league racing, and I was not interested on high level competition. But later I went again for league racing, and started to improve my license.
"On Season 1 2012 the iRacing Brasil league started a season on Williams-Toyota FW31 where Hugo Luis was going to race (I know him from long time ago).  I decided to participate to learn driving this car by being on track with him and studying his lines and techniques, and with the performances I had he encouraged me on trying to reach the Pro license and joining the World Championship Series."
Filho is not the first Brazil-based sim-racer to step up to the top level of iRacing, and he heralds an influx of South Americans who are discovering the joys of online competition. "The Brazilian people have a passion for racing for a long time, but some factors like computer hardware price (due to taxes they are very expensive here), (steering) wheels availability, and the difficulties on getting international credit cards made the Brazilian community to grow slowly," the electronics engineer explains. "Now things are more accessible (not only on hardware options but also the money exchange rate) and this allowed more Brazilians to show up."
Although Filho has only been using the iRacing service for a relatively short time, his talent and achievements brought him to the attention of the Radicals Racing Team, who wasted no time in signing him to their ranks. "My performances on the Williams-Toyota FW31 car at the Brazilian league got attention from Carlos Passos (a Radicals driver who is part of the Brazilian community) and he presented me to Andy [Kirschetorte], our team principal. Since my philosophy matched the team's philosophy, I've been invited to make part of it."
Once Filho was assimilated into the Radicals team, the improvements it brought to his racing became instantly apparent. "The first thing that made an immediate difference was being able to practice with other drivers used to high level sim-racing," the São Paulo resident shares. "Practicing with them made me learn a lot about driving under pressure in a close pack, and also about how to set up the car. Although driving on simulators since 2003, the things I learnt were crucial to allow me to fight for top positions on the Class A series (iRacing Grand Prix Series) and on Pro Series. Also, the team has a great atmosphere."
"The first thing that made an immediate difference was being able to practice with other drivers used to high level sim-racing . . . Also the team has a great atmosphere."
When an individual harbors such talent, many account it to the equipment they use.  But as Filho shows, even a basic setup can yield results. "My equipment is not that special," he offers earnestly. "I have a standard G27 without modifications or accessories, a mainstream computer with one 20"screen and a Playseat evolution cockpit. The only thing 'special' that I do is that I clean the pedal sensors periodically to ensure they are working with brand new precision."
What Filho does believe, is there are several facets to perform at the top level of online-racing. "I believe that there are three keys that you can't separate: talent, knowledge and practice. You can't do well and keep on high level without one of the three," observes the 31 year old.
To bag his his seat in the iRacing World Championship Series, Filho had to secure a top 25 position in the iRPS. But he surpassed that, by ending the season in the runners up spot, with multiple podium finishes to his name. "Initially I didn't think I would able to fight for victories, specially looking at the line-up, although I was very confident I would be on top 25 to qualify for the iWCGPS.
"I'm happy with the performance I had and the consistency on races,"he reflects, "but I think that there are some areas to improve, like improving my speed on cold tyres and under draft conditions. Given the quality of the drivers who drove this series, I'm very pleased with the position I ended the championship."
However, despite consistent high finishes, an outright victory always eluded Filho. "Some races I admit I got frustrated, especially Road America and Indy where I had the pace for win, but race conditions didn't allow me," he adds, "But as I said before, I'm satisfied with the performance I had, and I don't think the lack of victories takes my confidence away. I'll always try to do my best, and try to be focused on what I'm doing."
Like all other entrants to the iWCGPS, Filho had to work his way through the various ranks and cars, which proved to be a valuable learning curve. "First car I took was the SpecRacer Ford, which I raced both official series and league races," he said about the path he took through the iRacing service. "I really like this car, and it teaches a lot about how to control weight transfer and how pedal inputs change the car behavior. It was also a good setup school, since it doesn't have a lot of parameters to change, but have enough to you start learning their influence. After that, I took the Skip Barber due to a league championship where some friends were going to race. Then I went almost straight to the F1 due to the Brazilian league I told before that Hugo Luis was going to race.
"I really like (the SRF) . . . it teaches a lot about how to control weight transfer and how pedal inputs change the car behavior."
"During that league championship, I decided to try the Class A championship and kept focused on this car."
For any would be champions looking to make their way to the upper echelons of sim-racing, Filho has some sage words. "First advice would be to don't rush," he offers to new members of iRacing. "Take each step, do the rookie series, master each car before stepping to the next car, and try to take most of it both on driving techniques and setups. The knowledge you will build through this process will do a difference when you are at a higher level."
Turning to the forthcoming 2013 World Championship, the Brazilian is aiming high and hoping for similar success to his 2012 iRPS season. "My aim is to be at top 10. We can't forget that there are legends on sim-racing on this series, and even the mid-pack is very competitive," Filho positively shares. "I believe it's the strongest field in the world of sim-racing. It's really special to qualify for this series, and top 10 is already an excellent result.
"I expect that I will be fighting closely with [Richie] Stanaway and [Emile] Spindel, that did great at the Pro Series, but I expect also to be fighting for positions with my teammates, that are very fast."
Arguably, one of the biggest new names in online-racing is Hugo Luis, Filho's fellow countryman who claimed the World Championship title in 2011 and challenged until the end in 2012, when the crown went to Greger Huttu. For Filho, Luis' performances serve as a marker for his sim-racing career. "He is a reference for us, not only on speed but sportsmanship," he enthuses.
"(Hugo Luis) is a reference for us, not only on speed but sportsmanship."
When the iWCGPS returns, it will once again pitch up to 40 sim-racers against each other in digital replicas of the Williams-Toyota FW31. The car's uncompromising speed and handling are a challenge within itself, a fact not lost on Filho. "This is a hard car to setup and has a big weight variation as fuel is consumed," he says of the dynamic Formula One car. "The various controls allow you to do fine adjustments during the race to compensate balance under different weight, tyre conditions and draft conditions. Those features are really nice, but you need to know how the car will behave on each condition. It's never a good thing to have unknown reactions on a car with so small reaction times.
"Combining it with the fact that everything happens very fast on this car, especially on fight for positions, it's an extra challenge for concentration."
Whilst setting-up the car is a key skill, Filho argues it can't totally overcome the talent gap. "I think that setup does matter, especially on a field where you can find a dozen of drivers under the same half of a second, but I don't think that setup can make-up the gap on talent (except on cases where someone find some way to exploit the simulator physics and get unfair advantages, what on iRacing is quite hard to happen since physics are updated every three months)," he asserts. "To build good setups you need a lot of driving skills, sensitivity and knowledge on mechanics, so building the 'killer' setup is a merit and depends on talent. Also, the fast setups usually require a lot of talent and practice to be taken to the limit, so the slow or inexperienced drivers may not be able to take any advantage from them."
In the 2012 iRacing Road Pro Series, Filho established a reputation for clean competitive racing, with blistering starts, which was a crucial part of his total performance. "Starts used to be my weak point, and I did a lot of practice to improve it," he offers. "There is not really a special secret on my start technique, just practiced a lot to find the optimal throttle and clutch points, and practiced a lot to be able to hit those points with all the pressure you have when green light goes on.
"Building the 'killer' setup is a merit and depends on talent."
"This car is very tricky at starts, and since the 2009 F1 cars were not easy at all to overtake (those were pre-DRS days), so I think that starts are one of the best opportunities to overtake (or ruin your race)."
Apart from raw pace, strategy plays a key role in races that see the digital Formula One cars make several visits to pit-lane during the course of a race, as Filho explains. "Those who watched the Road Pro Series Road America race broadcast could see how strategy can be important to the race result (I was leading the race, but got stuck behind a driver on a different strategy for some laps on a critical part of the race [which] made me drop to fourth after the second round of pit-stops, and allowed [Davy] Decorps that was on a one-stop strategy to win).
"Like on game theory, the strategy of the other drivers can determine if your strategy will be successful or not," he adds.  "It's not just a matter of which one will be the fastest.  I expect strategy playing a similar role for the 2013 Word Championship season."
Although Mogar will be playing out his own racing soap-opera, he's confident that viewers of the live broadcast racers will be constantly entertained. "I believe they can expect very close racing, with lots of fights for positions on the whole grid. It will really be exciting to watch."
With an 18 race calendar, there'll be plenty of opportunities for Filho to make his mark, and the Radicals Team pilot will be aiming for top performances at several of the millimeter perfect renditions of the world's greatest circuits.  High on the list is Autódromo José Carlos Pace (aka Interlagos), the newest addition to iRacing's inventory of race tracks.
"Of course I'm looking forward to Interlagos," he says. "This track is located in my hometown (São Paulo), and I had already the opportunity to be on this track on a commemorative event, but I think that my chance for best results will be at Spa due to driving style."
Of course, to perform at the pinnacle of sim-racing takes a lot of time and dedication, as Filho explains. "The Pro Series took me a lot of time, way more that I was used to. Not only the schedule was very tight, but also most of my teammates were on a well-deserved vacation after the 2012 World Championship, so I had to lead the car and strategy development.  I had to dedicate up to 10 hours/week of practice, building setups, studying telemetry and strategies. The iWCGPS  has one race each two weeks, so this same time can be spread over two weeks. Also, for the iWCGPS my team will be at full steam, so I will have more drivers to share information and test different things."
Despite the time Filho spends on his sim-racing 'career,' his family understands his passion. "My family understands that I take this as a cheap way to be involved with races (real life racing is more expensive than I can afford on the level I would like to compete)," he confesses. "Most of my friends don't understand the difference between sim-racing and arcade racing games, nor are avid racing fans."
For Filho, his iRacing exploits are just one branch of his hobby, having also put in plenty of track time at real life circuits in his time. "I did some private amateur go-kart cups with 13hp go-karts, with like 70 drivers competing and could win some of them," he proudly tells inRacingNews.
"But my biggest real racing adventure was competing on Granja Viana 500 mile. It was a 500 mile go-kart race, where real life drivers like Rubens Barrichello, Tony Kanaan, (Nelson) Piquet Jr., Lucas di Grassi, Vitor Meira and Felipe Giaffone among several others worldwide known drivers took part. My team, despite budget limitations and an engine failure that cost us over 30 minutes repair finished 38th among 60 teams. It was a dream that came true to be on track with those drivers. One of the best experiences I had on my whole life."
Mogar's forthcoming appearance in the 2013 iRacing World Championship Grand Prix Series will be his first time at the highest level of sim-racing. So is he nervous? "Not that much. I think that I'm a bit less than for the Pro Series debut since I feel that being part of it is already a victory. But I'm anxious to see the green light."
---
You may also like...
---