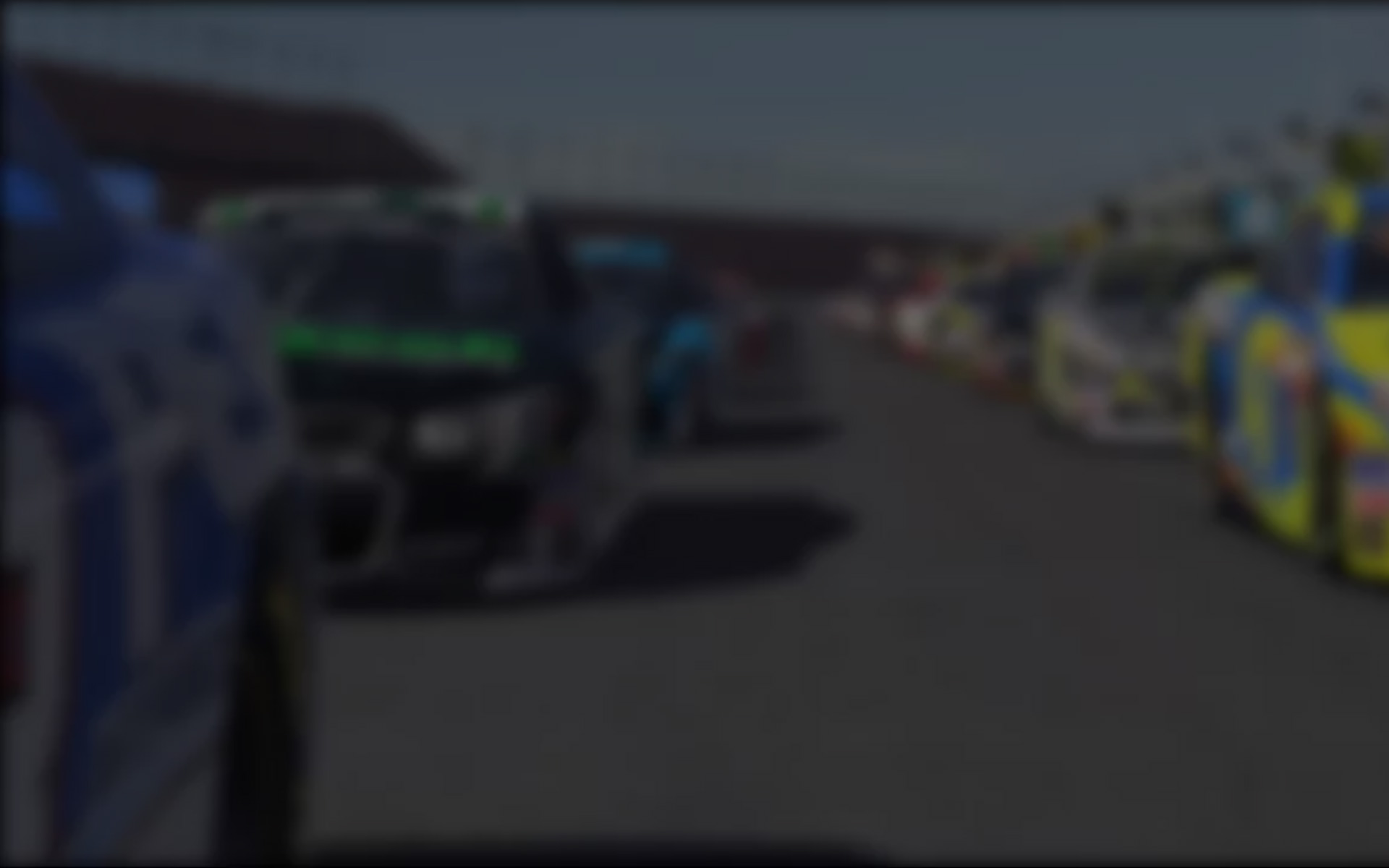 CHARLOTTE, NC – Kids say the darnedest things.
An inquisitive young fan attending the Red Sox Racing League's Super Late Model season-ending race at the Charlotte Motor Speedway, simply had to ask the question while in the autograph line – "Is there anything you won't drive?"
"Well, I haven't turned down a ride, if that's what you're getting at," said long term RSR driver Les Turner with a wry smile.
Turner wasn't exactly kidding. Over the past six years, the Red Sox Racing League have sanctioned races featuring no fewer than 10 different makes and models of racing vehicles, ranging from Street Stocks and Late Models, to former Formula One cars, Prototypes, a handful of GT racers, open-wheeled Skip Barber cars all the way up to last season's fleet of Ford GT3 vehicles, season in, season out, all with evenly tuned spec setups.  "It's really a win-win-win situation," explained series officials.  "First and foremost, it matches racecars that would otherwise lay dormant, save the odd amateur or vintage weekend here or there, with the Red Sox Racing League competitors, who are more than ready and willing to give these cars a workout every week.  Second, it's easy exposure for the manufacturers.  Sure, they might not be the exact model the dealerships are working to push at that moment, but it gets their emblems in front of a lot of eyeballs without having to shell out a dime for development.  These tried-and-true cars have already been pushed as far as they'll go.  And third, the level playing field takes a huge burden off the teams, and the officials too."
Then again, the burden of actually finding that setup still exists. "I'm convinced there couldn't be a more appropriate name out there for Mr. Turner, as he's turned lap after valuable lap in practice to help us put the show on," said an official, appreciative of Les Turner's eagerness to help find the right balance of speed and handling every week.  "We've honestly had to hold him back a bit – he'd be out there for four-hour stints, and even halfway through the third hour, he's asking for a little more pressure in this tire, a little camber added there, pushing for perfection."  That data wouldn't go to waste – adding to already long list in the Red Sox Racing catalog, the six week series featured Chevrolet, Ford, Dodge, and Toyota Super Late Model oval racers, each with engines generating 550 horsepower and bodies making incredible levels of downforce to go with them.  Adding to the challenge – increasing sizes of race track.  Each week featured a lap distance longer than previous round, starting with South Boston, followed by Martinsville, Richmond International Raceway, Iowa Speedway, and Phoenix International Raceway before the series culminates in Charlotte.
That first race at South Boston, a 150-lap affair and the first of four night races, surprisingly went from flag to flag without a single caution.  Les Turner may have lead 123 of the event's laps, and Dean Moll may have been fresh off of his wire-to-wire Ford GT championship, but each would finish third and second respectively with Sam Dobie taking the top honors that week.  On to Martinsville, where Dean Moll showed off his winning ways again, leading 109 of the 110 laps the race called for.  Slowed by four cautions, the only lap that didn't belong to Moll was a stop on pitlane for service! Moll was flanked by the only other lap leader, Jeff Sharp in second and Kevin Kyle in third.
Another night race followed at Richmond International Raceway where Brian Irby stole the show, leading 86 of the 95 laps, including the final lap for the win.  Second-placed Sam Dobie wasn't going to make it easy, finishing just over a half a second behind with Les Turner standing on the third step of the podium.    The next race at Iowa rekindled a familiar setting and rivalry, with Dean Moll surviving a spin and taking the checkered flag with Dave Hoffman not too far behind in his mirrors at race end.  Kevin Kyle finished third, with the podium accounting for all laps led except one.
Leader of that lap?  Caribbean Food Delights driver James Prostell Jr.  "I'm not the best road racer in the world, but put me on an oval, and I'm having an even harder time keeping up," lamented the Ford Mustang Super Late Model driver.  "But we weren't going to give up, and we saw an opportunity to snatch the lead by outlasting the field into the pits.  While everyone else was calling for tires and fuel, my crew chief yelled to 'run the car dry!' so I did – I sputtered across the line in what had to be the least impressive lead lap under green in RSR history," joked Prostell. "Adding to the embarrassment, though, we had no power by the second half of the lap, coasting only on whatever momentum we had which was erased when I misjudged pit entry and grazed the wall entering the pits.  I never made it back to my stall!  Race over!"
A trip to the desert followed, where the blazing speed of Brian Irby was matched only by the Arizona sun at Phoenix Internation Raceway. Leading 59 of 65 caution-free laps, Irby took the win over last week's winner Dean Moll and Kevin Kyle.   The heat would really be on for the series finale at Charlotte Motor Speedway – a tight points battle at the top of the leaderboard, plus a final chance to play the dark horse and take a victory makes for enough pressure on its own, only for an unexpected hurdle to show up.
"Like usual, I was testing and tuning for the league when I got the strangest call coming out of Turn three," recalled Turner. "'Hey, quit hot-dogging it out there!' the guy said, and in my head I'm thinking, 'But I'm not!' and that's when it hit us, the tires were at their absolute limit here in Charlotte, sending up wisps of smoke through almost every turn. These tires just aren't going to last."  The mixture of high banks, high speed, and high downforce were deemed too much for the Hoosier slicks to last for the planned 75-lap race.  "We were sweating bullets, and racking our brains to find the right solution," said a race official.  "We thought of just about everything that would avoid blowing out tires but still entertaining the fans, suggesting backstretch chicanes, forcing the drivers to use only the aprons, or maybe mandating competition cautions every 20 laps, when we finally decided to leave the track un-tampered and race as it is, but shorten the distance to a 60-lap sprint, probably the best of all alternatives."  Les Turner turned a 10th-place start into a long sought-after victory ahead of podium mates Dave Hoffman and Sam Dobie, but the celebration wasn't exclusive to the top three.  A fifth place finish for Dean Moll was more than enough to cement a second-straight championship for the Ford driver, 41 points ahead of Sam Dobie and 65 over Les Turner by the end of the year.
Red Sox Racing League Super Late Model Series Final Results
1. Dean Moll
2. Sam Dobie
3. Les Turner
4. Kevin Kyle
5. Terry Daul
6. Jonathan Lockhart
7. Jeff Sharp
8. Scott Husted
9. James Prostell Jr.
10. Dave Hoffman
11. Ed Sutcliff
12. Brian Irby
13. Dennis Griffen
14. John Koscielniak
15. William Kabela
16. Jeff Thomas
17. Gerald Livingston
"He's just lucky I didn't get to race this season," joked long time Red Sox Racing League driver Reed Rundell, who missed the six-week series due to other obligations.  The veteran oval racer might have given Moll a run for his money, but took the opportunity to both rib and praise the back-to-back champion.  "With Dean, it was never a matter of if, but when he'd start stringing along race wins and championships, and it looks like that time is now!"
Time to rest, however, is dwindling.  With the sun set on the Red Sox Racing League's Super Late Model series, it'll soon rise again, but this time with a batch of high-revving Honda HPD ARX-01c prototypes taking to some of the most classic venues over a 12-week season.
---
You may also like...
---