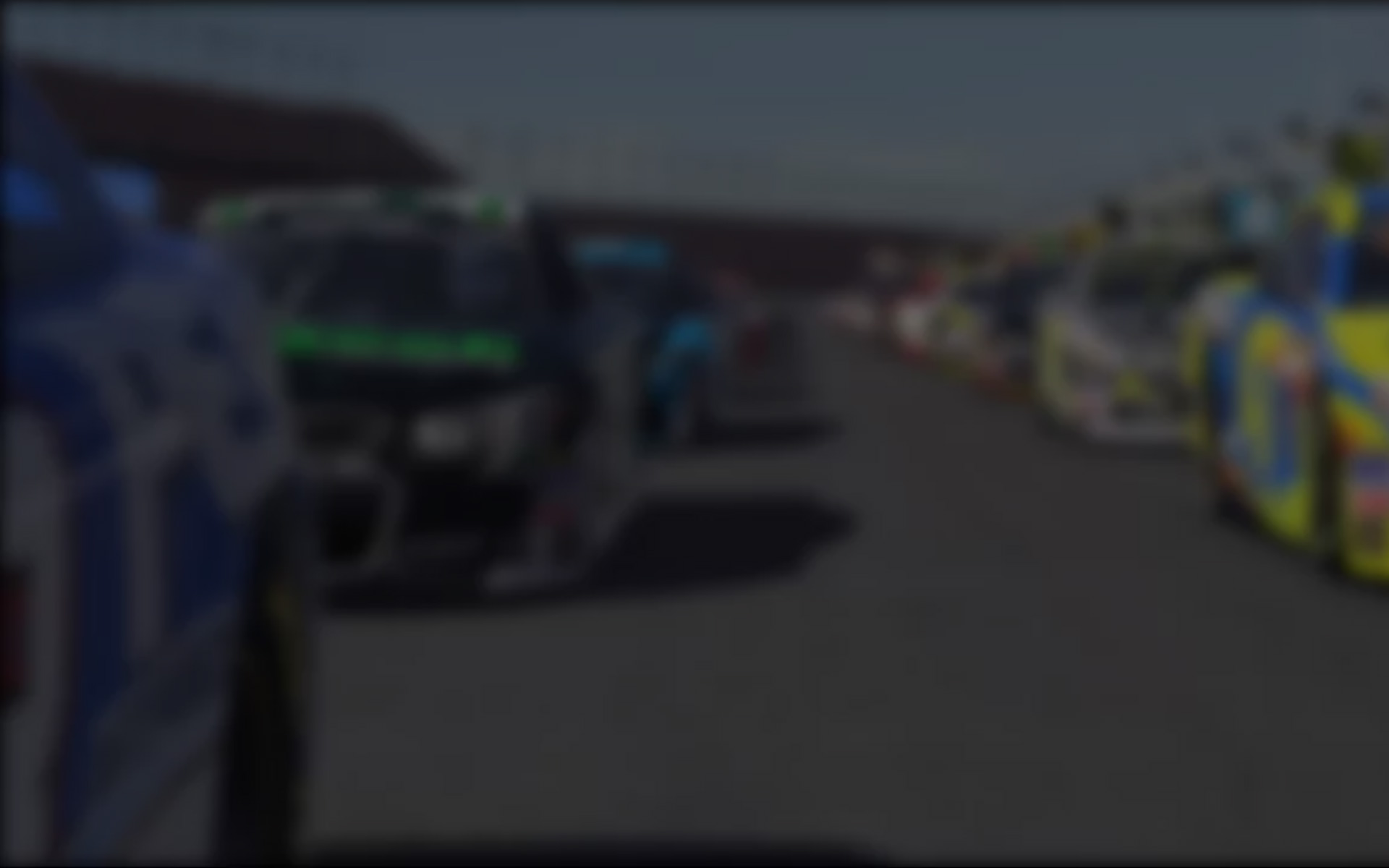 With defending series champion Mick Claridge on pole position for the Grand Prix Legends race at Canadian Tire Motorsport Park, it appeared the only sim-racer to post a qualifying time in the 1:16s was in the perfect position to cruise to another victory.  Victor Perelman sat best of the rest in second position with a qualifying time only four hundredths faster than Bruce Snelson in a short-lived third; short-lived because,  at the start, Snelson got a poor launch and immediately lost positions to Daniel Garrison Jr. and Richard Gerhardt.
Snelson looked to regain the ground he'd lost straight away, and with a nice tow from Gerhardt was able to pull alongside up the Andretti Straight before heading into The Esses.  Snelson had the outside line for Turn Eight but, after dipping a wheel in the grass under braking, he lost traction at the rear and went wide (narrowly missing Gerhardt in the process), losing even more positions.
Although Snelson lost positions from his spin, he thankfully didn't suffer any damage and continued his race.  Robert Plumley, on the other hand, had a spin on Lap Five as he went wide through the very high speed Turn Four and plunged into the barrier before retiring.
Scott Michaels spun as well, although his was not initialized because of grass, but rather because of oversteer at the entrance to Clayton Corner on Lap Eight.  The Lotus 49s approach Clayton at over 140mph and as the car goes over the crest of the hill it goes light, which is what sent Michaels into a spin, and then into the barrier backwards before he also succumbed to his wounds from P7.
After passing the halfway point of the race Stephan Roesgen was up to eighth spot in his electric blue Lotus as a result of Michaels' retirement and was not far behind Mikael Engberg in seventh.  Roesgen unfortunately suffered a similar fate as Michaels, but his issue was understeer rather than oversteer entering Clayton Corner, which sent him slithering across the grass into the barrier and forced him to get a tow to the pits for repairs.  However,  he did not retire from the race.
Despite these developments there was more to this race than attrition, as Snelson looked to claw his way back into the podium position he'd lost on the opening lap.  After a dozen laps of solid sim racing, Snelson was right on the back of Gerhardt's green Lotus 49.  With a liberal amount of slipstream, heaps of skill — and a pinch of luck — he was able to grab the inside line for Turn Eight.  Gerhardt was completely caught off guard as he turned in for the corner, but did a great job not to collide with the charging Snelson who moved himself into fourth with six laps remaining.
A few seconds up the road was Garrison in third position, and with not many laps remaining, Snelson faced a significant challenge to catch let alone overtake him.  Snelson didn't have long to wait, as it turned out.  As Garrison rounded Turn One on Lap 14 he was surprised to fine a still-damaged Roesgen exiting the pits, and struggling to even point the car forward.  Garrison swerved to avoid the Lotus "jam car" and hit the barrier at the inside of Clayton, launching his car into the air and forcing him to retire.
As the checkered flag fell at the end of Lap 19 it was Claridge who did indeed cruise to victory, an average of half a second a lap faster than Perelman in second place.  Snelson was, for obvious reasons, a very distant third after a fantastic recovery drive to secure the podium some 15 seconds behind Perelman but three seconds ahead of Gerhardt.
---
You may also like...
---