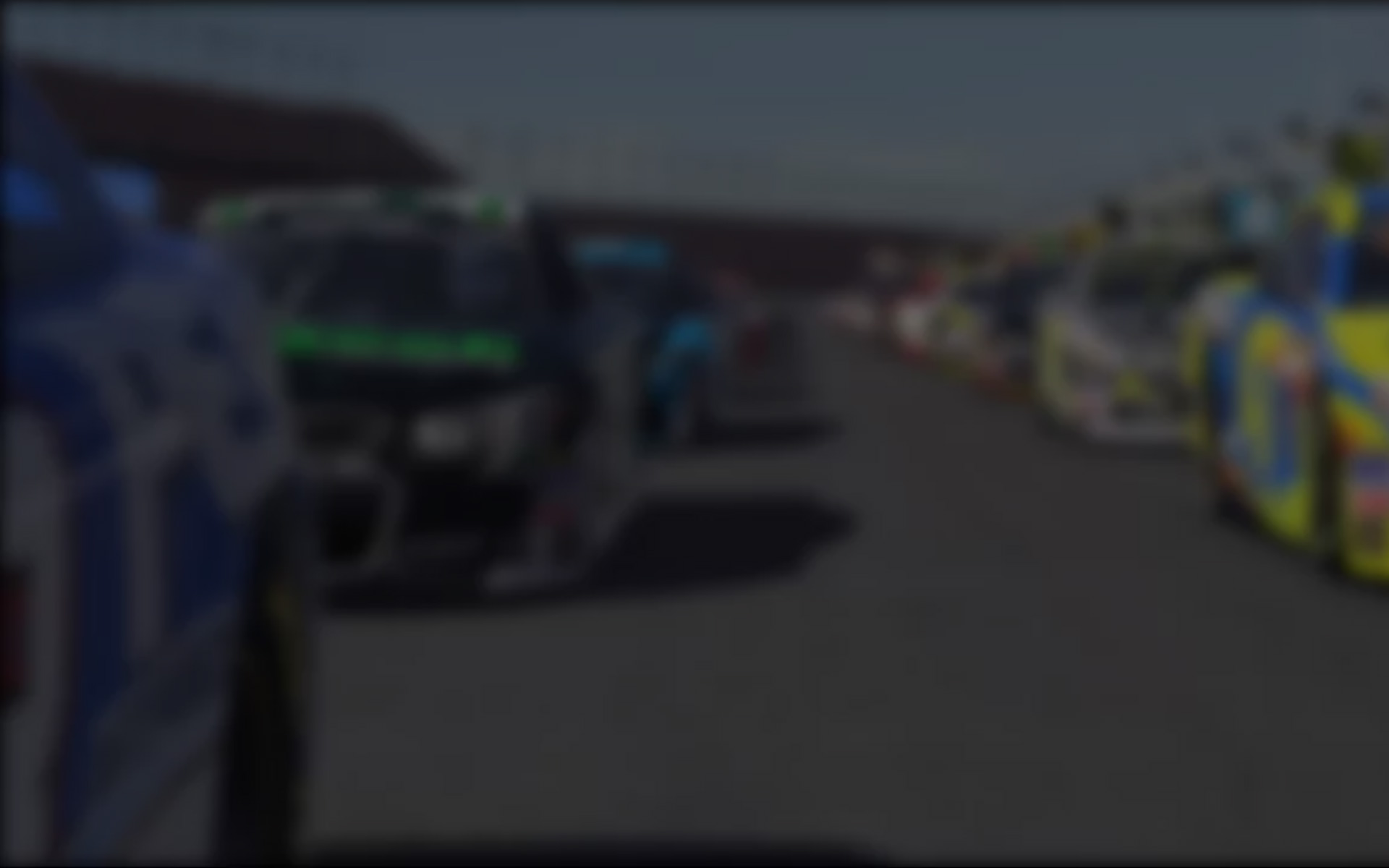 Round Seven of the iRacing.com V8 Supercars Series presented by Big Pond headed to Brazil for the first time in the series history, where the sim-racers would have to tackle the world famous Autódromo José Carlos Pace also called Interlagos.  This 15 turn monster of a track features tight and twisty parts but also the extremely long main straight which offers-up a lot of passing into Turn One with some drafting.
In the dying minutes of the week's final qualifying session for the week, Joshua Muggleton was able to pull-out the pole position time, posting a 1:34.382 with Justin Ruggier starting from second with a 1:34.455. George Maris and Madison Down would start from the second row while a TTL lock-out of the third row saw Richard Hamstead and Vail Riches in fifth and six. Similarly, an XSG lock-out of the fourth row saw Rens Broekman and Matthew Hill start seventh and eighth while TT-R team mates Mitchell McLeod and Tony Autridge start from ninth and tenth in yet another lock-out of Row Five.
When the lights went green it was Muggleton getting to Turn One first with Ruggier just behind.  Hamstead got a great jump to move-up from fifth to third. leaving Maris and Down battling for fourth.  Their dual didn't last long, as the twosome made contact in Turn Three, sending Maris around and unsettling Down enough to drop back a handful of positions. As everyone tried to avoid one another in the melee, Matthew Hill got pushed off and he hit the side of John Emerson while trying to regain the track.  The contact sent Emerson straight into the wall, with an unlucky Broekman involved in the accident for good measure, ending his race.  A lot of other drivers had better luck and narrowly avoiding the carnage.
With all the opening lap incidents sorted-out, Down was pushing hard and making his way back through the field; ditto Maris from the back.  No sooner had Down had caught-up to Riches when an Internet problem forced him to retire from the race, perfectly summing-up his night.
Back up front Muggleton was pulling away from a battle between Ruggier and Hamstead.  Ruggier's sideways moment through Turn Three on Lap Seven allowed Hamstead to move into second place. At the end of that lap Ruggier was the first driver to make his pit stop in the race, with no tyres and 15L being the choice for most drivers.
At the end of Lap 10 Hamstead made his pit stop; four laps later Muggleton followed suit and got ready for the run home.  As Muggleton exited the pits an error into Turn One from Hamstead allowed Ruggier to close back up and the battle for second place was rejoined.
With the field fully serviced it was Muggleton leading the race with Hamstead and Ruggier in second and third.  Riches was just driving around in a world of his own in fourth place while back in fifth place Mitchell McLeod was being chased down by Maris who had clawed his way back through the field. Behind him, Michael Fabain, Autridge, Michele Curina and Leigh Ellis were having a great battle with 15 to go. Into Turn One on Lap 19, Ellis got the job done on Curina — now behind team mate Autridge — and on the following lap Ellis would made a move again into Turn One on Autridge. Coming through Turn Six, Fabian left the door open for Ellis who capitalized to move into seventh place.
There were no such changes at the front and so, for the second time this season Joshua Muggleton took the victory and moved into the championship lead in the bargain.  Hamstead finished in second place and Ruggier rounding-out the podium finishers.  Although Riches was able to close the gap to Ruggier, the laps ran out and he had to settle for fourth place as McLeod enjoyed a great return to form finishing fifth.  Ellis captured a career best sixth place when Maris ran out of fuel coming to the line, slipping to seventh position. The battle for eighth went all the way down to the last lap as well, with Autridge taking the spot while Michele Curina and Michael Fabian rounding out the top 10 finishers.
Hard Charger went to Ellis, who moved-up 11 positions to finish in sixth place after starting from way back on Row Nine.
Top Five Drivers – Championship Points – Overall
1.    Joshua Muggleton–1714
2.    Justin Ruggier   – 1679
3.    Madison Down  – 1673
4.    Vail Riches – 1583
5.    Michael Fabian – 1305
Split Two Winner: Chris Luckey
Split Three Winner: Adrian Stratford
Split Four Winner: Corey Preston
Broadcast done by the crew at www.v8sonline.com.au
---
You may also like...
---