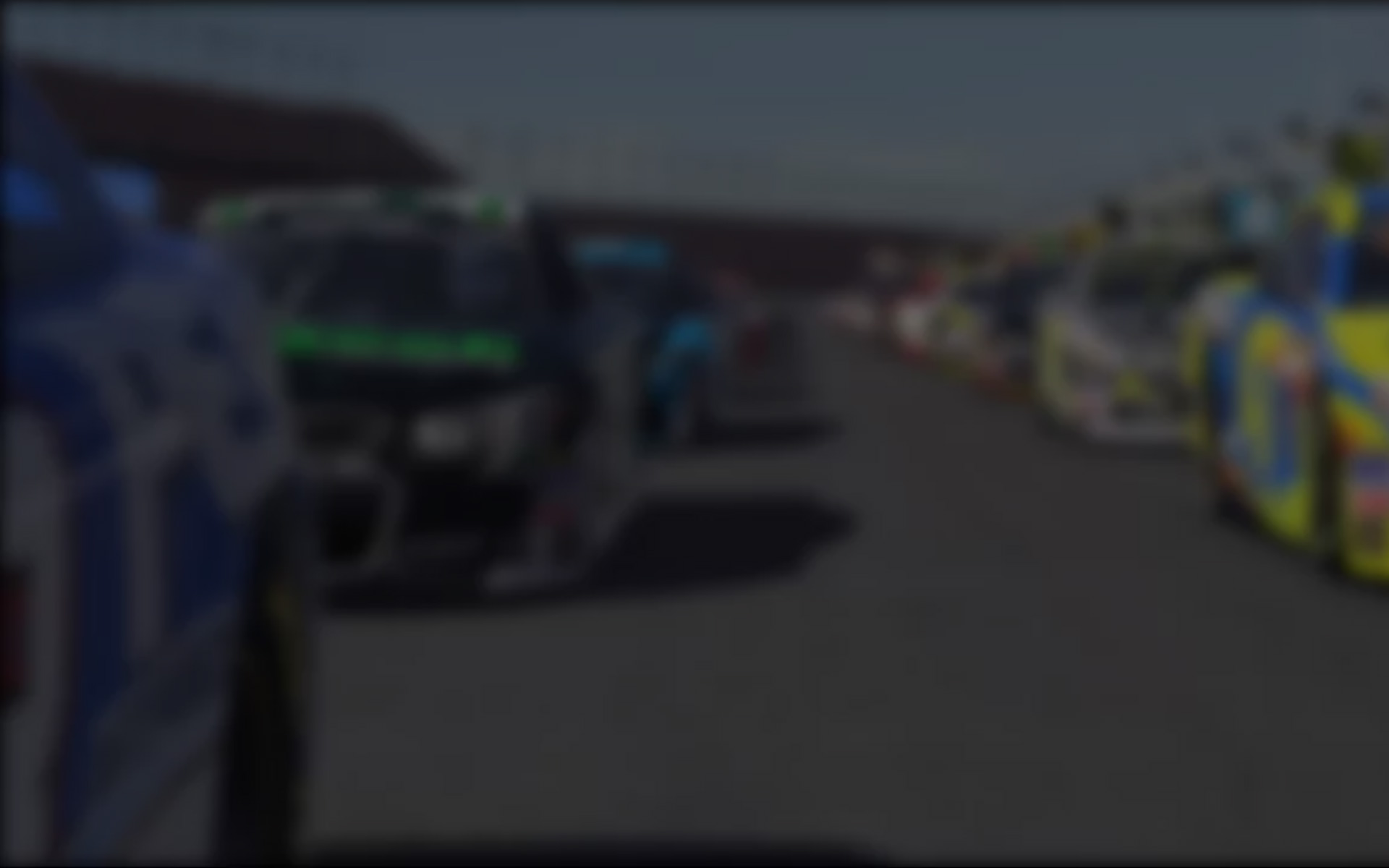 November 4th, 2017 by Richard J. Clarkson
The Carolinian, Jimmy Mullis, kept his nose clean and earned his 987th oval victory of his illustrious iRacing career at the virtual Martinsville Speedway in the simulated version of NASCAR'S Camping World Truck Series.
Mullis started outside front row for the high strength of field (4075) race and battled pole sitter, Braden Boulos, early on for the race lead. But Boulos's SponsorJordan.com FUELED by Fans Chevy remained steadfast, holding the pro-level Mullis at bay.
The 50-lap sim-race was slowed six times for 32 yellow flag laps.
When the first caution flag waived for Landon S Sciacca's single-truck spin off Four, Mullis opted to play a strategy card: the Carolinian relinquished the runner-up position and nosed his Silverado onto pit lane. Most of the field chose to follow suit, bringing their trucks to the attention of their pit crews. But some, including the leader, Boulos, opted to stay out in favor of track position.
Mullis restarted fifth on lap 13.
But by taking advantage of two restarts within the next 20 laps and his four, fresh Goodyear Racing Eagles, Mullis once again found himself outside pole, battling his familiar foe, Boulos, for the race lead.
With 23 to go, the field screaming beneath the outstretched arm of the flagman and the whirling and twirling green flag on a stick, Mullis positioned his Red Bull Toyota Tundra to the outside of Boulos's Chevy and threw his elbows out high, wide, and handsome. For the next four laps, it was an intense, side-by-side two-truck battle for the lead: Boulos's black bowtie pinched down to the bottom, lap after lap teasing the curbing, looking for room to springboard back in front, for grip, for the win.
Finally, entering Turn One, on lap 30, it was Mullis romping down the front straightaway and clearing the Chevrolet of Boulos.
Boulos tried to regain the lead, but a rash of three cautions over the race's final twenty laps provided few green flag laps to get the job done.
The race ended with a two-lap shootout. Both Mullis and Boulos's trucks were beginning to slide the rear tires on corner exit. But the sim-racers remained aggressively patient—focused—nailing their entries, rolling their trucks through the center, and matting their accelerators for as long as their Goodyears could stand it, sideways and trailing tire smoke off the .526-mile track's 12-degree banked turns.
Boulos led a race-high 27 laps; Mullis 23. But it was the Carolinian, Mullis, leading the last and most important one, bumping his iRating to a stratospheric 7643.
Boulos brought his Chevy home in second. Stevie Minson, after starting back in the pack—14th— completed his impressive run to the front with a third-place finish. John Signore finished fourth.
Kyle Taraska started 19th but brought his Draw-Tite Chevrolet Silverado home to the excitement of a top-five finish: fifth—an improvement of 14 positions, earning the young New Jersey driver the Phillips' Biggest Mover of the Race Award.
Brandon Wilkinson finished sixth, followed by Dalton Collins, Joshua Williams, Johnathon Caddell, and From A Dig Motorsports's driver, Scott Smith6, rounding out the top-ten.
"Hellfire," Smith6 said, after the race, "I hate Martinsville. Damn place ain't got no room, know what I mean? Bumpin' and bangin' and fellars tryin'tuh go three… no, sometimes even four wide! I hate Martinsville."
Smith6 mashed his iRacing communications button and continued: "Shoot, man… I'z in a few little fender benders myself. One time this fellar got loose and knocked me out the groove… another time I slapped the wall… then there's that time them goofballs went four abreast and slammed into me, hell, I went spinnin' that time, The Black Dahlia Murder/Snap-on black-and-white hot rod turnin' circles like a dog after its own tail… the last one I just hopped the curb and mashed the go pedal. Worked like a charm, Vern. Know what I mean? Shoot, I hate Martinsville. This fellar here's ready fur Texas."
---
You may also like...
---