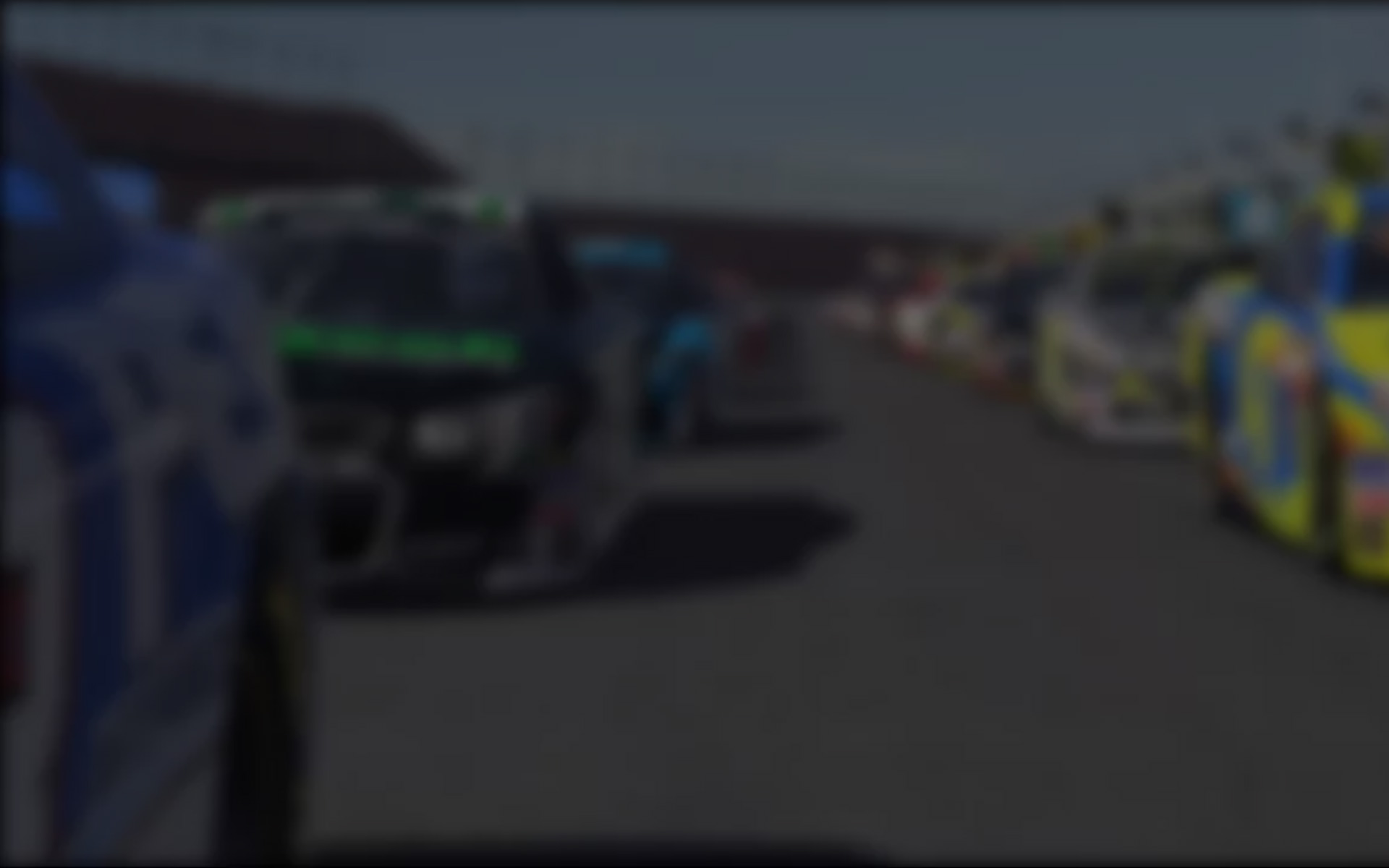 The iRacing.com Mustang Cup series welcomed the second half of Season 2 with a stampede at the Watkins Glen Cup course as 426 sim-racers competed in 61 races producing 29 different winners.  To put this amazing turn-out in perspective, the usual most popular track in the series (Daytona) was visited in Week 5, attracting 224 competitors for 32 races with 19 winners.  Besides the regular series participants, many past-regulars and oval racers familiar with the Glen's Cup configuration showed-up in large numbers to add to the already closely-contested online racing.
One of those drivers "returning" to the Mustang FR500S was Dan Rasch, who showed no signs of rust taking 10 wins in 11 races as well as the top qualifying time of 1:22.610, just 0.089 ahead of series regular and overall points leader Todd Honczarenko.  Pro/WC driver Jesper Pedersen was third-fastest in qualifying, followed by Patrick Bieri, Marcus Jirak, Danny Hansen, Yurik Budnik, Tom Erik Voll, Antti Pihlaja, Carson Downs, and Ringo Breitz – all of whom qualified in the 1:22s within three tenths of Rasch.  Yes, it made for some close battles in multiple races all week long.
While Rasch took the most wins for the week, it was Honczarenko who once again claimed the top points-earning win with a haul of 199 points in his single win for the week.  That massive jump in points carried him right to the top of standing, leapfrogging Vedran Broz who took three wins in four races and enough points to hold onto second in points overall.  With Dariusz Bielawski seemingly taking a season off after back-to-back championships, the points battle in Season 2 appears to still be up for grabs with at least seven drivers within 100 points of the leader and many having not run the full schedule leaving them room to close the gap with additional points instead of just drops.
With so many races in Week 7 there were amazing feats of car handling, passing clinics, and gut wrenching finishes from front to back of the field.  But it was the final race of the week that produced the closest possible margin of victory as the sim-racers fought for a final shot to add to their points for the week.  Bieri and Voll started on the front row, separated in qualifying by just 0.117s.  During their 18-lap battle, Voll recorded the fastest lap by just 0.098s but it would not be enough to get him ahead of Biere when the crossed the finish line . . . just 0.001s apart.  In addition to their own close battle, Biere and Voll could not afford a mistake as Kyle Wicka and Zach A Hudson battled fiercely behind them – with Wicka slipping past Hudson on lap 11 and going on to hold onto third by just 0.214s.
The iRacing Mustang Cup series heads to another NASCAR configuration in Week 8, visiting Infineon Raceway's Cup lay-out for the first time in many seasons.  While the number of races at the start of the week have paled in comparison to The Glen, sim-racers can expect things to heat up over the weekend as drivers have an opportunity to learn a configuration most have not run in several months or not at all.  Rasch currently holds the top qualifying time for the week, but he's generously shared his car set-up and a fast replay lap to help others get up to speed quickly.
Will Rasch's generosity earn him good karma for another strong week of multiple race wins or will it provide just enough information to the other talented top drivers to let them reward him with some second place finishes?  Come check-out the action in Week 8 at Infineon Raceway to find out.  You can find the weekly tips — including Dan's great advice — on the series Forum.
---
You may also like...
---