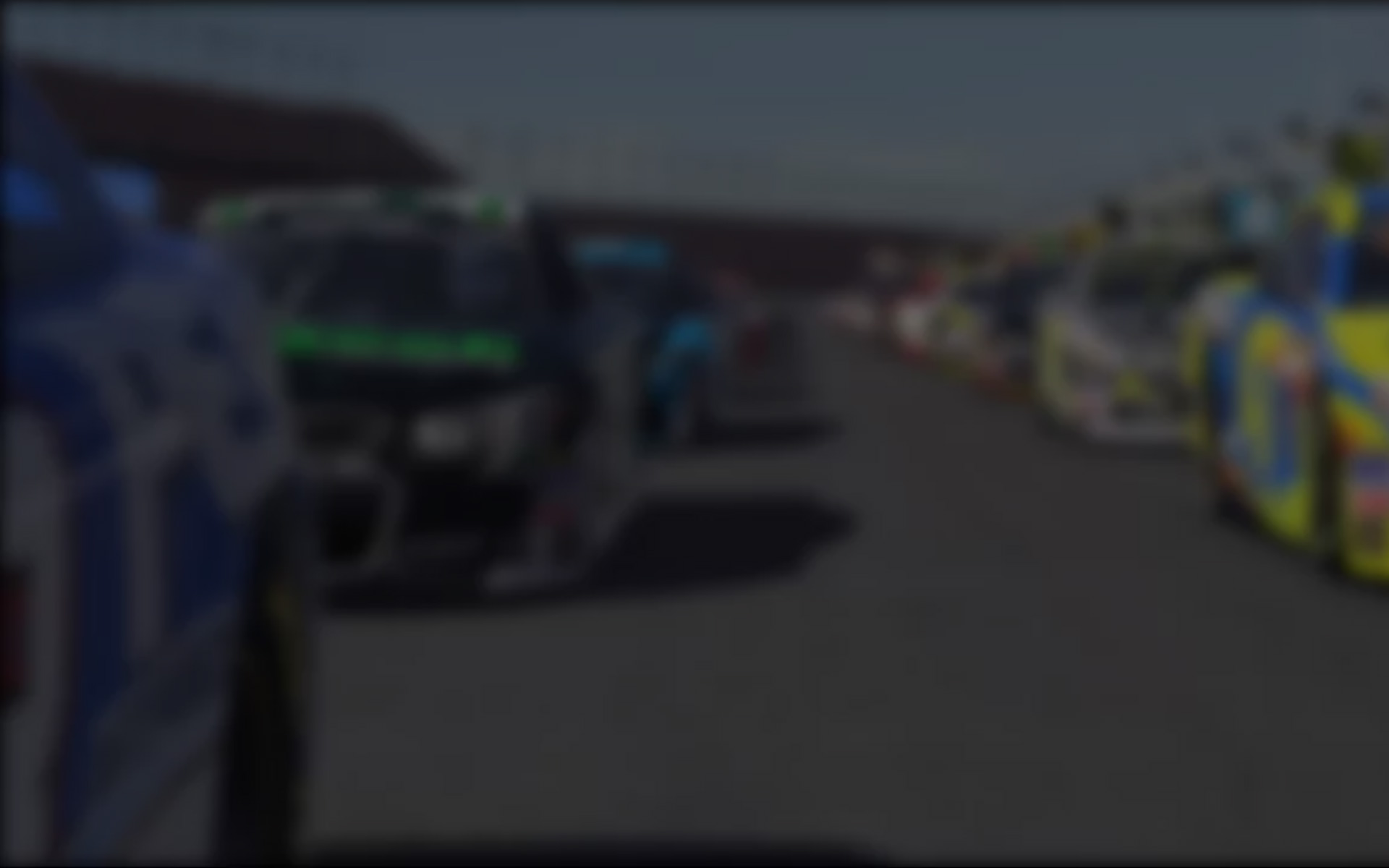 Since I started covering the NASCAR iRacing.com Late Model Tour for inRacing News, I have found it difficult to get content from racers for my articles as many of the Late Model regulars were unaware the series is being covered (despite regular posts to that effect on the Late Model forum – Ed).  So I decided it was about time I bought the Late Model content and gave it a try myself. My first experience would be New Hampshire Motor Speedway in a small, nine person race.  Luckily for me, 2013 S1 Late Model champion Ty Majeski was there and willing to give me his race setup so that I could hit the ground running. At New Hampshire there isn't much of a challenge to being at a decent pace, but being able to outpace the others and make passes is very difficult at this long track. So, here is a bit of a recap on my first race in the Late Models.
Without running a qualifying lap, my #6 inRacing News-sponsored Chevy Monte Carlo would start in eighth position.  At the race start, I kept good pace with the leaders, diced with a few drivers and managed to move up a couple of spots out of Turn Two. Going into Lap Two, Turn One, I made a dive to force it three wide and managed to capitalize by overtaking Jarrett Lawrence (#5).
However, sixth position was short lived as Chris Higgs in his green no. 8 started breathing down my neck. Higgs would later tangle with Lawrence, but that did not leave me much time to think as the four cars ahead started breaking away. Ty of course had already checked-out, leaving a train of cars in his wake.  Eventually, Higgs was able to inch his way to me until a dive bomb caused some door-to-door contact on the highline, pushing me into the marbles and forcing me to let him have the position.
I would then enjoy a battle of four to five laps with the #5 of Lawrence before finally being able to break away and trying to chase down the #8 ahead of me. Jarrett's Late Model was very quick in the center of the turns but would easily be beaten by me off the corners due to what can only be over used tires.
However, my joy was short lived as soon the #4 of Stephen Morsillo would sneak by just a few laps later as I ran wide into the high groove of the track.
The two green machines would then go onto work their way through traffic while I continued turning laps until I ever so slightly started to encroach on Joshua Kotten's #9 Off The Track Chevy Monte Carlo. As the laps ran down, I was able to get within a second of Kotten and looked to have a very good chance of overtaking him for what was seventh position.  By Lap 41 however, everything had changed. Both myself and Kotten found ourselves driving into Tune One in a cloud of smoke. What waited at the other side were three cars in the grass.
With just three laps left I found myself in fifth place with fourth in sight, and somehow still on the lead lap. However, the crew chief soon had bad news for me. It turns out that due to Ty's line being the low line, and me usually resorting to the high line I had actually managed to burn too much fuel. My fears soon subsided when the crew chief told me we had "two and a half laps of fuel left" with just two laps remaining. However, he had miscalculated and I ran out of fuel on the back stretch of the final lap, unable to challenge Kotten. Luckily, however, I managed to stay on the lead lap, defending against the reigning champion, in my first ever Late Model appearance and take fifth place.
I encourage you to join me on the Late Model circuit, which this week is visiting Lanier National Speedway. I have run a race around Lanier and the track is an absolute joy to run in these cars. I may be late to the Late Models, but I'm glad I made the decision to drive a few races.
---
You may also like...
---