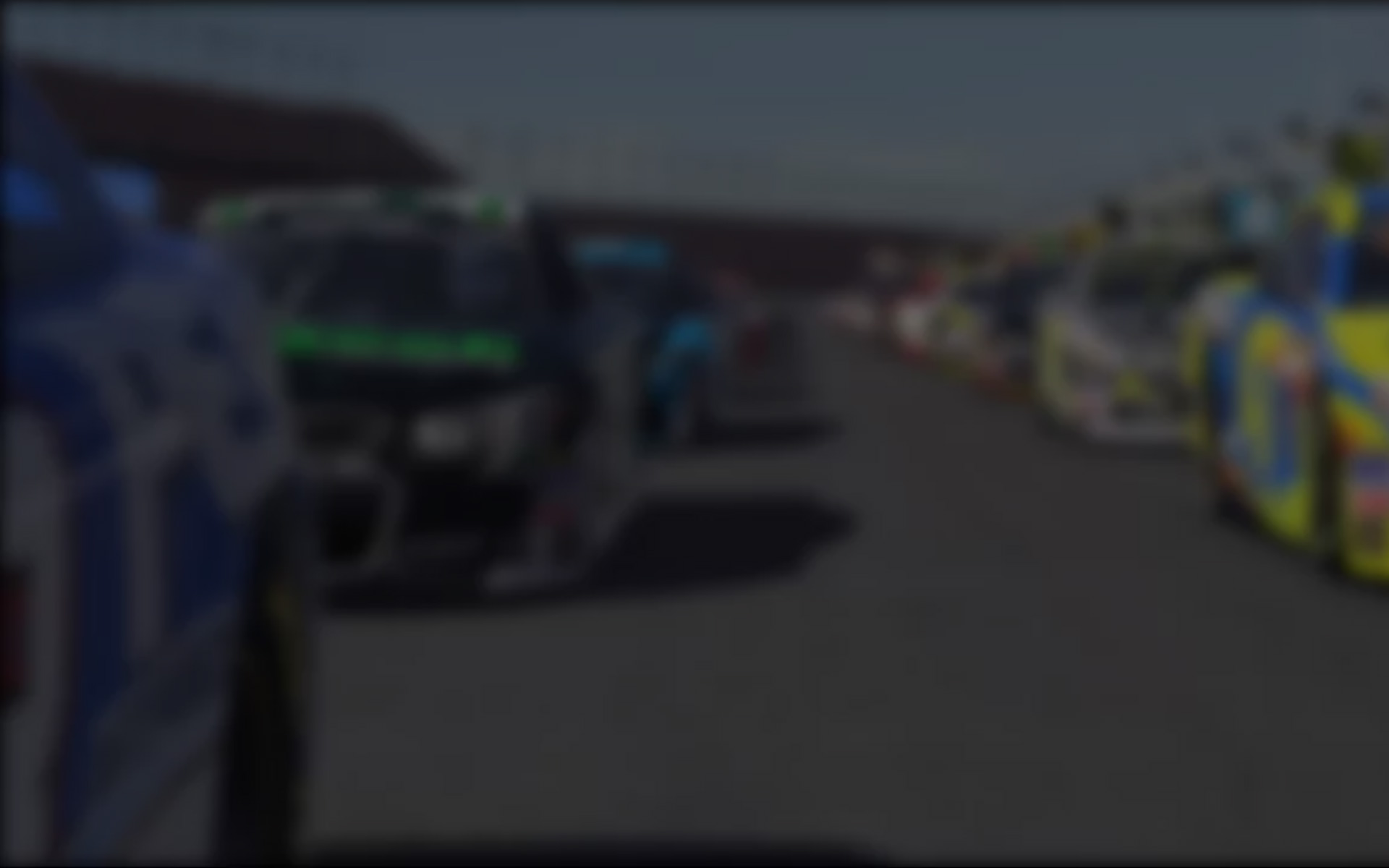 Since opening its virtual doors nearly seven years ago, iRacing has brought the many worlds of NASCAR to the masses all around the world. As you start your sim racing life you learn car control, track types and racing with others all around you on the track. The rookie level has changed in the nearly four years that I have been a part of iRacing, but the basics will always be the same. Depending on when you started you drove the Street Stock or the Legends cars first then advanced to the other. These two race cars drive very differently, but the basics are a part of each of them.
Rookie Class
Today you start with the Street Stocks, a car you may have raced on local tracks. Maybe it was your dad's older car when you where in high school or a neighbor's third car you picked-up cheap. Many tracks will let you race if you install a roll cage and have a helmet. The bodies have changed over the years but the basics of the street stocks are the same.  Find a car you can afford to race and work on, then go have fun at the local tracks. They have the basic 375HP, typical for the cars that could be picked up when I was in high school, and come in at a sold 3,400 pounds. The word FIXED has a real meaning. You do not need to be a grease monkey to race the car. In fact you can't change anything about the car. All the setup has been done for you: jump in and race.
Legends are sweet, old world hot-rods with scaled down bodies of the cars from 1934 to 1940, with iRacing's car  featuring a '34 Ford body. Although these cars pack just 125HP, they also tip the scales at a mere 1,300 pounds. As they are all about racing, the smaller size enables us go three wide even on the smaller ovals that typically play host to this sim racing series. In the past year or so this series has expanded to include a few road races too.  Thanks to its frisky power-to-weight ratio, the Legends car can move around a road circuit very well, although the short wheel base makes for a twitchy ride.
CLASS D
As you get your feet wet and learn more car control you are able to move up in class to the lighter and faster Late Models, early SK Modified Cage Car or, if you think you're ready, the higher powered K&N (National) series. At this level you will find the racing to be very competitive.  Many racers from higher levels of racing step down and run these cars just for the sheer enjoyment of it. The racing can be a lot of fun, but often winning at this level can take some time.
The Late Models is where you will most likely get your hands dirty, as it lets you modify the setup of the car for your driving style. The Modified also lets you do this, but there is less to adjust and the work is less rewarding as the changes have less overall impact on the car's performance. The K&N Car is set to a rules package; no changes can be made to the car's setup. These races are what are known as All Green or Green/Checkered. There are No Yellow Flags to slow the pace of the race. This is also true in the Rookie races. More on what should be done about this later.
Moving up in class from here you should have learned a lot about racing. Car control with these faster cars will teach you something about race lines, using the brake to help turn the car (rotate) and how to see and avoid things that happen around you on the track. These will be key to moving up into the top three levels of NASCAR.
CLASS C
NASCAR Camping World Trucks Series – the first major step up the ladder. Here you will step into a Chevy Silverado or a Toyota Tundra (hoping for the Ford one day) in all of their 3,400 pounds and 625HP. At this level the track sizes typically are large than those you have raced on in the lower levels as you will cover all of the NASCAR tracks. This is the first level of racing that introduces us to the Yellow Flag. Although the K&N series will from time-to-time run on the mile tracks like Dover or the 1.5 miles of Charlotte, they mostly race on tracks of a mile or shorter. The Class C series runs all of NASCAR's 1.5 mile ovals as well as the longest tracks, Daytona (2.5 miles) and even Talladega with its 2.66 miles. The fun of the truck series is that here you also run shorter tracks like Iowa, Bristol and even a few road circuits that keep it interesting.
If you're not a fan of the trucks you can move to the second level of the Late Models and take-up the Super Late Models. These cars have 550HP giving them a full 180HP more than the Late Models. To work with the increase in power they also have wider tires that provide an extremely high level of grip. These races also are typically much longer than the Late Model or K&N series races. The car can be setup as you like, so here again you can get some virtual dirt and greases on your hands. This makes for some very interesting racing as different setups produce driving styles and tire wear that create what is known as "Comers" and "Goers" who can swap roles throughout the course of a given race.
If the Cage cars are more your style than you can move into the Wheldon Modified Tour cars. Here the 612HP (up from the entry level Modified's 370HP) and a weight reduction of 25 pounds creates a monster of a car with a higher power-to-weight ratio than either the trucks or the Super Late Model. The racing is not for the faint of heart as this car can quickly get away from a new racer. Here the races are typically done on short tracks of up to a mile. The yellow flags can fly, but most of the racers who run this car are very careful as just rubbing with another car or the wall can result in serious damage.. Making a pit stop in this car is not typical unless you have wheel or steering damage. Tires do not need to be changed and doing so takes much longer in these cars as they are not setup of the Hot Box tire changes made in NASCAR style racing.
CLASS B
Time to get your racing helmet on and jump into the Xfinity series. Here you will once again pick from two cars, the Chevy Camaro or a Ford Mustang (Toyota we can only hope for at this time). At this level you will have the opportunity to run every NASCAR track just as in the NASCAR Camping World Series trucks. The sim racing here is very good thanks to a car that is very very stable. These cars can lean on one another and are the easiest to race the old way — ie, rubbin' is racing — of all three of the major NASCAR series. After nearly four years on iRacing it is my view that some of the best oval racing takes place in this series.
At this level there are two Cage Cars, but they are very different. The first is what most racers know as the short track Sprint Car. This small car has 180PH more than the Xfinity cars and less than half the weight. This combo provides more power per pound than an Indy Car and is equal to that of an Formula One car which, not surprisingly, can make the car a challenge to control. I have found this car requires a lot of getting your hands extremely dirty to learn what changes are needed to enable you to control it at competitive speeds. in fact, the Sprint Car is such a beast that few racers spend the time required to learn it; a shame as watching the guys that do run them is a blast.
The second car is the Silver Crown, which has similar HP to the Sprint Car but weighs an additional 125 pounds: still more power-to-weight than the Indy Car. The Silver Crown is a bit larger than the Sprint Car, but it has body panels over the side rails and the nose for aero effects. Why is easy to understand after you take one out for a test run. Whereas the Sprint Car is made for the short tracks and you spend a good part of the race sideways, the Silver Crown is made for larger tracks and higher speeds with no sideways action. It is possible to get this car over 200MPH in the draft at Michigan. I know, I have done it myself with a setup given to me by another driver in that race. The car also reacts to your wishes at high speed. Want to move inside or out, it only takes a small movement of the wheel. This car is super fun to drive but finding a good number of guys to race with can be frustrating.
CLASS A
You have made it to the top. Here in the Sprint Cup Series of NASCAR you can run your choice of all three manufactures. The Chevy SS, Ford Fusion or the Toyota Camry. This is what most oval racers hope to reach over time and here you can be a Jeff Gordon, Richard Petty, Buddy Baker, Tony Stewart, Mark Martin or Kyle Busch. Your style can reach its peak as you push to show that you're the driver to beat on each and every track throughout the season.  Here you will find the Sprint Cup Cars are not so easy to drive as the Xfinity cars. The reduced horse power mandated by NASCAR in the 2015 rules package has helped a bit, but it is still very possible to break the tires loose on starts and re-starts, exiting the pits or even just exiting a racing corner. I have not won a race at this level to date, but have come home many times in the top five. Racing and winning are very different things and the guys at this level will do their best to let you race without letting you win.
FIXED
This was the way it was when I started with iRacing. The top three NASCAR series had what is referred to as both Open and Fixed racing. In the Fixed races every driver uses the same setups developed by the iRacing engineers and testers. As a result, the racing focuses on the drivers as the cars and setups are all the same. For the most part this comes down to two things: style and time. If the setup for a given track works with your driving style – great!  If not, you're going to be slower — at least initially.  This can be partially overcome in with time by turning laps, changing your lines and adapting your driving style to suit the setup. These races are not real short, but don't require you to pit for fuel. The real issue is that any time a yellow comes out just about everyone pits for fresh rubber; with nearly everyone running on new tires for most races, there is often no need to take care of the tires throughout the race. If there was one thing about the Fixed Races I would change it would be that tires could not be changed and only damage from contact could be fixed in the pits. This would teach racers to treat the tires better and produce less craziness as racers overdrive the cars on new tires every 10 or 15 laps.
OPEN
Open races are twice as long (almost always requiring a pit stop for fuel) and, as the title suggests, enables racers to make changes to the cars' setup. I typically make two changes to the NASCAR Sprint Cup cars to suit my driving style. I find the Xfinity cars a bit more of a challenge here and will often make a change or two to the Fixed setup, but I am not one of the top open racers in this series. I find the NASCAR Camping World Trucks are often loose off the corners and I am forever working to tighten them up. Changes, limited as they area, can also be made by the pit crew during the race if you don't like what you have. Unless a given car or truck is absolutely diabolical, drivers will wait for a caution before stopping to make changes as pitting under a green flag will always put you down a lap or more unless it is at Daytona or Talladega.
iRacing has done a great job of bringing NASCAR to the Masses and, as time goes on, the changes and upgrades will only make it better. Grab your helmet and gloves and jump into what will be the most addictive racing contest of your life . . . and have fun too!
---
You may also like...
---