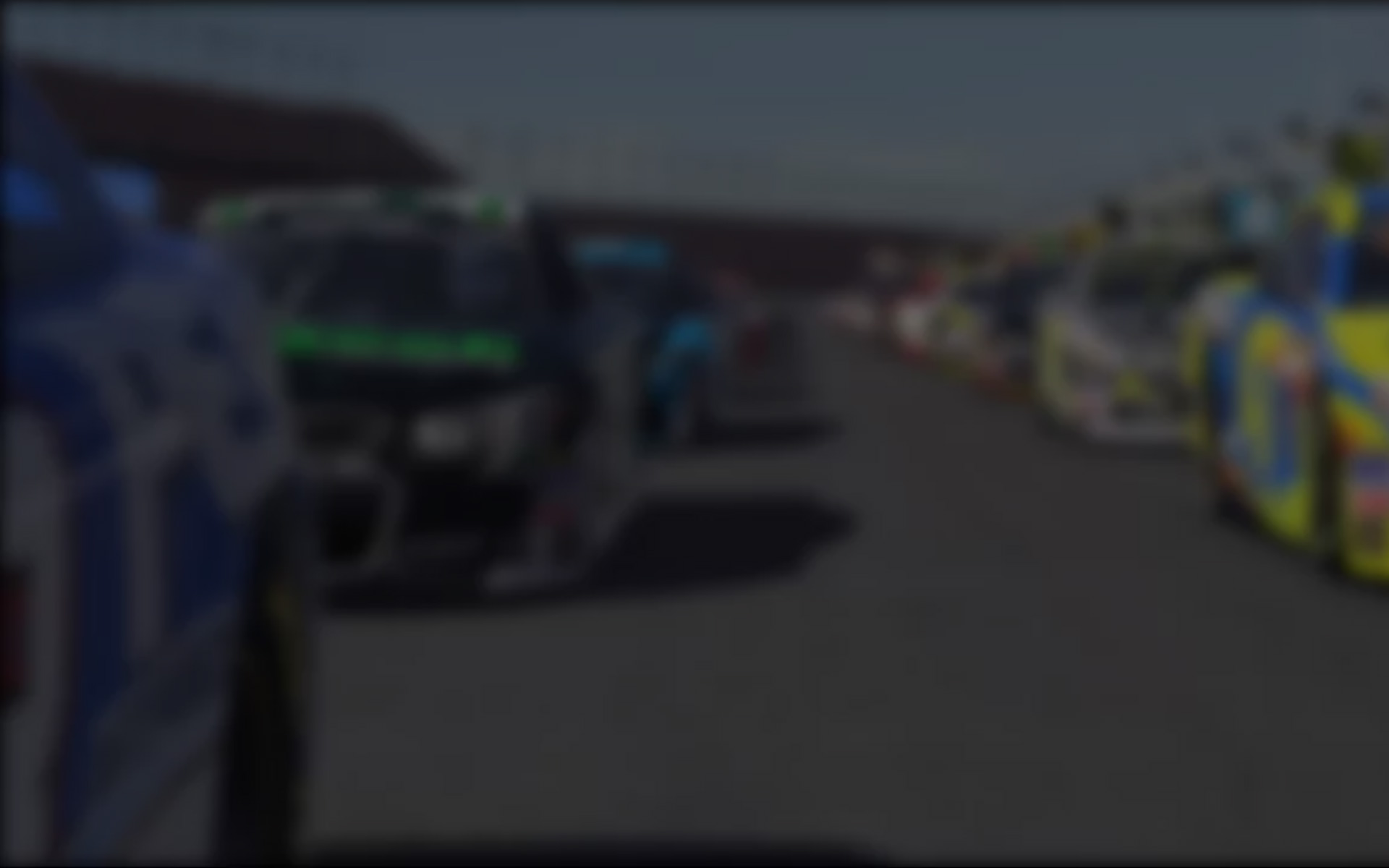 After an action-packed weekend in Sonoma the NASCAR iRacing Series rolls on to the Bluegrass State and Kentucky Speedway. I want to give you some history of our upcoming track Kentucky, and I also wanted to sit down with NASCAR iRacing.com Series World Championship driver Dylan Duval and talk about his debut in the NASCAR iRacing series at Sonoma last week and about his season in the NASCAR iRacing.com Series World Championship.
Q:    First thing first thanks for doing this interview with me this week.
A:    Thanks for having me.
Q:    What made you want to pick Sonoma for make your first start in the NASCAR iRacing series?
A:    I chose Sonoma because I love road racing in stock cars. iRacing doesn't give us the opportunity to do it very often which really stinks because it's a ton of fun. I've been one of the people who constantly try to get road racing added to the oval series, but it never works. I couldn't pass up the opportunity to race the stock cars at Sonoma.
Q:    How did you feel about your chances after coming into the room and seeing who you would be racing with?
A:    My mindset didn't change one bit after coming in the room and seeing who was in there. I'm used to racing with the top level guys like (Michael) Conti, (Marcus) Lindsey and others. I've competed with them in the NASCAR iRacing.com Series World Championship series, and also often in big strength of field class A races. To be honest, I would rather join a race and see guys like them in it rather than be number one of the field and not have a whole lot of competition. That's just the competitiveness in me I guess.
Q:    What did you learn about the series after your first race in the series?
A:    Honestly, I didn't learn much about the series itself just mainly because everything is so much different in a road race without full course cautions, compared to an oval with cautions. There really isn't much that carries over from a road to oval race. About the only thing I learned a bit about is the level of competition in the series. Most people who oval race don't usually embrace road racing, but to see the turnout that we did was really a testament to the level of competition in the series.
"I couldn't pass up the opportunity to race the stock cars at Sonoma." — Dylan Duval
Q:    How fun was it running the Gen 6 at the track then the gen 5?
A:    Personally I've been a huge fan of the Gen6 anywhere that it has been.  A lot of that has to do with my success in the Gen6 compared to the Gen5. It's quite odd though, the Gen6 has felt completely different than the Gen5 at almost every track I've been to it with exception of Sonoma. It honestly felt exactly the same as the Gen5 in my opinion. I'm sure people would argue about that, but that's how it felt to me, which was really surprising.
Q:    What tracks do you plan on showing up for next in the series?
A:    I haven't thought about it a whole lot to be honest, there are a couple tracks that I would consider racing. Watkins Glen and Pocono I will for sure be racing. Those are going to be a lot of fun, both of those being some of my favorite tracks. It's likely that I might race Indianapolis, New Hampshire and possibly even Martinsville.
Q:    How has your NASCAR iRacing.com Series World Championship season been up to this point in the season?
A:    To be completely honest it's been a bit disappointing, I just came off the overall 2013 Season 1 Class A championship and I had extremely high hopes about what I could do in the NASCAR iRacing.com Series World Championship. I have not met my expectations though; I've only made two starts, those being at Darlington and Charlotte. At Darlington I got caught-up in an early wreck after not having the best qualifying effort. I was moving up through the field, it's just the crash ended any chance I had at a good finish. Then at Charlotte, we were off a little bit that week. I ran around 15th-20th the majority of the race and then on the second to last pit stop there was someone in the pit stall right before mine and I drove right by my stall. That was really disappointing. The only accomplishment I would say that I've done is to be the only Pro Series driver to qualify into a NiSWC race this season.
Q:    What are some upcoming races you are looking forward to?
A:    It's really hard for me to look forward to any of the NiSWC races because there is never a guaranteed chance that I can race because I only hold a Pro License. The couple of races I really hope I can race would be Indianapolis; this track is a lot of fun and It's one of my better tracks. Also I have a retro Juan Pablo Montoya paint scheme planned for it.  Another race would be New Hampshire.  I had a really strong run going there as a Pro Driver last year until I got wrecked out of seventh by a fellow Pro Series driver. The one I really look forward to is Atlanta. Last year I had my best ever run there and turned a lot of heads. I was fresh with a new team at the time, and I managed to race my way to a fourth place finish behind (John) Gorlinsky, (Ray) Alfalla and Conti. That is one of the highlights of my sim racing 'career' if that's what you want to call it.
"My current goals are to be one of the Pro Drivers to make the (NiSWC) races if there are spots available."
Q:    What are some goals you need to set for yourself in the upcoming weeks?
A:    My goals I don't set very high for the NiSWC races because I never know if I'm going to be eligible to race or not. My current goals are to be one of the Pro Drivers to make the races if there are spots available and, if I do make the race, to just finish without incident. That's all I can really ask — anything else is just icing on the cake for the time being.
Q:    Did you learn anything in the NASCAR iRacing series that might help you get any better for the upcoming NASCAR iRacing.com Series World Championship races?
A:    To be honest, anything I learn from a road race will only help me in a road race. So unless the NASCAR iRacing.com Series World Championship series decides to make a stop a road course nothing from the NiS at Sonoma is going to help me in that regard. It would be awesome for the NiSWC to go to a road course though.
Q:    Is there anyone out there you would like to thank that makes it happen for you every week?
A:    I would like to thank all of my teammates at Aftermath Motorsports, Cody Byus especially though.
Also would like to thank my sponsors:
GX-Gaming  – http://www.gx-gaming.com/
Garry Mercer Trucking – http://www.gmercer.com/
Tim's Corner – http://timscorner.ca/
JDR Graphics – http://jdrgraphics.com/
Coming in to Kentucky this week NASCAR iRacing Series points leader Tyler D Hudson has an 898 point lead over second place Landon Harrison. Michael Conti, Marcus Lindsey and Aleksi Elomaa all gained on Hudson at Sonoma as well with their wins in Week 7.
Fast Track Facts: Kentucky Speedway
•    Location –  Sparta Kentucky
•    Track size – 1.5 miles
•    Banking 14 degrees
•    Opened – June 16, 2000
•    Construction cost – $153 Million
•    iRacing fuel mileage for cup car 50 to 60 laps
More facts
Kentucky Speedway is a 1.5-mile (2.4 km) tri-oval speedway in Sparta, Kentucky, which has hosted ARCA, NASCAR and Indy Racing League racing annually since it opened in 2000. The track is currently owned and operated by Speedway Motorsports, Inc. and Jerry Carroll, who, along with four other investors, owned Kentucky Speedway until 2008. The speedway has a grandstand capacity of 107,000.
Construction of the speedway began in 1998 and was completed in mid-2000. In 2005, Kentucky Speedway filed a lawsuit against NASCAR and International Speedway Corporation (ISC). The lawsuit ended in 2009 after Judge William O. Bertelsman dismissed it with NASCAR and ISC winning the suit. The speedway has hosted the Camping World Truck Series, Nationwide Series, IndyCar Series, and the Firestone Indy Lights Series since the track opened, but the track didn't host a Sprint Cup Series event until 2011. The first sprint Cup Series race was won by Kyle Busch and he also did it from the pole.
---
You may also like...
---