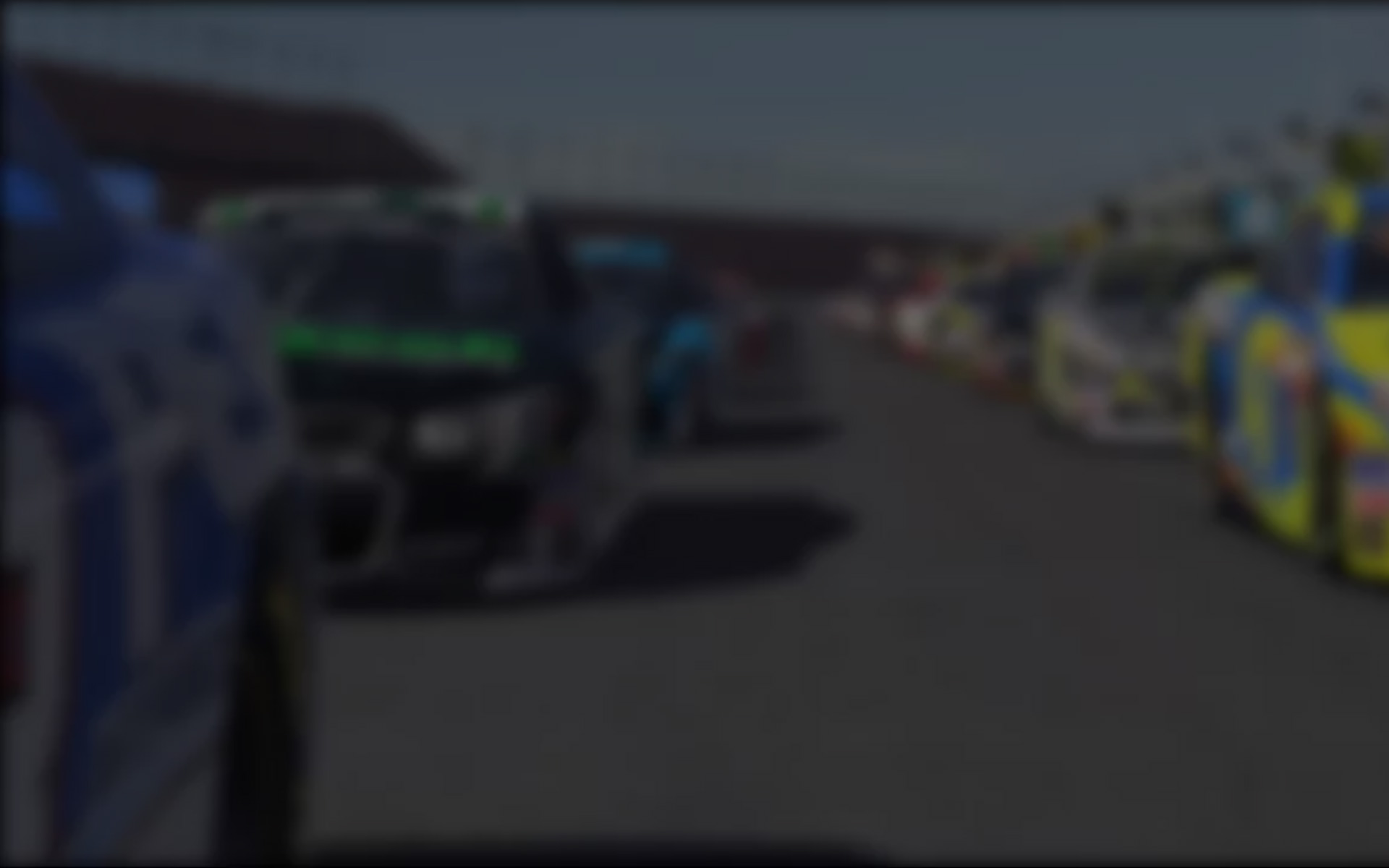 New Smyrna Speedway hosted Week 10 of the iRacing SK Modified Series, and the top split race was filled with excitement.  Mike Daniel and Marc Pilon filled-out the front row, while championship leader Richard Smith started back in sixth place, giving Daniel and Pilon a great opportunity to gain ground in the point standings.
When the green flag dropped, Smith decided he had other ideas. After making quick work of Andrew Van Cleef, Smith dodged the spinning car of Mike Keirstead and reeled-in Pilon for third place.  Smith then proceeded to put his head down and drive, attempting to catch Daniel and Robert Sandt, who had broken away from the rest of the field.
The battle for first quickly heated up. After Daniel jumped out to a small lead, Sandt chased him down and put on the pressure for forty laps. Lap 41 saw Sandt finally got a nose underneath Daniel and complete the pass. There would be no fight back from Daniel, as Sandt jumped-out to a half second lead and was unchallenged for the remainder of the race. Daniel eventually came home second, successfully defending against a hard charging Smith, while Pilon and Van Cleef ran clean and quiet races to round-out the top five.
Asked how he felt during his battle with Daniel and knowing that he had to make a move, Sandt said "I was pretty confident that I would be able to take the lead from Mike (Daniel).  He was burning-up his rubber pretty good towards the end of the race, so I just put the pressure on to make the final pass easier on me. I did notice Richard (Smith) closing in on us, and yes that is why I made  my move."
"He raced me clean and had the faster car." — Mike Daniel
"Robert had the faster car for sure," Daniel conceded.  "Fortunately, I had a good start and Robert had to battle in order to get into line which gave me a little breathing room. Robert's car turned so much better through turns three and four than mine. He took his time and waited for me to make a mistake on exit of turn two and set me up for turn three to make his move. He raced me clean and had the faster car. I would have liked to have held him off for ten more laps, but I cannot complain about finishing second."
Meanwhile, an interesting battle formed just outside the top five, and continued for the majority of the race. TJ Graves was doing his best job at defending the racing line in order to keep David Markham and Michael Morrison behind him. Morrison moved past Markham on Lap 23, then proceeded to battle with Graves for the sixth position. Unfortunately, Morrison's race would end abruptly when he looped while attempting to pass Graves on Lap 41. Markham retook seventh place from Morrison, and continued battling Graves to the finish.
The battle for the championship seems to be between two men, as Smith and Pilon are separated by a measly ten points. But there are still two weeks to go, and we can expect hard charging runs from Daniel, Brett Osborn and Keirstead, who are sure to throw their two cents in before the series wraps up at Thompson International Speedway on July 23rd.  Meanwhile, the championship contenders start their fortnight in Connecticut with a week of online racing at Stafford Motor Speedway.
---
You may also like...
---