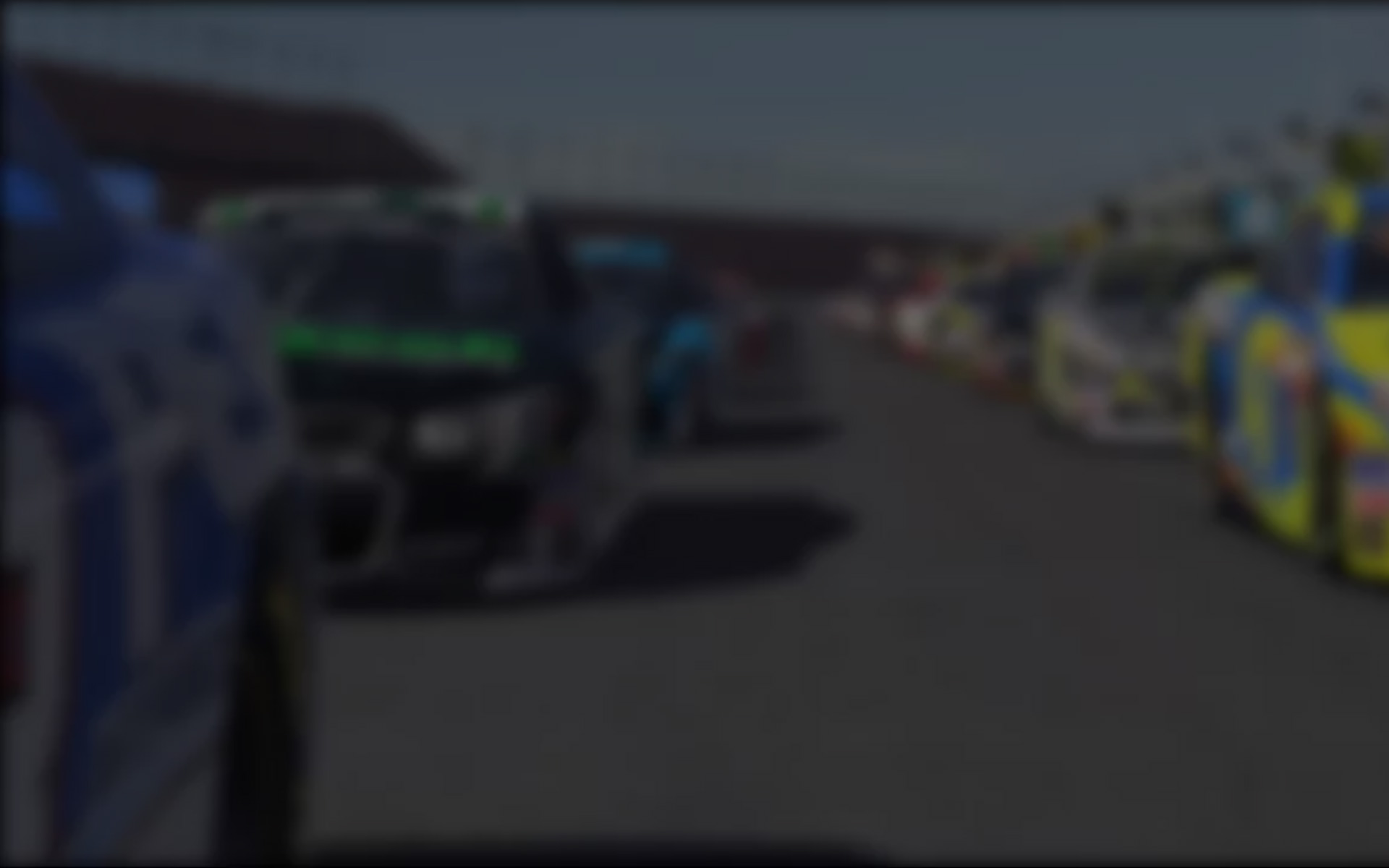 Portuguese translation below
The third season of this year has come to iRacing and with it, many new features. The newest version of the NTM5 has come to the majority of the virtual vehicles and some of them had their physics redone to get ready for the new tire including the Lotus 79, which is used on the Classic Lotus Grand Prix series.
On this first week, the new "tires" helped catch the attention of new participants who came to the CTC (Classic Teams Championships) and found a warm welcome from the veterans. Some of the new simracers were making their return after a few seasons out, and others were making their debut in the series, anxious to see how things would turn out for them after the update. And with that mix, everyone had some surprises. Veterans from many seasons would see themselves at the back of the grid, while a few rookies exceeded their expectations, achieving good results.
But not everything was new, and the fastest drivers – guess what – continued to be in the lead giving no chances for the contenders. Silverstone offered a very fast pace for the ground-effect cars and few overtaking points. Many simracers spent the whole week setting up their vehicles to get ready for the weekend's most important event of all: Sunday SOF race.
With the peak of participants, the number of official races during the week also rose; 13 in total, almost the double of the regular quantity from the Season 2, a fact that was very well received by everybody. In the first official race, on July 31, Lotus JPS driver Gernot Fritsche was the inaugural winner. In the following races leading up to Sunday's main event we had David Wormald, Nuno Moreira, Sam Dobie, James Rawson, Paolo Accurso, Michel Dudognon and Niki Kresse as official winners.
When Sunday arrived, 56 members were registered for the major challenge of the week, making two splits official races. In the first split, we would see what didn't had changed even with so many variables on the track: Fritsche had the pole position, followed by Dudognon, from Walter Wolf Racing, sharing the first row. Last season's champion, Moreira, started in third place – now representing Lotus JPS team. Tapani Linnaluoto (Mario Deliotti Racing), who was returning for the series, qualified fourth just ahead of Paolo Accurso in having his second race. Following a safe strategy, veteran John Hill was started from the pit lane having the 25th qualifying time.
After the green lights, 27 of the 28 cars successfully negotiated the first corner without problems, the exception being Daniel Pedrosa, who had no room on the outside line when he got to the braking zone and ended up by spinning his RAM Titbits out of the track. Daniel didn't had much luck on his return to the series and would end-up retiring with 17 laps to go. More simracers also encountered trouble later on the opening lap, including Daniel Friberg (Team Godfrey Bilton) and James Rawson, from Brabham, who had wheel contact with Nick Thissen's Copersucar. All of them continued on the race.
Gernot finished the first lap in the lead, but followed closely by Michel and Nuno. Paolo overtook Tapani for fourth place, but they were already watching the leaders pulling away. Likewise, the top five were leaving behind the rest of the competition, and Kalle Ruokola, also from Godfrey Bilton, would have to worry more about defending his sixth place against Marcel Penzkofer (Automobiles Martini).
The drivers were racing very closely in a long line of cars, on every corner of Silverstone, looking for any chances to overtake. With few key points in the track configuration enabling a safe pass, most position changes came as the result of driving mistakes. All participants were trying to preserve their tires, hoping that this would soon pay off later in the race.
It didn't took long for mistakes to occur, changing the complexion on the race – especially in the midfield positions. Between James Rawson (24th) and Richard Walker (15th), on the Lap Five, a long line of cars were fighting for positions, alternating between attack and defense. Nick Thissen and Jacob Desmarais (ATS Racing) were battling for 13th spot a bit ahead of the racers behind. On Lap 12, Jacob almost lost control of his Lotus and Nick overtook him in a risky — but successful — maneuver.  Further ahead, two Ferrari men were racing for the 10th place: Arto Ihamäki and Marko Kiika, who led his team mate. Meanwhile, up front Tapani overtook Paolo and regained fourth position.
In the lead, Gernot and Michel were having a private race, leaving defending champion Nuno Moreira behind. David Wormald (Arrows Racing) who won one of the races of the week, ran in a lonely on 9th place. Antti Lepistö (Brabham) who had earlier defended that position against David, now soldiered on with a damaged car after spinning and hitting on the wall during Lap Six, now found himself in 16th spot, giving all he had to avoid falling into the clutches of the cars behind.
Gernot continued with a strong pace and started to leave Michel behind. By Lap 21, the leading Lotus JPS driver could focus on keeping a consistent pace to manage the gap back to Dudognon. In turn, Walter Wolf Racing driver had to do the very same against Nuno, while he awaited (hope for) a mistake from the leader. Tapani was still in fourth from Paolo while the sixth placed Marcel, now had a more lonely race after the heat of the first half from the 30 laps. The only remaining close racing involved the lower positions, like the battle between Adam Kell, Antii Lepistö and Daniel Friberg for P17-19.
Two laps later, Thiago Izequiel (16th) from Team Tyrrell, made a mistake and got off-track, losing four places. Thiago had previously avoided an accident when Jean-Francois Boscus lost control of his car right ahead of him on Lap 16. In the same corner, Thiago also dodged Frank Herfjord (Team Tissot Ensign) who made a mistake similar to that of Boscus. But Tyrrell's driver would end-up being a victim of his own mistake. Meanwhile, his teammate John Hill, was in 24th place after starting from the pits.
The end of the race saw Gernot crossing the finish line as the winner, with Michel and Nuno completing the podium, replicating  their starting order. Tapani and Paolo Accurso wrapped up the top five while newcomer Marcel Penzkofer finished a very respectable sixth. Other noteworthy performances were recorded by Victor Nandez (JC Racing), who drove a great race on his return for the series and came from 20th place to 12th. Gabriel Amaral – Ram Titbits, managed to get a 15th place, achieving a satisfactory and motivating top 15 in his first Sunday race on his debut season.
Interviewed by iRacing News, Gernot said:
"The Sunday race must have been one of the hardests ever in the L79 with so many top levels guys on the grid. It feels like an honor to win that one, I really have to thank my teammates at JPS for the help with setups. I like the new car but there´s still a lot to learn. It looks like we run with softer springs than last season and the differential settings are more important now. Tire degradation is nice too, (and) Tapani seemed to have that figured out best, as he was the fastest in the final laps of the race."
Meanwhile, in the second split, Sean Wiltshire (Mclaren) won for the first time in the series from pole position. PJ Gaudie (Arrows Racing) came in second after overtaking Andre Heggheim (Team Tissot Ensign) who had started on the front row and completed the podium finishers. Other regular simracers from CTC who were used to racing in the only split of Sunday race found themselves in second split, like Mark Fisher (Ligier Gitanes), Klaus Petersen (JC Racing), Mark Pickford (Walter Wolf Racing), Mark Winfield (Renault Elf), Daniel Banker (Shadow Racing), Cam Walsh (Shadow Racing) and a few others.
Next the CTC heads to Road Atlanta. The challenging north Georgia racetrack promises competitive sim racing that will be really different from the fast pace saw at Silverstone. Will Gernot repeat his victory on Sunday? Will Nuno Moreira win his first race for Lotus JPS? Or are we going to see an unexpected result?
Stay tuned for this week.
Versão em Português
Novos pneus, novos desafiantes, mesmos vencedores.
A terceira temporada do ano chegou ao iRacing, e com ela vieram novidades. O NTM5 mais atual chegou à grande maioria dos veículos virtuais e com isso, alguns sofreram mudanças em sua física para se adaptarem ao novo pneu. E finalmente chegou a vez do Lotus 79, utilizado no Classic Lotus Grand Prix.
Nesta 1ª semana, os novos "pneus" ajudaram a trazer novos participantes que encontraram no CTC (campeonato interno paralelo ao oficial) receptivos veteranos. Alguns estavam retornando, outros iniciavam pela primeira vez na categoria, ansiosos para saber como se saíriam com a nova atualização. E nesta mistura, todos tiveram algumas surpresas. Veteranos de longas datas se viram no fundo do grid enquanto alguns novatos se destacaram com resultados satisfatórios e acima do que esperavam.
Mas nem tudo foi novidade e os pilotos mais rápidos – adivinhem – continuaram na ponta sem dar chances à concorrência. A pista de Silverstone oferecia um ritmo muito veloz para os carros de efeito-solo e poucas oportunidades para ultrapassagem. Muitos pilotos deixaram para correr no final de semana após passarem todo o resto dela acertando seus veículos virtuais para o evento mais importante: A corrida SOF de domingo.
Com o pico de participantes na série, o número de corridas oficiais durante a semana também subiu. Foram 13 no total, quase dobrando a quantidade habitual da 2ª temporada, fato que foi muito bem recebido por todos. Na primeira corrida oficial, feita no dia 31 de julho, o piloto da Lotus JPS, Gernot Fritsche, foi o vencedor inaugural. Nas corridas seguintes que antecederam o evento de domingo tivemos David Wormald, Nuno Moreira, Sam Dobie, James Rawson, Paolo Accurso, Michel Dudognon e Niki Kresse, também vencendo corridas oficiais.
No domingo em Silverstone, foram 56 inscritos para o evento principal da semana, dividindo o grid igualmente em 28 para cada split. No split principal, vimos o que não mudou mesmo com tantas novas variáveis em jogo: Gernot Fritsche obteve a pole position, seguido de Michel Dudognon, da Water Wolf Racing, em segundo lugar. O campeão da temporada passada, Nuno Moreira, veio em 3º – agora representando a Lotus JPS. Tapani Linnaluoto (Mario Deliotti Racing), que retorna à série, largou em 4º e Paolo Accurso, fazendo sua segunda aparição, em 5º lugar. O veterano John Hill decidiu sair dos pits. Com o 25º tempo, preferiu uma estratégia mais conservadora.
Após a luz verde, quase todos os 28 carros passaram pela curva 1 sem problemas exceto por Daniel Pedrosa, que ficou sem espaço na linha de fora durante a frenagem e acabou perdendo o controle de sua RAM Titbits, saindo para a área de escape. Fazendo sua temporada de retorno ao CTC, Daniel não teve sorte e abandonaria mais tarde faltando 17 voltas para o fim. Outros participantes também sofreram na volta inicial, entre eles Daniel Friberg (equipe Godfrey Bilton) e James Rawson, da Team Brabham, que teve um toque com a Coopersucar de Nick Thissen. Todos continuaram na corrida.
Gernot completou a primeira volta liderando, mas ainda seguido de perto por Michel e Nuno. Paolo pulou para o 4º lugar, mas já via o trio adiante se destacando enquanto Tapani o ameaçava em 5º. Os 5 primeiros se distanciavam rapidamente do restante do grid, deixando Kalle Ruokola, também da Godfrey Bilton, defensivo em sua 6ª posição contra Marcel Penzkofer (Automobiles Martini), 7º colocado.
Em todo o circuito de Silverstone, os pilotos do lendário Lotus 79 passavam pelas curvas enfileirados, muito próximos, buscando oportunidades para ultrapassar. Com poucos pontos na pista que permitiam a manobra, erros de pilotagem eram aguardados para mudanças de posições. Todos tentavam manter uma postura conservadora, esperando que os pneus entrassem em jogo para obter vantagens ao longo da prova.
Não demorou para que logo erros começassem a ocorrer, mudando a situação da corrida – especialmente no pelotão intermediário. Entre James Rawson (24º) e Richard Walker (15º), durante a 5ª volta, uma fila de carros brigavam por posições, alternando entre ataque e defesa. Nick Thissen e Jacob Desmarais (ATS Racing) corriam pelo 13º lugar de Jacob um pouco mais à frente, destacados de seus adversários. Durante o 12º giro, Jacob quase perde o controle de seu carro e Nick o ultrapassa em uma arriscada manobra, subindo uma posição. Adiante, dois homens da Ferrari, corriam pelo 10º lugar: Arto Ihamäki e Marko Kiika, que liderava seu companheiro de equipe. Também durante este momento, Tapani ultrapassava Paolo para reobter seu 4º lugar.
Na liderança, Gernot e Michel já brigavam de forma particular, deixando o campeão Nuno Moreira para trás. David Wormald (Arrows Racing) que venceu uma das corridas da semana, se via sozinho no 9º lugar. Antti Lepistö (Brabham) que antes defendia a posição contra David, vinha com seu carro danificado após rodar e bater durante a 6ª volta e agora estava na 16ª colocação, dando tudo que podia para retardar a aproximação dos carros que vinham atrás.
Gernot continuou com um forte ritmo e foi deixando Michel para trás. Na 21ª volta, a liderança do piloto da Lotus JPS já era uma questão de manter a regularidade para impedir que Dudognon o pudesse alcançar. O segundo colocado da Water Wolf Racing tinha que fazer o mesmo trabalho para se manter longe de Nuno em outra Lotus JPS enquanto esperava por um erro de seu adversário. Tapani em 4º, Paolo em 5º e Marcel em 6º, agora se viam em corridas mais solitárias após o calor da primeira metade da prova. Disputas imediatas apenas por posições mais baixas, como ainda se via entre Adam Kell (17º), Antii Lepistö (18º) e Daniel Friberg (19º).
Duas voltas mais tarde, Thiago Izequiel (16º) da Team Tyrrell, cometeu um erro e saiu da pista, caindo para 20º. Thiago havia escapado de um acidente na volta 17, quando Jean-Francois Boscus perdeu o controle de seu carro logo à sua frente e em seguida também desviou de Frank Herfjord (Team Tissot Ensign) que havia cometido erro similar ao de Jean. Thiago acabou tornando vítima de si mesmo. John Hill, companheiro de equipe de Izequiel, era o 24º após largar dos pits.
O final da corrida teve Gernot cruzando a linha de chegada em 1º lugar, com Michel e Nuno completando o pódio. A ordem de largada não se alterou durante a corrida e os pilotos mantiveram suas posições. Tapani e Paolo Accurso fecharam o top 5. O estreante Marcel Penzkofer fechou em um respeitável 6º lugar. Victor Nandez (JC Racing) fez também uma bela corrida em seu retorno à série e subiu da 20ª posição para a 12ª. Gabriel Amaral – RAM Titbits, conseguiu fechar na 15ª posição, atingindo um top 15 satisfatório e motivador em sua primeira corrida de domingo da sua temporada de estréia na categoria.
Ao final da corrida, Gernot disse com exclusividade ao iRacing News:
"A corrida de domingo deve ter sido uma das mais difíceis no L79, com tantos caras de alto nível no grid. Senti que foi uma honra vencer e realmente tenho que agradecer meus companheiros de equipe na JPS pela ajuda com os acertos. Eu gosto do novo carro mas ainda há muito a aprender. Parece que correremos com suspensões mais moles do que na temporada passada e as configurações do diferencial são mais importantes agora. A degradação do pneu é boa também, Tapani parece ter compreendido isto bem já que ele era o mais rápido nas voltas finais da corrida."
Enquanto isto tudo acontecia no split nº1, Sean Wiltshire (Mclaren) venceu pela 1ª vez na categoria, no 2º split, após ter largado na pole. PJ Gaudie (Arrows Racing) ficou em 2º, ultrapassando Andre Heggheim (Team Tissot Ensign) que havia largado também na 1ª fila, mas terminou em 3º fechando o pódio. Outros pilotos regulares que normalmente participavam do único split de domingo acabaram ficando no 2º split, como Mark Fisher (Ligier Gitanes), Klaus Petersen (JC Racing), Mark Pickford (Water Wolf Racing), Mark Winfield (Renault Elf), Daniel Banker (Shadow Racing), Cam Walsh (Shadow Racing) e outros.
Esta semana a corrida será em Road Atlanta. O pequeno circuito Norte-Americano já recebe os carros históricos para sua 2ª etapa. As corridas prometem ser disputadas e será totalmente diferente do rápido traçado de Silverstone. Será que Gernot conseguirá repetir o feito de domingo? Será que Nuno Moreira vencerá sua primeira corrida pela Lotus JPS? Ou será que um resultado inesperado será visto?
Fiquem ligados para os acontecimentos dessa semana.
---
You may also like...
---