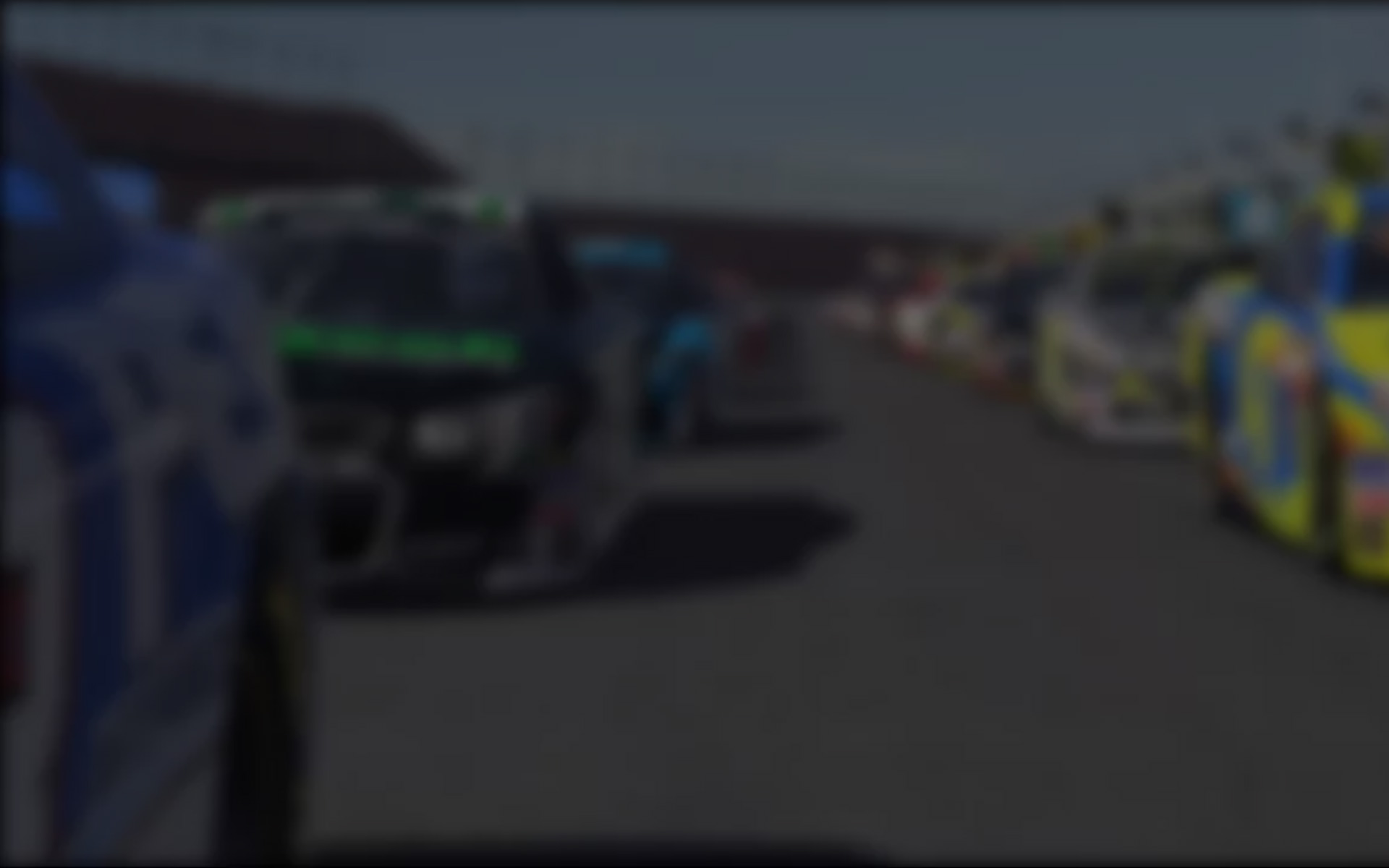 Shaking-off the effects of a minor collision, Nico Brandt won his very first  iamINDY.de series race against husky competition at Barber Motorsports Park.  The online race took many victims through the whole field, making every finisher feel like a little winner.
On a technical track like Barber, where thereare just one or two good overtaking possibilities each lap, many may think that a good qualifying time is very important in order to get a good result. Usually that's right.  But today at "Barber" the race took its own way.
After the qualification the two top favorites (and road course pros) Klaus Kivekäs and Aleksi Elomaa took the front row – just as expected. However the pole time set by Kivekäs was in a world of its own:  with a lap time of 1:08.552 he  beat his own world record by nearly two hundreds of a second.
In the early race several sim racers had their problems getting into rhythm. While some were able to escape with just a dropped of wheel, cutting some grass and losing a bit of time, others were not that fortune. After a wild ride through the curbs in Turn One, Michael Cooper had to retire in Lap Five – follower Daniel Ensch was fortunate to catch his car after he got lifted up with his left directly behind Cooper.
The top five didn't change their positions very much until Lap 13.   With second placed Elomaa close to his gearbox, pole sitter Kivekäs caught a slower car in the long Turn 14/15 right hander before start/finish. Probably because of a misunderstanding with the slower driver (Bill Krause),  Kivekäs went out of track, into the grass.   The quick-thinking Kivekäs tried to not lose too much time by taking the straight line into the pits – instead of taking a wild rodeo ride through the gravel trap back on track.  After completing his stop Kivekäs started his chase for the lead from P5.
Already one lap later he overtook Nico Brand for P4 and, the next lap, took Henrik Müller for third.  However, when he closed in to second placed Mika Maarala (also from Club Scandinavia as well as Kivekäs and Elomaa) he had a more difficult time of it. Maarla, who had some good first laps, was just heading into the Turn Five hairpin when Kivekäs saw some kind of a marginal gap.  As always happens two drivers are going for the same piece of real estate:,contact resulted. Both cars spun-out directly in the paths of the oncoming Müller and Brandt.  Müller was lucky to get by cleanly on the inside while Brand chose the outside line.  Unfortunately, this intersected the path of Kivekäs: more contact. Probably with a big smile under his helmet, Müller gained two positions and a nice gap to his followers in just one turn!  But Kivekäs didn't give up and fought his way back again. Overtaking both opponents one more time it just him took four laps to get back in P2 again.
Meanwhile in a comfortable lead, Elomaa was driving his car very hard while trying to open as big a gap as possible to the cars behind. Already with a 50 second lead, he started losing time by making several small mistakes while using the complete track and all the curbs available. After he made his pit stop in lap 29 Elomaa pushed the limit of his car too far coming in the Turn 10/11 esses, went off the track of crashed hard into the guardrail. Shortly after that, Kivekäs returned to the pits and retired just as Maarala had done some laps before. Probably due to some technical problems? No official statement has been made yet by both teams.
This cleared the way for the final battle between Henrik Müller and the newcomer Nico Brandt. With both cars on an equal performance level the last 45 laps turned into a tough race up on front. In the beginning of a stint Müller was a bit faster, while Brandt took his pace up and was faster in the end of his run. After 20 laps in the lead and with still 28 to go, Müller looked pretty comfortable — until he made a mistake, overbraking the rear coming into the hairpin. He spun off the track into the gravel and Brandt went by. During the last round of pit stops between Lap 53-55 Müller was able to close in again. Both drivers looked for their limits now – knowing that there was no more chance to get by on a pit stop.  But Brandt kept a cool head and didn't make any mistakes while picking up his pace.  This led him to his first victory in his first iamINDY.de series race! Smells like a new record.
Behind the top cars many drivers had their handling problems over the distance of 181 miles at Barber Motorsports Park. Bill Krause (P3) and Daniel Ensch (P4) both showed great endurance, which paid with a lot of points for the championship. Krause gained three positions and lays in P3 now, while Ensch did him one better, gaining four positions which set him into P4 together with reigning series champion Tim Doyle and oval specialist Daniel Olszewski.  Up on front Müller takes the championship lead back from three time race winner Yang Ou by just four points.
The next race in two weeks will be under the lights of Richmond International Speedway: short track oval action at its best.
About the iamINDY.de series:
The iamINDY.de series is a private hosted iRacing series which simulates the real IndyCar series as close as possible. With more than hundred members from all over the world and also some famous names like Pagenaud, Power or Foyt it offers every IndyCar or racing fan a good challange. The "full length" races (about 1:30 h) are every two weeks on sundays at 17:00 GMT (12:00 pm EST or 18:00 CET). Between the race weekens practice sessions are offered where can be worked on the setup. Beside the racing the series understands itself as a community of gentlemen drivers where clean and fair racing comes first in conjunction with having fun. Everybody who is intrested in taking part in can sign up on the website: www.iamindy.de
---
You may also like...
---