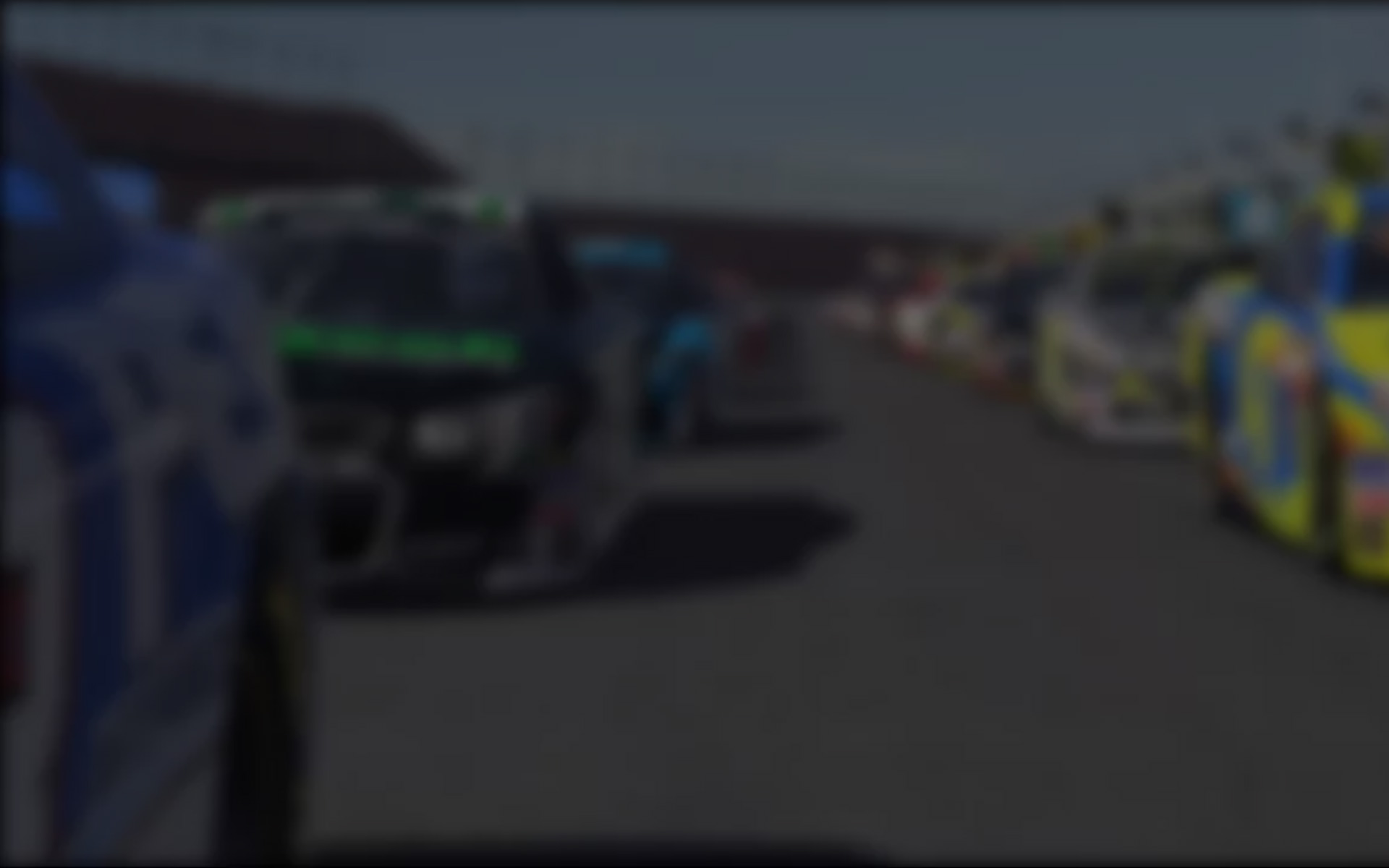 WEEK 4 of the iRacing V8 Supercar Series by Bigpond Sport was the "Enduro"– a whopping 38 laps of the Aussie V8's spiritual home, Phillip Island.
The extra dimension of pitstops added some spice which was, if the forums and the corporate box buzz was anything to go by, a highly popular move. It would take a brave man to try on a no-stop strategy here at the tyre-shredding Island.
It was an Nfinity 1-2-3- qualifying extravaganza with new boy Scott Andrews poling at 1 min 30.718 from Nfinity teammates Mitchell McLeod and Rens Broekman. There would have been a fourth Nfinity driver in the top ten but for Scott U'Ren being plagued with internet dramas pre-race.
The consistent Mick Claridge was fourth from XSG Motorsport's Michael McCabe. Trans Tasman Racing's Madison Down was sixth, again showing uncharacteristically low qualifying form, albeit form which 90% of the field would kill for.
Series regulars filled the remaining top ten grid spots. Simon Madden was seventh, claiming that it was the equivalent of pole "for humans". Shay Griffith was next, then Craig Woodhouse, and Dylan Gulson. Outside the ten was Darrin Vouch, Joshua Muggleton, Stuart Wood, George Fullerton, Richard Lock, Simone Gelli, Lewis Dodimead, David Bente and Mitchell Boulton.
"I resorted to powersliding everywhere…" – Madison Down
At the start the Nfinity train launched from the station- Broekman got a blinder and split his two teammates to take the lead from McLeod and Andrews, who duked it out with McCabe. Andrews- McCabe and Down went all but side-by-side into the Honda hairpin, but Andrews pulled ahead into third while Down squeezed past McCabe through the Hayshed, of all places. Broekman, McLeod, Andrews, Down, McCabe.
Disaster befell leader Broekman, as into the Honda Hairpin on Lap Two he outbraked himself and slithered up the escape road, dropping to ninth. It handed the lead to McLeod. McLeod-Andrews-Down-McCabe.
Claridge, Madden, Griffith, Woodhouse and Broekman waged war for fifth-sixth-seventh-eighth and ninth. In tenth was Muggleton holding off Vouch, Whatmore, Fullerton and Lock.
Griffith had it all to do holding off Woodhouse, who was in turn seeing Broekman big in his mirrors. Indeed Woodhouse had a big moment into Honda on Lap Five either trying to pass Griffith, or hold off Broekman, or a combination of both.
On Lap Seven Shay Griffith tagged Simon Madden into Honda, sending them both to the green green grassy infield, but they soldiered on in fifteenth and sixteenth.
Later that lap Whatmore had ambitions on Muggleton, with a tap or two at MG. Muggleton let him by down the pit straight. Whatmore promptly undid his hard work by getting it sideways out of Siberia the following lap, letting Muggleton and Vouch past. Meanwhile, Dylan Gulson had snuck up on Fullerton after George had a scary moment at Turn One.
There was action everywhere, so it was business as usual for the iRacing V8 Supercar Series. Lap eight saw Fullerton go off at the treacherous Honda Hairpin.
Whatmore's woes continued on Lap 11 with an off at the mega fast Turn One. His re-entry was less than glamorous at the Southern Loop and it caused Richard Lock, Simon Madden and Shay Griffith to pinball off each other, with nowhere to go. It generated much chagrin, including a frustrated Lock rubbing panels with an apologetic Whatmore on the outfield.
Madden managed to continue in 14th, pursuing Gelli, Griffith hobbled on with damage 2 laps down.
Muggleton was enjoying another solid performance, showing conservative maturity rather than raw, tyre-shredding aggression. He gave Vouch no trouble as the latter sought to pass him, preferring again to preserve a top ten position.
Dylan Gulson trailed that pair in tenth until he oversteered out of the final corner into the pit wall on Lap 17, ending up precariously in the wrong direction. At the same time, Vouch pitted, which put Stuart Wood into ninth, having a handy run considering some of the action which had transpired on his doorstep. Lewis Dodimead fired off at Siberia out of an impressive fifteenth place in his return to the top split.
The Nfinity duo up front were having no such dramas, enjoying a four second gap back to Down, with McCabe a further three behind him. Down was struggling."The front right took a huge pounding, I just could not turn the car at all over about 160km/h. I resorted to powersliding everywhere…suprisingly the rears tyres held on really well…". Not as surprisingly, it was an entertaining sight.
Pitstop time was looming. Broekman was the first of the main players, pitting on Lap 19, stationary for 15 seconds, and emerging in a handy ninth place.
In this previously un-tested realm of pit strategy, Broekman's move of pitting early would turn out to be the best one.
Andrews pitted from second place on Lap 20, stationary for 16 seconds, then Claridge and McCabe, who was "…looking to under cut Madison and gain track position, but I over shot my pit bay, costing me dearly".
Leader McLeod came in Lap 21."I thought (Andrews) was going to undercut me for sure, but I heard over TeamSpeak that he made a small mistake coming out of the pits…" Sure enough, McLeod scrambled out ahead, but with hardly a gap between them as he worked the tyres up to temperature.
Down carried on in the lead until he pitted the following lap, but Broekman's strategy had worked, and he leapfrogged the Trans Tasman pilot into third place. It was Nfinity 1-2-3.
As the dust settled it was McCabe next in fifth from Claridge, Woodhouse, Muggleton, Vouch, Wood, Madden, Atkins, Fullerton, David Bente and Simone Gelli in fifteenth.
The added drama of pitstops and the unfolding strategy kept the spectator gallery buzzing and guessing, it was hard to know where to look. Darrin Vouch experienced the pros-and-cons complexity: "For some reason it never clicked to run more fuel to make the pitstop a little quicker…I lost heaps of time there…".
There would, no doubt, be lots of head-scratching, data examination and time-and-motion studies post-race to determine the best strategy. This is simulated motorsport, after all. It simulates almost everything.
"Nfinity have a fair bit of momentum at the moment,…"  – Scott Andrews
The Nfinity sweep was far from decided, however, as Down began to apply the blowtorch to Broekman, with a hefty lunge into MG on Lap 25 which looked precarious as Down threw it sideways, but they lived on. All this, and there was still 12 laps to go.
While this was going on, Wood nailed Vouch into Honda, taking ninth. A Lap later, Madden relegated Vouch one more spot.
But all eyes were on the battle for that final podium spot, Broekman now defending heavily from Down into the key braking points at Honda and MG. It allowed McCabe to close up. By Lap 30 it was nose-to-tail business for all three. At any time, Down could have sent Broekman firing into the penguin colonies but didn't. It was hairy-chested racing, hard and fair.
As exciting as this was, almost unnoticed, Andrews took the lead from McLeod under brakes into Honda on Lap 29. "I've got no idea how he got that thing stopped and claimed the lead." said McLeod, who hung on to him.
Finally the cork became unplugged for Broekman as he squirmed sideways exiting Honda on Lap 31. It took Down until the hayshed to squeeze past in a brilliant move around the outside, duplicating his move on McCabe from Lap One. Broekman almost fell off the road in surprise, allowing McCabe through up the hill to Lukey Hights.
Broekman from third to fifth, and Nfinity's 1-2-3 spoiled, in the blink of an eye.
Again, pit strategy had played a role. Down had pitted later, so his tyres were fresher.
Within five laps of the 38 lapper's end, McLeod signalled his intentions by closing right up to the back of teammate Andrews. At the same time, Broekman moved back into fourth with a daring move around the outside of McCabe into Turn One.
"I only want to win races that I earn"  – Mitchell McLeod
It was pressure all over for leader Andrews. The real world Formula Ford driver not only had McLeod to worry about, but serious internet lag began playing havoc with the car. At one stage it was unclear whether his penultimate lap would even be counted, let alone whether his car would re-appear, such was the lag. The spectator gallery held it's collective breath.
In the end it held together for Andrews who emerged victorious.  McLeod backed off in the final seconds to preserve second place. Down was a full 10 seconds back in third with Nfinity's wingman Broekman fourth. McCabe was fifth from Claridge, Woodhouse, and Wood who had dodged several bullets to arrive in eighth. Muggleton and Madden rounded out the top ten. Marty Atkins was a big mover, finishing 11th from 21st on the grid, passing Vouch on the final lap.
The winner was elated on many levels, real and virtual. "It means a fair bit to me this track…this is where I got my first win at a National level in Commodore Cup." And the much talked-about issue of team orders? "I asked Mitch if team orders apply, he replied 'I only want to win races that I earn' ".
Just when it looked like Season Two champ Madison down was reasserting dominance, a new question is now being asked; can anyone stop Nfinity Esports?
Images courtesy of Stuart Wood/ Lewis Dodimead/ Bigpond Sport
The iRacing V8 Supercar Series by Bigpond Sport is now broadcast on LIVE STREAM.COM.

OVERALL DIVISION STANDINGS (All divisions)
| | | | | |
| --- | --- | --- | --- | --- |
| POS | DRIVER | DIVISION | CLUB | POINTS |
| | | | | |
| 1 | Mitchell McLeod | 1 | Australia/NZ | 861 |
| 2 | Madison Down | 1 | Australia/NZ | 837 |
| 3 | Rens Broekman | 1 | Benelux | 793 |
| 4 | Mick Claridge | 2 | England | 741 |
| 5 | Scott McLaughlin2 | 2 | Australia/NZ | 655 |
| 6 | Craig Woodhouse | 2 | Australia/NZ | 605 |
| 7 | Shay Griffith | 2 | Australia/NZ | 544 |
| 8 | Simon Madden | 2 | Australia/NZ | 544 |
| 9 | Stuart Wood | 2 | Australia/NZ | 520 |
| 10 | Dylan Gulson | 2 | Australia/NZ | 511 |
| 11 | Cal Whatmore | 2 | Australia/NZ | 488 |
| 12 | Colin Boyd | 3 | Australia/NZ | 488 |
| 13 | Richard Lock | 2 | Australia/NZ | 476 |
| 14 | George Fullerton | 1 | Australia/NZ | 474 |
| 15 | Marty Atkins | 2 | Australia/NZ | 460 |
| 16 | Scott U'Ren | 1 | Australia/NZ | 456 |
| 17 | Gavin Barton | 2 | Australia/NZ | 434 |
| 18 | Vern Norrgard | 2 | Australia/NZ | 433 |
| 19 | Simone Gelli | 2 | Australia/NZ | 427 |
| 20 | David Hingston | 2 | Australia/NZ | 426 |
| 21 | Mitchell Boulton | 2 | Australia/NZ | 421 |
| 22 | Scott D Andrews | 2 | Australia/NZ | 417 |
| 23 | John Emerson | 2 | Australia/NZ | 417 |
| 24 | Joshua Muggleton | 2 | Australia/NZ | 416 |
| 25 | Troy Cox | 2 | Australia/NZ | 393 |
| 26 | Ray Butcher | 3 | California Club | 381 |
| 27 | Angelo Mastrantoni | 4 | Italy | 379 |
| 28 | Richard Hamstead | 2 | Australia/NZ | 375 |
| 29 | Peter Read | 1 | Australia/NZ | 375 |
| 30 | Stephen Jones | 3 | Australia/NZ | 372 |
| 31 | Tony Hellier | 4 | Australia/NZ | 371 |
| 32 | Lewis Dodimead | 2 | Australia/NZ | 369 |
| 33 | Kevin Duwel | 3 | Benelux | 367 |
| 34 | David Jaques | 1 | New York | 362 |
| 35 | Michael McCabe | 1 | Australia/NZ | 353 |
| 36 | Stephen Michaels | 2 | New York | 347 |
| 37 | Richard Hunter | 3 | Australia/NZ | 345 |
| 38 | Wayne Harris | 2 | Australia/NZ | 338 |
| 39 | Shane van Gisbergen | 1 | Australia/NZ | 333 |
| 40 | Simon Black | 1 | Australia/NZ | 332 |
---
You may also like...
---