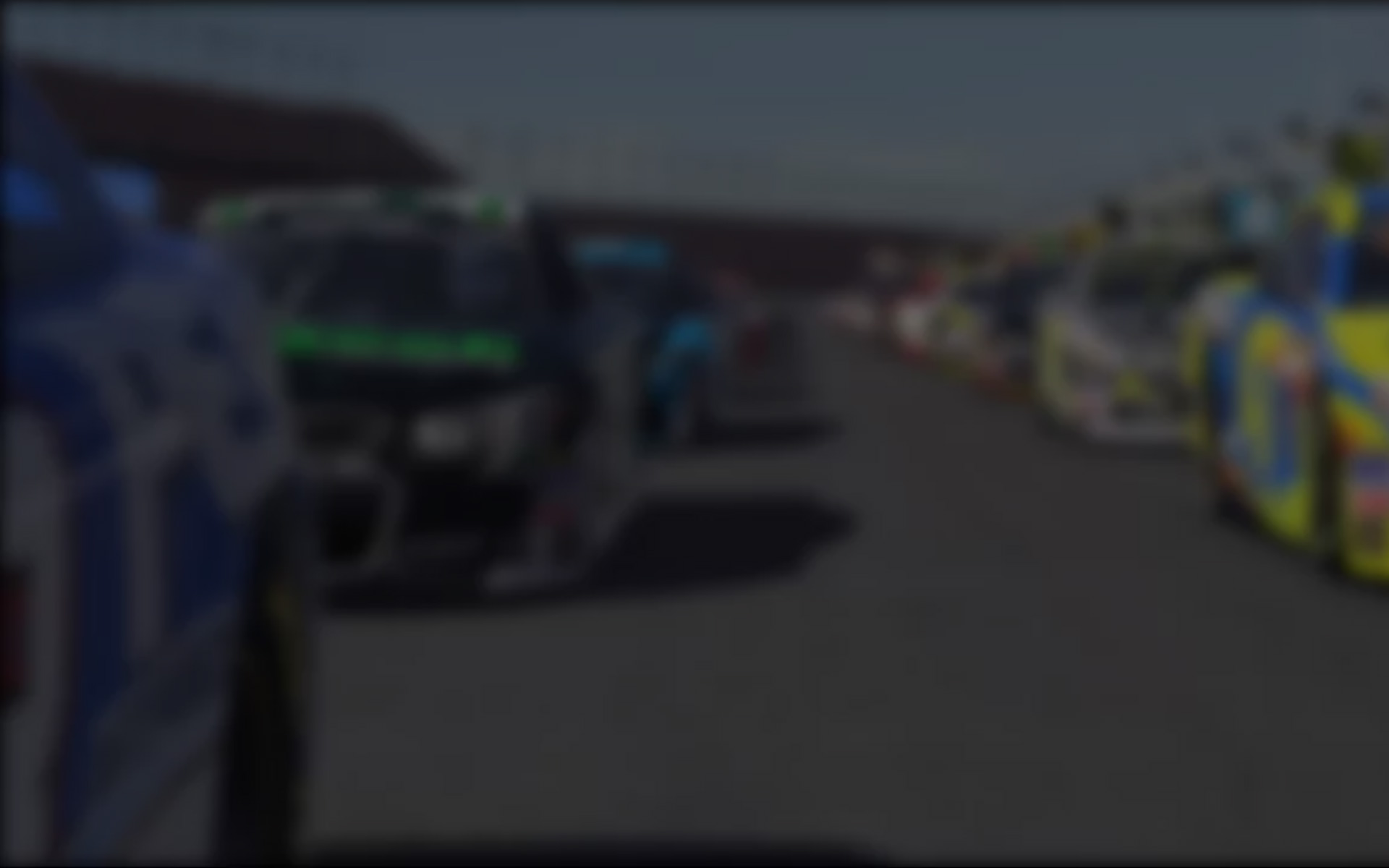 Although Round Eleven of sim-racing's pinnacle road-racing championship at the Silverstone Grand Prix circuit announced a brand new sponsor and title name — the iRacing.com NVIDIA Series — it was an established favourite claiming the spoils of victory in the race.  Whilst on paper Jesse Nieminen's pole-to-flag victory appears to be another story of an academic win for the My3id driver, it was far from plain sailing for the Finn.
After taking pole position with a time of 1:18.630, Nieminen maintained his position at the front when the green flag dropped, and soon established a gap over his team-mate Klaus Kivekäs, who stole second from Redline's Greger Huttu at the start. By the time the first round of scheduled stops were complete on Lap 20, Nieminen's lead was up to five seconds over Kivekäs and Huttu, the latter of whom was using all his guile to fend-off the lightly-fueled Williams-Toyota FW31 of Hugo Luis.   Huttu, the defending series champion, would eventually succumb to the pressure after several laps of keeping the Brazilian at bay.
As the final bout of scheduled stops approached around Lap 40, Nieminen looked to have all the boxes ticked for a comfortable championship victory.  Not only did he have six seconds in his pocket, he had a pair of My3id team-mates in Kivekas and Luis offering a further defence from Team Redline's Huttu. But even as the lead trio completed their visit to pit-lane, it became obvious that Huttu had fueled for an extended second stint as he remained on track.  He duly posted a series of hot-laps as the My3id trio was getting up to speed with their freshly-brimmed Formula One. As a result, when Huttu did pit five laps later than the leaders, he rejoined the Silverstone GP Circuit in second position, three seconds behind Nieminen . . . and on fresher tyres.
"After the first pit-stops everything looked pretty good, I had a few seconds gap to Klaus, and Greger seemed to have dropped back a bit." Nieminen explained post race. "After the last pit-stops I started to feel a bit worried as Greger had gone for a massively long second stint and it was looking pretty close on whether or not he would even come out in the lead after his stop."
"It was looking pretty close on whether or not (Huttu) would even come out in the lead after his stop." — Jesse Nieminen
With the bit between his teeth, Huttu set about reeling in the leading FW31, and by the time the gap to Nieminen was down to just a couple of seconds, it looked like the current World Champion was about to set-up a grandstand finish. But Huttu found himself baulked – twice – taking avoiding action through the Becketts section, narrowly avoiding contact with out of control cars in the process. "I had two really scary moments during the last stint. The first one was a lap after my pit-stop when Max Vietmeier spun in Becketts," Huttu told inRacingNews. "He went onto the grass and then came back across the track right in front of my front wing. I lost sight of him for a while when he was on the grass so it was a pretty scary moment there! An identical thing happened when (Redline team-mate) Dom Duhan spun some laps later and this time I kind of knew what to expect."
Despite losing some momentum, Huttu managed to bring the virtual Williams Toyota FW31 back onto the gearbox of the leader with a couple of laps to go, just as Nieminen was approaching lapped traffic. "For the last few laps Greger got pretty much right up to my tail and the last lap was incredibly intense," said Nieminen. "I thought that I had just pulled enough gap after the Becketts section to have it in the bag.   Then when Carlo Labati cut me off in the last sector, so he got close enough to have a run into the second last corner, I covered the inside and there was nearly contact but I managed to stay ahead."
Just.  Nieminen's margin of victory (his fourth of the season) was a mere two-tenths of a second.
Kivekäs, who entered Round Ten of the iRacing.com NVIDIA Series with a 15 point lead over Huttu in the title chase, claimed the final podium spot after being unable to challenge his championship rival after the final round of pit-stops. "I knew Greger would be faster than me, but overtaking being nearly impossible here I just tried to keep my lines tidy and push at the end of the stint to avoid getting leapfrogged," Kivekäs wrote this week. "We pitted on the same lap but for the next stint our strategies were very different, I only did seventeen laps whereas he did twenty-two. As I feared, I wasn't fast enough and Greger came out ahead of me from his second stop. After that there was nothing I could do to fight back."
"There was nothing I could do to fight back." — Klaus Kivekäs
Making a net gain of two positions by the end of the sixty-lap race was My3id's Hugo Luis, whose strategy to run a light car in his second stint paid dividends as the Brazilian claimed his eighth top-five finish of the season. Five was the magic number for Team Redline's Luke McLean, who came home ahead of Ilkka Haapala in fifth place, five seconds behind Luis, from his fifth place grid spot. The Australian, who has played a major supporting role in Huttu's 2011 iRacing.com NVIDIA championship bid,  saw his seventh top-five finish of the year sealed during  exchanges in pit-lane.
"We all pitted on the same lap, twenty-four, and it was straight away clear that Hugo took a lot less fuel and Ilkka took a bit more," McLean said. "So Hugo went for the fast middle stint, while I leap-frogged Ilkka . Hugo is usually very quick on this tactic so he rapidly moved away while I focused on nailing every lap. I actually had quite a good stint, and I ran three to four laps longer than him. As I exited the pits I saw him in the mirrors but stupidly I took the inside pit exit instead of going straight onto the track. If I took the strait to track option I would have been able to probably block him off into the sweepers."
Although Haapala saw a top-five finish evaporate into the distance, the Orion Race Team sim-racer had to fend off a sustained attack from England's David Williams. Opting for a heavy fuel load in his middle stint, the Finn had to yield his sixth position after his first stop, only claiming it back from Williams after the final visit pits, when Haapala's 'long-game' put him ahead for the finish.
Making a return to the iRacing.com NVIDIA Series after several rounds of absence for military service, Marcus Saari continued from where he left, securing a top ten finish ahead of Alberto Baraldi and Vincent Staal who traded positions throughout the sixty-laps of the Silverstone GP Circuit.
The podium finish behind Huttu sees My3id's Kivekäs' lead over Huttu atop the standings shrink to a slender ten points. Luis maintains his third position in the championship on 353 points, twenty-four marks off the leader, and forty-four clear of team-mate Nieminen. Round Twelve of the iRacing.com NVIDIA Series brings the virtual-F1 cars to the tricky Road Atlanta circuit.  Will Huttu continue to close in on the championship lead, or can Kivekas prevent the Finn from gaining any more momentum?
Check back in two weeks in time for the answers!
---
You may also like...
---