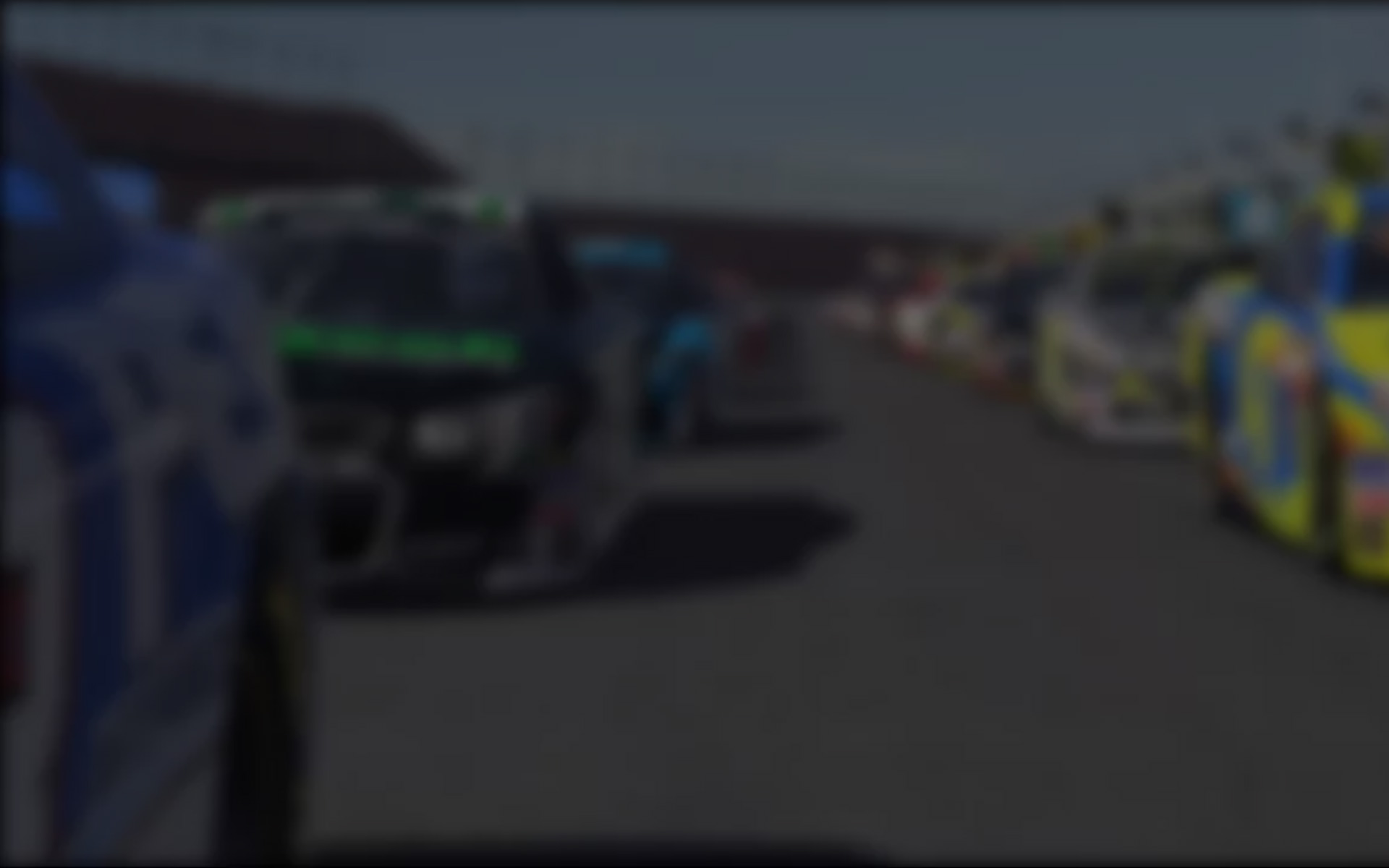 Overcoming his recent run of technical glitches, Jesse Nieminen got back to winning ways at Barber Motorsports Park to claim his second victory of the season in the 2011 iRacing World Championship Series Road Racing. The maximum points haul for the series rookie rebounds the Finn to second in the championship standings, 44 points behind team-mate Klaus Kivekäs.
As the green-flag dropped on the 80 lap race, Bastien Bartsch's finely-tuned Williams Toyota FW31's power plant resigned from proceedings in a huge plume of black smoke on Row Five. This made for a scene similar to cockroaches scurrying for cover at the first sign of light, with virtual Formula 1 cars diving to any piece of spare tarmac to dodge Barstch's crippled machine. Amazingly, everyone managed to avoid the Team Redline pilot and get away from the line unscathed.
As the clean start evaporated into a distant memory, pole-sitter Hugo Luis set about carving out a lead over My3id team-mates, Kivekäs and Nieminen.  By the time 10 laps were registered on the board, the Brazilian sim-racer held a one second lead, and looked set to dominate the race. However, this week it was Luis' turn to feel the spite of the racing gods.  His race came to an abrupt end at the hands of Dion Vergers, who lost control through Turn One and sailed at high speed into leader as he attempted to lap the Dutchman. "I cannot believe I took out the leader," Vergers sheepishly offered post race. "I clipped the curb and went straight in Turn One. I was a passenger when I went wide and Hugo came up from behind and we had contact in Turn Two. I'm very disappointed in myself."
On a circuit notorious for its limited opportunities to pass, Nieminen grabbed his first chance to step into the lead, sneaking past Kivekäs as his teammate took avoiding action from Vergers/Luis tangle ahead of him. With Luis cut from his prime, it was left to My3id's Nieminen and Kivekas to take point, ahead of current iWCSRR champion, Greger Huttu.  But by the time the second round of pit-stops were being executed, the battle for the lead was left to a duel as Team Redline's Huttu made heavy contact with the wall on his way to the pits. Although the champion kept his car running for the remaining 50 laps, he limped all the way to the chequered flag for a fourteenth place finish.  All in all a tough day for Team Redline given Bartsch's start-line demise and Luke McLean's Lap Nine crash . . .
By the half distance Nieminen and Kivekäs had engineered a lead of over ten-seconds, as the My3id pair laid down lap afternose-to-tail lap at a blistering pace. "The first stint was undramatic until Hugo and Dion's incident, I nearly got collected there too but somehow avoided contact," wrote Kivekas this week. "However, Jesse managed to pass me in the process. On the second stint I had a much lighter car than Jesse but overtaking was absolutely impossible because of the dirty air. The only opportunity I got was when he made a mistake on Lap 45 but I didn't manage to capitalize on that."
"The only opportunity I got was when (Jesse) made a mistake on Lap 45 but I didn't manage to capitalize on that." – Klaus Kivekäs
Although Nieminen put on a near-faultless display of driving, it was the Finn's pit-strategy that paid the maximum dividend.  After seeing Kivekäs dive from his rear wing to the pits for his final stop on Lap 55, Nieminen made the most of a clear track to chisel-out a three second lead by the time he'd made his scheduled stop five circuits later. "For the second stint I took another 30 laps worth of fuel as I knew I would probably come out just ahead of Klaus and the extra laps before my second pit-stop would give me a pretty good edge," explained Nieminen.
"The pit-stop went fine and I got out in the lead with Klaus just behind me. He had gone for a really short second stint and was definitely a lot quicker than me at that point. I had to watch my mirrors quite a lot, and at the end of lap 45 I did a silly mistake going wide at the exit of the final corner and Klaus got a run on me on the outside of Turn One. I was really worried that I would hit the bump on the inside and slide into Klaus, so I took the corner quite carefully, but then got a nice line into Turn Two and managed to hold on to the lead around the outside. After that I didn't make any mistakes and the extra light fuel laps on Klaus made the rest of the race quite easy for me."
After seeing the likes of Huttu, Luis, and McLean fall by the wayside on the technically-tough virtual Barber Motorsports Park, Team Podium Assault's Ilkka Haapala secured his first podium finish of the season, 22 seconds behind the leaders. "The last stint was again tough for me." Haapala told inRacingNews. "I always seemed to catch lapped cars in places where there just wasn't any chance to get by and was struggling a lot to get a feel for a lighter fuel load, so I just settled again into keeping a comfortable pace. I managed to bring the car home in one piece and score some nice points. Getting a podium feels nice after the disaster of a race at Zandvoort."
Making it two top-five finishes from four starts, Ben Cornett held off the agressive advances of Shawn Purdy after sneaking past the Canadian through the confusion of Turn One on the opening lap, to secure fourth position by a handful of seconds. "Purdy caught me in the first stint and I did my best to blind him with tyre smoke," shared the Australian. "I managed to keep him behind due to the track's impossible to pass nature and he pitted two laps before me.
"Purdy caught me in the first stint and I did my best to blind him with tyre smoke." – Ben Cornett.
"When I exited the pits, he was five seconds behind. I knew he'd catch me so this time I went really easy on the tyres. He caught me instantly but you just can't get past here. I drove around slowly with Shawn studying my rear suspension geometry until the second stop where I had six laps more. I put the hammer down, did some OK laps through traffic and came out of my last stop ten-seconds ahead."
It was a case of 'mission accomplished for Purdy who brought his digital Williams Toyota FW31 home in fifth position. "I was cruising for 70% of the race, but I got a top-five so I can't be upset with that," said the Team Orion driver this week. "It's just so impossible to pass here. So I played it safe instead of trying to give Cornett a hard time. I think I could have fought for third for sure, but Jesse and Klaus had much better consistent pace looking at the laps."
Finishing as the only remaining car on the lead-lap, Richard Towler grabbed what seems a remarkable best finish of the season so far. Remarkable, as the Englishman was one of the few challengers to Huttu's 2010 World Championship crown, but outside commitments have seen a shortage of test time equal a shortage of good results. From his fourteenth position on the grid, fellow countryman David Williams picked his way through the field to claim seventh spot  ahead Alberto Baraldi. Continuing his run of top-ten finishes, Marc Payne put on a near-perfect drive for the 80 lap race to claim ninth position in front of Joao Vaz, who beat Ray Alfalla to the line by a whisker.
Nieminen's return to form moves the My3id online racer up to second in the championship table, sandwiched by his team-mates Kivekäs and Luis, who sit 44 and 20 respective points either side of the Finn. Although Huttu has only made an appearance in three of the four rounds, the 2010 World Champion lies just 72 points off the lead, but just a handful of points ahead of Cornett, Aleksi Elomaa, Alfalla and Alberto Baraldi. The challenge for the iRacing World Drivers Championship Road Racing Series doesn't look set to let up, as the globe's greatest sim-racers head to the 'dust bowl' of Infineon Raceway. Will Nieminen continue to claw his way back to the top of the standings, or can Kivekäs maintain his position at the top? Or will the My3id curse strike again?
---
You may also like...
---