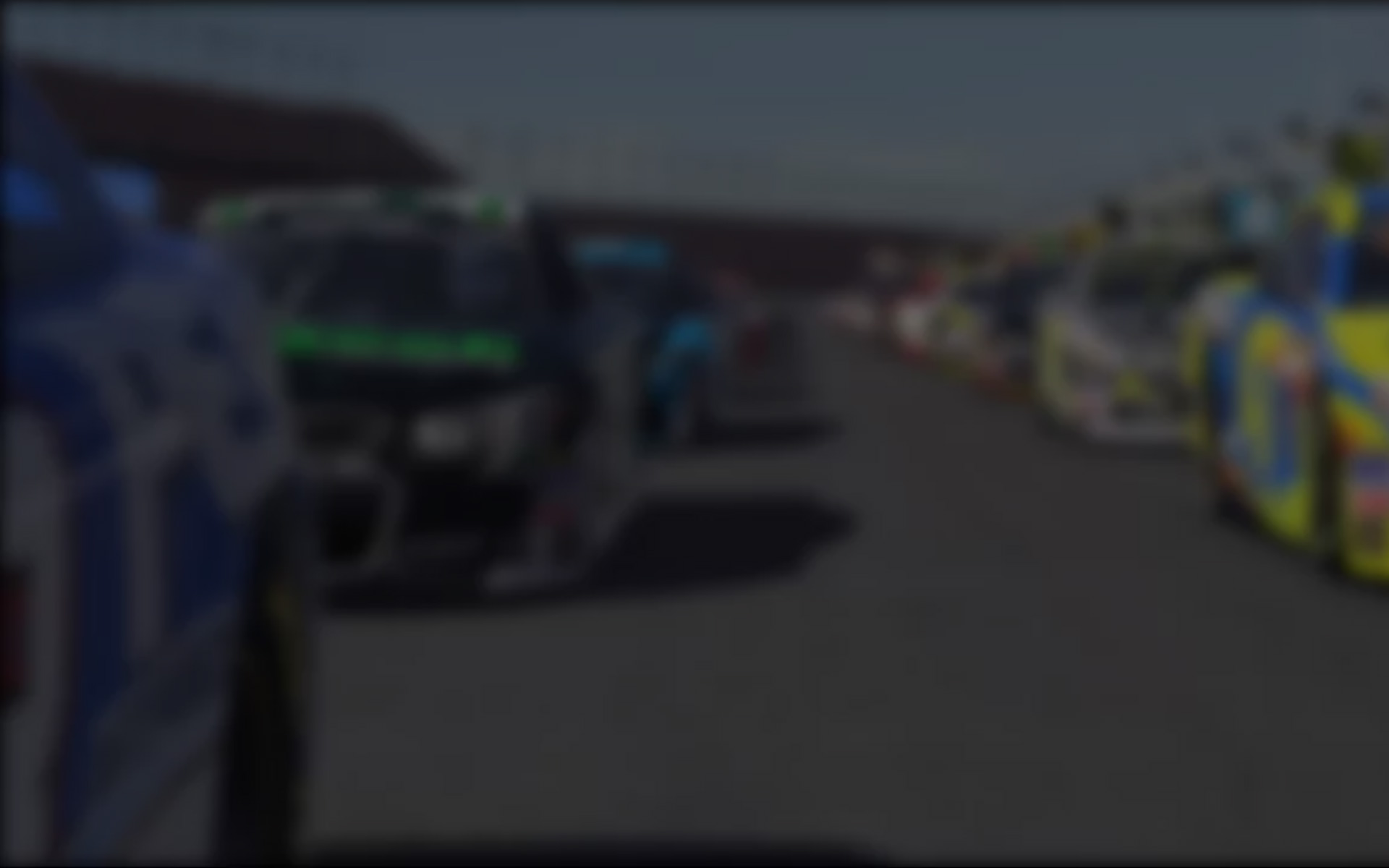 Bristol Motor Speedway; infamously known as Thunder Valley. Drivers either love it or hate it. Fans generally adore the action, and crewmen always wince after the green flag drops. It's an all-or-nothing track, feasting on those not fortunate enough to survive to the checkered flag. It's because of this that drivers in the iRacing.com Sprint Car Series tend to think twice before entering the official events of the week. Only the bravest would come out to play on the 30-degree banks of the "World's Fastest Half-Mile," and only the strongest survived.
Attendance for Week 6 reached triple digits once again as 111 spots were filled in the official races of the week, with veterans and rookies alike looking for points payouts without losing pieces of their simulated machines in the process. The fastest qualifying time of the week would go once again to five-time iSCS champion Alan Binder, who recorded an impressive 13.633s fast lap and would start first in the events he entered. Following close behind by only one one-hundredth of a second was series veteran Fred Lampela, fresh from a career highlight week at Lanier. A total of eight races went official during the week's run, and all of them seemed to be chock-full of carnage and surprise.
The lightning crashed down in Thunder Valley for the first time on Tuesday, with iSCS veteran PJ Stergios leading a 17-car field to the green flag. It wasn't long until the first yellow flag was displayed, after the sprints of Randall Faulks and Nick Neben found contact with each other and then the SAFER barriers. On the restart, Stergios took off once again, leaving JR Ray and Kenny Humpe to duel for the runner-up position. Unfortunately, the two locked wheels, sending both cars into the wall and into traffic, with Ray's sprint tumbling end over end and onto the roof of Steve Linder's car. iSCS past champion Vinnie Sansone and Garry Loney also made contact trying to avoid the incident, but were able to continue on with minor damage. After two more cautions periods, only four drivers remained that hadn't experienced an incident on-track. PJ Stergios was able to keep it clean, leading all 50 laps of the event and taking the checkered flag under yellow flag conditions. Loney and Sansone came back from their earlier excitement to finish second and third place respectively. Kevin Malone brought his car home safely with a fourth place result, and Leila Wilson also captured an incident-free run by finishing fifth, passing ten cars to get to her final position.
In Tuesday's second split, Larry Landry came from a tenth place starting position to victory lane after leading only three laps, beating pole-sitter Michael Linder to the finish line. Chet Wheeler Jr. brought the famous Grave Digger sprint to a podium finish with his third place result. In the 16-car field, only the top four completed the race on the lead lap, with Mark Hephner taking the fourth place spot after gridding in the last place position. Brian Williams was able to his sprint home to a top five, one lap down with zero incident points scored against him.
One more race was held on Tuesday, this time with Alan Binder taking point on a 15-car field. In his signature form, Binder was untouched through the event, leading all 50 laps to the checkered flag, taking his first win of the week. Nick Neben overcame his bad luck from the evening's earlier race by placing runner-up to Binder. Steve Linder completed the podium with his third place finish. Matt Anderson and Glenn Cray rounded out the top five respectively.
The storms rolled back into Bristol on Thursday, as Fred Lampela roared away from a 16-car field, making up the highest SOF rated event of the week (3261). However, on entry to Turn 1 on the opening lap, Steve Linder lost grip and slid into Nick Neben's machine, which turned Linder into the wall. With nowhere to go and no time to react, Kyle Odaynik plowed headfirst into Linder's sprint, causing it to tumble violently down the banking and onto the backstretch. Neben also found himself upside down on the backstretch after what was arguably the worst looking crash of the season to date. After a long caution, the cars got back to racing. Two more cautions were displayed for Brandon Buchberger and Michael Lampela respectively, and after the cleanup for Michael's incident, the race went green for the remaining laps. Fred Lampela was able to hold off a collection of sprint veterans to cash in on his first win of the week. PJ Stergios finished just .5s behind Lampela for second place, just inches ahead of Kenny Humpe in third. Sansone achieved another solid performance with his fourth place result, while Loney completed the top five.
In the second split feature, the green flag was taken by Randall Faulks, looking to capitalize on another successful week after Lanier. However, Faulks' run was overtaken by connectivity issues, and he failed to finish the race. After an event painted yellow just twice, it was Brett Waldrep who took the trip to victory lane after a successful pass on the outside lane for the lead position. Larry Landry finished two seconds behind in the runner-up spot, and Paul Mepyans, nursing a bruised race car, enjoyed a podium finish in third. James Lamb and Eddie Walczyk respectively rounded out the top five.
In the final event on Thursday, Fred Lampela enjoyed an encore performance as he took his sprint back to victory lane for the second time after leading all 50 laps. Kevin Malone finished in second, and Donald FitzGerald completed the podium by placing third. Matt Berndt and Glenn Cray completed the top five respectively.
Sunday would wrap up Week 6 with two feature races. In the first race of the day, after three caution flags were displayed, it was a different Lampela taking the checkered flag. Michael bested the Fast Finns and many other sprint veterans to earn his way back to victory lane. Aleksi Elomaa scored the runner-up position, and Steve Linder, after rebounding after his wild crash on Thursday, finished in third. Joni Hagner enjoyed his fourth place placement, and Sansone finished in fifth. The entire top five finished less than one second behind Lampela.
To cap off his busy yet profitable week, Fred scored a hat trick by earning his third win in Thunder Valley. Scott Green scored one of his best finishes of the season with his second place result, and Michael Lampela found himself on the podium once more after his third place finish. Todd Taylor2 and Eric Nordhoff completed the top five respectively.
After the smoke dissipated from Week 6, Alan Binder still leads the iSCS points standings. However, it's now a slimmer margin, as Fred Lampela has inched closer to the top position. With the Milwaukee Mile right around the corner, will Lampela start knocking on Binder's door? Find out next time on inRacingNews!
iRacing.com Sprint Car Series Championship Standings
1. Alan Binder (1004)
2. Fred Lampela (-62)
3. PJ Stergios (-105)
4. Steve Linder (-346)
5. Vinnie Sansone (-347)
---
You may also like...
---