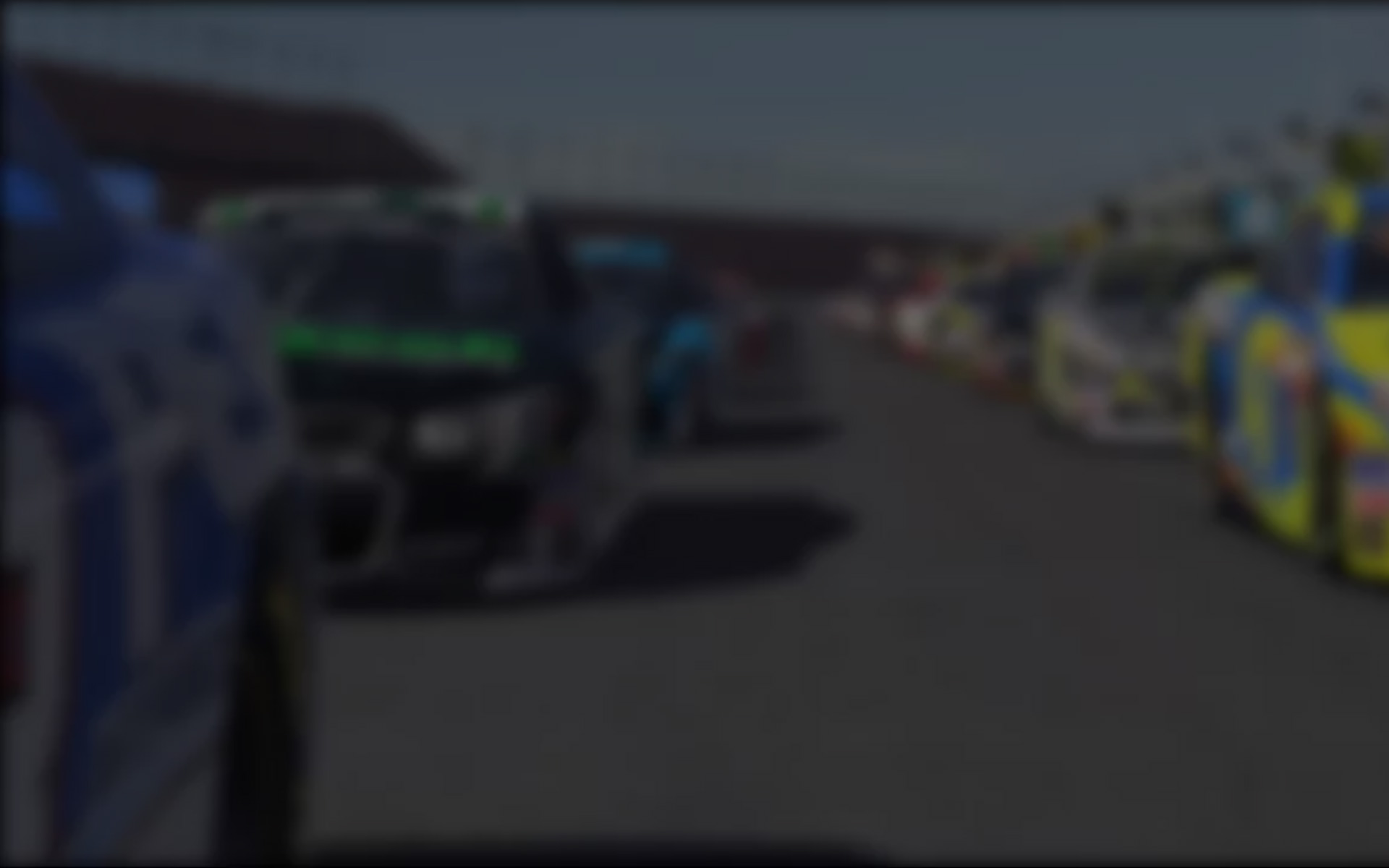 In one sense, Round Nine of the iRacing Drivers World Championship Road Racing can be summed-up by the online racing numbers.  As in the ninth win in as many tries for Greger Huttu, who led from green light to checkered flag at Mazda Raceway Laguna Seca on Saturday.  That's 50 more laps in the lead for Huttu, bringing his total to a mind-boggling 410 of 420 total laps on the season. 
Want more numbers?  Consider that Huttu's fastest lap of 1:11.212 was roughly half a second faster than that of Laguna Seca runner-up Richard Towler (1:11.705).  Similarly, Huttu's average lap of 1:12.558 was .462s quicker than that of his English sim racing rival (1:13.020).  Multiply half a second times the 50 laps and the result is 25 seconds.  Look closely at the results and you'll find Huttu's margin of victory was 23.458s.
Given all those numbers, it would be easy to conclude it was just a matter of an hour's worth of racing before Huttu took his ninth iDWCRR checkered flag . . . and Towler took his fourth second place of the campaign.
But in a non-numerical sense, it wasn't quite so easy for Huttu.  Or for Towler.  Off the start, the pole-winning Huttu grabbed the advantage over his fellow-front row sitter, Towler.  Throughout the opening lap, though, Towler kept it close.  So close, in fact, that he was able to take a look down the inside into the final corner, the Turn 11 hairpin.   Huttu defended; overzealously or not is a matter of opinion.
"On lap one Greger seemed slow and a bit out of control," Towler said.  "So when he ran wide and braked early for the final corner I took the chance to make a pass. But Greger was having none of it and turned into me like I wasn't there."
"I knew the first lap was going to be difficult," Huttu said. "Rich did a divebomb move in the last corner and I thought I gave him enough room but, without having the full replay, it's hard to say. I guess I could have always given more room so I'm sorry if it wasn't enough."
Perhaps the best view was that enjoyed by the man right behind Huttu and Towler, Shawn Purdy.
"I saw the battle between Greger and Rich," he said. "Probably could have been more room, but I'm not gonna take sides on that.  Looked like hard racing to me."
Huttu and Towler made solid contact and while the Finn escaped largely unscathed, the Englishman soon felt the effects as his Dallara snapped into oversteer whenever he tried to turn left.  Not surprisingly, he dropped a spot to Purdy by the time they crossed the stripe for the first time and another position to Ilkka Haapala in Turn Two with Dom Duhan, Derek Wood, Ben Cornett and Darren Marsh in hot pursuit.   Purdy too, as in pursuit (of Huttu), at least initially.
"First few laps I was trying to see what I needed to do to hang onto Greger but, it was too scary LOL," Purdy said. "So I knew I had second and just backed the pace off a bit to a comfortable level for me. Although I was slower by about 0.2s – 0.3s a lap than I was expecting . . . that's okay."
As Huttu disappeared up the road at the rate of about half a second a lap, Purdy, Haapala and Towler continued what would be a race-long battle for the remaining podium  spots.  Towler got back around Haapala on Lap 14 only for the Finn to return the favor eight laps later following the first (and only) round of pit stops.  Although Purdy kept his hold on second place throughout, Towler repassed Haapala on Lap 35.
"(Towler) started putting pressure on me and some laps later I fell for his 'fake divebomb' move into Turn One and gave up the inside line," Haapala explained.
We went side-by-side for few corners until I braked just a bit too late into Turn Five and got a bit sideways – fight over."
Towler then set-off in quest for second spot and Purdy takes the story from there.
"I had a decent gap on Rich but he was chipping away at it, and my rears were not feeling so good for some reason," he said.  "I kept trying to push as much as I dared while lapping traffic, got held up big time into the corkscrew as I caught someone at a bad time.
"Now the gap was zero, with five laps to go. Rich made his move into Turn Two, and I knew I could hold that outside lane so began pumping the throttle to get rotation so I could stay alongside into Turn Three where I'd have the inside line. Worked!  But then Rich stuck his nose into Turn Four, and I had a split second to decide to chop him or leave space, and at the last moment I decided to leave the space.   So side-by-side through Turn Four 4, where Rich got past.  From there I just brought it home in third."
Likewise, Haapala brought his car home fourth, some 3.5s adrift of Purdy.  Further back, Cornett worked his way up to fifth, first making a pass on Derek Wood at the Corkscrew that would make Alex Zanardi proud, then taking advantage of a gaffe Dom Duhan at the same spot, this after Duhan had survived a scary moment at the start when his steering wheel came loose.
"Going into the high speed left under the bridge that leads up the hill to corkscrew, Derek had a moment," said Cornett. "This allowed me to get a run. I went to the outside and tried a move around the outside into the Corkscrew itself.  I have a picture of Goose from 'Top Gun' next to my monitor, and today he talked to me. I made the move stick despite epic lockup / sideways / near death experience and then chased down Dom.
"Dom practiced his three point turn in front of me a few laps later in the Corkscrew and this put me into fifth."
Duhan's corkscrew at the Corkscrew promoted Dion Vergers and Marsh to seventh and eighth, while Duhan eventually came home ninth, the final competitor on the lead lap.   Ray Alfalla rounded-out the top ten ahead of Luke McLean who, Huttu apart, may have had THE drive of the race given that he had to jump into the iDWCRR with moments to spare after winning the GP Masters Final at Mosport.   From thirty-third on the grid to eleventh at Laguna Seca is no small achievement . . .
Still, it pales in comparison to Huttu's ninth win in as many outings in the iDWCRR.  Next up is Brands Hatch, where Towler (among others) is hoping to halt Huttu's winning streak and, at least for the moment, keep his victory total to single digits.
---
You may also like...
---