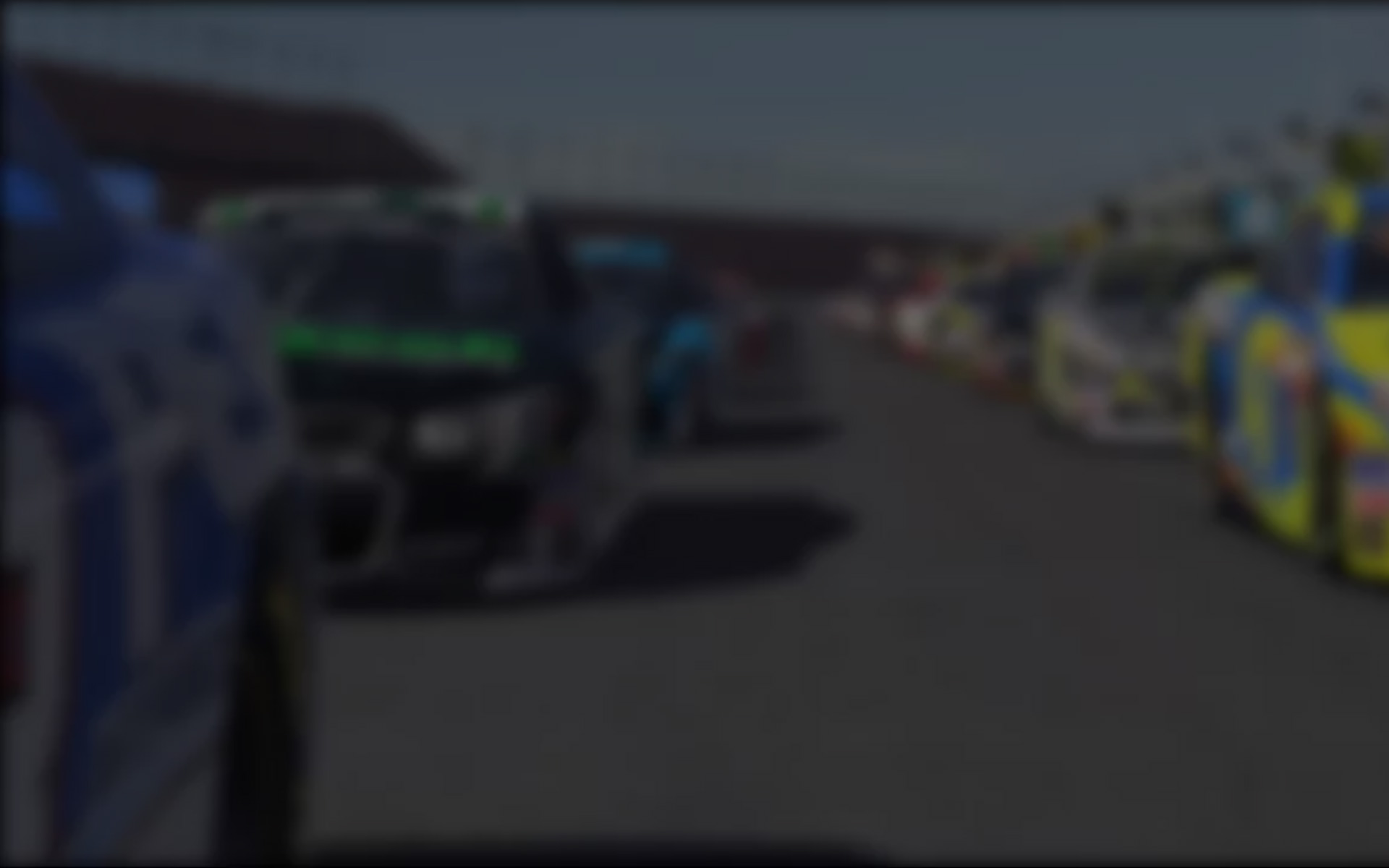 Faulks Mows Down Iowa Stalks to Extend Points Lead
As the opening season of the 2015 NASCAR iRacing.com Class B Series Open nears the half-way point, a crew of BRB Motorsports teammates have separated from the pack and look to be steering toward settling the points title amongst themselves.  Week 5 put the series in America's heartland for a battle around the .875-mile Iowa Speedway in Newton, Iowa.
Statesville, NC's Randall Faulks entered the week leading a host of BRB teammates in the championship chase and was looking to open up some distance before the drop weeks start to come into play after Week 8.
It was an active week at Iowa as 26 races went official compared to 16 the week before at Bristol.  All told, 185 drivers raced in the NASCAR iRacing.com Class B Open competition during Iowa week.
GaleForce Racing's Larry Scott Jr. took the early lead for the week at Iowa with his win in what normally is the highest split race of the week.  Scott edged-out Faulks in Monday night's 9:00pm EST event and history suggested it would hold up as the top points race of the week.
However, Thursday night's 9:00pm EST race topped Monday night's 2766 Strength of Field event considerably with an SoF of 3352.  17 drivers took the green flag in the 100 lap event with top dog of the week earnings for the winner on the line.
With Iowa traditionally being a tough place to pass, Faulks put himself in great position right off the bat by grabbing the pole, flanked by BRB teammate Brandon Thomas on the grid.
"When I realized that the field was really strong for a late week race, I started to think more about the win than just a top five." – Randall Faulks
The start went off without a hitch as green flag conditions prevailed for most of the race.  Faulks led the opening 49 laps of the race under green.  With anticipation of the race going caution free the entire way, green flag pit stops began with Truspeed Motorsports' Michael Vanosdol taking over the lead at Lap 50.  Lowline Racing's Theodore Wallace subsequently took over the point on Lap 54 with Lowline's Matthew Davis inheriting first place the next time 'round.  Two laps later, strategies were reset when the first of two yellow flags flew for Mike Carr's spin out of Turn Four.
After the resulting yellow flag stops were completed, Faulks resumed his lead.  After seven more laps of green flag racing, the final yellow came out again when several drivers got together including Vanosdol, Wallace, Brian Grubbs, and JP Gidley.
Undaunted, Faulks continue to lead and went on to win the race, but not after hard challenge from teammate Brian Lovingood.  Faulks went on to held-off his BRB teammate by .607 seconds for the checkered flag followed by Lowline's Shane Parish, Galeforce's Galen Gidman and BRB's Shannon Segler.
"I came into the race just looking for a solid run," said Faulks.  "When I realized that the field was really strong for a late week race, I started to think more about the win than just a top five.  BRB Motorsports prepared an awesome car this week I was able to get the job done."
Parish set the fastest lap of the race (22.892s) while  Faulks led 90 of the 100 laps on his way to the win.  Davis, Vanosdol, and Wallace led five, four and one lap respectively.
The win brought Faulks top honors for the week, as he accrued 210 points from one win and one runner-up in two starts.  Lovingood had two top-fives finishes in as many starts for 196 second place points while Parrish took 183 points for third place after grabbing two top fives in three starts.  Larry Scott's win on Monday earned him fourth place with 176 points while Gidman rounded out the top five with the 170 points from his fourth place finish in the feature race.
The "I Love Corn" award went to Mike Carr who turned 771 laps at Iowa in nine starts while leading a weekly high of 259 laps.  Zack Novak combined with Carr to take the most wins for the week (three) while Wahaab Tahir earned the most poles (four).  Faulks and Ronnie Martin Jr. combined for the safe driver award turning 200 incident-free laps.
After back-to-back weekly wins, Faulks stands atop the standings with 1046 points, having extending his advantage over teammate Jeff Back Jr. to 86 points.  Lovingood moves up to third overall and trails Faulks by 157 points while Segler drops to fourth 175 back and Lowline's Tristan Combs holds on to fifth 259 out of the leader.
"It does feel good to have the lead . . . It really shows what were are capable of." – Russell Faulks
Faulks continued on the points lead.  "I'm just grateful that I have the teammates that I do.  Without them, leading this thing would not be possible so the credit goes to them.  It does feel good to have the lead though.  It really shows what were are capable of."
Division winners for the week 5 at Iowa:  1 – Randall Faulks 210 (Carolina).  2 – Shane Parish 183 (Texas).  3 – Christian Ingram 153 (Virginias).  4 – Alan White 124 (Canada).  5 – Bret Wade 125 (Northwest).  6 – Mason Keller 108 (Indiana).  7 – Tim Standaert 99 (Midwest).  8 – Tony Diamond Tenney 77 (Plains).  9 – Mark Gebbie 16 (New York).  10 – Mack Jones 64 (Virginias).
Week 6 of the NASCAR iRacing.com Class B Series Open marks the halfway point of 2015 Season 1.  A stop to testy Phoenix International Raceway is on tap and if last season's races here are any indication, we could be in for a long week of sim racing.  The slick one mile desert oval played havoc with the series last season, and it stands to reason that this trip to the virtual Valley of the Sun could be a case of déjà vu all over again.
---
You may also like...
---