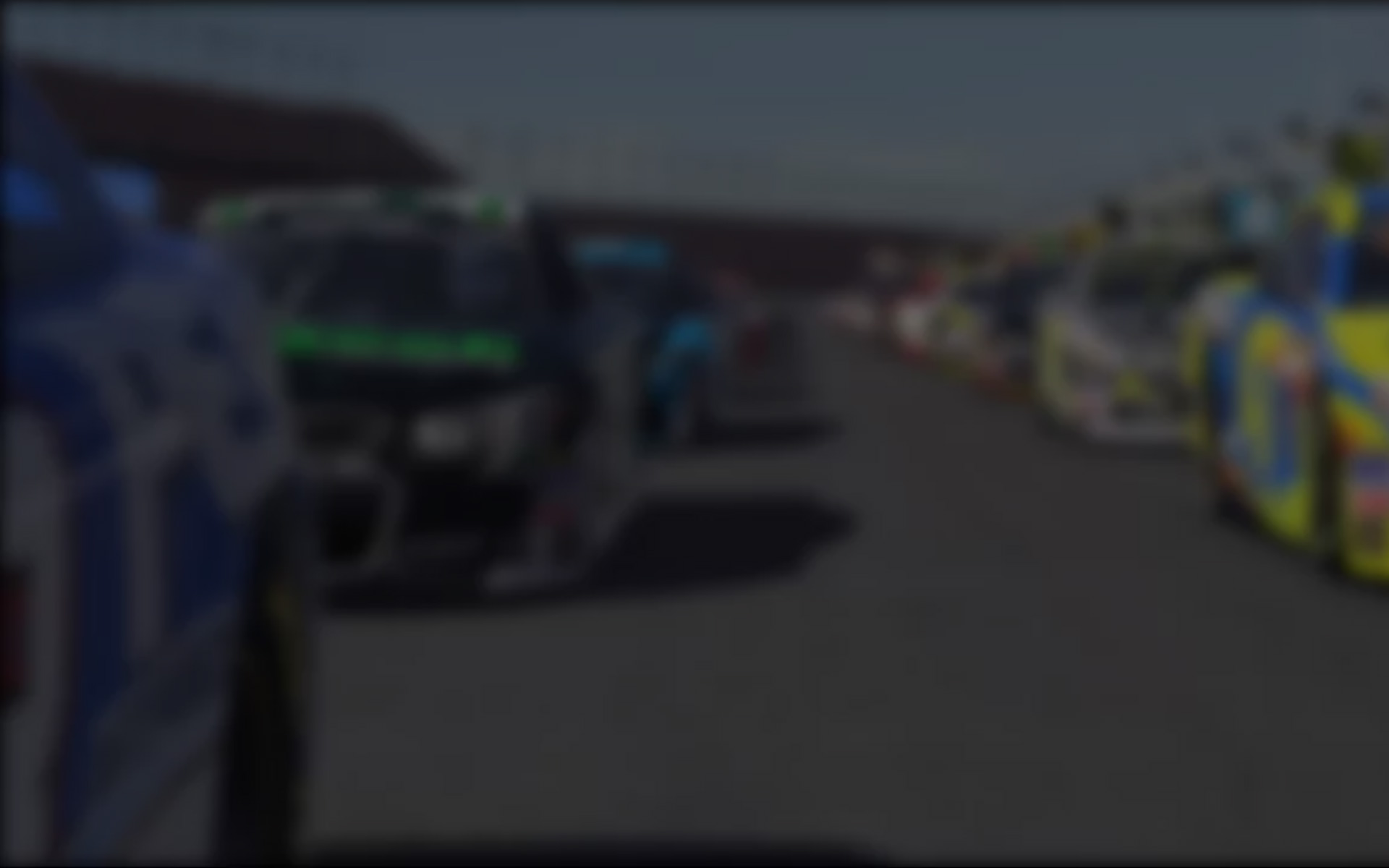 The NASCAR iRacing.com Late Model Tour made its second stop of 2014 in Braselton, GA at the famous Lanier Speedway. The 3/8th mile, (almost) flat oval encourages great door-to-door sim-racing. Drivers have to stay on their toes for the entire sixty laps, which can be both physically and mentally exhausting. This week, we take a look at a 2233 strength of field race, that would not disappoint.
The 11:15 pm EST start time saw Scott Schrader and Andrew Simmons share the front row, with Paul Kudlick, James Linkiewicz, and Joshua Rich rounding-out the top five on the grid. As the pace car hit the apron, Schrader set the pace and the race was on with the pole-winner leading the first circuit from Simmons. A blanket could have covered the top quartet as the field blasted out of Turn Four to complete Lap Two, before Simmons got a great run into Turn Three and dove under Schrader to take the lead.
Farther back, fifth-placed Paul Morgan Jr spun in Turn One and continued with second through fifth nose-to-tail and – a further ten car lengths back — sixth through tenth also ran bumper-to-bumper with Cruise "Control" Caudell stepping out of line to pass Kalen Fagan for the seventh with Fagan shuffled back to tenth in the process. A couple laps later, Caudell got loose out of Turn Two and grazed the inside wall, but kept his machine straight and continued on before driving too deep into Turn One and making contact with Simon Morrison.
Back at the front, Simmons now enjoyed a six car advantage over Schrader, followed closely by Rich and Kudlick, respectively. Lapped traffic began to play a role when Morrison's engine blew-up right in front of the leaders although, fortunately, Morrison was able to guide his ailing car up the track and out of harm's way.
Fifteen laps into the race and Schrader was reeling-in the leader, with Rich on his heels. Schrader made a looked under Simmons in Turn One on Lap 19 but the leader wasn't about yield and battled hard on the outside. After a lap and a half, Schrader finally wrested the lead from Simmons and and stretches his advantage as Simmons now had to deal with Rich and Kudlick, eventually falling to P4.  In contrast, Kudlick was gaining speed and made the pass for second on Lap 27 before setting his sights on Schrader.
Skip ahead to Lap 41 and Simmons got loose into Turn One, causing the lapped car of Morgan to tag his left rear and sending Simmons around, to be collected by Caudell.  Although Simmon and Caudell were done for the night, Morgan was able to continue and the leaders made it through the resulting melee unscathed.
By Lap 44, Kudlick had cut Schrader's lead to three car lengths and continued to zero in on first place. Four laps later, Kudlick had found Schrader's bumper and continued to stalk the point man. However, Schrader was sticking with his game plan and not giving in to the challenger. After nine laps shadowing Schrader, Kudlick made a gutsy move, going wide in Turn Three before cutting low through the center an attempted crossover. The two cars touched, if barely, but Schrader stayed strong while Kudlick lost a car length or two.
With five laps left, Kudlick looked to have used up his tires, but gathered his composure to make one last run at the leader. He again latched-on to the bumper of the #2 car, but Schrader was pumping ice water in his veins. Kudlick got loose in Turn Two on the final lap, allowing Schrader to coast through the final turns to take home the win after a race featuring close competition and hard racing from start to finish. Kudlick gather things together to bring home second some 0.807s back while Rich, Linkiewicz and Ross Jr rounded out the top five.
Results
1.    Scott Schrader
2.    Paul Kudlick -0.807
3.    Joshua Rich -4.469
4.    James Linkiewicz -6.962
5.    Ricky Ross Jr -9.520
6.    Kalen Fagan -1L
7.    Dave Coursol -1L
8.    Joseph Geiser -1L
9.    Paul Morgan Jr -9L
10.    Andrew Simmons -20L
11.    Cruise Caudell -22L
12.    Simon Morrison -43L
The Late Model tour travels to Virginia next week to take on one of the longest tracks of the series in Richmond International Raceway, a tricky track that will surely test the competitors.
---
You may also like...
---