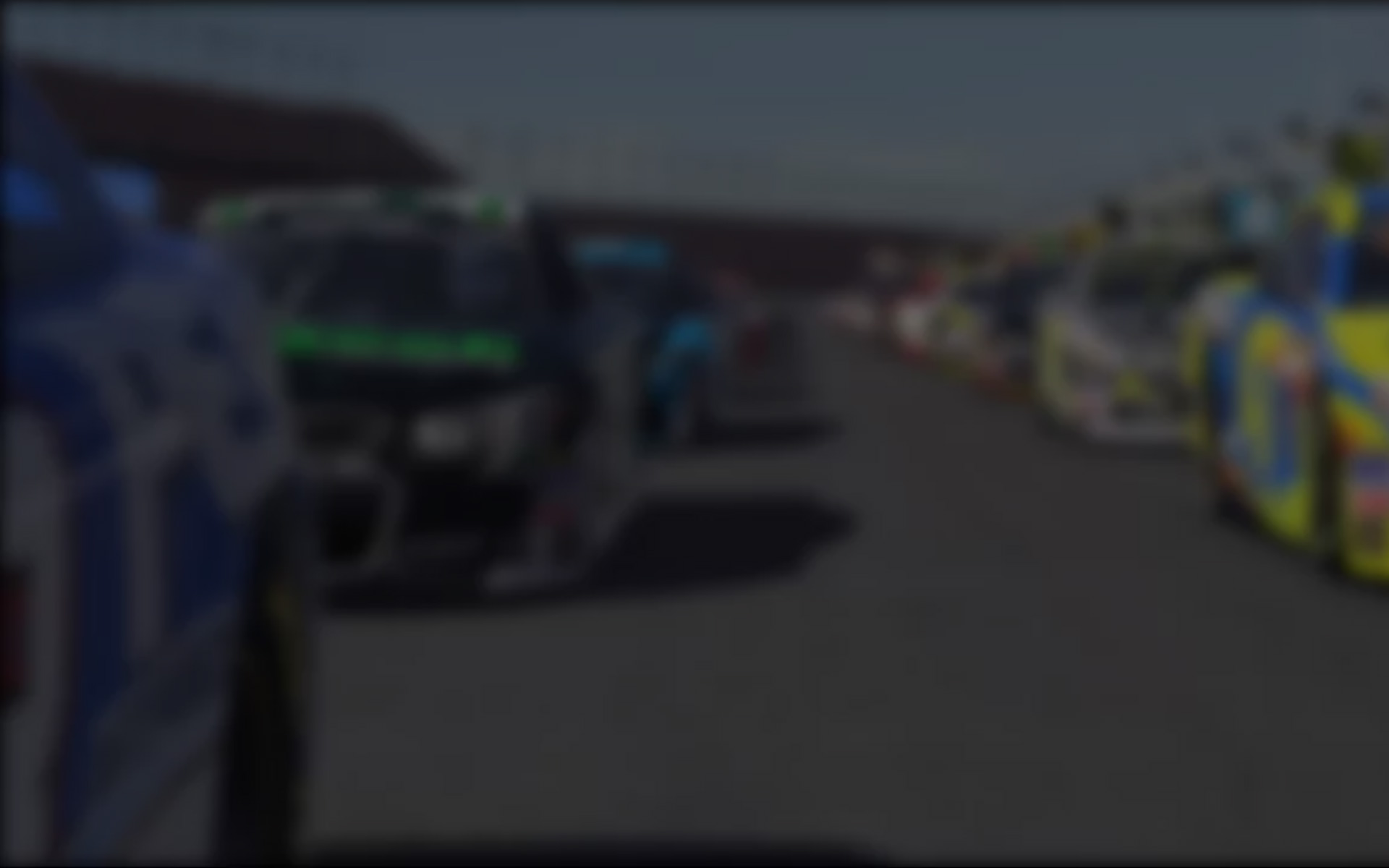 Week One of the 2012 Season 1 iRacing.com IZOD IndyCar Series visited the little track in the heart of America: Iowa Speedway.  Due to inclement weather (technical difficulties) the online race was moved from the traditional Monday time slot to Wednesday.
44 drivers showed-up to do battle, splitting the event into fields of 22 sim racers each, and battle they did!  Before the race, qualifying was intense seeing many starting positions change place minutes before the start.  Earning the pole was 2011 Season 3 runner-up, Chris Cahoe, with a stellar lap of 17.652s, beating his previous time of 17.658s in 2011 Season 4.  The 2011 Season 3 champion, Tim Doyle, moved-up several positions in the final qualifying session to slot in P2, just over two hundredths off the pace with a lap of 17.674s.  Defending champion Shaun Stroud was close behind with a 17.680s lap and, all told, the top five were separated by just .041 seconds!   All but one driver made a qualifying attempt.
With it being the first race of the season, tensions as well as nerves were pretty high.  Based on last season, everyone pretty much knew what others had, with some finding even more time in their setups in the off-season.  The field consisted of many returning drivers as well as new drivers to the Top Split Series.
Cahoe led the field to the green flag and jumped out to an early lead.  The racing slowed with a caution on Lap 2 when Bryan Schneider lost control exiting  Turn 2, collecting Jeff Yeager and resulting in an retirement for both drivers.
On the restart, the green appeared and the race was on!  The next 32 laps would be under green with action happening throughout the field.  Cahoe led until Lap 16 when Doyle started to show some muscle, but it was short-lived as Stroud took his turn at the lead.  Again, Stroud's time at the front wasn't long as he and Doyle battled side-by-side for the top spot.  Doyle was finally able to secure the lead and stay there until the next yellow flew on Lap 38 for polesitter Cahoe and eighth-starting Matthew Lambertson.  While battling hard for third, slight contact was made sending both Dallaras into the wall and into the garage for the remainder of the race.
This set-up the first round of pit stops with the entire field pitting for fresh tires and fuel.   Doyle and Stroud maintained their positions after the stop with Neffry Aawg and Jonathan Goke making their presence known by joining the lead group.  Once under green, positions two through sixth were anyone's guess as each position was different each lap.  With the top four seemingly content, seventh-starting Michael Peters decided to join the fray, moving into the top five on the restart.
Relatively quiet in the first run, Peters started stealing positions like they were candy!  On Lap 61, he was able to wrestle the lead away from Doyle.  For the next ten laps, these two would swap the lead before Peters finally secured the spot until the third caution on Lap 78, triggered when 2011 Season 4 race winner and series runner-up Niles Anders was collected by teammate Scott Manifold.
Although Peters led the field onto pit road, it was Doyle who emerged in the lead exiting the pits.   Stroud moved back up to second as well with Peters falling to third.  Rounding-out the top five on the restart were Aawg and 11th-starting Dave Judson.
With 42 laps to go and everyone on fresh tires, it was time to go.  The Lap 82 restart saw Doyle retain the lead as Peters got the early jump on Stroud to take second spot.  On Lap 89, Stroud got back around Peters and set his sights on Doyle.  Aawg, meanwhile, flew past Peters into third on Lap 91 to join the battle for the lead.  At this point the top five were separated by .674 seconds with sixth place Joe Branch, who started 12th, not far behind.
Action was close and tight all through the field with the top five positions changing each lap.   Stroud passed Doyle and led for two laps before Doyle raced back around him on Lap 100.  Aawg passed Stroud as well, bringing Peters to third for a lap, but Stroud reclaimed the runner-up spot on the  following lap.  Goke was back in the mix, too, moving past Peters for fourth on Lap 104.
The top five remained this way until Lap 108, which saw Aawg and Doyle race side-by-side for the lead until slight contact entering Turn 3 sent Doyle sliding up the track and losing several positions.  The fourth and final caution would fly two laps later when Aawg and second place Stroud made contact in the middle of Turns 3 and 4, sending Aawg hard into the outside wall and eliminating his chance for the win.  Stroud suffered wing damage in the accident but was able to continue while Goke, in third, got loose off Turn 4 and lost several vital positions with only 15 laps to go.
Strategy came into play during this final caution period.  Stroud and Peters, running first and second, stayed-out while the rest of the field  — including Doyle, Judson and Branch in third, fourth and fifth — chose to stop for fresh rubber.
Stroud led the field to the green, but his wing damage allowed Peters and the rest of the field to pass him in the closing laps.   Although Peters led from Doyle and Judson, Judson seemed to have a turbo on his car at the end and easily got around Doyle on Lap 118 to close on the leader's gearbox.   Although Judson made several attempts to pull alongside in the final laps, Peters was just too strong and grabbed his first top split iRacing.com IZOD IndyCar Series of his career!  Rounding-out the top five were Doyle, Branch and Goke, who fought his way back from ninth on the restart.
Race Stats
Laps:  125
Pole: Chris Cahoe – 17.652s
Lead changes:- 14
Cautions:  4
Caution laps: 19
Lap leaders:  Cahoe 1-15; Doyle 16-19; Stroud 20-21; Doyle 22-60; Peters 61-67; Doyle 68; Peters 69; Doyle 70-72; Peters 73-78; Doyle 79-97; Stroud 98-99; Doyle 100-107; Aawg 108-109; Stroud 110-115; Peters 116-125.
Margin of victory:  0.079s
Hard charger:  Mike Campanian (11 spots)
Biggest loser: Chris Cahoe (17 spots)
Laps lead: Doyle (74)
Fastest race lap:  Goke – 17.687s (Lap 122)
Top 5
1-  Michael Peters
2-  Dave Judson
3-  Tim Doyle
4-  Joe Branch
5-  Jonathan Goke
Cars finishing: 13
DNF:  Schneider, Yeager, Erick Davis, Bud Weissert, Cahoe, Lambertson, Manifold, Anders, Aawg.
---
You may also like...
---