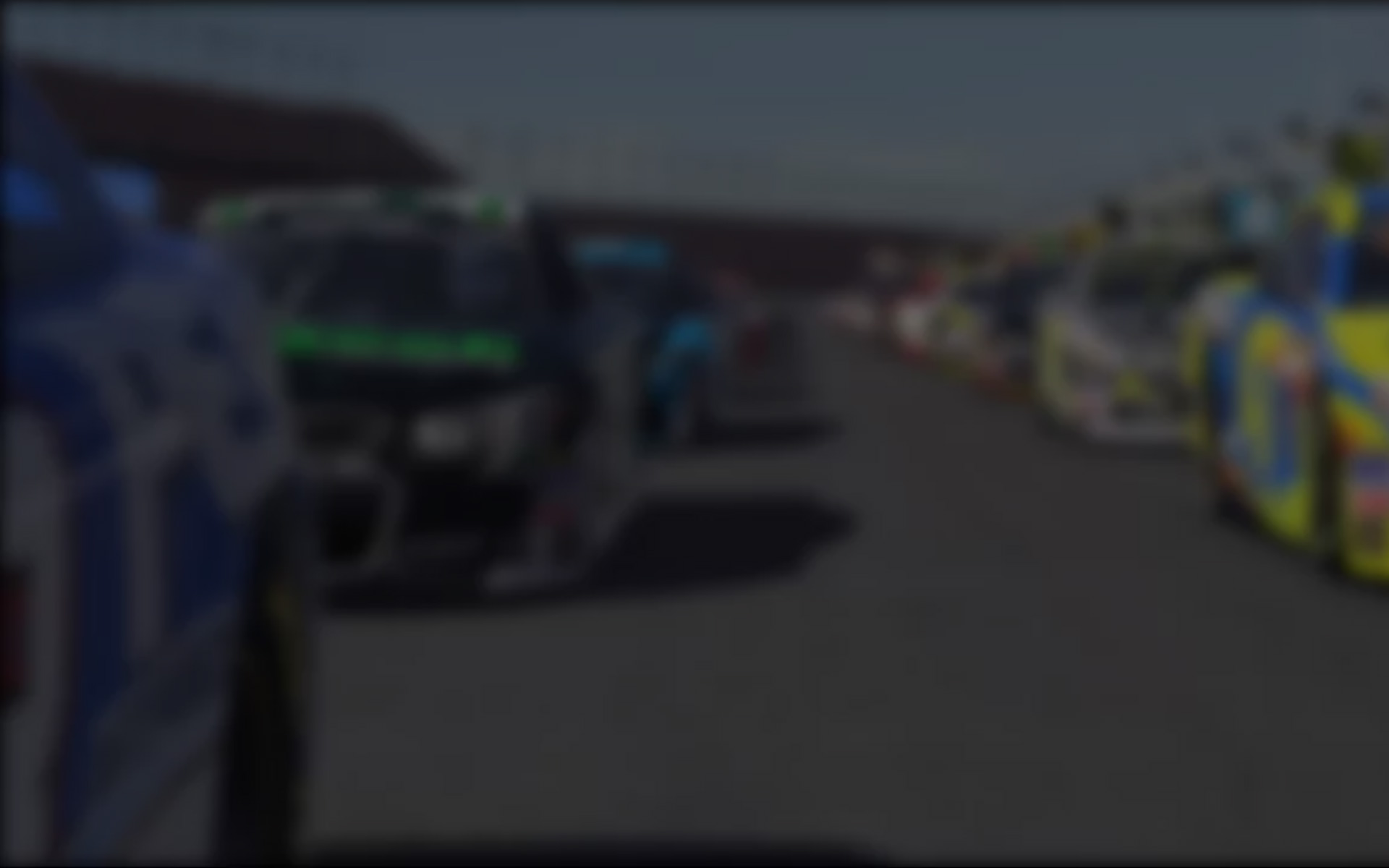 In an action-packed 69 laps around the virtual Philip Island, Greger Huttu steered his Williams-Toyota FW31 to the top step of the podium, claiming maximum points in Round Five of the iRacing.com World Championship Grand Prix Series. With the demise of erstwhile rival Hugo Luis in the opening stages, the reigning champion now heads the standings table by 45 points.
Starting from pole position with a lap time of 1:07.445, Huttu's getaway from the line kept the Finn at the front of the pack, with My3id's Luis following closely behind. Setting a blistering pace, Huttu was already nearly a second clear of Luis by the end of the opening lap, and was soon to be handed a massive advantage. The first incident to aid Huttu's progress involved his Redline team-mate Atze Kerkhof and MMM's Fulvio Barozzini on Lap Three. Heading into the Turn Four hairpin side-by-side, contact between third placed Kerkhof and Barozzini sent them both off the circuit and towards the tyre barriers. Whilst Barozzini was able to recover and return to racing, albeit with a damaged car, Kerkhof was less fortunate and headed to an early retirement.
Then at the end of the same lap, Luis suffered a technical problem whilst negotiating the final corner, one that meant he disappeared from proceedings for several minutes, before rejoining the race, two-laps down. This handed My3id's Martin Krönke the baton to try and close-down on the leader, who was now three-seconds clear.
Instead, with eight laps on the board, Krönke yielded his second position to Max Dell'Orco who had charged his way from twelfth on the grid, as he played-out what evidently became a two-stop strategy. With Krönke dispatched, the Italian set his sights on Huttu and over the ensuing 15 laps, Dell'Orco reeled in the front-man to get in the wake of the champion's rear wing. Then on lap 28, Dell'Orco made his move and slipped past Huttu at the slowest corner on the Philip Island course, Turn Four. However, his lead wasn't destined to last long, because just a couple of laps later, Dell'Orco gave-up his newly found front-running status when heading to the pits for his first scheduled service.
"Suddenly after a couple of laps I noticed that both Hugo and Atze were gone." – Greger Huttu
It wasn't until 12 laps of the 2.7 mile circuit later that Huttu made his only planned stop of the race for fuel and tyres and, by the time he exited the pits, the number one spot was still his.  With his lighter fuel load, the impressive Dell'Orco again cut a several second deficit to get onto Huttu's gearbox, and move back into the lead on lap 51. However, on his very next circuit, the Ajira Foracer driver once again yielded first position to head down pit lane. This left Huttu with an unassailable lead of 15 seconds to bring the Team Redline Williams-Toyota FW31 to the chequered flag for his third iWCGPS victory of the season.
"My start was good enough to hold on to the lead and I got a bit of a gap on the first lap, which always helps to settle in," Huttu explained post race. "I wasn't really looking at my mirrors much and then suddenly after a couple of laps I noticed that both Hugo and Atze were gone. My race pace was really good so I was able to pull away from Martin but after a while Max had passed him and started closing in.
"Max overtook me just before his first stop which happened pretty much around the time and lap I anticipated. That was really the only anxious moment in the race for me because you can never be 100% sure of what strategy someone is running. I still didn't know if he was on two stops or just one stop with a short first stint, but when after my pit stop he was close behind it was clear that he was on two stops."
Whilst Dell'Orco was bouncing up and down the order through pit-strategy, Krönke was putting-in a methodical drive on his way to his second podium finish of the year. Once the German had been passed for second spot in the early stages, he was left to lap around the Philip Island circuit, barely troubled and unchallenged. After Dell'Orco made his final pit-stop, Krönke held a six-second advantage in his pocket in the runners-up spot, one that he brought to the finish line. "My start was pretty crappy this time.  I got some wheel-spin which allowed Atze and Fulvio to have a run on me," Krönke wrote this week. "Unfortunately Fulvio left little room in T1 and tapped my front left wheel. Although the steering was still straight, something broke and caused massive understeer into right hand corners which obviously had an impact on the pace."
It wasn't such plain sailing for Enzo Bonito, who earned a hard- fought third place by the end of the 69 lap race. Starting eleventh, the Italian put in a series of overtakes during the opening laps to move into fifth position by the end of Lap Four. That was when he was confronted with Radicals Racing's Mogar Filho, who was valiantly defending his fourth place. Lap after lap Bonito looked for a way past and challenged the Brazilian several times around the outside of Turn One, but it wasn't until Lap 26 that the ineX team racer was able to make it stick on the inside of the second corner. By the time Bonito headed to the pits for his solitary service of the race, he'd moved up to third spot, by virtue of Dell'Orco's two-stop strategy. Once Bonito and those around him had finished their scheduled stops, he was back into fourth position, until Dell'Orco returned to the pits on Lap 53. With a podium finish within his grasp, Bonito put in an accomplished drive to the finish line, with Dell'Orco five-seconds behind him and unable to make inroads on his position.
"Despite a great pace with one pit strategy I was not sure to do it 'cause (I was) starting so far back," Dell'Orco told inRacingNews. "Didn't want to stay in traffic and lose lot of time, so sticked up with my two pit strategy. Long first run then two short one. Aimed for a top five and got a fourth so I'm more than satisfied with that. I also thought to change back on one strategy once in pit on Lap 30 but I didn't risk also that move, so continued with my two pit."
Although Yudai Narumi was unable to get close enough to challenge Dell'Orco for fourth position, it wasn't through a lack of effort. From the moment the green flag dropped, the Japanese sim-racer was working his way through the field from his seventeenth place starting spot. At the end of Lap One he was eleventh; the end of Lap Four, ninth; Lap Five, eighth; Lap 11, seventh; and when Dell'Orco made his first stop, sixth, under the wing of Filho. Like Bonito before him, Narumi found Filho to be a stubborn opponent, and it wasn't until the pit-stops that the ineX racer was able to leap-frog his way past the Radicals Williams-Toyota FW31. Once clear, Narumi had a relatively comfortable run, until the closing laps, when he could see Dell'Orco just ahead of him, but was unable to close in, so settled for his first top-five of the season.
The aforementioned Filho, who'd been a thorn in the side of several racers, was able to secure sixth place by the finish line, but it was a white-knuckle ride to the flag. With a handful of laps remaining, PJ Stergios had caught up to Filho, with Davy Decorps also joining the party in the fight for position. Just like the previous attacks on his position, Filho put up a sterling defense, which opened the door for Decorps to sneak past Stergios into seventh on the outside of Turn Four. The move by the Orion Racing member gave Filho enough respite to bring his car across the line ahead of the Frenchman and American, who were split by mere tenths at the flag.
"Really, really, really happy with the result. Happy even for being able to race." – Mogar Filho
"Really, really, really happy with the result. Happy even for being able to race," Filho said of his struggle to race following recent surgery. "As some know, I had a double jaw surgery at the day of the last race, and I'm still on recovery. I was only able to start driving on Wednesday (on Thursday the discomfort didn't allow me)."
Winning the award for most positions gained was Joni Tormala, who rose from P32 on the grid to ninth by the end of 69 laps. On the opening lap alone, the Finn jumped 11 positions, and continued to climb up the order to reach ninth spot by the time he'd completed his pit-stop. With Jason Lovett shadowing his every move, Tormala was able to seal his amazing rise from the penultimate row on the grid to ninth, half a second clear of the Englishman.
Heartbreak of the Day trophy went to Illka Haapala and Jake Stergios, who had looked set to bring their Williams-Toyota FW31s home in eleventh and twelfth respectively. However, as the pair approached the final corner, on the final lap, Stergios saw a small opening to gain a late promotion, but the door just wasn't wide enough. The pair collided and were sent spinning off the track, before they limped across the line, Stergios in fourteenth and Haapala in eighteenth.
The technical problems for Luis, and subsequent victory for Huttu, means the reigning iRacing World Champion holds a 45 point lead over the 2011 title holder. Despite his DNF, Kerkhof remains in third position on 144 points, 81 adrift of Huttu, with Krönke a further eight behind.
Round Six of the iWCGPS heads to the bumpy Sebring International Raceway. Will Luis be able to bounce back from his technical issues and stand atop of the podium again? With only one dropped result in this year's championship, the Brazilian can not afford to lose any more high finishes from his resume, whilst Huttu knows he has some wiggle room.
Tune in to iRacing.com/live in two weeks time to find out and read all about it here on inRacingNews.com soon afterward.
---
You may also like...
---