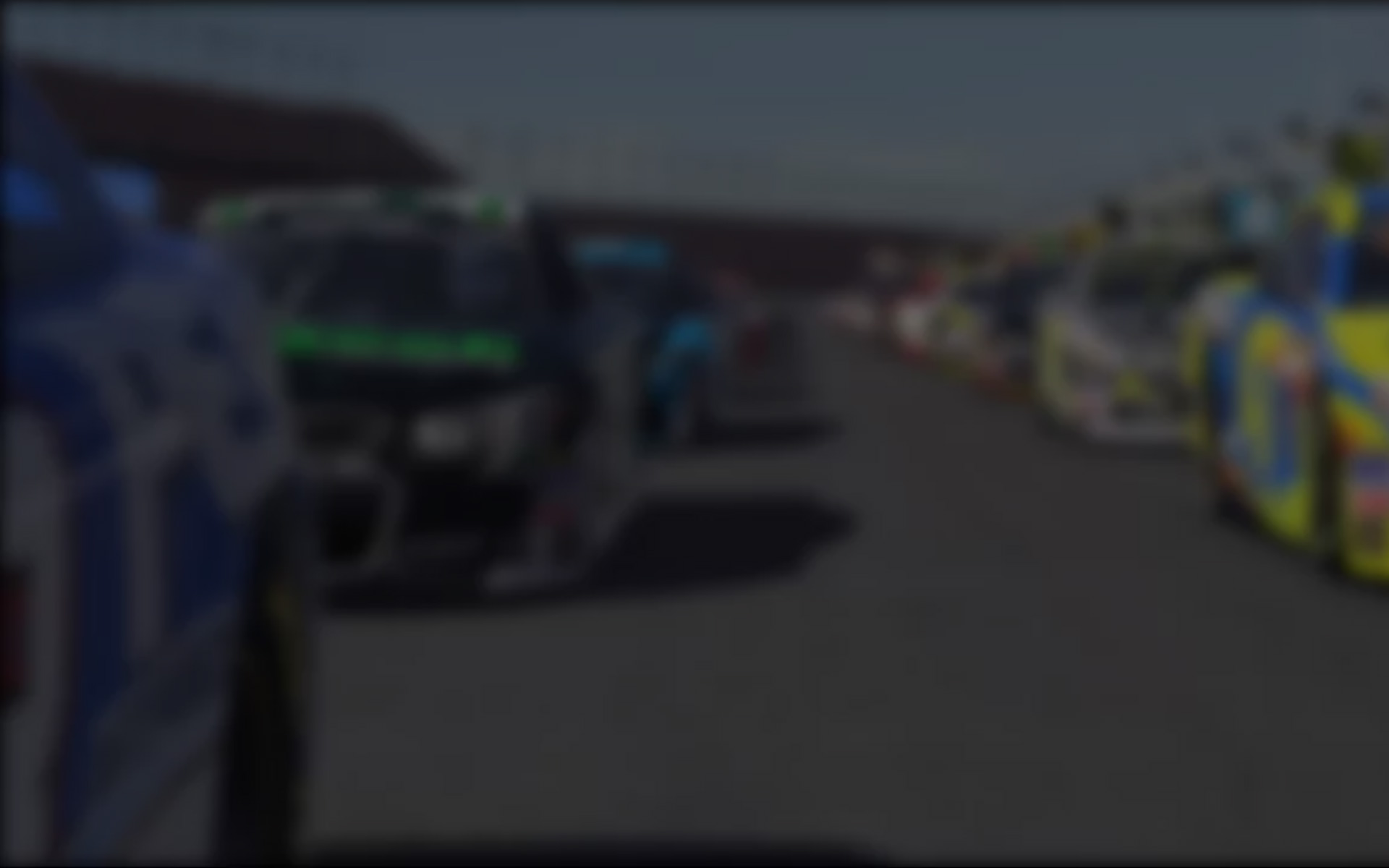 Langley Speedway hosted the Week 5 sim racing action for the NASCAR iRacing.com Late Model Series. Nestled in Hampton Va, at just .395 mile in length and only six degrees of banking, Langley poses an assortment of challenges. Setting-up for this short track would be first on the list as, with its long, sweeping corners you need to have a setup that rotates through the center of the corner and still provides enough grip to get the power down without producing too much oversteer. Even if you are to accomplish all of that, passing opportunities are at a premium as jumping to the outside is not an option; so setting-up the pass would be crucial to gain a position.
In this week's feature race Ryan Piland led the field to the green with James Linkiewicz to his outside, Piland got a great start leaving Linkiewicz to deal with Travis Gilbert3 and Satoru Uhno as he fought to get to the bottom lane. By the second lap Linkiewicz had tucked-in behind Uhno but would overdrive Turn One and get loose, nearly collecting Uhno.  The following lap saw Linkiewicz take his ill handling race car to the pits for the day.
Before long Uhno cleared Gilbert3 and took over second after Gilbert3 overdrove Turn Three on Lap Seven, pushing up and opening the door. Uhno duly set off in pursuit of the lead and, by Lap 30, had caught Piland.  Two laps later he started applying pressure but, before he could make a serious bid for the lead, the unthinkable happened.  Coming into Turn Four Uhno's went off song, the black smoke trailing the car signalling the end of his hopes for a win. Gilbert3 was thus promoted back to second but he was never able to threaten for the lead.  Instead, he hung about a second back from Piland through to the end of a race that saw Dale Jason Shaw come home third after starting seventh.
As handling started to come into effect for the long run only first three cars  finished on the lead lap.  That didn't diminish the competition for the remaining spots however.  Michael Carpenter and Marek Ondrak battle the entire race for fourth position with Carpenter taking the early jump and getting by Ondrak on Lap 10. For the next 55 laps Ondrak stalked Carpenter waiting for his moment.  His chance came on Lap 65 as Piland and Gilbert3 prepared to put them a lap down.  Ondrak followed the leaders past as Carpenter was hung on the outside. Carpenter duly fell in behind Ondrak but would not go down without a fight. On Lap 68 Carpenter gave Ondrak a small bump on the exit of Turn Two but got out of shape a bit and would lost ground, securing Ondrak's fourth place and settlling for P5 himself. Jarrett Herbinson was the final car a lap down in sixth, while Uhno limped home in seventh, two laps off the pace after his motor issues. Ken Birmingham followed in eighth also two laps down, while Linkiewicz was credited with ninth spot some 67 laps down.
The Top Ten overall points after 5 weeks of racing
1. Ty Majeski 876                                6. Cody Thompson 679
2. Bill Martin 799                                7. Cody Kelley 673
3. Stan Bragg Jr 772                           8. Joe Schafer Jr. 671
4. Tim Bills 767                                   9. James Linkiewicz 643
5. Kevin J Myers 728                         10. Bill Elmore 635
---
You may also like...
---