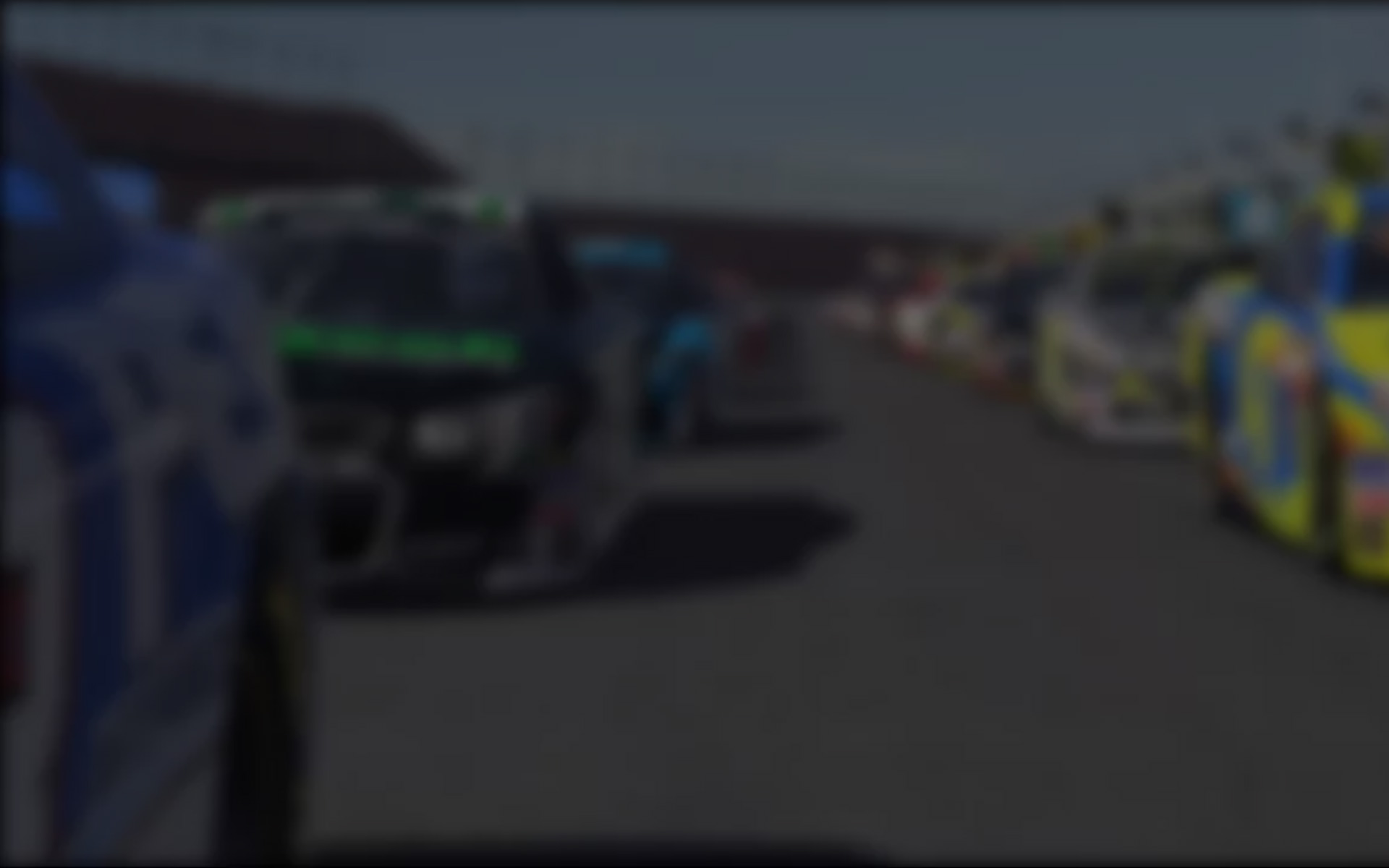 Lanier National Speedway hosted the NASCAR iRacing.com Super Late Model Series for Week 4 action.  Located in Braselton, GA, this .375 mile banked oval would fuel plenty of hard racing and furious tempers.  20 sim-racers took to the track in the 2237 SoF feature race of the week, but only a dozen would go the full distance.  A race that didn't see a lead change still had plenty of action, as a late caution would bunch the field and provide us with some dramatic finishes.
PJ Stergios laid claim to all 80 laps led, but did not go unchallenged as the field bunched up with the late race yellow.  On the final restart with just seven laps to go, Stergios held the preferred line on the bottom with Kevin Berg to his outside and Preson Bores lining-up in P3 and looking to pounce quickly on Berg.  When the pace car dropped off the track Stergios wasted no time and took-off, hoping Bores and Berg would battle it out for P2 letting him coast to a victory.  But Bores spun his tires, allowing Berg to easily clear him and set his sights on Stergios.
Berg would have to be perfect and find a bit more speed if he wanted to have a chance at the win.  Even though Berg was running his fastest laps of the race, Stergios was able to stretch his lead to just over a half-second as Berg soon came under heavy fire from Bores.  Recovering quickly from his poor restart, Bores stayed plastered to Berg's bumper for the majority of the final laps.
On the last lap Bores saw his chance to get a run on Berg but, just as quickly, watched it fade away.  Coming out of Turn Two he had the momentum but, just as he went to make the move to the inside, his rear wheels would break loose and he lost close to .3s as he gathered it back up.  As the checkered flag dropped Stergios crossed the line .645s ahead of Berg with Bores another 0.3s back.
The race pace was slowed four times for 20 laps and while no single incident was a game-changer, the final two cautions helped setup the finish.  On Lap 51 Alexander Sirois got loose down the front stretch in front of the second-placed Bores, then got loose again into Turn One.  With Bores already committed to passing on the inside, Sirois had to make a "snap" decision: either continue on his path to the bottom and possibly take-out Bores or make a hard right hander into the wall.  Sirois sportingly chose Option 2 and took his car straight to the wall to avoid contact with a lead lap driver, and avoided turning Bores' race from a top 3 finish to a potential DNF.
The final caution flag would wave on Lap 67 when Chris Ruzon got into the back of Petie Madrid, spinning Madrid into Turn One where he was able to keep it locked down and out of the racing groove.  But before Madrid could get his machine pointed in the proper direction, Robert Evans2 slid into him, damaging both cars.
As the rest of the top five jostled for position on the final green flag Taft Baldwin had the misfortune of restarting on the outside.  Even though he put up a tough fight, he wound-up getting freight- trained back to P8 before he was finally able to get to the bottom lane.  This allowed Michael Watson and Mike Budzien to battle it out for fourth.  Budzien closed-up to Watson's bumper but coming off the corner he got loose and lost a few tenths, allowing Watson to maintain P4.
Your hard chargers of the race go to Berg and Watson, who started in P12 and P14 and were able to both advance twelve positions apiece by the time the checkered waved.
1.    PJ  Stergios                         11.  Petie Madrid –6.726
2.    Kevin Berg –0.645                12.  Gary Holbrook –10.072
3.    Preson Bores –0.939            13.  Blaise Brinkley –2L
4.    Michael Watson –1.986        14.  Loren Arden –3L
5.    Mike Budzien –2.332            15.  Robert Evans2 –12L
6.    Dustin Riccioni –3.307         16.  Jared Rupert –18L
7.    Jarrid Boiros –3.538             17.  Alexander Sirois –29L
8.    Taft Baldwin –3.575              18.  Jay Hollingsworth –58L
9.    Jordan Dow –3.828              19.  Ryan Piland –60L
10.  Chris Ruzon –4.371              20.  Luke Faulkingham –80L
Week 5 action heads to South Boston Speedway, where the action will be bumper-to-bumper.  Many sim-racers will look to avoid the outside wall on corner exit while others hope to just survive the mayhem that ensues at this 4/10 mile track.  Keep the sheet metal guy on speed dial this week, we should have some interesting an exciting online racing.
---
You may also like...
---