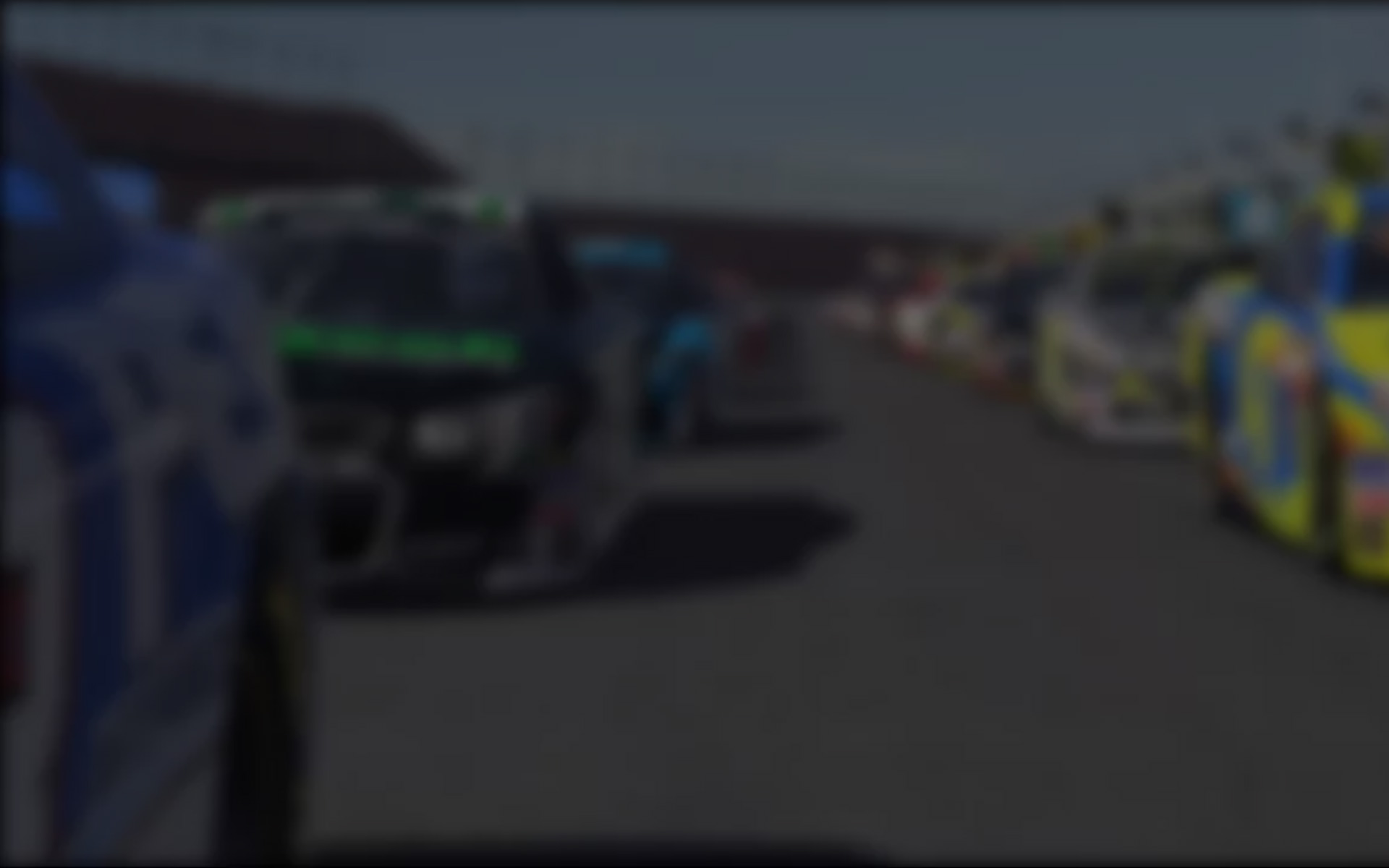 The NASCAR iRacing.com Super Late Model Series Week 2 headed west to Irwindale California, to race on the ½ mile configuration.  This wide track allowed many sim-racers to spread out and really see what this new super late model could do.  As expected the online racing was extremely competitive as many drivers had a hard time making a pass on the inside or outside with both grooves being fast, making for some exciting side-by-side action.
In the 2094 feature race of the week, would have nine lead changes amongst three drivers with Shane Kline leading 40 of the 70 circuits, Dayne Powell leading 27, and Chris Dresser sneaking-in three laps lead.  Kline would start in P1 with Dresser getting the nod up to P2 when Jake Goodwin failed to Grid.  When the green flag dropped Kline got a solid jump on the field and took off, and it wouldn't be until later on in the run when Powell started to show his muscle.  On Lap 41 Powell took command with a caution coming out right as he got the lead to help keep Kline from making a counter-attack on the outside.  When the green flag dropped for the final time on Lap 65, Kline mounted a powerful charge on the outside. Powell wouldn't give an inch the two sim-racers battle door-to-door, swapping the lead at various points for the next three laps.  Powell finally got enough room to clear coming out of Turn Two and never looked back, pulling .4 tenths on Kline and another second over Jeff Larson, who rounded-out the top three finishers.
The action was slowed by five cautions for 25 laps, with one incident dramatically changing the complexion of the race.  On Lap 20 Kyle Young and Jimmy Stevens tangled going into Turn Two while disputing fourth spot and the results favored neither sim-racer nor the ones behind them.  By the time the smoke cleared a total of six cars were involved.  Alastair Topley was the "biggest loser" in the mix-up. Going high to avoid Young, he barely caught the spinning car and got slammed by Nicolas Ward who was unable to slow fast enough.  Topley was pinned between the two cars and was forced to call the race finishing 48 laps down.  Eddie D" Holdt and Timothy Frye even though involved would sneak away with very minimal damage.
With the podium locked-up by Powell, Kline and Larson, the racing for fourth and fifth would be decided on the final lap and set the race for many drivers who were trying to just salvage a good finish after earlier incidents.  Running in P4, Michael Carpenter was under heavy pressure from Dan Ball for the final laps.  On the final lap, Ball took the low lane in to Turn Three and in the apex of the corner Carpenter would came down just as Ball was coming up, resulting in contact.  Carpenter did a full 360 before getting it straight while Ball quickly rolled out of the throttle, avoiding anymore contact.  This allowed Frye to advance to fourth with Stevens in tow for fifth.  Goodwin would finish in P6 with Carpenter dropping three spots but still able to salvage a top 10 finish in seventh.  Robert Evans2 would fall short of passing Carpenter at the line and come in P8 with Ball dropping four spots to P9 and Ward rounding out the top 10.
1.    Dayne Powell                                9.  Dan Ball –6.187
2.    Shane Kline –0.472                      10.  Nicholas Ward –6.712
3.    Jeff Larson –1.425                        11.  Eddie D"Hondt –7.357
4.    Timothy Frye –4.542                    12.  Chris Dresser –2 L
5.    Jimmie Stevens –4.718                13.  Kyle Young –3 L
6.    Jake Goodwin –4.733                   14.  Robb Ross –6 L
7.    Michael Carpenter –5.527             15.  Alastair Topley –48 L
8.    Robert Evans2 –5.682
Week 3 of the NASCAR iRacing.com Super Late Model Series heads to Thunder Valley to take on Bristol Motor Speedway.  As sim-racers tackle this ½ mile high banked oval at just over 14 seconds a lap the margin for error will be quite small.  It will be 90 laps of white knuckle, virtual sheet metal bending action; check back next week to see who will conquer Thunder Valley.
---
You may also like...
---