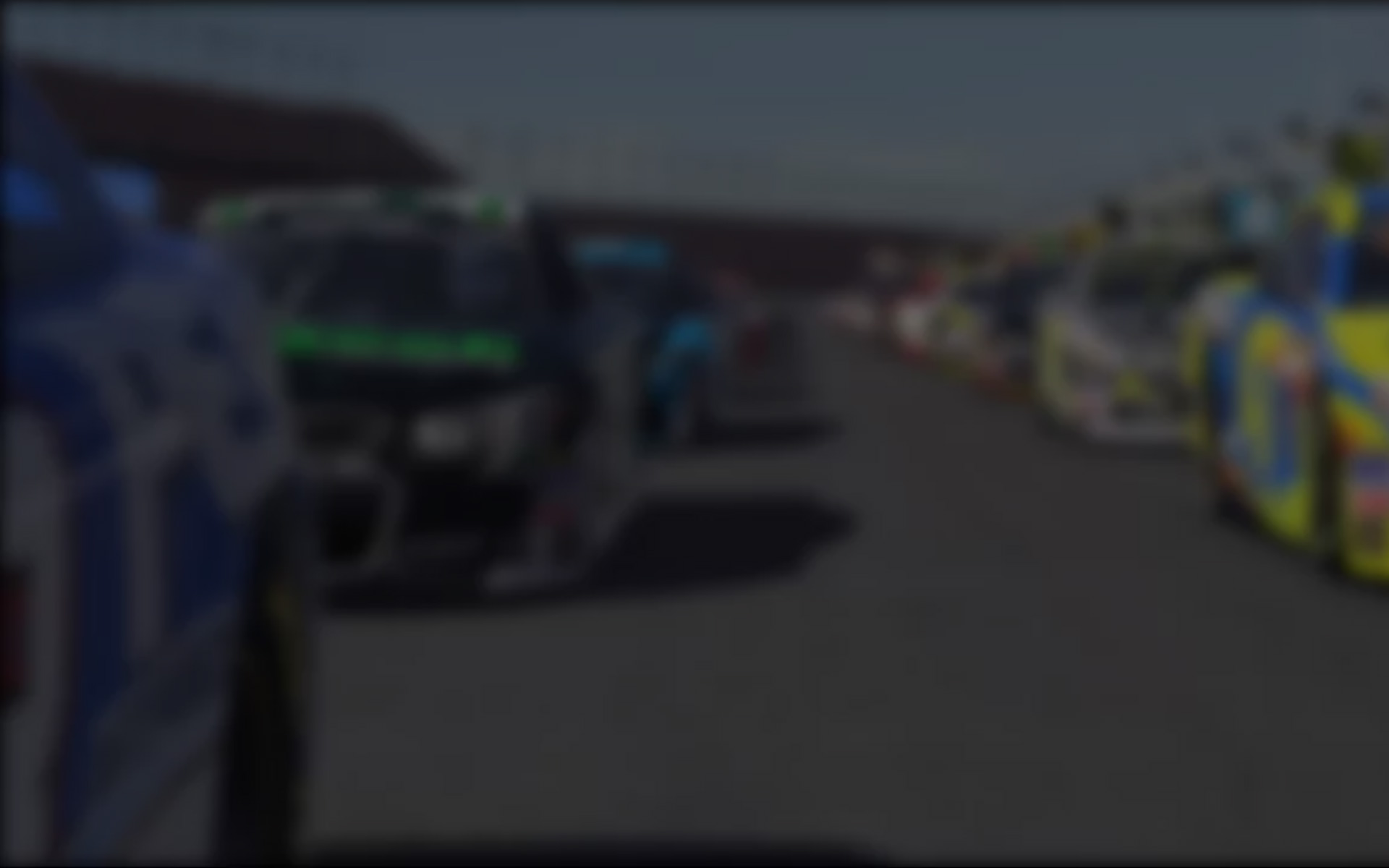 When iRacers talk about using the online racing service to familiarize themselves with new race tracks, it's only natural to assume the majority are speaking about road courses.  After all, while you can be pretty sure the next turn on just about any oval is going to go left, that's only the case about 50% of the time on a road courses.
But, as anyone who's driven an oval (real or virtual) can attest, it's a little more complicated than just turning left.  OK, so there's rarely much elevation change to take into account, even fewer "blind" corners.  But a whole host of issues conspire to make every oval turn unique:  variations in radius, degree of banking, bumps and pavement patches, not to mention visual cues, matter.  The Indianapolis Motor Speedway may look like a symmetrical rectangular oval on paper, but don't tell anyone who's ever pointed an IndyCar into the visual tunnel of Turn One at 230 mph that it's identical to Turn Three.
Dillon Welch is proof positive of the benefits of preparing for a new oval on iRacing.   Just 17 years old, the Indianapolis native has more than a decade of racing experience under his belt in quarter-, Kenyon- and full-size midgets on the bullrings of the Midwest, as well as more laps than he can count on the virtual short tracks of iRacing in Silver Crown and Sprint Cars.
"I felt like I was step ahead of the other guys who were seeing (the track) for the first time." — Dillon Welch
He's put those iRacing laps to good use as he moved from the Kenyon midgets (with less power than their big brothers) to full sized midgets of late.  Last fall, Welch prepared for his second USAC National Midget race at Toyota Speedway at Irwindale by running on iRacing's version of the Southern California oval.   And in the 70th Annual Turkey Night Grand Prix, the young Hoosier took to his first race at Toyota Speedway at Irwindale like an Angelino.
2011 sees Welch running selected races in the USAC Mopar National Midget series and, in preparing for his first race on the Milwaukee Mile last month, he adopted the same strategy he used for his Irwindale debut.
"I raced quite a few laps on iRacing's version of Irwindale  before last Thanksgiving's race," he explains.  "I figured if I was going all the way out to California, I wanted to be prepared.  And I was.  From the minute I got on the track I felt like I was step ahead of the other guys who were seeing it for the first time.  Although iRacing doesn't have midgets, I had run Silver Crown and Sprint Cars on the iRacing Irwindale and I found whatever I did in the sim, the car responded in the same way on the real track.
"With Milwaukee it was the same thing.  I'd done around 200 laps at the Milwaukee Mile on iRacing in the Silver Crown and Sprint Car.  I felt comfortable right away and it didn't take long at all before I was in the groove."
Indeed.  In his introductory visit to the world's oldest continuously motor racing facility, Welch put his Z-Line Designs/ClubSport /St. Vincent Sports Performance-Beast on the pole ahead of midget heavyweights Bryan Clauson and Darren Hagen.  And while Welch got off to a poor start in the race itself (after two wave-offs, he was caught off-guard when the race went green), he eventually came home a worthy fifth place.
"The start was pretty messed-up and by the time things got sorted-out, I wound-up racing for fifth-sixth-seventh," he says.  "It's hard to pass in midgets on a big track like Milwaukee.  The draft is a big deal.
"But it was good racing and, in some respects, I learned a lot more racing in a pack of cars than I would have if I'd just jumped into the lead."
The vagaries of real world racing have since impacted Welch's schedule, as he and car owner Marc DeBeaumont parted company in early July after promised sponsorship monies failed to materialize.  However, Welch has signed to drive for the highly respected Nine Racing team in next week's USAC Mopar National race at O'Reilly Motorsports Park and is looking forward to putting together a full-time ride in the USAC national midget series in 2012.  Beyond that, he hopes to tackle the USAC Sprint Car and Silver Crown series in the coming years.
One thing is for sure:  whatever and wherever Dillon Welch's racing career takes him, iRacing will be an important weapon in his arsenal.
---
You may also like...
---