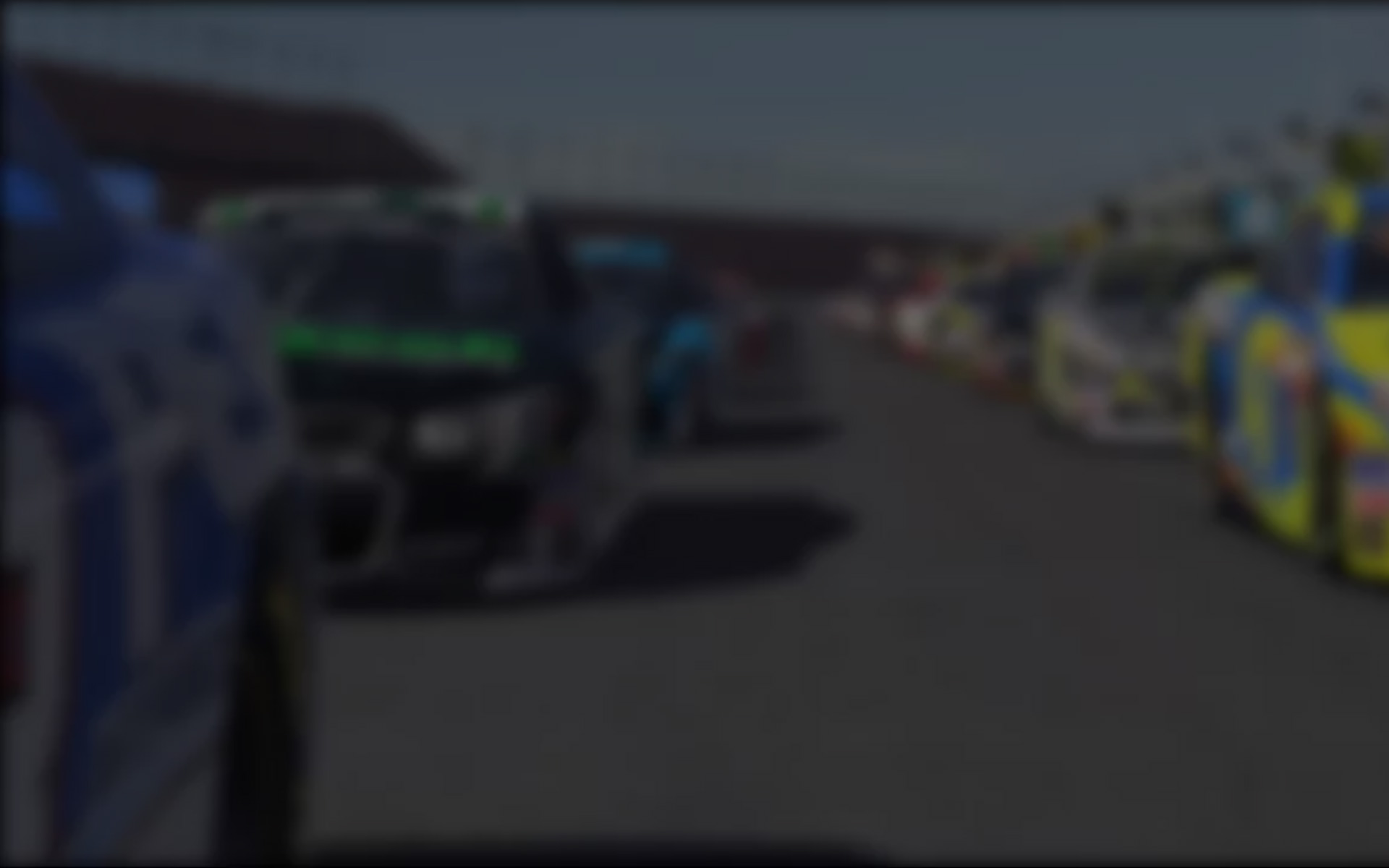 November 17th, 2017 by Richard J. Clarkson
Chad Presnall beat the simulated heat and the competition, staying cool at crunch time and winning his 27th career oval iRacing victory at the computer-generated Phoenix International Raceway, leading all of the race's 40 laps behind the wheel of his blue-and-grey virtual NASCAR Camping World Chevrolet Silverado.
Presnall, the 30-year-old from Texas, started on pole and never looked back.
The first half of the race saw a flurry of cautions. In total, the race was slowed four times for 15 laps. Pre-race favorite, Stevie Minson, got collected in the flurry: Lap six.
As the field stirred the desert air and bellowed into Turn One's 10-degrees of banking, sixth-place runner, Tom Bourne, muscled his Ditech.com Toyota Tundra deep into the corner. Pinned beneath T. Jason Odom's truck to his outside, Bourne's Toyota wiggled and kicked out its tailgate. Bourne tried to catch his rowdy sim-truck, but couldn't.
The Ditech.com Tundra careened across the racetrack and made heavy contact with the outside retaining wall, the front end of Bourne's race truck now a hideous mess. When Bourne's bowtie bounced off of the flat, one-mile track's Turn Two SAFER Barrier, spinning like a bulky top back down into the racing groove, Dylan Izzo's Chevy crashed into Bourne's right side, headfirst. Izzo's truck then made like a bullet and shot to the left, striking Minson's truck; catastrophe for both.
"Wow," Minson said, incredulously, his truck sitting on pit lane, digital black smoke trailing, "that was great… Yeah, he did the Earnhardt wobble there. Just did that hook and went up the hill. Good thing he apologized for wrecking the field before he left, huh?"
Minson finished 24th, dead last. Bourne bested him by one position: 23rd. Izzo limped his damaged race machine around for an additional lap before he retired to the garage: 21st.
With 16 to go, the green flag flew for the last time. Presnall ready like a man on a mission: the Texan ran his fastest lap of the race the next time across the stripe.
After starting 18th, the New Englander, Ronnie Newsome suddenly found himself battling for the virtual bling. After taking advantage of the race's first caution, pitting for fresh digital Goodyear Racing Eagles, Newsome, with a little help from Mr. Attrition, stormed through the field and restarted second for the final sprint to the checkers.
Newsome put up a valiant effort, gluing the nose of his Chevy to the tailgate of Presnall's for several laps, daring the Texan to glance into his rearview, break concentration, and wreck— spin, mess up, get out of the groove, hit the fence—but Newsome's attempts of mechanical, high-speed ESP shenanigans didn't work, and although he never fell more than four truck-lengths off the leader's rear bumper—once again, a valiant effort—he still lost and finished runner up, the virtual victory a mere .607 seconds away.
As a consolatory, for improving 16 positions from where he started, Newsome won Phillips' Biggest Mover of the Race Award.
Bryan Grandin started third and finished third.
The Floridian, driver of From A Dig Motorsports's The Black Dahlia Murder/Snap-on Chevrolet, Scott Smith6 finished fourth.
"Scalded dog on'uh log with'uh four-foot hog trapped in'uh bushel full'uh liquid mag-maw… that'z fun as'uh bee with'uh nitro-powered pollinator sucky-thing, man!" Smith6 said, post-race, unzipping his make-believe firesuit to his waist, strangely brushing his curled and matted, sweaty chest hair with a black hairbrush, shiny Snap-on sticker on its handle.
"Know what I mean?" he continued, looking up, his hand and brush now waiting patiently. "Shoot, even if yinz don't, hell, I just love racin' out here in the damn digital desert! See, what it is is, we started tenth. Then I got up on that wheel real hard like and started pickin' 'em off one at'uh time. Screamin' past those fools like I'z'uh army of banshees, hopped-up on gallons and gallons, bucket loads of high-test, leaded race fuel, on my way to the front. Hell, then I got stuck behind a damn turd and never could git rid'uh that blasted aero tight condition. Son of'uh—"
David "Pizza" Piazza started outside front row but finished fifth.
On lap 14, the field behind the pace car for the third time, Piazza chose to roll down pit road and bolt on a set of sticker tires. The leaders stayed on track. Piazza fell ten spots and restarted 12th.
Two laps later the Pizza Man endured left front damage while trying to miss the spinning truck of Noah Fraser. Unable to get slowed, Piazza's Tundra blasted the rear bumper of Odom's Chevy, but this time, when the yellow flag flew, Piazza's wrinkled sheet metal an eyesore, a temptation to bring his truck back to the attention of his androids, the Pizza Man listened to his crew chief and stayed on track, gutting it out to the end, his 650-horsepower delivery truck now sporting a busted grille and bent fender, a shiner to be proud of: top-five.
Odom finished 13th.
The sim-racer from down under, Gregory Griffiths, came home sixth.
Texas Instruments handed out their Passing Grade Trophy to the highest Class C finisher of the race: Mike Christopher Jr.; he finished seventh.
Fraser rebounded from his spin to finish eighth, followed by Ronald Hollish in ninth, and JP Gidley rounding out the top-ten.
---
You may also like...
---