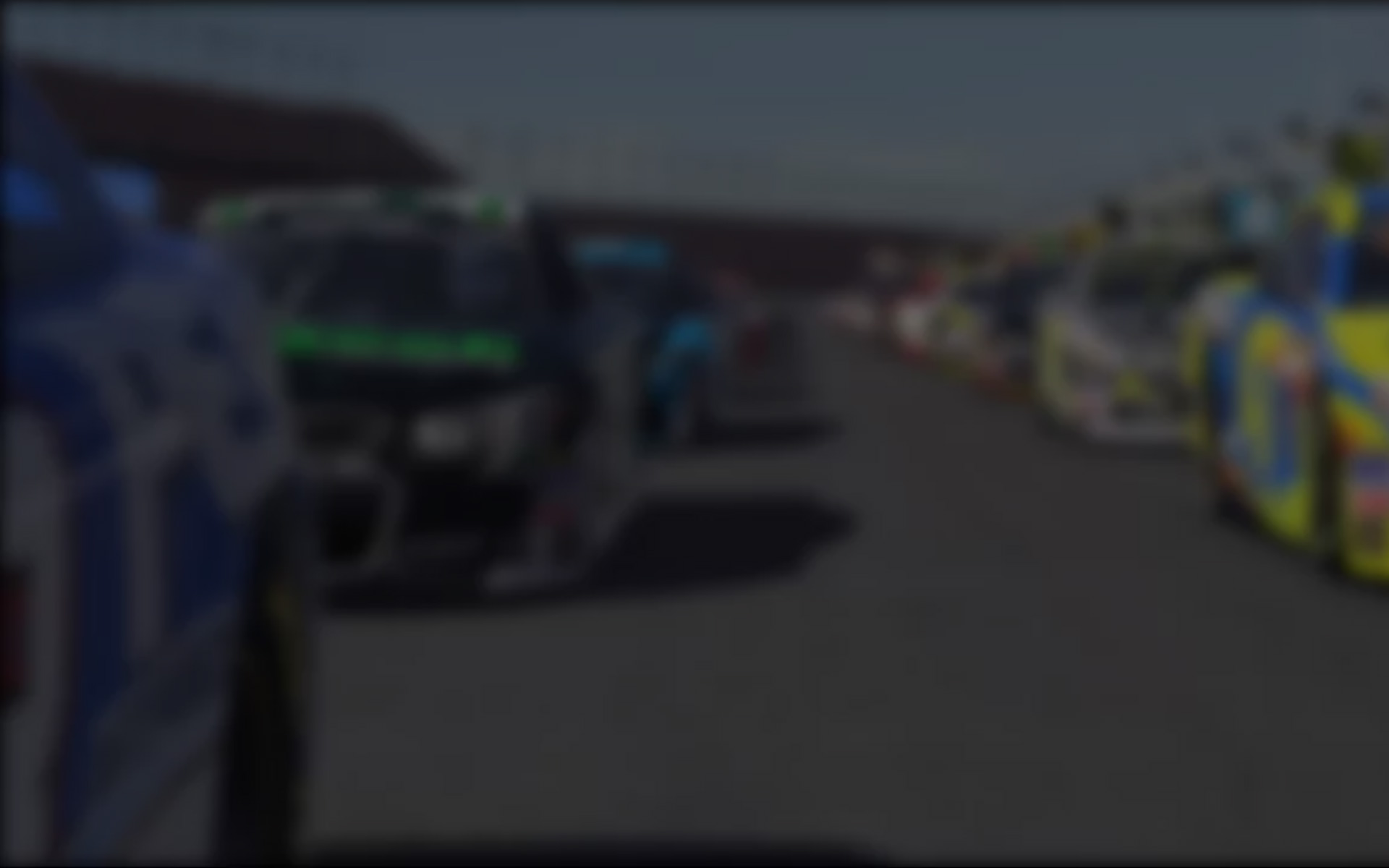 Week 5 of the iRacing.com V8 Supercars Americas series at the legendary Oran Park Raceway continued the tight challenge for the Season 2 championship and brought with it a series of epic battles all the way to the end.
For 55 laps, the virtual Ford Falcons and Holden Commodores negotiated the 12 turns of the 1.62 mile circuit. Although it was a smaller sized field than the online community has grown accustomed to, the 15-drivers arrived ready to race as qualifying got underway.
Pre-race qualifying
Qualifying proved to be incredibly close with the top nine drivers being separated by a little over half of a second. Coming out on the pointy end was SDC Motorsports driver, Michael Fulcher, with a time of 1:05.317. Fulcher edged-out his teammate, Martin Carroll, by a mere .006s as the latter took the second spot on the starting grid. Starting the online race from the second row was Shaun Kelly and Corey Preston with Marlon McMullen who rounding-out the top-five.
Green flag
As the lights went green, things took a turn for the worse for the pole-sitter as he was initially overwhelmed by Carroll who got off to yet another amazing start. As the field headed toward Coca-Cola Corner, Fulcher found himself surrounded on all sides and losing positions fast. By the time the field had crossed under the Dunlop Bridge, Fulcher had fallen back to fourth and was under attack by McMullen as Carroll assumed the lead of the race.
The winners from the first lap scuffle were Kelly and Preston who moved up to second and third, respectively.
As the race progressed, several dices erupted further back in the field. One of note was between McMullen and SDC driver Michael Cracknell. Although the two had started in fifth and sixth, they battled tooth and nail over the course of several laps in their efforts to get to the front.
Preston pounces
At the same time, Preston was relentlessly pressuring Kelly for second position. Never letting Kelly get too far from his bumper, Preston put the heat on his adversary in the hopes he would buckle under the pressure.
When it became obvious that Kelly was keeping his cool, Preston decided to have a go. He spent the duration of Lap 16 setting-up Kelly for the pass and, as the two entered Recaro Corner, Preston fired his Ford Falcon up the inside and was able to make it stick on the slippery corner. The two got very close to contact but were able to work it out. Now side-by-side, the pair drag-raced down the front stretch and, once again, Preston had to go in hot to get the jump on Kelly who wasn't going to surrender his position without a fight.
Preston expertly did just that and as the two entered Coca-Cola Corner, he had both the pace and the inside line to complete the pass for second.
Throughout the entirety of this battle, Carroll took full advantage of the motorized fracas between Kelly and Preston to mash the loud and extend his lead to over two seconds.
Zip-ties needed
Preston remained behind Carroll until Lap 38 when Carroll had a technical issue with his shifter which caused him to go off-track into the kitty litter at Coca-Cola Corner.
"I had no gears," he said. "My shifter disconnected (and) when I grabbed the cord underneath to sync the power lead in properly, it just decompressed the rear axle and turned me around going into (Turn) Two."
Although he was able to recover and get back to the racing surface, the incident gave Preston the open door he was seeking as he slipped by to inherit the lead.
Less than a second behind, Carroll made an enormous effort to reclaim his position but Preston kept his cool. With nothing between them, Preston went on to cross the line ahead of Carroll and claim his first V8 Supercars Americas win.
Top-five
Despite his strong pace at the start of the online race, Kelly was soon under immense pressure from Cracknell.  Finally, Cracknell was able to slip by on Lap 31 and went on to finish in the money for third. Kelly would take fourth ahead of McMullen.
Other splits
With the top split having a Strength of Field of 3468, the second split (SoF 1628) of the V8 Supercars Americas series was won by Robby Thomae. Ryan Shleton, Bruce Kielly, Raymond Staer and Alexander Hebert rounded out the top-five.
Here are the results from the Monday SoF race.
| | | |
| --- | --- | --- |
| Split 1/SoF 3302 | Split 2/SoF 1778 | Split 3/SoF 1156 |
| 1-Ethan Grigg-Gault | 1- Jeremiah Morton | 1- Brian Borg |
| 2-Michael Fulcher | 2- Brenton O'Brien | 2- Aaron Mcintyre |
| 3-Martin Carroll | 3- Shane Cooke | 3- Sam McLeod |
| 4-Michael Cracknell | 4- Shane Brooke | 4- Craig Jackson |
| 5-James McKnight | 5- Mark Fee | 5- Richard Byrne |
Post-race
After the race, Preston described what it was like pursing Carroll who has supported him through some very tough times.
"Chasing down Marty Carroll lap by lap by lap by lap. This dude just doesn't give in lightly. I'm trying my hardest to catch him and he's just keeping the gap constant and I'm thinking 'C'mon, surely your tires are going to fall off at some stage,' but no.
"I really do have to give a massive massive shout-out to Marty this week. He's stood up for me the last (few) weeks…He's just drilling into my head, 'Tune everything else out but your driving'. That worked today. A really big shout-out to everyone at SDC Motorsports."
Carroll was equally happy for Preston despite finishing behind him.
"I pressured the absolute hell out of him and tried to make him crack," he said, "but (Corey) just hit his marks and eyes forward like everything I've been teaching him so I'm really proud of his efforts today.
"His driving's back to where it was at the end of last season when he was showing really good not just speed, but sportsmanship and race craft out on track so I'm really proud of him today."
Be sure to catch the race replay here which was broadcast in HD by JD Smith and Kane Kraft of V8s Online.
---
You may also like...
---