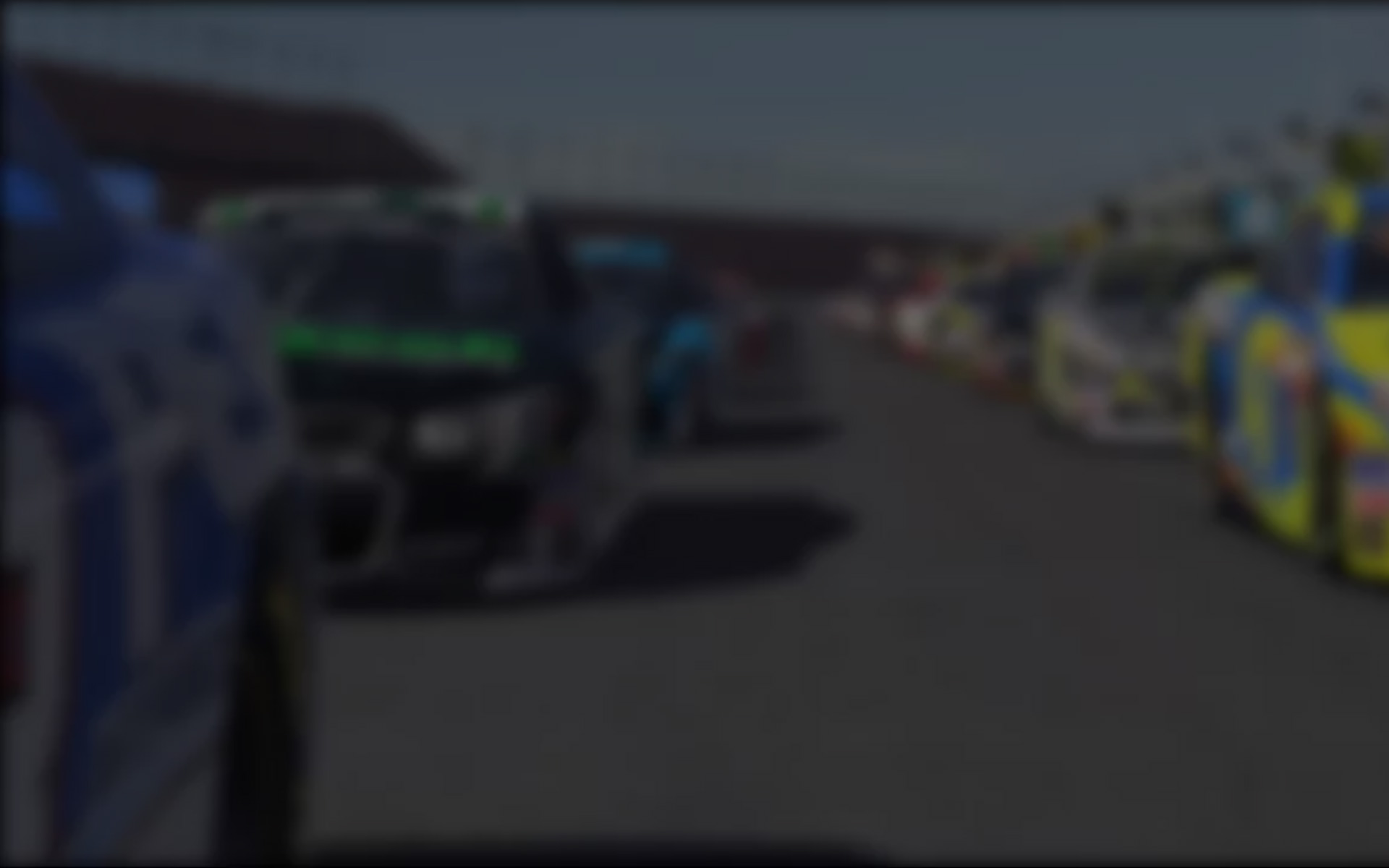 The iRacing Pro Series Road Race kicked-off on the Daytona International Speedways road course back on August 4. In that first week the excitement factor was high, as was shown by the fact that eight official races were run by a total of 131 drivers.  Since then, participation has declined due to various reasons like time commitment and demoralization at the hands of this series many "aliens" while some have simply lost their licenses with the advent of Fast Track system. This time around at Daytona we had only three races with two of this week's winners, Luke McLean and Derek Wood, also being amongst the eight winners from the August races. The star of the Pro Oval series, Brad Davies, also broke through for his first win in the road series this week proving he has no problems at all with right handers!
Thursday Race
There must have been great anticipation before Thursday's race due to the fact that the top three in the series Luke McLean, Richard Towler and Shawn Purdy were in the top three grid positions with the always-fast Peter Read, seventh in the standings, on the fourth grid spot.
Nor was Ian Lake, fifth in the standings yet starting this race from ninth, to be forgotten, as he made a storming start to take third place after Turn One. As can almost be expected these days, our pole-sitter Towler was swamped off the line, dropping back in sixth after the first turn. At the same time, McLean has made good from his second row spot to take the lead, with Read up to second, Lake third, Shawn Purdy dropping to fourth and a hard-charging Luca Ceritti following Lake through on the inside to go from eleventh to fifth  place.
On the approach to Turn Three Towler got a spot back by out-braking Ceretti for fifth while, just behind, Godard out-braked himself and spun off the track.  Meanwhile, James Andrew went a bit deep into this turn, getting into the side of Marc Beeson, spinning the Australian.  While Andrew continued on seemingly unphased, Dion Vergers collected unfortunate Beeson.  As a result,  Beeson's day ended and Vergers dropped to the rear of the field with Godard by the time they recovered.
A few corners later Purdy decided he'd have a spot back from Lake as he out brakes him into Turn Five to claim third position.  Towler comes through behind Purdy and is able to pass Lake to the outside of Turn Six.
Lap Two saw Towler catch Purdy by Turn Three and put his nose to the inside on approach. Purdy left room unnecessarily, allowing Towler to keep him down low into Turn Four.  With the resulting momentum, Towler out-braked Purdy into Turn Five, getting in a little deep but holding the position nonetheless and setting-off in pursuit of the lead duo of McLean and Read.  While Read kept pace with McLean Towler was really motoring.  He caught the leaders on Lap Seven, when Read gets loose off Turn Five enabling Towler to effect the pass on the outside of Turn Six, just as he did with Lake earlier.  By Lap 10 Purdy had also caught Read,  But, while attempting to out-brake him into turn five, the Canadian spun and tapped Read. Read was unaffected but Purdy lost precious time, although not his fourth place.
Back at the front, Towler proceeded to haul-in McLean lap after lap and on Lap 13 after doing an unofficial lap time of 1:39.710 (course cut) he  attempted a pass to the outside of Turn One but McLean held on. The next lap was a duplicate of the previous with Towler again having a run on McLean but unable to pass to the outside the first turn. Later that lap though, Towler out-braked McLean into Turn Three for the lead. Incredibly, after all that, a lap and a few turns later Towler out-braked himself into Turn Five and spun, allowing McLean back into the lead.
On the same lap, Frosty StClair finally hauled-in Lake, leading to a fierce battle for the following four laps that ultimately saw StClair getting a better run off the Bus Stop on Lap 20 and making the pass into Turn One for fifth place.
While all this  was happening, Purdy caught back up to Read and they approached the Bus Stop on Lap 26 side-by-side.  On the outside, Purdy is unable to make the corner and cuts the course whereas Read, appearing to be overly cautious in leaving Purdy space, runs wide in the other direction. Both lose time but Purdy wins out. Read counter-attacks over the closing laps, doing some of his fastest laps, but is unable to get the spot back and comes home fourth behind the victorious McLean with Towler and Purdy taking the other podium spots.
"The race for me was very eventful and entertaining!" said McLean. "I got a mega start from third to first with a big lead into Turn One. It took me a while to get up to speed initially and Peter was all over me. Once I got into a rhythm I saw Rich had moved up into second about 2.5 seconds behind and started chipping away at me. Rich was faster than me here by a couple of tenths most laps so the gap closed down.
My car was so slow in a straight line and was cooking the tyres so I did my best to hold him off for a few laps, but Rich did a great pass on me as I left the door open a bit and he took the opportunity. Then Rich had a hardware problem which gave me a three second lead with some 15 laps to go. He once again started chipping away but a little less quickly as I guess I had to treat every lap like qualifying which caused me to nearly wreck a few times! By the last lap he was in my draft which was a huge relief as one more lap I think he may have gotten by."
"Terrible start again as everyone predicted," said Towler. "(I) almost got mounted by one of the four gear cars that pushed it way too far but what goes around comes around on that one. Anyway, managed to catch Luke for the lead after battling hard to get there, got the lead after a few laps brawling then going into Turn Four I think my throttle cut out under braking as soon as I lifted, which meant I went flying off and almost into the tyres. It doesn't happen often, but appears to happen on the tracks with long periods of full throttle and only cuts when I lift off, which is a bit strange. After almost dying in the tyre wall I lost 3.2 seconds and tried to catch Luke but wasn't enough laps left to get by. Kinda mad at what happened as my car was pretty damn quick in the race but congrats to Luke."
"I was pretty disappointed in my driving today in the early going, and race was quite boring until Lap 27," Purdy offered.  "I was so far behind from just driving bad (and) my own dumb mistakes. Anyway enough of that, because I would be upset if I didn't have anyone to race with, but I got to have an epic battle with Peter with three to go. I had to run him down from four seconds back after my blunder/s.  Got inside going into Turn Six. We ran side-by-side all the way to the chicane where we both went for a game of chicken. I knew full well if he went in deep there was no way I could make the chicane because I couldn't turn in soon enough (being on the outside). So I was prepared for a trip across the grass which is what happened to both of us."
"That was a great race," Read said.  "I went three wide with Towler and Purdy, then managed to have second by Turn One. I was holding my own against Luke, then I was making some pretty bad driver errors in the Bus Stop. Towler got past, then I was battling with Purdy until he spun at Turn Five. From there, I was holding about a four second gap to him. In the last ten laps, he hunted me down quick, and on Lap 27 we went two wide from Turn Five to the Bus Stop, where he out braked me and himself, for us to both go flying into the grass at moderately low speeds. Somehow, I managed to use too much kerb worrying where Purdy would go, then I went onto the grass. We battled hard for the next three laps. Best battle I've had in a long long time."
"You know it was funny," said the fifth placed StClair. "This was my first time to do the morning race, and waking up at 5:30 to do it isn't exactly my idea of fun. I think there are at least a handful of people like me in Pro right now. I could practice my arse off and maybe pick up one or two more spots in these races. But I did about 15 min of practice before my qualifying last night, and I think there are some of us who just want to cruise around and get points to get into the iWDC. A bit sad, but with less than 50 or 60 people racing every week I think that is what is going to happen. Anyway, at one point after I passed Luca and I was kind of catching Ian I thought, 'You know, I kinda really hope I don't catch him or anyone else. It is just way to early to be brawling with anyone. Can't we all just drive around until the race is over?"
I went ninth to third by  Turn One… just nuts!" said Lake. "I had a beautiful run past one or two on the apron, then I had someone run a block, and I basically had to lift and glide it past on the grass to avoid rear ending them (braking hard would have still resulted in a rear end). Richard was running far left too, but there was room, and I was still flying up the inside even with my short grass run, so I took the spot…for about two corners.
"Don't worry Richard, wasn't real concerned about trying to defend against you faster guys. I think it was you and Shawn that re-passed me within the lap. Anyway my race consisted of making a small break over Luca and Frosty. Frosty eventually got past Luca, and ran me down with about 15 to go. Took him about five laps to get past. But really I wasn't racing him hard because my concentration is pretty shot at 11.30 pm on a workday. I kinda gave him an inside run into Turn One a few times, but he never took it. Odds are he was set-up for the oval, and so I had an edge into Turn One. But he finally got a good run out of Bus Stop on me, and he got around the outside of me in Turn One. I almost accidentally punted him, but we both lived. He rolled away after that, as I kinda just wanted to cruise to the finish."
Final Standings – McLean, Towler, Purdy, Read, StClair. Fastlap – Towler (1:40.076)
Saturday Race
Saturday's race had a few storming starts also but the results were not so good for these drivers as for their counterparts on Thursday.  Chris Palmer got a great jump from fourth on the grid right behind Matteo Calestani, but as a result of needing to quickly turn right to avoid a collision, Palmer hit the outside wall, nearly ripping-off his front fender.  Palmer actually lead into Turn One but spun there and ended up at the other end of the field instead. Ryan Murray was the other stormer, making his way from seventh on the grid to third after Turn One. Ovalmeister Brad Davies enjoyed his first pole of the season and kept his position, as did fellow front row sitter Calestani, with Mauro Bisceglie losing a spot and Ville Niemi holding onto fifth.
Lap Six saw Murray get a little wide through Turn Five and allow the pressuring Bisceglie past on the inside for third place. Murray, the other driver to get a storming start, later fell afoul of his own poor judgement as he got his outside wheels onto the grass coming off Turn One and hit the wall head-on, abruptly ending his day.
"No real practice, laid down a new PB qualifying time, used Ian's setup and launched from 7th to 3rd by the first turn….could have had first if I was stupid, but I backed off and let Brad/Matteo by," said Murray.  "Settled in and was doing decent laps up until about Lap Eight when I entered Turn One wrong, came out wide and floored it and it sent me into the inner wall."
Later that lap Christian Aranha made a move to the inside of Niemi on approach to the Bus Stop. Both drove superbly to neither slow down too much nor make contact, but Niemi got a little wiggly as they approached the exit and Aranha claimed fourth place. Read and Purdy (from the Thursday race) will no doubt study this over a drink or two to see how it's done for future reference!
The rest of the race saw the top five hold position until the end. Congratulations to Brad Davies for his maiden pole and win in this series.
Pretty good race for me," Aranha said.  "Started sixth, dropped to seventh and moved up to finish fourth. I had a bit of an aggressive move on Ville and we touched. But other than that I was on cruise mode."
"Well I did nothing special in this race," Niemi said.  "Little fight with Christan and I got little damage but nothing serious. Could not keep up with top four but didn't have any trouble keeping safe distance to back so… But top five and I'm happy with it."
Final Standings – Davies, Calestani, Bisceglie, Aranha, Niemi. Fastlap – Davies (1:40.649)
Sunday Race
Sunday saw Dom Duhan on pole sharing the front row with Derek Wood in what shaped up to be another typical dual between the two. Duhan got a good start and led into Turn One but Wood found himself all the way back in sixth after what must have been a very tall first gear bogged him down severely at the start. From the second row, Andrew Kristensen passed Wood only to be  passed by Florian Godard who now found himself in second place. Ryan Kowalewski also benefited from Wood's poor start, gaining a spot, while a flying Luca Ceretti fell in behind him for fifth place after starting back in eleventh. Ben Cornett was the big loser of Lap One after getting away well but spinning through Turn One after getting off the proper circuit and onto the run-off tar.
The rest of this race was about to become the Derek Wood Show! On Lap One he got a great run off the Bus Stop and, after running on the apron through the tri-oval, made the pass under Ceretti for fifth into Turn One. Lap Three saw Wood repeat this move on Kowalewski for fourth place. Still in a big hurry trying to make up for a poor start and obviously not wanting to let Duhan race off into the distance, Wood immediately stuck it up the inside of Kristensen into Turn Three, keeping alongside through the Turn Four kink on the outside and then winning the braking dual for third place  into Turn Five. No mucking around there at all!
On Lap Eight Wood again showed how supremely good he is coming off the Bus Stop to again duplicate what he did twice earlier, this time taking second position from Godard who seemed to yield as well as they approached Turn One. Only Duhan now was ahead to the tune of two seconds. By Lap 13, Wood was right behind Duhan and, with no surprise whatsoever, executed another typically supreme run out of the Bus Stop to again take a position into Turn One. This time it was for the lead and Wood would never lose it.  After falling back a little following the pass, Duhan seemed to find something and looked threatening over the closing laps but could not pass the unflappable Wood.
After taking an early lead I started making a few errors, namely into Turn One with locking my left front," Duhan said.  "Derek was making his way back through the field and eventually caught up. He got me with a great move into Turn One and from there I decided to try and conserve my tyres and use his draft.  The plan worked well and we were around a second apart for most of the race. With three to go I started to get very close with the draft but not close enough! Great race, well done Derek."
"The Sunday race @ Daytona was one of my best results in Pro Road," said Godard.  "I did a good qualify and take a great start with my short first gear. I was able to follow Dom few corners, and stay second until Derek (Wood) come back. Damn he was too fast, I feel he have traction control ! His win is not a surprise for me. After, that was a continuous fight with Andrew (Kristensen) for the 3rd, the gap was around 2-3 sec and we were pretty equal, that was intense."
Final Standings: Wood, Duhan, Godard, Kristensen, Kowalewski. Fastlap: Duhan (1:40.028)
Weekly Wrap Up
Qualification fast lap of the week:  Richard Towler (1:39.220)
Race fast lap of the week:  Dom Duhan  (1:40.028)
The top three in the iPSRR standings maintain their positions after this week's action, with Australian Luke McLean leading by a margin of 89 points over England's Richard Towler, with Canadian Shawn Purdy now a further 229 points back.  Frenchman, Bastien Bartsch, is now just inside the top 50 bubble this week with Hungarian Zsolt Hamvas being just outside. Next week the series visits another r-oval at Lowes Motor Speedway.
*                                      *                                                 *                                      *
About the iPSRR – The iRacing Pro Series for Road Racing (iPSRR) is, in this inaugural year, a 25 week series with six drop races (i.e. a driver's best 19 results will count toward his season tally). In addition to crowning a seasonal champion, the iPSRR qualifies its top competitors for the 2010 iRacing Drivers World Championship for Road Racing which will be worth $10,000 in money and prizes for the champion. There is a parallel series for oval racing (the iRacing Pro Series Oval – iPSO). The top 50 drivers in each Pro series will compete in the iRacing Drivers World Championship Road Racing and iRacing Drivers World Championship Oval set to start in February of 2010.
---
You may also like...
---