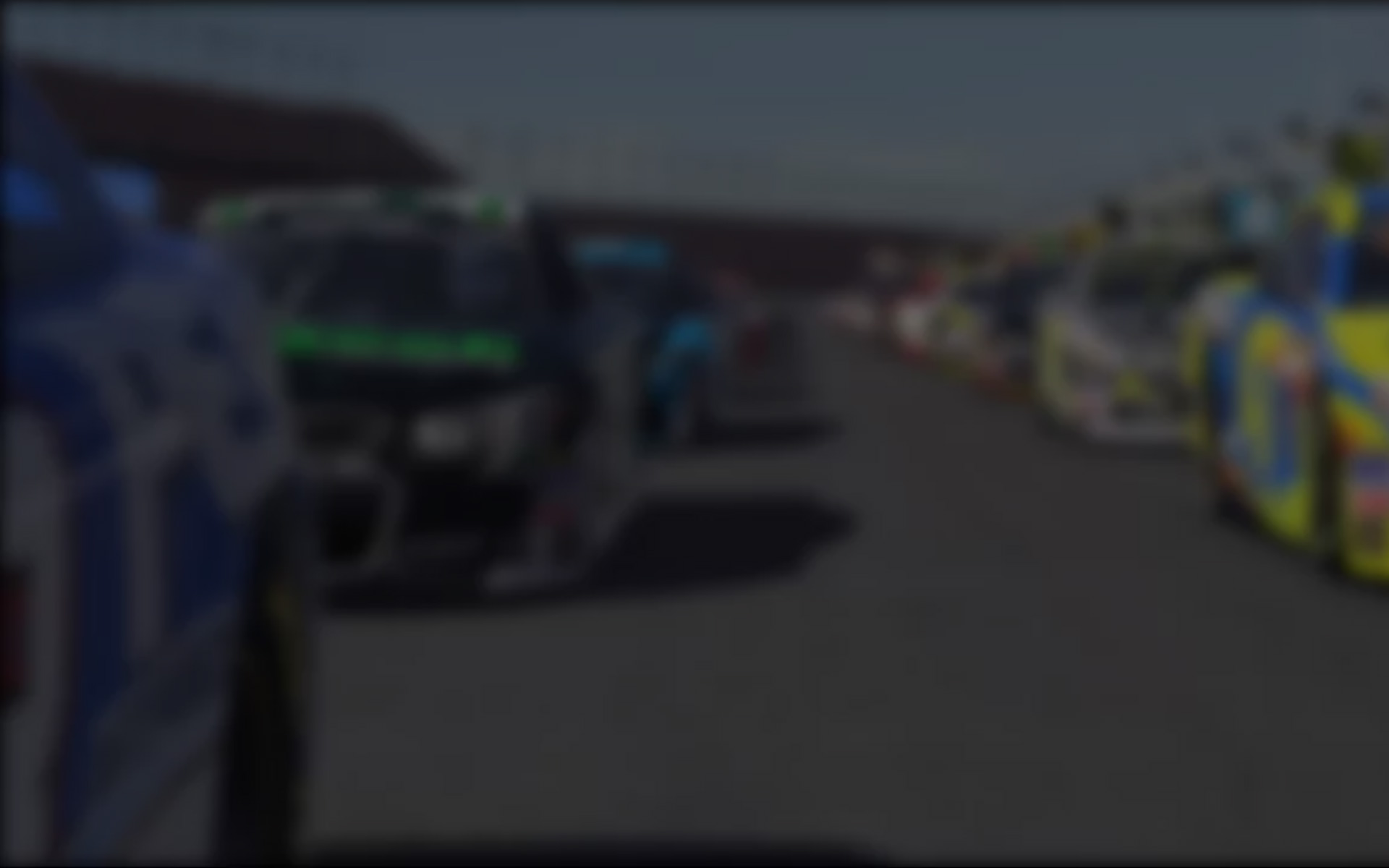 Last week marked the end of r-ovals, sort of. This week's iRacing Pro Series Road Racing action moved to Homestead-Miami Speedway's Road A configuration, which uses only the straight sections of the oval proper. Some stayed away from this circuit, dismissing it as another r-oval, but those who did participate were pleasantly surprised at how good of a road circuit this track actually is. In any case, it is rumoured field sizes will grow after this event due to the rest of the schedule being confined to dedicated road circuits and also many drivers returning from pre-planned mid-season breaks.
Saturday Race
Richard Towler (pole) and Luke McLean once again made up the front row of an iPSRR event, with Richard Crozier and Florian Godard behind them on Row Two and Mauro Bisceglie and Matteo Calestani a row further back. Bisceglie got a good start and passed Godard into the first corner but the normally fast-starting Calestani bogged-down, losing many places as a result. The rest of the top six maintained position after Turn One.
A few corners later in Turn Four, Crozier got his inside wheels on the rumble strip and spun on the exit, creating chaos for more than 20 cars right behind. Bisceglie, Godard and the fast-starting Ville Niemi all got around him cleanly but, behind them, Brad Davies got into the side of Ray Alfalla, probably due to attempting to miss Crozier. They spun to either side of Crozier who  was now in the middle of the track, forcing many to go off-track on both sides. Alfalla ended-up being the biggest loser, still facing the wrong way after the entire field had gone through.
"Words cannot describe how pissed off I am at myself for just blowing what could/should potentially have been that elusive first Pro Road win,"said Crozier. "And lost my Pro licence (again) to boot."
Another potential classic between Towler and McLean looked to be on the cards but on Lap Four McLean duplicated Crozier's opening lap mistake whilst right behind Towler. He ended-up facing the Turn Four wall and, after executing a three point turn, found himself four positions back of his previous spot. This moved Calestani to fifth, the Italian lucky to regain a few of the spots he lost owing to the Crozier incident.
At this point Towler enjoyed about a six second lead and was increasing it at the alarming rate of approximately one second per lap. As for McLean, on approach to the Turn Eight hairpin, he appeared to be caught off guard by an early-braking Calestani directly ahead and lost the back end. He slid to the inside, narrowly missing Calestani and — luckily for both — losing only a little time as a consquence. McLean would duplicate this feat on Lap 21, this time sliding all the way past Calestani and again losing nothing but time.
The following laps saw an intense fight for fifth place, with a lot of defensive driving by Calestani resulting in a seemingly frustrated McLean getting into the side of his rival in Turn Three on Lap 30 of this 50 lap race. McLean was on the ideal line with Calestani a bit high and, as Calestani attempted to get the car back over to the left for the following right hander, McLean T-boned him.  But to be fair, it was also a matter of Calestani turning down and can probably be dismissed as a racing incident.   In any case, McLean ended-up with the spot and Calestani lost a lot of time.  Indeed, he was lucky Milos Miljkovic, in seventh position, was not close enough to overtake.
All this time Godard had been keeping second–placed Bisceglie busy, at least until the Frenchman got wide off Turn Six on Lap 32 and spun, that is. Luckily, he did a complete 360 and continued with only about a 3 second loss of time.
By Lap 34 McLean had closed on Niemi, who seemed all too aware of the Australian's mood and simply backed-off as the two exited Turn Five, gifting him fourth place.  It was probably a wise move due to McLean's pace and the unlikelihood of holding him off for another 16 laps.
"I was at fifth place (with) Luke after me and I had destroyed my tires, so I let him by," Niemi explained.  "I thought maybe he would be kinda mad after 'fighting' Matteo for long time. I didn't have pace for Luke but I was looking that Florian was drifting a lot, so I thought that I just take it easy for a while and let tires cool down."
The next lap saw McLean right behind Godard who was, indeed, struggling for rear grip. McLean got a run on him into Turn Seven where Godard ran wide, enabling McLean to make another easy pass for third.
"I drove terribly, spun three times, destroyed tyres, hit Matteo," McLean said.  "I blame sim trophy and 2 hours sleep lol"
Nor was McLean's action-packed day through.  Having caught Bisceglie, he cut Turn 12 too much on Lap 44, resulting in a 'slow down' black flag. Tragically, this lap also saw Towler suffer a terminal electrical problem, ending his race while he led by 39 seconds. Although McLean was able to catch Bisceglie starting the last lap, Mauro was cool under pressure and hung on for his second win of the series with Godard coming home third, some six seconds adrift of McLean.
"After mid-race, I was much slower and I could not keep pace," Godard said. "I spin myself but I left in front Ville (Niemi), saving my third place by one second. At the end of the race, I could not resist the return of Luke, and let him pass, losing as little time as possible to save a little gap with Ville. With all these disconnections, particularly that of Richard (Towler), I'm lucky to finish third.
"Congrats Mauro! I want to thank my sponsors, Orion Racing Team, Sim Boots & www.i-Reviews.net"
Final Standings:  Bisceglie, McLean, Godard, Niemi, Calestani.
Fast lap: Towler (1:16.882)
Sunday Race
Richard Towler returned to his familiar number one grid spot for another bite of the cherry as did Ray Alfalla back on the outside of Row Three. Shawn Purdy took the outside of Row One, James Andrew and Ben Cornett occupied Row Two and Derek Wood was on the inside of Row Three beside Alfalla.
Wood made a terrible start, completing the first lap in seventeenth.  At that he fared better than Cornett who failed to complete the opening lap, thanks to some outside assistance.
"I really enjoyed my three corners," said a wry Cornett.   "I think out of the three corners if someone asked me which was my favourite, I would definitely say the first one as it was the only one that didn't consist of someone driving into me. (I'm) looking forward to next week's corners! I'm aiming to make four. Gotta have goals!"
Up front, however, the top three was unchanged.  In fact, it would remain that way throughout the race.
"Sunday race was a pretty good field with Shawn/Ben/James running," Towler said.  "I just went for it from Lap One to try and build a gap over the field, as that's when my car was going to be at its best.
"(I) pulled out a 10 second lead as we got into traffic.  I think later in the race Shawn backed-off as I was pulling a pretty big lead over him. Had a really close call at the end with Brad as he and Andrea brawled, awesome battle — the last lap should make the pro highlights. After that, I just focused on bringing it home and hoping my connection didn't drop. Didn't get as many points as I wanted, but it will do."
With Towler, Purdy and Andrew doing a disappearing act, it was left to Alfalla and Andrew Kristensen (seventh on the grid) to fight over fourth place. They didn't disappoint, as an off-track excursion cost Alfalla the place on Lap 20, but Kristensen spun on Lap 42 giving the spot back to him.  After his lamentable first lap, Wood mounted a fine come-back drive to finish sixth while Davies came out on top of the aforementioned "brawl" with Andrea Baldi, albeit a lap down to the flying Towler.
Final Standings:  Towler, Purdy, Andrew, Alfalla, Kristensen.
Fast lap: Towler(1:16.741)
Weekly Wrap Up
Fast lap of the week (qualifying):  Richard Towler (1:15.831)
Fast lap of the week (race): Richard Towler (1:16.741)
Again there was no great change at the top of the iPSRR standings this week. Australian Luke McLean leads by 51 points over England's Richard Towler, with Canadian Shawn Purdy 221 points behind him. Australian Marc Beeson is now just inside the top 50 bubble and Belgium's Stephane Schodduyn is just outside it.
Thunderous applause is heard from the drivers as they now head to a purpose built road course at Sebring International Raceway. In fact, the remainder of the season sees the schedule occupied only by such purpose built road facilities, so a return to action is expected for many drivers and has been hinted at by many of them. Smell that salty air!
---
You may also like...
---