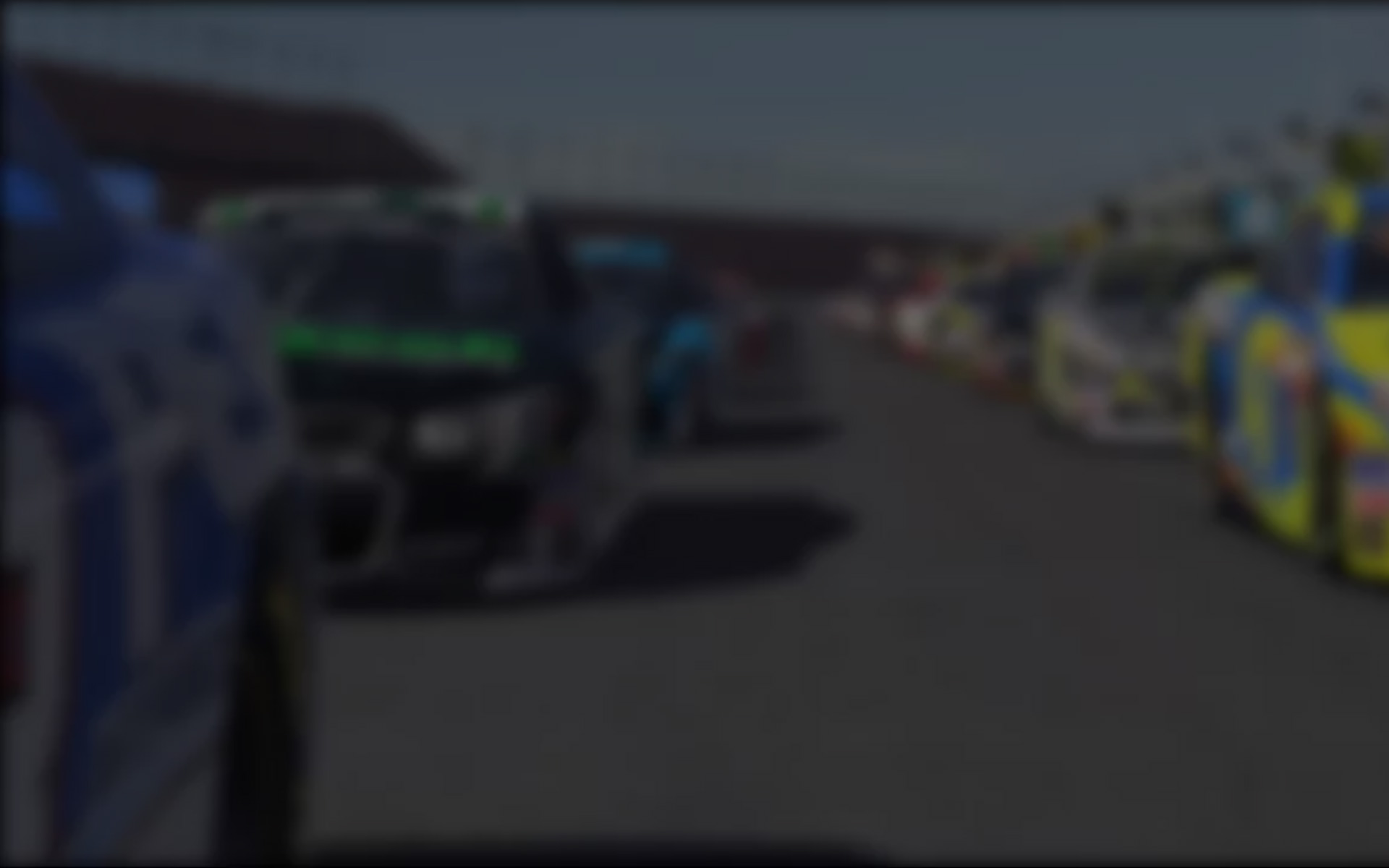 This week marks the end of r-ovals for the remainder of the season . . . much to the delight of many who have targeted them from the get-go as weeks to drop. However, the racing has been pretty good over this mid-season period with some of the drivers not minding these types of tracks as much as they may have first thought. It was again a case of the usual suspects with the series' three leaders taking victory in the three races conducted this week at the twisting and undulating Lowe's Motor Speedway road course.
Thursday Race
This race promised another ideal situation of the three series leaders in the top three grid positions, with Richard Towler on pole and Luke McLean alongside him on the front row. Shawn Purdy headed the second row with Ian Lake (fifth in points) to his outside. The third row saw Florian Godard flanked by Matt Shea.
"Ideal" turned to "disaster" moments after the green flag was waved as McLean, confusing a different configuration of the track for the first turn, turned straight down on Towler, doing severe damage to them both. Both disconnected upon realising how badly their cars drove soon after the incident.
"Well that's one to add to the 'I don't believe it' pile," said an unimpressed Towler.  "Getting taken out of the race before the first turn when using four gears. I don't get to make the Aussie race often and as it's usually the highest SoF by 20/30 points every week at least it's kinda important to make it count.  But two out of the three times I've made it this season I've not made it past Lap One due to the same guy. I'm not happy."
Nor was a thoroughly embarassed McLean.
All I can say is that is possibly the most stupid thing I have ever done," he wrote.  "At Lowe's the road veers off on the left before Turn One and for whatever reason I thought that was Turn One. I panicked when I saw that I was flying past it and turned left. *bangs head against wall* I was really disappointed, as my race pace was in the mid 1.02's, so I wasn't even bothered entering Turn One in third as I was confident here. It's funny what your brain does when you panic, I'm still shocked.  Oh well, I'm only human!"
Meanwhile, the rest of the field got away without any drama with Purdy happy to take the lead with Ian Lake, Florian Godard, Dion Vergers and Luca Ceretti rounding out the top five after the first lap. Ceretti made a fantastic start coming from tenth on the grid, whereas Shea dropped well back from his third row starting spot also allowing Vergers past from the fourth row.
Lap Four saw James Andrew, who also had a great start going from twelfth to sixth by Turn One, get right behind Ceretti as he got a little wide off Turn Eight leading to oval section. This allowed Andrew to drive all the way around Ceretti for fifth place, ultimately getting entirely ahead of him as they began braking for Turn One. On Lap 12 the two would exchange places again, this time with Andrew running wide off Turn Four allowing Ceretti under him into Turn Five. Later, at the beginning of Lap 17, Andrew appeared to lose his bearings like McLean earlier, except that he seemed to think the oval section was still in play and drove straight past Turn One and spun, ending his attack on Ceretti.
"Well, I had a bad qualify and started in 10th," Ceretti said, "so didn't understand what had happened to Richard and Luke who were cutting the grass before Turn One. Anyway my short first (gear) and their waltz put me in fifth entering Turn One. And there I stayed for some laps, but couldn't get the right pace. So Andrew made a good pass on the external line on the oval(!), but then I could stay very close to him. At his first little mistake after Turn Four I passed him again and then it was him shadowing me for some other laps, til he went long at Turn One loosing about 10 seconds. From then on it was a fight with myself to keep my concentration. But at Lap 27 I was thinking about that and made the only big mistake of my race. I put a wheel on the gravel after Turn Five and spun on the grass. I restarted just in front of Andrew, but he spun re-entering the oval. So it has been a fight against (Matt) Shea, who was two – three seconds behind me, trying to keep a good pace til the end of the race. The fifth place is a good result for me."
Up front, Purdy had found Lake hard to shake over the opening ten or so laps but later started to edge away. Lap 19 saw Lake do a ballerina-like spin coming off Turn Two.  He continued on his merry way, albeit with Godard now in hot pursuit and Vergers not far back. Godard kept the pressure on for the next ten laps but Lake found a little extra and was able to keep him at a safe distance over the closing laps with Vergers, while not out of the picture, never really threatening Godard for position either.
Thanks for the points Luke LOL," said the winner. "I was laughing pretty hard on Lap One. and on Lap Two I was in shock, Lap Three I was still like, 'Wow I can't believe it.'  Lap Four I was like, 'Damn, now I won't get to race Rich or Luke.'  Well in some ways it was good for me 'cause I hardly practiced at all, and wasn't too comfortable around here. My car got way too loose near mind point in the race too, so I was forced to drive more carefully. But still didn't have the pace in the early stages when the car was good. Good race with Ian and stuff though. Wasn't all too bad."
"I was having a good time drafting Shawn for about the first 10 laps," said Lake. "Then I made a few small mistakes, and the gap blew out to almost two secs. I then self spun a few laps later on Turn Two's 'inside the white line low grip patch,, did a 360, and drove off with barely a second now back to Florian. From there I had to push like mad, and finally about 15 laps later, he was back two secs and just off my draft, and I could ease off a little again. Still, even on the last lap, I was making sure I didn't have an off or a silly mistake knowing this track is very harsh on the small mistakes. Good racing by Shawn, Florian and Dion (who almost caught Florian)."
"I didn't believe it," said Godard of the McLean/Towler incident. "That's a long time that iRacing should add cones or plots at this place. I started fifth, with a short first gear. I would try to pass Ian (on the outside) at Turn One, but with the wreck ahead I prefer to assure. I was able to follow Shawn and Ian for a little time, helped by the draft, but I was slower in Turn Five (understeer), Turn Eight and Turn Nine (oversteer). I keep a short gap with Dion, that was close 'til the last lap. That's a good race for Orion Racing Team, with P1, P3, P4, and nearly 300pts for Shawn!"
Final Standings:  Purdy, Lake, Godard, Vergers, Ceretti.  Fast lap: Purdy (1:03.040)
Saturday Race
Saturday's race saw McLean return for a second bite of the cherry on pole with Gerd Hoeferer to his outside, Mauro Bisceglie and Ryan Kowalewski making up the second row, with Richard Crozier and Chris Palmer making up the third. The first two rows got away and held their positions through Turn One (and yes, McLean thankfully used the second left hander this time).  However Crozier got a bit loose under brakes while desperately trying to avoid contact with Kowalewski and lost a couple of spots to Palmer and James Andrew, with Palmer out-braking Andrew into Turn Three.
Lap Six saw a couple of drafting duels take place between Hoefferer and Bisceglie, Kowalewski and Palmer. Bisceglie was able to get under and past Hoefferer in Turn One but Palmer could not do likewise to Kowalewski.  However, both got past Hoefferer who was caught up on the outside of Turn Two, dropping from second to fifth position as a result. Lap 13 turned out to be very unlucky for Kowalewski as he ran wide off Turn Eight and spun.  He almost backed into the wall and was lucky to not get collected by Andrea Baldi as he struggled to rejoin on the heavily banked oval section.
On Lap 18 Crozier pressured Hoefferer into running wide off Turn Four allowing both Crozier and Mark Drennan by for fourth and fifth places. This marked the start of a fierce battle for fourth between these three drivers along with James Andrew, who caught right up to the trio. On lap 30 the pressure again showed as Drennan spun through Turn Eight and into the inside wall, ending his race. Eight laps later, and with a lead of over nine seconds to Bisceglie, McLean was distracted by Robinson Shields' recovery from an off.  He hit the wall exiting Turn Eight, damaging the right side of  his car.  McLean clearly struggled over the remaining laps, but managed to limp home for the win by a margin of just under four seconds. The last lap saw Hoefferer, who must have been disappointed with himself, again run wide off the fourth turn allowing Andrew past into fifth position after holding him off well for the previous ten laps.
I did myself no favours this week lol," McLean wrote. "I brushed the wall on Lap Four or Five in the race and even though it was a light touch it bent the steering in an awful way. Every left hander the car wanted to spin and entering the oval section was terrifying every lap. Glad that track is gone!"
"(I) started fifth, didn't get off the line too well but eventually held my place," Palmer said.  "Had a good clean run and inherited third with the guys in front having some problems. I had Mauro pegged at 1-1.5 seconds for most of the race but couldn't quite catch the tow to get closer. Then had some very sideways moments with about eight to go and slowed down a bit to bring it home. However much people don't like r-ovals we do get some close racing."
Final Standings: McLean, Bisceglie, Palmer, Crozier, Andrew.  Fast lap: McLean (1:02.969)
Sunday Race
Sunday saw Ben Cornett take the lead at the start from pole-sitter Richard Towler (also his second bite of the cherry) and keep it for the opening laps. However, Cornett make a mistake on Lap 15 and fell back to fourth. Dom Duhan held onto his third place until a hard charging Derek Wood, who began in fifth, overtook him on Lap 12. Similarly Andrew Kristensen held his fourth spot until Wood overtook on Lap Four. Cornett lost the battle for Fourth to Kristensen on lap 25.
Final Standings: Towler, Wood, Duhan, Kristensen, Cornett.  Fast lap: Towler(1:02.906)
Weekly Wrap Up
Qualification Fast lap of the week:   Towler (1:02.180)
Race Fast lap of the week:  Towler (1:02.906)
Again the top three maintain their positions after this week's action, with Australia's McLean leading by the smaller margin of 62 points over England's Towler, with Canadian Shawn Purdy now an also slightly reduced 208 points back. American Derek Wood is now just inside the top 50 bubble this week replacing Frenchman Bastien Bartsch who has slipped just outside. Next week the series returns to Homestead Miami Speedway for Road Course A (no, not another r-oval – exactly) for more fun in the sun!
*                                      *                                                 *                                      *
About the iPSRR – The iRacing Pro Series for Road Racing (iPSRR) is, in this inaugural year, a 25 week series with six drop races (i.e. a driver's best 19 results will count toward his season tally). In addition to crowning a seasonal champion, the iPSRR qualifies its top competitors for the 2010 iRacing Drivers World Championship for Road Racing which will be worth $10,000 in money and prizes for the champion. There is a parallel series for oval racing (the iRacing Pro Series Oval – iPSO). The top 50 drivers in each Pro series will compete in the iRacing Drivers World Championship Road Racing and iRacing Drivers World Championship Oval set to start in February of 2010.
---
You may also like...
---