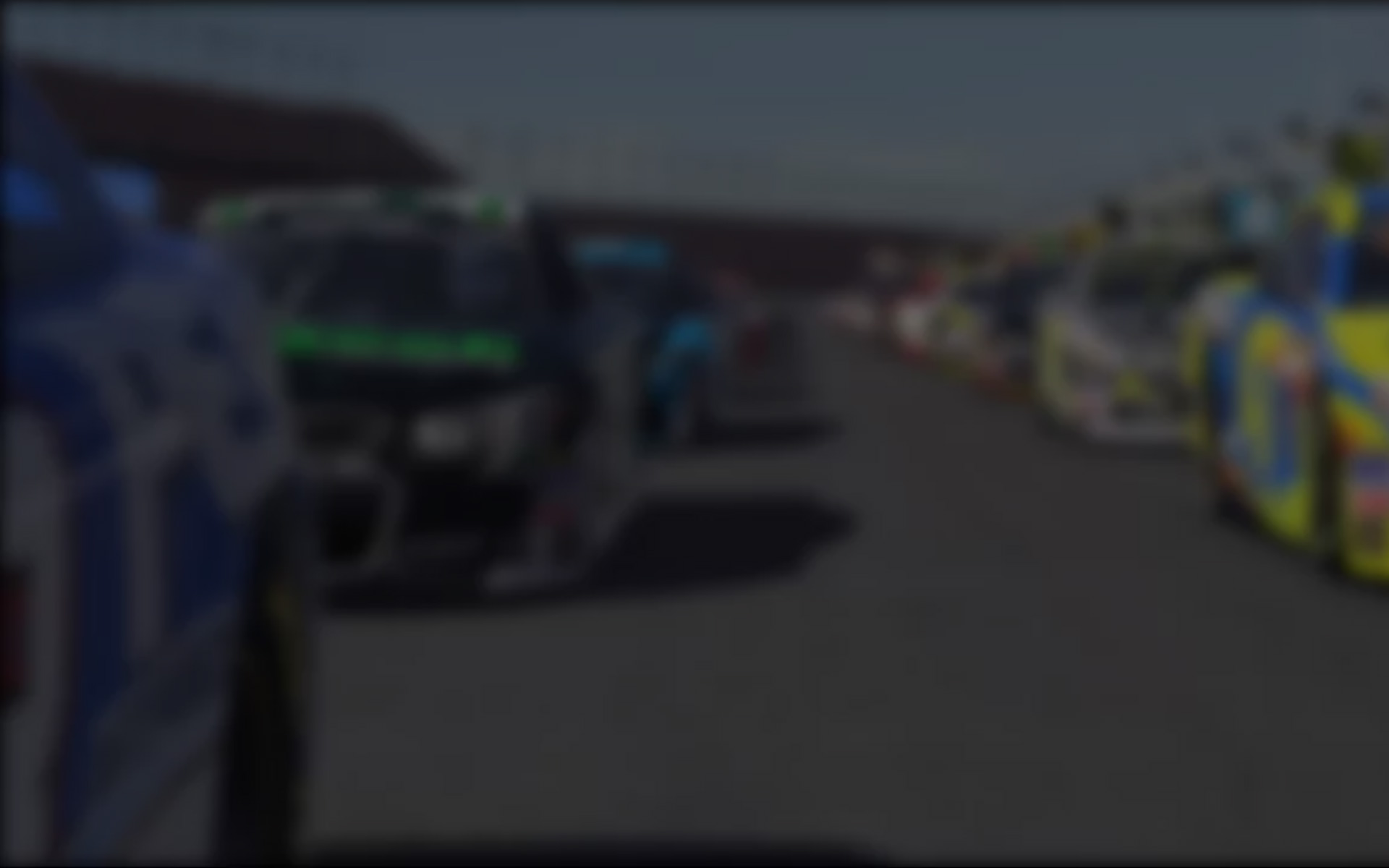 This week saw the beginning of a run home that features purpose-built road courses exclusively and this was accompanied by an increase in driver numbers. Amongst the extra drivers were the likes of Greger Huttu and Bastien Bartsch, both of whom would star this week for various reasons. Mixed fortunes came for many of the other drivers returning from their hiatus, with some arguably showing signs of a little rust, especially in the face of some large and relatively battle- hardened fields. In any case, the battle for the top 50 is in top swing and with drop weeks starting to take effect as of next week, the picture will start to become clearer. Those who have already dropped six races find themselves in a do or die situation if they are close to the bubble.
Thursday Race
These races are becoming almost like carbon copies of one another, especially the starting grids. Thursday saw Richard Towler (pole) sharing the front row with Shawn Purdy, Luke McLean and Peter Read a row back and Gerd Hoefferer and Ian Lake making-up the third row of the 16 car grid. Once again the top three in points made up the top three spots on this race's grid.
Read got the best start, leading into Turn One with Towler and McLean in hot pursuit ahead of Hoefferer, Luca Ceretti (seventh on grid) and the slow-starting Purdy. Towler made-up ground on Read on the run down to Turn Three and took the inside line, eventually winning the lead back as they came off Turn Five and headed through Big Bend. McLean was tucked-up behind Towler during all this and they went through Hairpin ahead of Read.  Purdy, clearly keen to make up for an ordinary get away, out braked Ceretti into Gendebien after drafting him through Bishop, finally completing the pass for fifth place as they both come off Le Mans.
"Start was crazy," said Read.  "I managed to 'KERS' my way past team-mate Purdy and McLean and Towler, then I left Richard some room on the left hand side as I knew he was there. So McLean and (Towler) got me into the hairpin. From there it was only a matter of time to wait for team-mate Purdy to claw through the field and pass me."
Indeed, by Lap Three Purdy caught Hoefferer and virtually repeated his earlier move from Gendebien through Le Mans but the issue was not completely settled until he out braked his rival into Sunset Bend for fourth place. Purdy's charge up the order continued on Lap Seven when he drafted Read along Ullman Straight and out-braked him into Sunset Bend for third.
I made a pretty risky move on Luca for fifth, "said Purdy. "I knew if I wanted any chance I had to go by those guys quickly. I made a similar move on Gerd for fourth a few laps later. Finally a bunch of laps later I caught up to Peter for third, but he let me go that bum!  I would have liked a race.  I wasn't sure if I had anything to catch Rich or Luke, so that was likely going to be my battle."
At this point, Purdy was over seven seconds behind Towler, who had had his mirrors full of McLean's car. This battle for the lead was incredible and a testament to the skill of both that they could maintain break-neck speeds and not collide. On Lap 20, however, McLean must have been getting increasingly desperate to take the lead and in the process of trying to get a run on Towler coming off Le Mans, spun and lost about two seconds. Hoefferer appeard to suffer a blow-out approaching Turn Three on Lap 27,  requiring a tow to the pits and extinguishing his top five aspirations in the bargain. In contrast, James Andrew had driven very well after being as far down as twelfth position and would soon claim fifth position after starting back in tenth.
Back up front, McLean made amends for his gaffe by closing on the leader over the last ten laps but at the end of this 30 lap event he remained over a second behind the rock-solid Towler.
"My race personally was the most enjoyable race so far in the Pro series," said McLean. "Me and Rich were within a 0.6s gap running 54s over and over for 20 laps. I felt I had some advantage at certain parts of the track and I really did my best to put maximum pressure on Rich. He did an amazing job of not making any big mistakes as at times I was within 0.2 for multiple corners."
I think that's one of the hardest races I've had to run at Sebring," said Towler.  "I ran a shorter first gear than what I really would of liked but I had to do something to have a shot down into Turn One. Thankfully it paid off as I managed to time the clutch right and Luke bogged down…I got by him after a few corners side by side!
"The rest of the race was really tough.  I had to just try and stay consistent and not make a mistake as Luke was right on my ass every lap until he made a mistake with six to go I think. From that point it was a case of managing the lead to the end as he was always going to give it everything those last few laps which he did!"
Results:
1.  Richard Towler
2.  Luke McLean
3.  Shawn Purdy
4.  Peter Read
5.  James Andrew
6.  Ryan Murray
Saturday Race
Saturday's race saw the welcome return of Huttu (pole) and Bartsch on the front row, with Kimmo Suominen and Schmidt on Row Two and Daniel Almeida and Gerd Hoefferer making up the third row.
It didn't take long for this event to provide some hair-raising entertainment as Almeida tail-gated Bartsch into Turn One with both running wide into the dirt exiting the turn. They spun in unison with Almeida being T-boned by Suominen, ending the day for both.
"I practice my butt off, get a good qualifying time and a pretty good race pace," Suominen said.  "Race time! Of course everything goes wrong right in the start. But when I don't practice much like last week and get a crappy qual time (16th spot) everything goes much smoother (finished 7th). Logic malfunction."
Bartsch was lucky not to make any heavy contact with anyone and appeared undamaged, although he completed Lap One in twenty-first position. Incredibly, no one else became a casualty in what shaped-up to be a major pileup.
Mauro Bisceglie parlayed a good start from seventh with the good fortune to just miss the Turn One pileup, into position number two.  Schmidt followed right behind him around the carnage as Huttu drove off into the distance. Ryan Kowalewski  was now in a superb fourth place after starting tenth and Ville Niemi would have been almost as happy being in fifth after starting on the inside of the grid from the man (Kowalewski) now in front of him.
However, Niemi was far from content.  Heading into Turn One on Lap Two he dived to the inside of Kowalewski. Superb driving by both saw them go side-by-side all the way to Turn Five where Niemi finally took fourth place for keeps. Moments later, Matteo Calestani got a run on Kowalewski into the Hairpin for fifth position.
Lap Five saw Bisceglie get it wrong under braking into Turn Three and do a semi-spin. Schmidt slowed in avoidance, allowing Niemi past as Bisceglie recovered with the loss of nothing but time and probably a little nerve.  However, on approach to Cunningham a few turns later, Niemi out-braked Bisceglie for second place. Right behind, Calestani slid-off Cunningham and lost three places, with Kowalewski now back in fifth position after Brad Davies slowed to avoid Calestani.  It was not to last, however.  A few laps later in Sunset Bend, Kowalewski seemed slow at mid-corner resulting in a concertina effect as Ray Alfalla rear-ended him and, in turn, was rear-ended by Davies, ending the latter's day and costing Alfalla a few positions and a chunk of time.
Lap Nine saw Niemi overcook it coming off Turn Five and plunge nose-first into the inside barrier, ending his day. This obviously moved everyone up a spot, including Bartsch whose sensational recovery had carried him to fifth.   Bartsch got a good run off Le Mans on Lap Twelve and found Kowalewski happy to get out of his way for fourth. Three laps later, Bartsch took a sniff down the inside of Schmidt into Sunset Bend to no avail as Schmidt is more than a match under brakes. However, a good run off Sunset sees Bartsch looking to the inside of Turn One and getting ahead of Schmidt entering the turn.  Although Bartsch ran a little wide on the exit enabling Schmidt to challenge to the inside at Turn Three, Bartsch was better on the brakes and so consolidated his amazing third place.
Nor was the Frenchman finished.  After holding him off for a lap, Bisceglie yielded to Bartsch  in Turn One, but without mounting a Schmidt-like counter attack at Turn Three. A lap later, Schmidt was on the back of Bisceglie into Hairpin but lost the back-end under braking and fell back. No matter though as Bisceglie subsequently lost control through Gendebien and cut the course.  The resulting black flag/ slow down penalty saw Schmidt drive around him into Sunset Bend and into third place ending the changes in the top five on a day that saw Huttu score a dominant victory.
An uneventful race for me except for the start," the winner said. "I saw Bastien go wide in Turn One and mayhem ensued in my mirror. I was alone after that but I kept pushing because I wanted to see how the setup would work for the whole race. Last time here the car was pretty loose at the end of the race but this time after a couple of changes it was probably a bit better. It was nice to watch Bastien's comeback from the F2 screen too!"
Results:
1.  Greger Huttu
2.  Bastien Bartsch
3.  Leandro Schmidt
4.  Mauro Bisceglie
5.  Ryan Kowalewski
6.  Matteo Calestani
Sunday Race
Sunday gave 23 drivers a chance to climb the series ladder with Towler returning for an unneeded second bite of the cherry after victory on Thursday. He would again start from pole with Suominen to his outside, Davies and Wood a row back, Almeida and Alfalla making up the third. Out of this lot the only one doing his first race of the week was Wood with the others (except Towler of course) coming off DNFs from earlier races.
There was no repeat of the Saturday mayhem as the field got away to a good start with Suominen leading after Turn Three, followed by Towler, Alfalla, Almeida and Wood just ahead of Davies. Toward the end of Lap Two Wood had a sniff on the inside of Almeida into Sunset Bend resulting in a collision that saw Almeida spin, luckily avoiding contact with the wall, and Wood losing time and a spot to Davies who enjoyed a free ride into fourth position.
Almeida was now in twelfth  place and a bad mood too no doubt, which may be why he spun and crashed out on Lap Six ending a poor week for him. Exactly one lap later Wood had problems at Sunset, but this time he on the exit, very slightly clipping Niemi as he went around, appearing to do no or little damage. Wood fell to ninth as three cars went by before he recovered, only damage his car in a Lap Seven crash and limp home five laps behind the leader for as poor a week as Almeida.
Had decent starting position and I think I hold my spot," Niemi said.   "But at Lap Three or Four Derek spun in the last corner and I just managed to miss him from outside . But after that . . . guys in front ware little too quick and after Lap 15 didn't have much pressure from back."
One guy at the front was particularly quick.  After probing Suominen for a few laps, Towler passed him into Turn One at the start of Lap Five for a lead he would not lose thereafter.
The start of Lap 1o wasn't too good for Alfalla as he turned into Turn One too late, allowing Davies underneath and ahead by Turn Three for third place. Although gaps would fluctuate a little, this pass was the last position change amongst the top five. Thus Towler won again, completely untroubled in this effort after getting the lead.
Results:
1.  Richard Towler
2.  Kimmo Souminen
3.  Brad Davies
4.  Ray Alfalla
5.  Ville Niemi
6.  Richard Crozier
Weekly Wrap Up
Qualification fast lap of the week: Greger Huttu (1:52.881)
Race fast lap of the week: Greger uttu (1:54.010)
Again no great change at the top this week. Australian Luke McLean leads by 31 points over England's Richard Towler, with Canadian Shawn Purdy 261 points behind him. Australian Marc Beeson is now just outside the top 50 bubble and Frenchman Bastien Bartsch shoots up a spot above him after a superb recovery drive resulted in a good points haul from his second place finish.  Now it's on to Watkins Glen "Boot" as the plot thickens and drop weeks start to come into play, as does the true picture of the standings.
About the iPSRR
The iRacing Pro Series for Road Racing (iPSRR) is, in this inaugural year, a 25 week series with six drop races (i.e. a driver's best 19 results will count toward his season tally). In addition to crowning a seasonal champion, the iPSRR qualifies its top competitors for the 2010 iRacing Drivers World Championship for Road Racing which will be worth $10,000 in money and prizes for the champion. There is a parallel series for oval racing (the iRacing Pro Series Oval – iPSO). The top 50 drivers in each Pro series will compete in the iRacing Drivers World Championship Road Racing and iRacing Drivers World Championship Oval set to start in February of 2010.
---
You may also like...
---