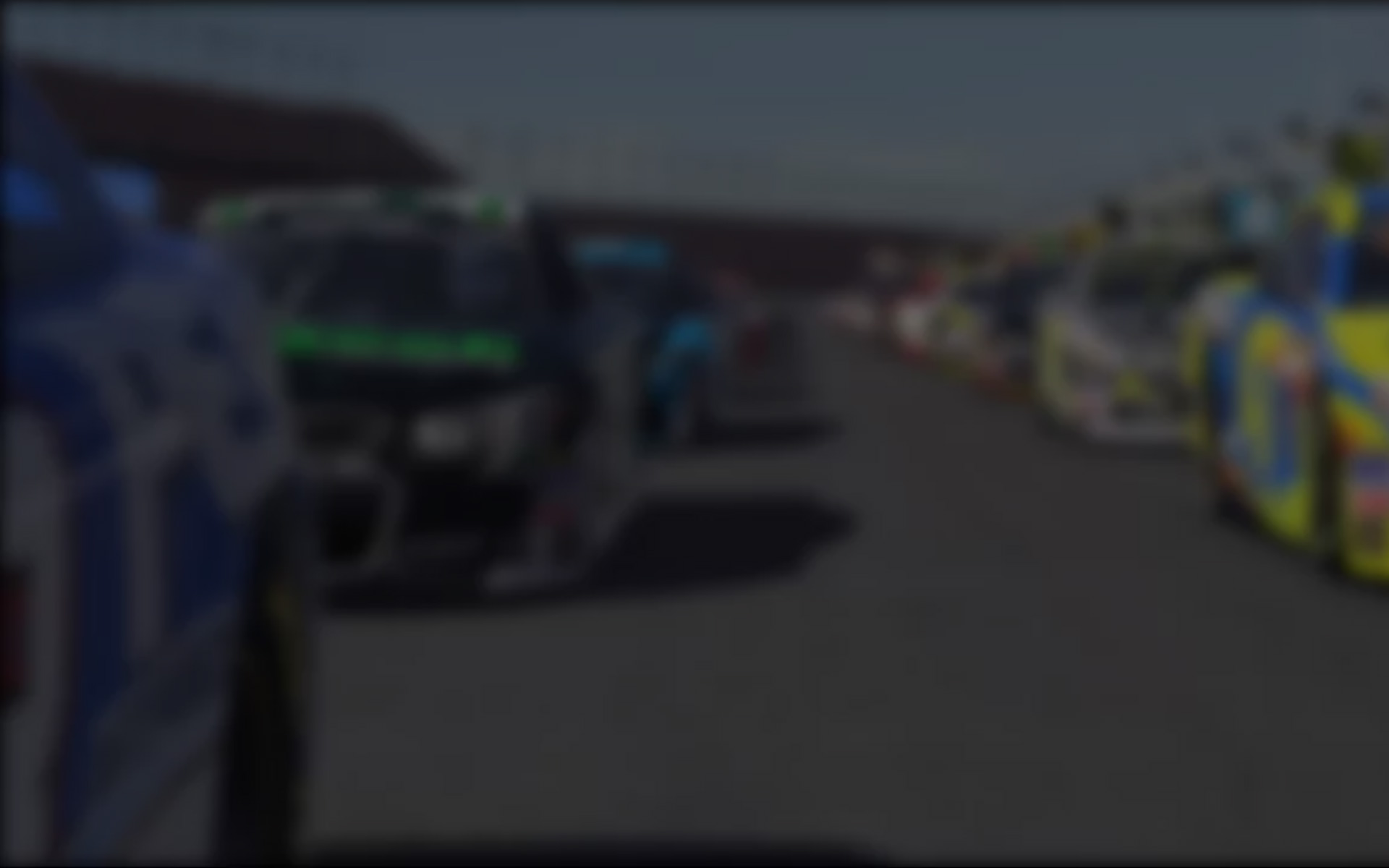 As stated last week, there has been a little controversy over some of the tracks on the Pro schedule this year. This is normally a simple matter of taste and opinion and it is this writer's opinion that a few drivers are just fatigued at this point of the season and looking for reasons to take a break. Summit Point Raceway is on the short side as far as race tracks go, but there are some great pieces of race track nonetheless.
Thursday Race
This race saw the top five finish in the order they started with the exception of Craig Byerley who allowed Ian Lake past on Lap Three after a mistake off the final turn and was then out of the running on Lap Nine. Mark Drennan made his way up to fourth place by the end from his grid spot of seventh. The front row of Luke McLean on pole and Artur Turcu maintained position from go-to-woe, McLean dominating by pulling away to the tune of almost one second per lap to win by over 46 seconds at the end of the 50 lap event. Vail Riches was gifted back his fifth place, where he began, after a race-long battle between John Prather and James Andrew for fourth position ended poorly for both on lap 49.
"I had a really intense race that ended in tears," Prather said. "I ended up settling in 4th place and sat there for the entire race, with James Andrew right behind me the entire time. I had way too much understeer, and was way slower in most of the turns than James, but I had him in the esses and in a straight line. The understeer did a number on my front tires, and the car got worse as the race went on. Eventually, I had a train of people on my butt with one lap to go, and James finally got a big run on the front straight. We ended up getting together coming-off of Turn One and that cost me a couple of spots and ruined James' race. I hate that it ended that way. James had raced me ultra-clean the whole race as I was all kinds of in his way."
"Well, my race consisted of holding position off the start line, then passing Craig due a mistake of his off the last turn a few laps in," Lake said. "From there, he held up John, James and Mark til I was about six seconds ahead. I think he then made a race-ending mistake, as they where all released. I held the gap and increased it here and there, and although I was able to cruise a little with ten to go, I still had to maintain the maximum amount of concentration I could muster. I tell ya, this track is mesmerising insanity. 50 laps of torture really."
I had a good handle on Summit Point as I have done a fair few laps there since the start of iRacing," McLean said. "I got away from pole and controlled the race from there. It was entertaining to come up to the battle for fifth at the end there, looked epic!"
Final Standings: McLean, Turcu, Lake, Drennan, Riches. Fastlap: McLean (1:04.366)
Saturday Race
On Saturday, the normally fast-starting Matteo Calestani was the one getting bogged down from his front row spot as Chris Palmer and Ryan Kowalewski drove by him from the second row and pole sitter James Andrew maintained his front running spot. Richard Crozier made a storming start from tenth on the grid to do Craig Byerley out of fifth position by Turn One. A few laps later the hard charging Crozier made a bold move to the inside of Calestani on approach to Turn Six, getting into the side of him resulting in Calestani spinning off the track and rejoining in fifteenth place.
Lap Six saw Byerley, who had now moved into fifth position, spin under power coming off Turn Seven, dropping him to ninth. Later that lap Tomas Kopnicky lost control coming off the last turn and over-corrected back into Ville Niemi ending the day for both drivers. A lap later and Crozier was another victim of Turn Seven as he lost control exiting the corner, dropping him to ninth place, moving Jan Zilliacus and Gerd Hoefferer into fourth and fifth places.
Mid-race saw third placed Kowalewski get it wrong coming-off the last turn and over correct as Kopnicky did earlier.  However, Kowalewski hit the tire wall instead of another car and thus ended his day. This moved those behind him up a position, including the remarkable Calestani who had now fought back from fifteenth to fifth place and was yet to finish his ascent. On Lap 24 he got into the back of  Hoefferer under brakes into Turn Five. By the time they recovered, Ales Simunek had taken fourth, Calestani remained fifth and Hoefferer was now relegated to sixth place. Lap 37 saw Simunek yield to Calestani on the front straight after the Italian had moved into his draft, almost resulting in a collision but ultimately Calestani settled into fourth position. On Lap 44 Calestani out braked Zillacus into Turn One for third position. Later that lap Zillacus got it wrong in the braking zone into Turn Five, dropping to fifth and gifting fourth place to Simunek.
At the front, Andrew had driven away from the field but struggled late and came under immense pressure from Palmer from lap 37 onwards. On the next to last lap Palmer caught the inside curb coming off the last corner as he tried to set up a pass into Turn One, allowing Andrew to go on to victory. Zillacus was able to just hold off Tomas Podprocky for fifth place.
"I was hoping for a good result this week, but wasn't expecting a win," Andrew said.  "I learnt from Thursday's race that it's very difficult to pass at this circuit, so I put some effort into qualifying to ensure I started near the front. As it turned out, my effort paid off with pole position. I used a 'four gear setup' and this gave me the perfect start, and I pulled out just over three seconds advantage over Chris Palmer who had also made a very good start. I thought I had it easy. That was until I noticed my fuel wouldn't quite last the race distance! For the rest of the race I had to short-shift to save fuel yet, at the same time, keep-up my speed at key overtaking spots or else Chris would easily pass me. He was right on my tail going into the penultimate lap and I was nervous because I knew my car would be running on fumes before the finish line.
"Going into Turn Ten however, he ran wide off the track losing him about three or four seconds. My relief was short-lived though because my car began to cough and splutter with still over a mile left to the finish. I tried to keep the momentum around the final turn and then looming in my mirror was Chris' car. I crossed the line less than a second ahead. What a tense finish to a race! Well done to Chris for pushing me hard the second half of that race, but a special mention for Matteo Calestani who after being pushed into a spin, came back from 15th place all the way to finish third. An incredible feat at this level!"
"Started 3rd on the grid behind James Andrew and Matteo Calestani," Palmer observed. "Got a good jump on Matteo at the start but Ryan Kowalewski had a rocket launch right into the back of me – so we both got past Matteo into the first corner. The field started spreading out with James ahead of me and Ryan behind. About 15 laps in James lead was pegged at about 3.5 seconds but then he started to come back to me. With ten to go I was right behind him. Had a couple of runs on him down the front straight but couldn't get alongside to make the pass. I tried to get a run on him coming onto the last lap but touched the inside kerb and almost lost it. Dropped a couple of seconds and figured I would just make sure I kept it on track for second.
Saw James slowing through the last few corners and thought he was waving to his fans or something. Turned out he was running out of gas and just got to the line 0.9 sec in front of me. Congrats to James – it was a fun race."
"My race was more in the 'other' half of the field," said Podprocky, "but the racing was intense. At the start I got overtaken by quite some cars even though I had a four gear setup. And then into Turn One my right side was bumped a bit and the front suspension did not feel right which made especially the exit of Turn Three quite interesting at a time. Anyway, I had quite some fun, battling it out with Matt, Dave and Tim, and in the end picked up some points by finishing sixth. In the last couple of laps I tried to push Jan into a mistake, as that would have put me for the first time in top five, but it wasn't meant to be."
Final Standings: Andrew, Palmer, Calestani, Simunek, Zillacus.  Fastlap: Andrew (1:04.648)
Sunday Race
This race was identical to the Thursday race with respect to the front two of Richard Towler on pole and Derek Wood, both finishing where they began. One row back saw Tim Holgate fall out of the top five from his third spot on the grid and finish a disappointing twelfth place while Mauro Bisceglie filled that third spot without much opposition. Moving back a row further, Andrew Kristensen did well to get as far up as fourth position only to make a mistake on Lap 29. Ryan Kowalewski made more of his third row start with a solid drive resulting in fifth place. Fourth place went to a very deserving fourth row starter Ville Niemi after a great drive.
Still wasn't feeling great but thought 'What the hell l'll race anyways,'" said an under-the-weather Towler. "In shocking news, I didn't go backwards at the start as I sucked it up and ran a four gear setup for once. Wasn't ideal but was the only way I was going to win today or at least have a shot to. I knew I had about ten laps in me before I was going to struggle so I just tried to make those laps count and that's pretty much what happened.  After that my focus was kinda on/off so just tried to bring it home without throwing it off the road. Derek was running the same pace pretty much after that so knew I couldn't afford to back off too much, one mistake and he'd of been right on my ass."
Final Standings:  Towler, Wood, Bisceglie, Niemi,  Kowalewski.  Fastlap:  Towler (1:04.602)
Weekly Wrap Up
Qualification Fastlap of the week – Richard Towler – 1:03.647
Race Fastlap of the week – Luke McLean –  1:04.366
Australian Luke McLean maintains the Series lead by a margin of 70 points over England's Richard Towler, with Canadian Shawn Purdy now a further 210 points back after yet another week off. Frenchman Florian Godard is just inside the top 50 bubble (3 weeks running) this week with Italy's Andrea Baldi being just outside. Next week sees the series return to where it began at Daytona Road Course. It will be interesting to get this direct comparison of who has stood still and who has improved since the opening event held there almost four months ago.
*                                                               *                                                                               *                                                                *                                                                              *
About the iPSRR – The iRacing Pro Series for Road Racing (iPSRR) is, in this inaugural year, a 25 week series with 6 drop races (i.e. a driver's best 19 results will count toward his season tally). In addition to crowning a seasonal champion, the iPSRR qualifies its top competitors for the 2010 iRacing Drivers World Championship for Road Racing which will be worth $10,000 in money and prizes for the champion. There is a parallel series for oval racing (the iRacing Pro Series Oval – iPSO). The top 50 drivers in each Pro series will compete in the iRacing Drivers World Championship Road Racing and iRacing Drivers World Championship Oval set to start in February of 2010.
---
You may also like...
---