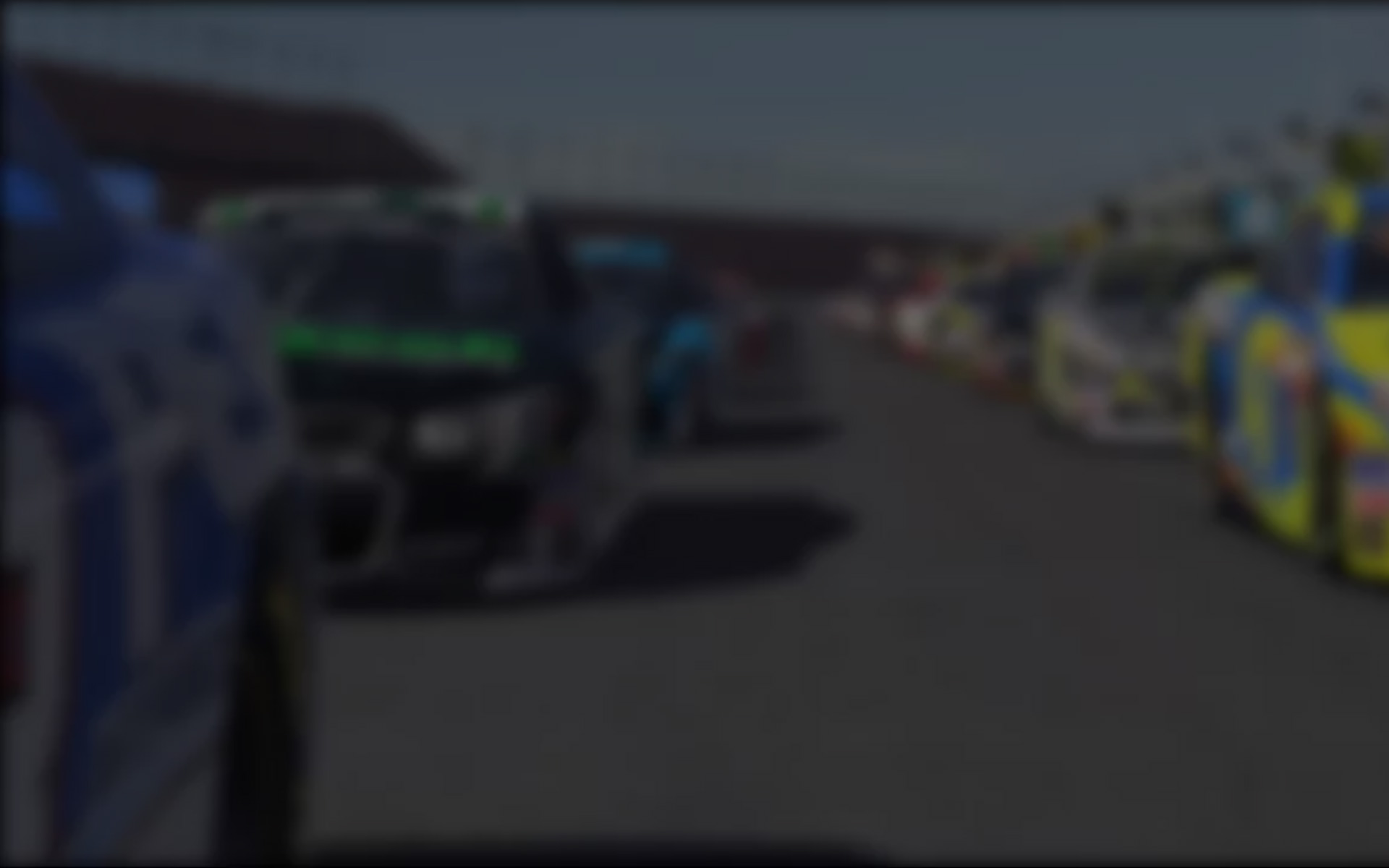 Last week saw a few drivers put a little bit of pressure on themselves by using it as yet another dropped race.  Five of the top 20 sat out this race, most notably Bastien Bartisch who has not raced since Week Seven and also Greger Huttu who has missed the last 2twoweeks. With Bartisch bombing out in Week One with only a 17 point haul, he sees himself in effectively the same situation as Huttu i.e. only six weeks counted so far. Mind you, those six are very good.
Thursday saw the return of Shawn Purdy and Luke McLean, both starting on the front row with Purdy on pole.  Peter Read also returned to start third alongside fellow Australian Darren Marsh on the second row. McLean had the better start and lead into Turn Two. Purdy kept close for about 10 laps but McLean was able to stretch away a little until lap 19 when he appeared to lose his rhythm coming up behind a back marker on approach to Turn Six, losing the back-end under brakes and spinning off into the dirt. He was able to rejoin undamaged but Purdy went through into the lead and would go on to enjoy a convincing fifth win of the season by over 11 sec to McLean, with Read just off their blistering pace a further 13 sec back.
The real excitement in this race, however, was raging in the battle for fourth position between Dario Frattini, Darren Marsh and Marc Payne. After these three had traded a lot of paint, on lap 27 Marsh ran wide coming off Turn Ten and Payne went under him through Turn Eleven. Marsh attempted to immediately counter attack into Turn Two but spun, losing precious time. However, Marsh drove superbly over the next 10 laps and these three were again running close together. Tragedy struck for Italian Frattini on lap 38 when he too ran wide at Turn Ten but he also hit the wall hard and took a lot of damage, Payne and Marsh being past him by the start/finish line. After battling his damaged car, Frattini lost it there again on lap 40 allowing Australia's Ian Lake to steal sixth place on the last corner of the last lap, with Marsh finishing right behind Payne.
Final order – 1st Place – Shawn Purdy (CA), 2nd Place – Luke McLean (AU), 3rd Place – Peter Read (AU), 4th Place – Marc Payne (US), 5th Place – Darren Marsh (AU). Fast lap – Shawn Purdy – 1:26.003.
Saturday's first race got off to a horror start for a number of drivers after James Andrew, fourteenth on the grid, got a flyer of a start.  But as he went to go inside Gerd Hoefferer, who had no idea he was there, Hoefferer turned into Andrew sending them both spinning toward the outside, hitting John Prather before they all hit the outside wall of Turn One.  Hard. Ales Simunek, Tim Holgate, Laurent Lemaigre and Tomas Kopnicky all plowed into this wreck, with Andrew, Hoefferer, Prather, Lemaigre and Simunek all being done for the day, Holgate suffering visible damage and Kopnicky losing a lot of time. At the front of the field, Mauro Bisceglie got past pole sitter Daniel Almeida while Kimmo Suominen came from fifth on the grid to get ahead of Ryan Kowalewski and Maxime Trepreau into Turn Two. Ville Niemi was able to get under and past Trepreau coming off Turn Two as well while Jan Zilliacus spun under brakes into the loop from seventh and was off into the sand.  All told a very eventful first lap!
Fortunately, the race then settled down for a while, with Bisceglie beginning to stretch away a little despite Almeida's best efforts to keep him honest. On Lap 27 Kowalewski spun coming off the last turn after attempting a move on Suominen for third position, which brought the battle raging for fifth within reach of him. Lap 31 saw Scott Michaels out brake Trepreau into the last corner to take sixth, right behind Niemi. The last part of this race saw Almeida closing the gap to Bisceglie and on lap 37 disaster struck for Bisceglie when he suffered a puncture coming off 8A, forcing him to pit and relegating him to an eighth place finish.  "I got my first Pro win tonight and that was great," said Almeida after the race.
Final order – 1st Place – Daniel Almeida (CH), 2nd Place – Kimmo Suominen (FI), 3rd Place – Ryan Kowalewski (US), 4th Place – Ville Niemi (FI), 5th Place – Scott Michaels (GB). Fast lap – Daniel Almeida – 1:26.861
Saturday's second race saw Derek Wood lead from pole position to the finish for his second win of the season, with second and third on the grid, Brad Davies and Chris Palmer, also finishing as they started. George Sandman, fourth on grid, lost a spot on the opening lap to sixth place starter Matteo Calestani, while Artur Turcu fell from fifth to last on the first lap.  In a largely uneventful race,  Sandman got past Calestani on Lap 29 to claim fifth.
Final order – 1st Place – Derek Wood (US), 2nd Place – Brad Davies (US), 3rd Place – Chris Palmer (AUS), 4th Place – George Sandman (US), 5th Place – Matteo Calestani (IT). Fast lap – Derek Wood – 1:26.732
Sunday saw Leandro Schmidt get off to a good start from the first row beating pole sitter Ben Cornett into Turn Two for the lead. Richard Crozier made a brilliant start getting past James Andrew and Frosty StClair by Turn Two and even getting under George Sandman through that same turn to commandeer third position from seventh on the grid.  Up front, Cornett was all over Schmidt, who seemed to be having trouble getting the power down off the corners.  Lap Four saw Cornett sneak under Schmidt through the last corner to take the lead before driving off to a dominant victory of over 35 sec, giving the top guns of this series plenty to think about. It was his second win in as many weeks also. Lap Thirteen saw Sandman run wide off Turn 10 allowing Andrew to out brake him into the last turn for fifth place. A few laps later the struggling Schmidt had a moment in Turn Two which had a follow-on effect on the numerous trailing cars. Crozier rear-ended Bisceglie, Andrew spun and was hit by Sandman with Crozier alone emerging unscathed.
The incidents were not over, though, as Bisceglie got into Schmidt braking into Turn Seven on Lap 31, damaging the right side of Schmidt's car in the process and enabling Crozier past as well coming-off  Turn 7A. A little further back, Mark Drennan lost the rear braking into the last turn allowing StClair underneath for fifth place. On Lap 32 Bisceglie had a blow out (again), leading to a bad accident coming off Turn One.  A lap later Schmidt suffered the same fate going through the Loop, ending his day.
Final order – 1st Place – Ben Cornett (AU), 2nd Place – Richard Crozier (GB), 3rd Place – Frosty StClair (US), 4th Place – Mark Drennan (US), 5th Place – Zsolt Hamvas (HU). Fast lap – Ben Cornett – 1:26.384
Best Qualification time for week – Shawn Purdy – 1:24.614
Best race lap for week – Shawn Purdy – 1:26.003
Shawn Purdy now finds himself back in the series lead by a margin of 41 points over Richard Towler who also had this week off. Rumor has it thatwith Silverstone being next on the schedule that we might see most if not all of the big guns in action for Week 11.
---
You may also like...
---