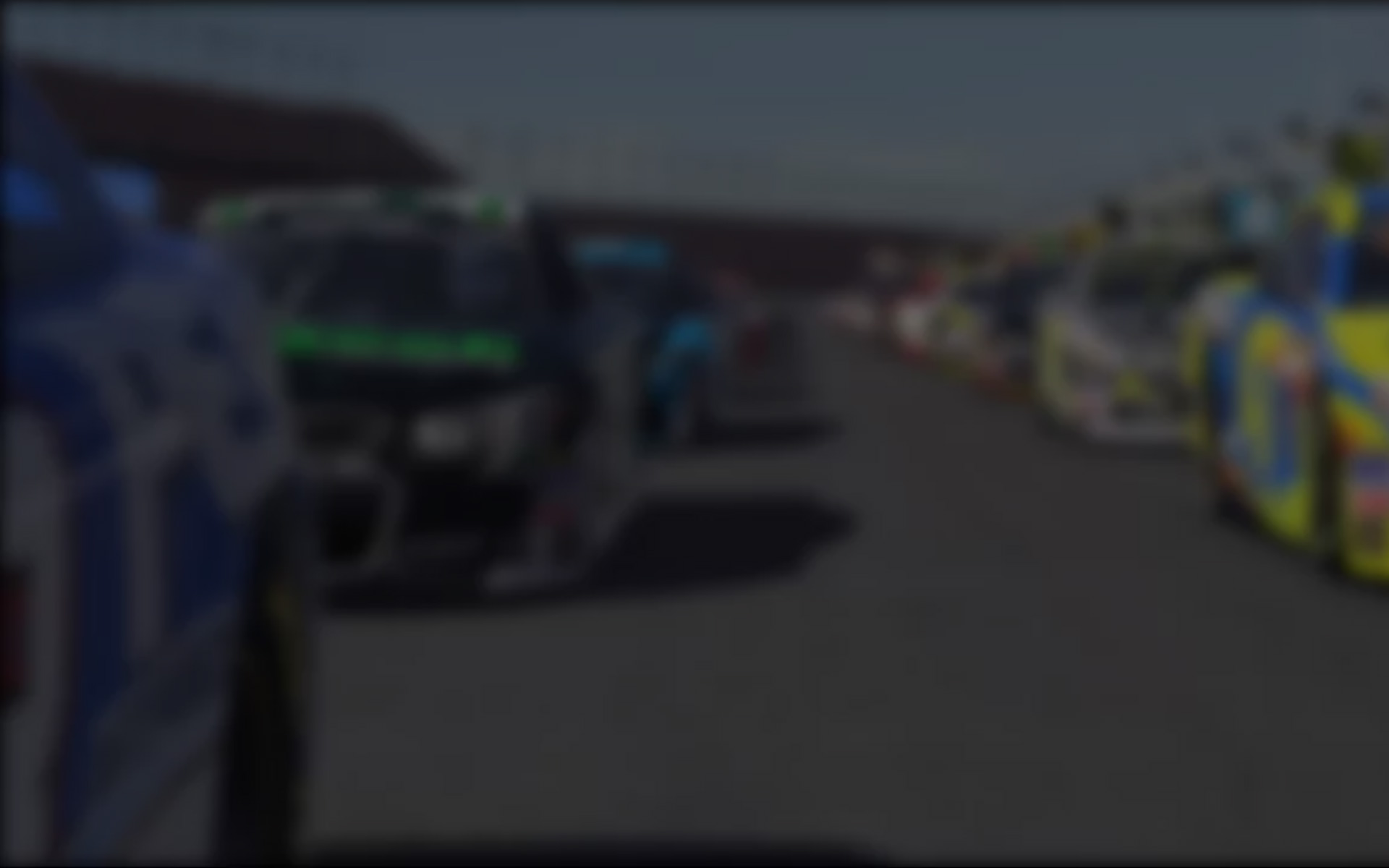 Rumblestrip racing visited Lime Rock Park for its Star Mazda season opener this week and the first race of the customary six race mini-season.  While the league is normally known for its low contact sim racing, several expected this week's short course action to more closely resemble close combat.
W. Marc Ponick was first to answer the call to arms, He needed 10 laps to lay claim to the pole.  Roberto Montero decided after 12 laps that a second place start was satisfactory and both decided to save the real show for the race.   Prior to the event, perennial front runner Mikah Barnett told a RumbleSports 1 reporter he'd gone so far as to "burn a used tire in my driveway as a sacrifice [the night before]" and it might have had an impact.  Both he and newcomer Ryan Huff secured the second row.  The entire field was separated by less than two seconds as our drivers took to the grid, with Marc posting a lap time nearly .4 seconds faster than his closest rival.  Racing trophies aren't handed out for qualifying performance however and the crowd watched on to see if he could stay on top having recently finished second at the close of last season's race at Silverstone.
Moments later, the tranquil Connecticut countryside came alive as racing began and our grid roared down the Sam Posey Straight toward Big Bend.  Ordinarily this is the part of the event where you'd  hear the announcer mention about how clean first laps are in this league and how we should expect to see the pack settle in for nearly 60 laps of hard racing, some excellent overtakes and agile pit strategy over the next 45 minutes.  But sometimes fate takes a fork in the road.  Today she not only detoured, she mashed the gas pedal to the floor after doing it.
"Driving through scattered cars only SECONDS after the start was an eye opener . . ." – Adam Allen
The combination of cold tires, close quarters and a slight miscalculation led both of our leaders to off tracks as they cleared The Uphill.  Being a chokepoint with little room to dodge, our followers scrambled to get around them.  For a moment fans held their breath and the scene resembled the inner workings of a pinball machine.  Several drivers in the mid pack were forced to take to the grass – still rain soaked from the night before.  As the drivers tried to anticipate where the out of control cars would go, they adjusted as much as the slick grass would allow, and then for those that got it wrong they added to the shrapnel or found themselves also flirting with disaster and a wall mere inches away.  For some, the damage was significant.  After one lap, the top four racers had been pushed back in the field significantly or they needed to pit.  Scott McGarvey assumed the lead from fifth.  Unfortunately, the cars of Darren K and Marty J were damaged badly enough they had to retire.
The near misses for many were enough to immediately return patience to the grid.  The Uphill and The Downhill bends commanded more caution while tires began coming up to temperature.  Most of the top 10 positions wouldn't change again significantly for nearly two dozen laps although there were several picture worthy battles happening farther back throughout this time.
As the cars began cycling in for scheduled pit stops around Lap 31 Scott McGarvey still led the pack, but Matt Quinn used Scott's pit to assume the lead.  Adam Allen was giving chase not far behind.  Ryan Wallace had driven respectable race up to this point advancing five places from 10th to P5.  Mark Kedrowski, having started 14th used the lap one confusion to advance to sixth and while he was gradually being caught, his fan base in the stands had begun to take notice.  Banners and cheers were going up every time he rounded the Esses and it appeared he would have a shot at a top 10 finish today.  If he could keep up the pace, perhaps he'd finish in the top five.  RumbleSport 1 commentators took note and promised the television fan base they'd do a post-race follow up with him and his Breitling Star Mazda.
Traffic began to again close up following the pit cycle and many of the drivers were beginning to anticipate the end.  Mikah Barnett had stealthily climbed back up into third after more than 50 laps.  Roberto Montero was also back in the hunt having briefly climbed as high as second place but the advance was artificial.  He had not pitted yet.  The star of the show now was Adam Allen and he seized the moment with five only laps remaining.  Until now both he and Matt Quinn had driven 52 laps without incident and both could nearly taste champagne.  Matt was too far ahead to be caught in the time remaining – unless he made a mistake.  Adam was taking things one turn at a time and eying the podium steps.
Five laps, four laps, three laps, two laps.  As the event came to a close it was apparent that Mikah B would recover nicely and ultimately take second.  Adam Allen crossed the finish line third having also run a zero incident race.  This would be Adam's best Rumblestrip career finish and the win would be huge for both him and his sponsor SIMWITS Racing Blog.  Adam later told RumbleSports 1 reporters "Driving through scattered cars only SECONDS after the start was an eye opener for sure, I could only think that this was FAR too early in the race to capitalize and for sure, I myself would soon be caught in some mayhem. Nearing the 20 minute mark, the pressure was on to just not blow it! Not taking tires and only adding enough fuel to fill a coffee cup, I don't think I blinked or breathed until passing the pit entrance on the final lap. I was a bit too stunned to say much at all after the race!"
Today however, Lime Rock Park would belong to the Mighty Quinn and he would survey the park from the top step of the podium having also run a zero incident race.  In the post-race press conference Matt said "I can't believe I managed to avoid the Big One atop The Uphill. I stayed clean as possible, knowing Lime Rock is so unforgiving. Going two-wide into Big Bend with Marc was really intense! Running defense kept me where the grip was and in good position to finish on top."
Congratulations to all our participants.  Final race results can be on the league page here:
http://members.iracing.com/membersite/member/LeagueView.do?league=585
———————————————-
Join us for our next events:
Feb 3rd — Rumblestrip Star Mazda racing heads to Barber Motorsports Park.
Feb 5th — Rumblestrip GT3/C-Spec racing visits VIR Grand East just to mix it up a little
*** And we'd love to add a few C-Spec racers to the grid for this so check us out!
———————————————-
Many of you know Rumblestrip Racing from its great race recaps found in the Private and Hosted Racing forum.
Rumblestrip Racing is open to ALL polite, and clean drivers regardless of skill level and our current members range from old to young, and very fast to almost brand new to iRacing.  Our 200+ members pride themselves on running clean, and competitive races twice per week while freely sharing setups and tips.  Private message an admin if you want more details.  Our goal is to get more sim racers on every grid and maximize the fun for everyone.
All races begin at 10PM eastern and are usually 45-60 minutes long although we do occasional 75+ minute events too.  Additional details can be found on the league page and events are hosted on the League Sessions page.
For more great pics of the Rumblestrip seasons as well as Twitter and news updates go to:
http://simwits.tumblr.com/
---
You may also like...
---