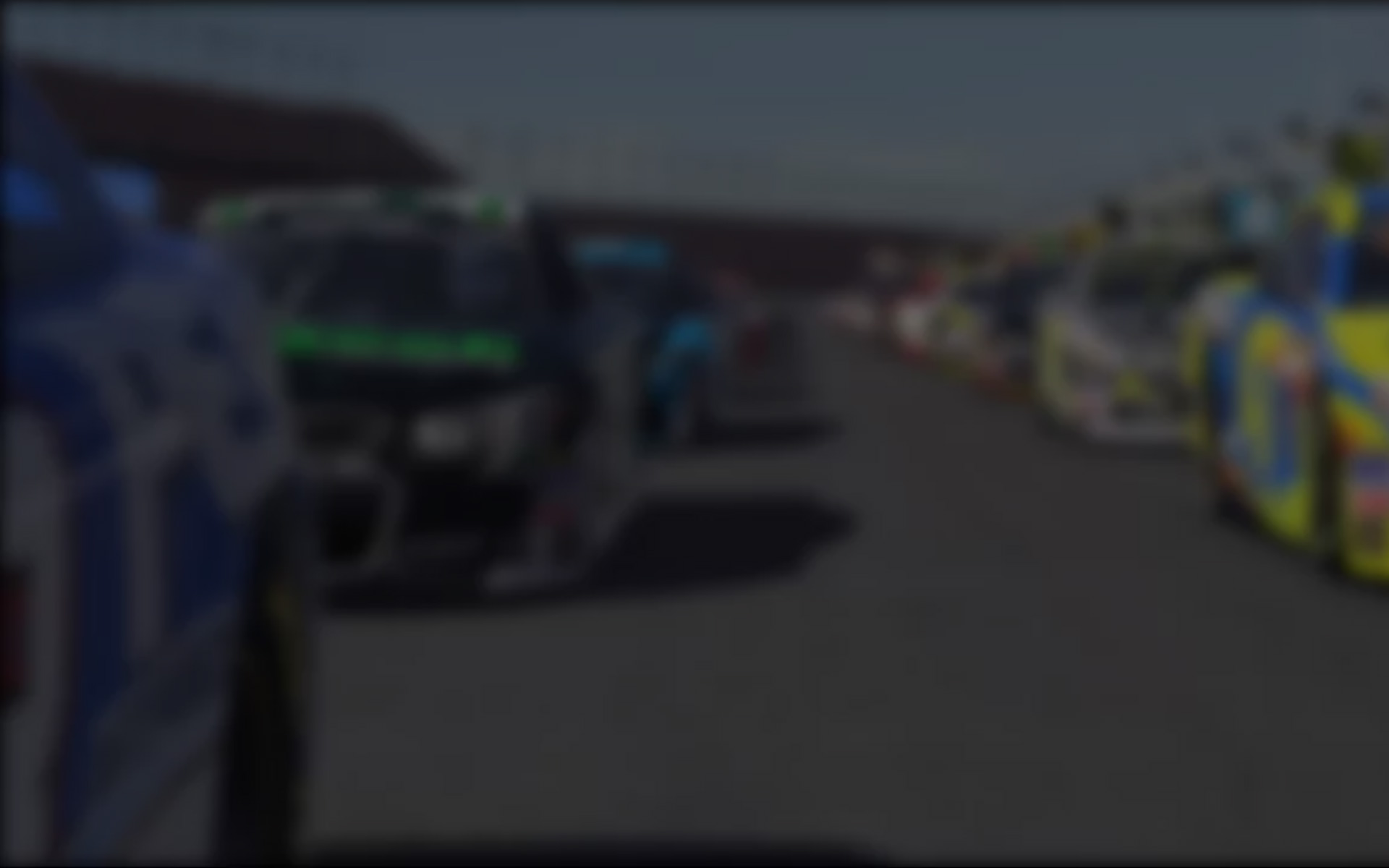 The buzz around iRacing these days seems to be all about the New Tire Model, but the Radical Racing Challenge series has quietly been drawing its share of attention, with attendance for Week 1 of Season 4 showing roughly a 93% increase in participation over Week 1 of Season 3.  While others are struggling to come to grips with the NTM, many iRacers have discovered that although the Radical SR8 is still riding on the previous Old Tire Model, it's also still quite a joy to drive — and some have compared the Radical's handling to the Skip Barber Formula 2000 before it was fitted with the NTM, only with a lot more horsepower and a lot more grip to go with it.
With the Radical Racing Challenge having a limited three (3) day per week schedule, with official online races occurring on Fridays, Saturdays, and Sundays, most of the racing in this series occurs on the weekends, which is good in some ways, but not so good in others.  If you have a lot of things going on during your average weekend, it can be hard to find official races, and since the Radical is a British car, it seems to garner more international interest.  This means that it can sometimes be difficult to find official races if you're in the Americas time zones.
In order to get the Radical drivers in the Americas time zones a little more well-organized to make it easier to find more "official" races prior to the weekend (and possibly help provide races with more opportunities for splits as well), the iRacing community banded together during Season 3 to establish time slots on Thursday nights and Friday nights.  These time slots have been dubbed "The Weekly Radical Official Americas Races," or the "Weekly ROAR." The Weekly ROAR events have given folks in North and South America (and everyone else around the globe who might happen to be awake at these times) an opportunity to find official races early in the week, making for more Radical racing all-around.
For most of Season 3, the 7:30 PM PST (10:30 PM EST, 03:30 GMT) time slot has gone official thanks to the efforts of David Scott2, who has been instrumental in helping to establish this as the first of the "Weekly ROAR" time slots.  This tradition has carried over to Season 4, with the Week 1 race at Watkins Glen Classic showing a healthy turnout of Radical racers.
Fellow iRacer Chris Hannigan suggested that we also try to encourage people to join in for the 7:30 PM PST (10:30 PM EST, 03:30 GMT) time slot on Thursdays as well, which would make for a second "Weekly ROAR" time slot to provide another opportunity to find another regularly-scheduled official race prior to the weekend. This provides an opportunity for people to pick up a Radical race prior to the weekend, which might help those who prefer to race during the week due to busy weekend schedules.
Here are the full details on the Weekly ROAR events:
Objective:  Establish a set of fixed time slots for Radical drivers in the Americas (North and South America, plus those folks in Europe, Asian, and the Pacific who might happen to be awake) to help produce more official races and possible splits during non-weekend times.
Day 1:  Thursday nights (the "Weekly ROAR Thirsty Thursday Race" — for all of you parched Radical racers who need a mid-week racing fix)
Time:  10:30 PM EST (7:30 PM PST, 03:30 GMT)
—————————
Day 2:  Friday nights (the "Weekly ROAR Fast Friday Race" — for all you Radical racers who want to hang out with the best of the best on Friday nights)
Time:  10:30 PM EST (7:30 PM PST, 03:30 GMT)
If you're going to be available to join in for either (or both) of these time slots, you are encouraged to pre-register using the iRacing Race Planner tool on the "Dashboard" section of the main iRacing member page.  This will help give others an idea of how many people are planning to race, and we've found that when enough people sign-up in advance, there's often a "bandwagon effect," as more people decide to race knowing that they will be assured of an official race.  When this occurs, the chances for splits also increases, which can be good for those who are looking to maximize their championship points potential.
The Season 4 Radical Racing Challenge series schedule will feature 10 races that are the standard C-Class 45-minute race lengths, with two (2) "mini-enduro" races on the schedule, occurring at the mid-season point during Week 6 at Silverstone on the Historic GP circuit, and as a season finale at Spa-Francorchamps.  The full schedule has plenty of variety, so there's something for everyone, including a couple of shorter "sprint" tracks, and some old favorites:
Week 1 – Watkins Glen Classic
Week 2 – Mosport
Week 3 – Zandvoort
Week 4 – Phillip Island
Week 5 – Suzuka
Week 6 – Silverstone Historic GP (60-minute "mini-enduro")
Week 7 – Oulton Park Full (no chicane/historic 1954 layout)
Week 8 – Brands Hatch
Week 9 – Mid Ohio
Week 10 – Road Atlanta Short
Week 11 – Infineon Full
Week 12 – Spa-Francorchamps (60-minute "mini-enduro")
If you're looking for a bit of a fast and friendly diversion for Season 4, check out the Radical Racing Challenge series.  With plenty of grip, a good aero down-force package that's not too complex (aero adjustments are limited to the rear wing only), and an active community that freely shares setups and race tips in the iRacing forums, the Radical serves as a fast and fun entry at the C-Class level that many people often overlook, so don't miss out on the action:  Get your Radical on and come join us for the Weekly ROAR races this season — as they say, the more the merrier!
---
You may also like...
---