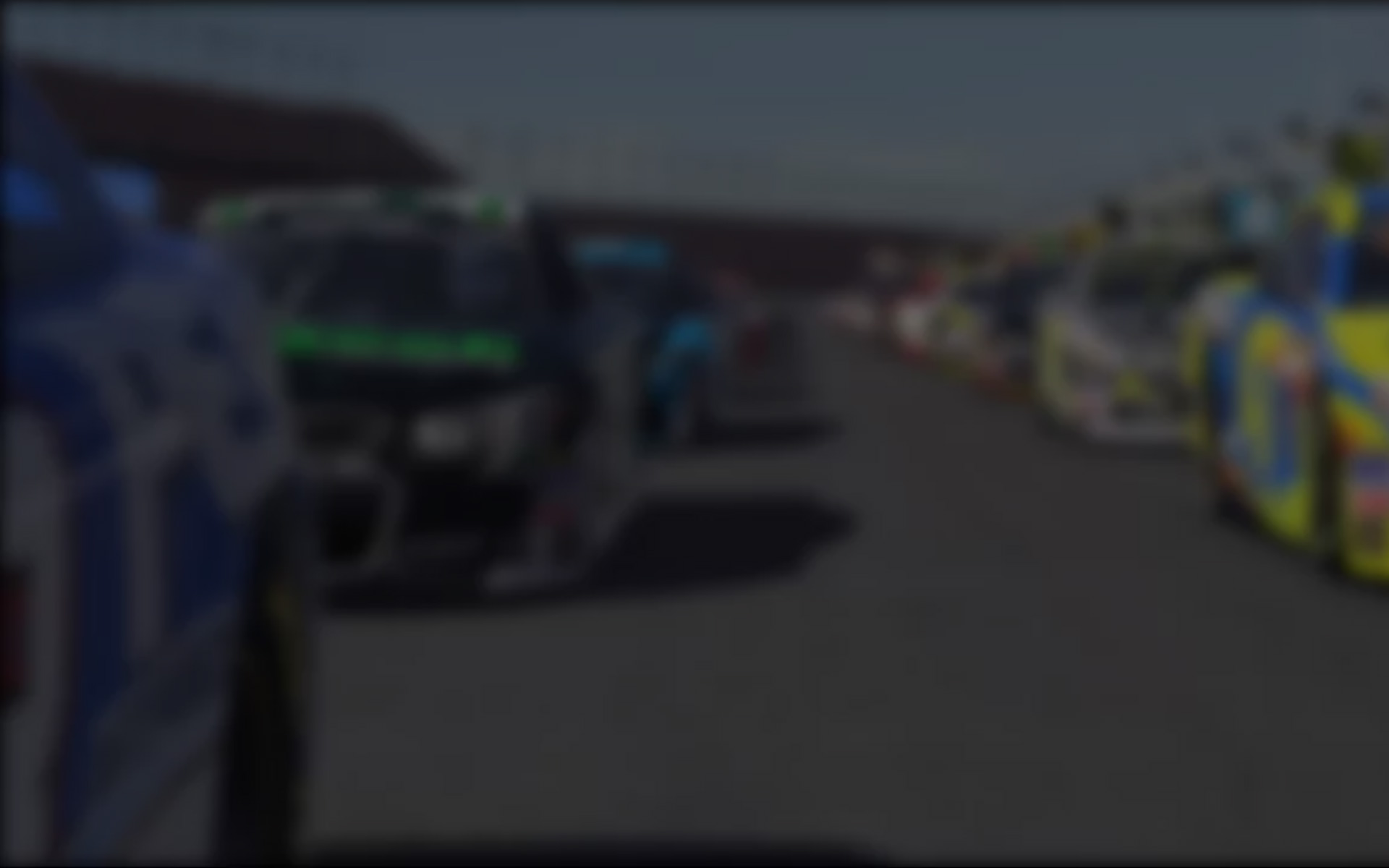 DAYTONA BEACH, FLORIDA – It's no coincidence that Daytona International Speedway is known as the World Center of Racing. Ever since the track opened in 1959 as a safer alternative to the Daytona Beach road course races, the Daytona 500 has been likened to NASCAR's super bowl, starting every season with its most prestigious event and most sought after trophy – the Harley J. Earl trophy. Daytona's rich racing history is not limited the 2.5-mile superspeedway oval however. With humble beginnings in 1962, Daytona would become synonymous with endurance racing as well starting with a three-hour sports car race called the Daytona Continental which was extended into what's now known as the Rolex 24 at Daytona, a 24-hour race on the tracks 3.81-mile road-course layout.
It's on this road-course layout that the cars and stars of Red Sox Racing's McLaren Turbo Challenge met to compete for victory in the twelfth and final round of the season – The Gentleman Jim 24 Laps of Daytona. Held in memory of late RSR racer Jim Albertson, the Gentleman Jim 24 Laps of Daytona presents a few twists compared to earlier races in the season. In addition to being competed on one of the fastest tracks the series visits (cars will hit speeds exceeding 170 miles an hour), the race distance is 24 laps, not 30 minutes, making this race the fastest, longest, and strategically speaking, toughest to predict. One thing that isn't tough to predict is guessing who is likely to take home the season's prize. Having already taken six wins and eight pole position starts over the first 11 races, Vincent's 19-point lead over Troy Harder has all but sealed the championship, but a tight points race across the board means there will be no letting up until the checkered flag flies one last time.
Practice
With all 22 cars lined up in pit lane, a moving statement was made by, of all things, not moving. No car took to the racing surface until exactly one minute and seven seconds passed, with those still 67 seconds in honor of Jim Albertson's car #67, led by Corey Wolf in his special Gentleman Jim paint scheme.. "We all had a 'gentleman's agreement' to do that" smirked TeamDraft driver Les Turner when asked about the tribute.
The tribute was not the only surprise. In an unprecedented move, series officials decided to remove the brake lights from all the cars. "In an effort to provide a more entertaining product to our fans, we have disabled brake lights," officials stated. "We find that for most of the lap, as the cars hit the high banks, performance from driver to driver will be identical since they're all on the same engine and aero packages. The difference is really in how they attack the infield and the bus stop chicane, and if a following driver knows exactly when and where the leader applies their braking technique, they lose some of that advantage. We're giving back that advantage, and it's up to the drivers and teams to figure out just where the limits are for themselves."
Practice went off without a hitch, and if the incredibly close times were any indication, fans in attendance would witness quite a season finale. Nearly the entire field posted times within two seconds of one another, and the top ten were spread over just over a second, meaning the draft could play a huge role.
Pre-Race Practice Top Ten
1. Marty Sponsler 1:45.884
2. Joseph Jordan 1:45.955
3. Troy Harder 1:45.988
4. Les Turner 1:46.016
5. Brad Vincent 1:46.219
6. Gerald Livingston 1:46.258
7. John Koscielniak 1:46.625
8. Jeff Thomas 1:46.804
9. Andrew Humphrey 1:46.933
10. Andrew Gantman 1:46.968
Qualifying
Much like the practice session that just ended, the qualifying session ended up being another hotly contested affair, with the pole in question up to the final minutes. With the practice times so close, it was no secret to every driver that if they wanted to start up front, they needed to lose as little time as possible in the infield and hope for a good draft on the high banks. Early and often, spins coming into or out of the infield or the back straight's chicane ruined laps for quite a few drivers, but no major impacts brought anyone to the garage area for repairs. Joseph Jordan, Corey Wolf, and Marty Sponsler each spent time atop the leaderboard, but in the end, team THM driver Troy Harder would take the top starting spot with a time of 1:45.305 on his final qualifying lap.
Starting Lineup
Row 1 – Inside Troy Harder Outside Marty Sponsler
Row 2 – Inside Corey Wolf Outside Joseph Jordan
Row 3 – Inside Gerald Livingston Outside Brad Vincent
Row 4 – Inside Les Turner Outside Reed Rundell
Row 5 – Inside Terry Daul Outside Jeff Thomas
Row 6 – Inside John Koscielniak Outside Andrew Gantman
Row 7 – Inside Andrew Humphrey Outside Scott Husted
Row 8 – Inside Tony Duffey Outside Chris Weidner
Row 9 – Inside Andrew Feldman Outside James Prostell Jr.
Row 10 – Kevin Kyle Outside Dennis Griffen
Row 11 – Divina Galica Outside William Kabela
Race
After eleven weeks of tough racing, the season's final green flag would finally wave to start the Gentleman Jim 24 Laps of Daytona. Polesitter Troy Harder would get to lead at the start, but most fans noticed that series leader Brad Vincent was the man on the move. Starting sixth, Vincent moved into third by the exit of the infield having passed Gerald Livingston and Joseph Jordan in the first couple corners, and sneaking by Corey Wolf who overshot the second infield hairpin.
The real race was in front of Vincent at the start. Second place starter Marty Sponsler hounded Troy Vincent from the start of the race and the two battled for position throughout the first lap, with Sponsler drafting for the lead at the end of lap one. Having already made slight contact in turn four of the first lap, things would turn sour for Harder on the second lap. Trying to leave as much room as possible, Harder was tapped by a hard charging Sponsler into a spin that gave the P1 Racing driver the lead but dropped Harder to seventh.
Turn two was treacherous for another part of the field too. With some of the blame arguably on the removal of the brake lights, four drivers would be involved two separate but simultaneous incidents heading into turn one. Chris Weidner's #57 would make contact with Gerald Livingston's #60 McLaren, just as #4 Tony Duffey got together with Terry Daul's #53 machine just another 50 meters behind. The Duffey and Daul skirmish would be the most significant of the two incidents, with both drivers collecting suspension damage early in the event. Duffey would retire to finish 22nd, and despite repairs, Daul would not fare much better finishing the race one lap down for 20th position. Livingston would need repairs too, but pitting out of sync with the rest of the field made for a tough race as he lost speed to his competitors lap after lap being outside of the draft. Livingston soldiered on to finish 16th. Weidner would escape the incident to later finish 12th.
Up front, the early race was a tight one between the trio of Brad Vincent, Marty Sponsler and Joseph Jordan. As they had been almost all year, Sponsler and Vincent were inseparable at the front of the field, especially on the high banks, but Jordan wasn't too far behind ready to pounce if the opportunity arose. The battle raged on until the two pitted on laps 13 and 14, where Jordan would pick up the lead for three laps with a late-pitting strategy. Pitting on lap 17 meant there were three laps less of the race left, and less fuel to put in the car meant a faster stop for Jordan's team. The strategy almost helped him maintain the lead – Jordan exited the pit cycle just behind Vincent, and the race to the checkers was on.
Unfortunately for Galica, the pit cycle would be the end of her race. Exiting the pits, her McLaren's usually bulletproof gearbox seized and brought a premature end to her run. She'd finish 21st, 10 laps down. Pit lane would also give Andrew Gantman trouble, but in a different sense. Pitting for service on lap 13, Gantman was penalized for speeding while exiting the pits. Officials usually give a little leeway, but when catching Gantman's #07 at speeds of nearly 10 MPH over the limit the black flag had to be thrown. The extra stop and go penalty knocked Gantman off of the lead lap, and he'd finish 18th, one lap down.
Jordan and Vincent's battle for the win raged on for the final eight laps of the race, but Vincent would pull away for his seventh win of the season as Jordan slowed to make sure he had enough fuel to finish the race, finishing second. Further back, John Koscielniak would find a bit of drama to end the season while battling Reed Rundell for seventh position. Entering the backstretch chicane with a bit too much speed, Koscielniak found himself deep in the tire barriers. He'd muscle his way out of the wall, but not before dropping to 11th.
Marty Sponsler finished third just in front of THM teammates Troy Harder and Corey Wolf to round out the top five. Sixth through tenth wend to Les Turner, Reed Rundell, Andrew Humphrey, Scott Husted, and Jeff Thomas, while John Koscielniak, Chris Weidner, Andrew Feldman, Dennis Griffen and James Prostell Jr. finished out the top fifteen. Gerald Livingston and Kevin Kyle finish 16th and 17th, both on the lead lap as Andrew Gantman, William Kabela, and Terry Daul round out the top 20, each one lap down. Divina Galica (Transmission, -10 Laps) and Tony Duffey (Suspension, -23 Laps) were both given DNFs, classified 21st and 22nd. Series officials have allowed reinstallation of the brake lights for all future races.
Awards
Deltran Battery Tender Best Start (Most positions gained lap 1)
Andrew Gantman moved up four spots on the first lap, moving from 12th up to 8th.
Allstate Vanishing Deductible Award (Incident Free Race)
Six drivers were able finish the race without any incident points.Joseph Jordan, Andrew Humphrey, Andrew Feldman, Dennis Griffen, William Kabela, and Divina Galica each earned a bonus championship point.
Optima Batteries Hard Charger (Most positions gained start position – finish position)
Dennis Giffen gained 6 spots through the race, starting 20th and finishing 14th.
Competitor Post-Race Comments
Joseph Jordan, Joseph Jordan Racing – "I figured fuel mileage would be key so I went into the race on a max fuel strategy if things felt right. Made the call on fuel a little too tight, needed another gallon to truly race for the win. After pit stops, I blended back into the race with Brad able to separate from the pack. That allowed me to pedal the necessary fuel mileage needed with a chance to slingshot final lap. I was able to get in range, but didn't get the run I needed into the Bus Stop, and lost any chance for the win. Going into the race would have been happy with the podium, but disappointed we couldn't capitalize on a chance to get a win. That's racing."
James Prostell Jr., Team HeadBlade / Gatorade Recover James Prostell Motorsports – "First off, I wanted to say a quick word about 'Gentleman Jim.' I haven't been an RSR member for very long, so I only had a few races with Jim, but one memory sticks in my mind. We used to race a mixed-class league, and while my Corvette was nothing to sneeze at, the prototype cars that whipped around the track were incredibly fast, especially going through the corners. In my experience, once you saw a prototype in the mirror, you got out of the way, or you were going to get moved. Long story short, I'm racing along and I see Jim's prototype catching me going into the corner, so, naturally, I slowed and stayed off the racing line. Much to my surprise, instead of an impatient whoosh of color, Jim's patiently waiting for a safe spot to pass! It must have seemed like the slowest battle in racing history to the fans as we're both trying to let each other past! Anyway, we figured it out and had a chuckle after the race about the 'after you, no, after you' incident. It's kind of hard to judge a person by one action, especially when that action is in a racing simulation, but you can tell there's a certain genuine kindness about him that made you know he was a really great guy that no one would dare utter a bad word about."
"Today's race pretty much summed up our whole season. We were never really a threat to the field, but under the right circumstances our team has proven to have the power to surprise. Dennis (Griffen) and I had a pretty good fight going towards the end of the race until I overshot the chicane and lost the draft. Before my mistake, we were trading 14th spot back and forth, and I have to say, he raced me clean and fair, and that's really the standard of this series as a whole. I'm glad to be a part of this series, and I'm really thankful for a season where no one got hurt. We're flying around here, but we take care of each other. I can't say anything just yet because all the details are getting filled in, but there's some exciting surprises in store for next season. All I can say is that we're switching to the #50, and the car could look quite a bit different! See you in a few weeks!"
Les Turner, TeamDraft – "Another great season of competition comes to a close at Red Sox Racing, while paying tribute to our great friend and former driver Gentleman Jim Albertson. His wisdom and kindness will never be forgotten by those of us who had to pleasure of racing with him", said an emotional Turner after the event. "He was indeed a true Gentleman, and his memory will live on at RSR at the Gentleman Jim 24 laps of Daytona events in the future".
"Congratulations to Brad Vincent on another hard fought championship, as well as Troy Harder and Marty Sponsler rounding out the podium. It has been great fun to race with all of you, and I look forward to the Season 3 opener in a few weeks".
Season II Recap/Season III Outlook
Season II of the McLaren Turbo Challenge has officially come to a close. After hard fought twelve rounds and over six cumulative hours of racing that saw the drivers climb Spa's Eau Rouge, plunge down the Laguna Seca corkscrew, ride Mid-Ohio's carousel, and bound over Indy's bricks among other iconic challenges, it's finally time to crown a champion.
Congratulations to Brad Vincent, McLaren Turbo Challenge Season II champion! Vincent continues his winning ways with his second straight McLaren Challenge championship, his fourth straight RSR championship considering his prototype season victories in the last two multiclass series.
Congratulations are also in order for our Team Champions – Team THM comprised of drivers Troy Harder and Corey Wolf! They share the podium with team TOC Racing 2 drivers Dean Moll and Reed Rundell and TeamDraft SRT drivers Les Turner and Jeff Thomas.
Driver Championship Top 20
1. Brad Vincent 430
2. Troy Harder 407
3. Marty Sponsler 405
4. Dean Moll 373
5. Corey Wolf 370
6. Les Turner 367
7. Andrew Humphrey 348
8. Reed Rundell 342
9. Scott Husted 331
10. Terry Daul 331
11. Dennis Griffen 329
12. Jeff Thomas 309
13. Andre Gantman 280
14. Joseph Jordan 277
15. James Prostell Jr. 275
16. John Koscielniak 261
17. Divina Galica 259
18. Kevin Kyle 258
19. Gerald Livingston 256
20. William Kabela 255
Only weeks remain before the third and final McLaren Turbo Challenge season starts on September 5th. Until then, there's still time to see which players will reprise their roles and whether or not they can change the script, rewriting another Vincent championship ending to perhaps their own. One thing will that will change, though, is some of the stages the 12-act play will be carried out over. Inaugural events in Sao Paulo, Brazil, Kansas Speedway, and Circuit Gilles Villeneuve in Montreal mingle on the schedule with the league's return visits to Road America, Mid-Ohio Sports Car Course, and Canadian Tire Motorsports Park (Mosport) among others. To top it all off, an August 4th announcement revealed that ITT, sponsors of Storm Front Racing drivers John Koscielniak and Terry Daul, have expanded their sponsorship to create the ITT Engineered for Life Endurance Championship. Rounds 1, 6, and 12 will be conducted over 24 laps each, with a separate point structure and special awards for the three-race championship.
2013 Season 3 Red Sox Racing Schedule
Sep 5 – Week 1: 24 Laps of Daytona Night (ITT EC)
Sep 12 – Week 2: Silverstone GP – 30 minutes
Sep 19 – Week 3: Road America – 30 minutes
Sep 26 – Week 4: Phillip Island – 30 minutes
Oct 3 – Week 5: Mid-Ohio – 30 minutes
Oct 10 – Week 6: 24 Laps at Watkins Glen (ITT EC)
Oct 17 – Week 7: Sebring Night – 30 minutes
Oct 24 – Week 8: Interlagos – 30 minutes
Oct 31 – Week 9: Okayama – 30 minutes
Nov 7 – Week 10: Kansas Road Course Night – 30 minutes
Nov 14 – Week 11: Mosport – 30 minutes
Nov 21 – Week 12: 24 Laps du Montreal (ITT EC)
---
You may also like...
---