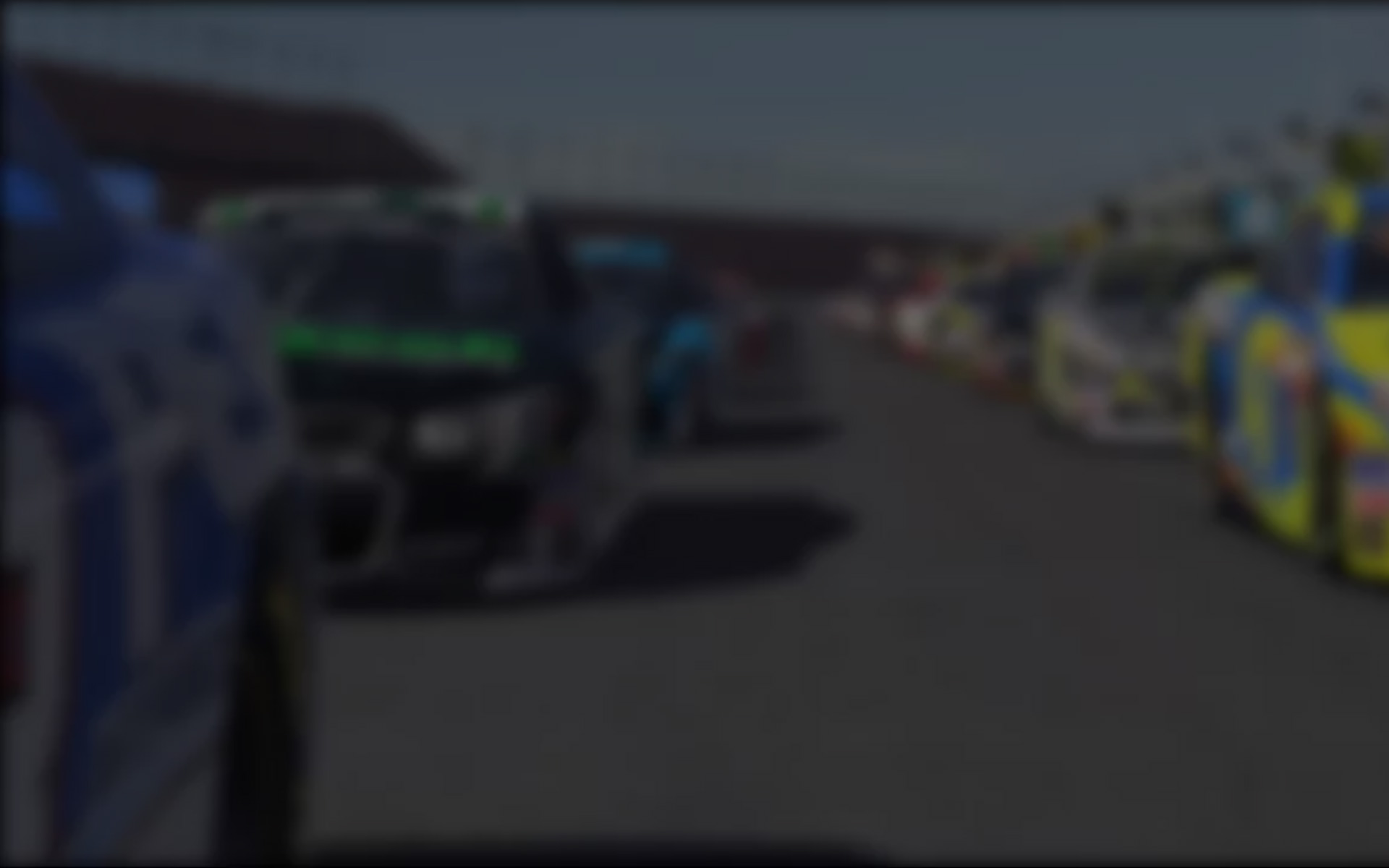 SPEEDWAY, INDIANA – Even with a week off in observance of Independence Day, season two of Red Sox Racing League's McLaren Turbo Challenge has shown no signs of slowing down. Appropriately enough, the series heads to Speedway, Indiana, home of the Indianapolis Motor Speedway. Synonymous with auto racing, "The Brickyard" held its first Indianapolis 500 in 1911, and ever since The Greatest Spectacle In Racing has captured the imaginations of young and old, and the attention of aspiring teams and drivers. Between weeks of practice, multiple qualifying session (including a heart-wrenching bump day), and even a pageant, the month of May in Indianapolis is unlike any other in motorsports, as anticipation mounts to see whose likeness would grace the Borg-Warner trophy at the race's end.
This history, though, belongs to the oval, not the road course that this week's race takes place on. Whether the blame lies on the infancy of the layout, having been built to attract and host the United States Grand Prix from 2000 to 2007, or some of the unfortunate controversies over its brief history (including a 2005 Grand Prix where only six Formula 1 cars took the grid in a dispute over tire and track safety), races on the Indy road course have not had the same reverence as its older oval brother. Steps are being taken in the right direction – The MotoGP motorcycle race continues to grow in popularity, and NASCAR Sprint Cup's Brickyard 400 is now accompanied by Grand-AM Continental and Rolex series races on the road course, giving fans four races in one weekend (two on the oval, and two on the road course!)
Another step in building the road course's history takes place as Round 9 of the McLaren Turbo Challenge takes on the Indianapolis Motor Speedway's road course. Mixing the high speeds of the oval section with a tight, twisty infield, the Indianapolis Road Course presents a unique challenge for our racers. In fact, the season ending Gentleman Jim 24 Laps at Daytona is the only other race scheduled to take place on a roval (a track combining part of an oval with its infield) this season. After two straight wins, Troy Harder has grabbed the attention of his fans and competitors, including series leaders Brad Vincent and Marty Sponsler. Will Harder grab a third win and close the gap?
Practice
With a week-long break in the action, some members of the McLaren Turbo Challenge took the opportunity to get away from the track and recharge a bit for the final charge to the end of the season. Others took a chance to participate in other iRacing events, using the one-off events to keep their skills sharp. And then, there's Les Turner. TeamDraft's Batmobile driver treated his off-week like it wasn't one, with his team opting for a private test session at the famed speedway to simulate race conditions. The team posted a best time of 1:25.900 over the 24-lap session.
A week later, the engines of Turner's and 18 other McLaren MP4-12C GT3's roared to life, taking to the track for the first official practice in two weeks. Brad Vincent used 25 laps around the circuit to post the best time of the session, proving he had no problem returning to form with a 1:25.348 lap. The time was nearly a half-second better than Troy Harder's best practice lap, with P1 Racing driver Marty Sponsler not much further behind in third.
Pre-Race Practice Top Ten
1. Brad Vincent 1:25.348
2. Troy Harder 1:25.846
3. Marty Sponsler 1:25.986
4. Joseph Jordan 1:26.284
5. Les Turner 1:26.328
6. John Koscielniak 1:26.480
7. Terry Daul 1:26.594
8. Scott Husted 1:26.777
9. Gerald Livingston 1:26.940
10. Andrew Humphrey 1:26.943
Qualifying
With practice in the books, the 20 teams took to the track again for the qualifying session, setting the stage for the day's race. Much to his surprise, as well as the fans and fellow competitors, the first ten minutes went by without Brad Vincent's #18 on top of the leaderboard – or on the leaderboard at all! Despite his efforts on the track, his times simply were not registering, prompting series officials to have him pit, allowing the team to replace his car's transponders. After the fix, Vincent stormed out to record a lap of 1:25.332 on his 13th lap, netting his league-leading sixth pole position of the season.
Outside of Vincent's timing issues, there was very little drama to be had during the grid-setting session. Much of the field played nicely over the 13-turn, 2.6 mile course, with teammates and non-teammates alike drafting one another in the high speed sections, trying to gain that last bit of speed. Troy Harder kept his chances of a three-peat high by earning a spot on the outside of row one, while Les Turner's extra practice time would come in handy, starting third. Marty Sponsler starts alongside in fourth, with John Koscielniak rounding out the top five.
Starting Lineup
Row 1 – Inside Brad Vincent Outside Troy Harder
Row 2 – Inside Les Turner Outside Marty Sponsler
Row 3 – Inside John Koscielniak Outside Joseph Jordan
Row 4 – Inside Corey Wolf Outside Andrew Humphrey
Row 5 – Inside Kevin Kyle Outside Andrew Gantman
Row 6 – Inside Scott Husted Outside Terry Daul
Row 7 – Inside Gerald Livingston Outside Dennis Griffen
Row 8 – Inside Jeff Thomas Outside Karl Mumbower
Row 9 – Inside James Prostell Jr. Outside Divina Galica
Row 10 – Inside William Kabela Outside Cyril Roberts
Race
As the green flag dropped at the historic track, a bit of recent history repeated itself as Brad Vincent would use his starting position to lead the first half of the race. Threatening to upset that trend was the use of the draft by his competitors. Without a drafting partner of his own, the leading #18 car had a three to four mile-an-hour disadvantage over cars in his mirror heading into turn one, making things less than comfortable. That same draft helped Marty Sponsler make passes on Les Turner on lap 3 and Troy Harder on the ninth lap, though he'd concede that spot again two laps later overdriving into turn one. Harder and Sponsler would pit on lap 12, with leader Vincent pitting on lap 13 to set up their dash to the checkered flag.
Further behind, action picked up in a hurry. Merging onto the oval section near the end of lap one, TeamDraft driver Jeff Thomas caught the wall hard but was able to continue at speed. Having just passed pit lane entry, Thomas would need to complete another full lap before his team could attend to the injured vehicle, falling to 19th. With quick repairs and a quicker pace, Thomas and the #39 team would be able to overcome this setback, fighting back for a ninth place finish.
Four laps later, Kevin Kyle was assessed a "slow down" penalty for clipping the inside cones in turn one while passing Andrew Gantman's #07, but the furled black flag would be the least of Kyle's problems. Attempting to serve the penalty by slowing in turn three, Kyle's #65 McLaren received a tap from Gantman, sending the #65 sliding through the grass only to be collected by Scott Husted's machine as well. The impact caused Husted little more than cosmetic damage, but did enough suspension damage to strand Kyle's car, ending his day much earlier than he'd hoped. Kyle would be awarded 19th place.
Husted wouldn't fare much better. Just two laps after colliding with Kyle, Husted spun in turn two, making light contact with Daul, spinning the #53 off the track in the process. Seconds later, Divina Galica made heavy contact with Husted's stopped #28, sending both cars to pit lane for repairs. Though he would go on to make a miraculous save near the end of the race, he wouldn't be able to avoid finishing a lap down, near the bottom of the order. Husted finished 18th, with Galica 17th, also a lap down.
Another victim of the demanding infield, #70 James Prostell Jr. spun late in the race, giving up 13th position. "We decided to pit early, which helped our track position as we missed most of the incidents out there, but didn't seem to help our tire situation as we were out there for the whole race on the same set. I just pushed a little too hard there, and I went into the grass. Honestly, with another five laps to go, Daul and Gantman were likely to get by anyway, I just sped up the process!" Prostell Jr. would finish 15th.
Up front the race was on as Brad Vincent chased down Troy Harder, who inherited the lead through the pit cycle. That lead would be short lived as Vincent raced side-by-side with Harder through turns one and two and took the lead on lap 15, and sped away to lead the rest of the way. Not nearly as cut and dry was the race for second, with Sponsler and Harder trading the second spot on no less than three occasions over the final six laps, in addition to numerous close calls and tense moments racing to the checkered flag. Sponsler would get the nod for second, crossing the yard of bricks only four tenths of a second ahead. THM Teammates Troy Harder and Corey Wolf earned third and fourth, with Les Turner rounding out the top five.
Sixth went to John Koscielniak, followed by Joseph Jordan, Andrew Humphrey, Jeff Thomas, and Dennis Griffen for the top ten. 11th through 15th finishers were Karl Mumbower, Gerald Livingston, Terry Daul, Andrew Gantman and James Prostell Jr., with William Kabela finishing 16th. Divina Galica and Scott Husted finished 17th and 18th, both a lap down, followed by Kevin Kyle (DNF – Suspension Damage) and Cyril Roberts (Did Not Start).
The series heads west to Sonoma, California, for Round 10 and the Sears Point Ranch 30 at Sonoma. With the win, Vincent extends his lead to 16 points over Sponsler, with Harder in third, 49 points in arrears. The standings are in store for a bit of a shakeup starting next week though – with three "drop weeks," the lowest scoring races over the course of the season are erased, and stand to make things interesting as the series closes.
Awards
Deltran Battery Tender Best Start (Most positions gained lap 1)
Corey Wolf picked up one position, moving from 7th up to 6th.
Allstate Vanishing Deductible Award (Incident Free Race)
Five drivers were able finish the race without any incident points.Brad Vincent, Corey Wolf, Jeff Thomas, Dennis Griffen, and William Kabela each earned a bonus championship point.
Optima Batteries Hard Charger (Most positions gained start position – finish position)
Jeff Thomas gained 6 spots through the race, starting 15th and finishing 9th.
Competitor Post-Race Comments
James Prostell Jr., Team HeadBlade James Prostell Motorsports – "Just another tough day out there, but I'm glad we fought it out to the end. 15th isn't exactly the greatest finish, especially when we had a decent shot at a couple spots higher, but points are tough to come by at the end of the season so you take what you can get. With some of the carnage that went on today, leaving in one piece is a bonus too!"
---
You may also like...
---