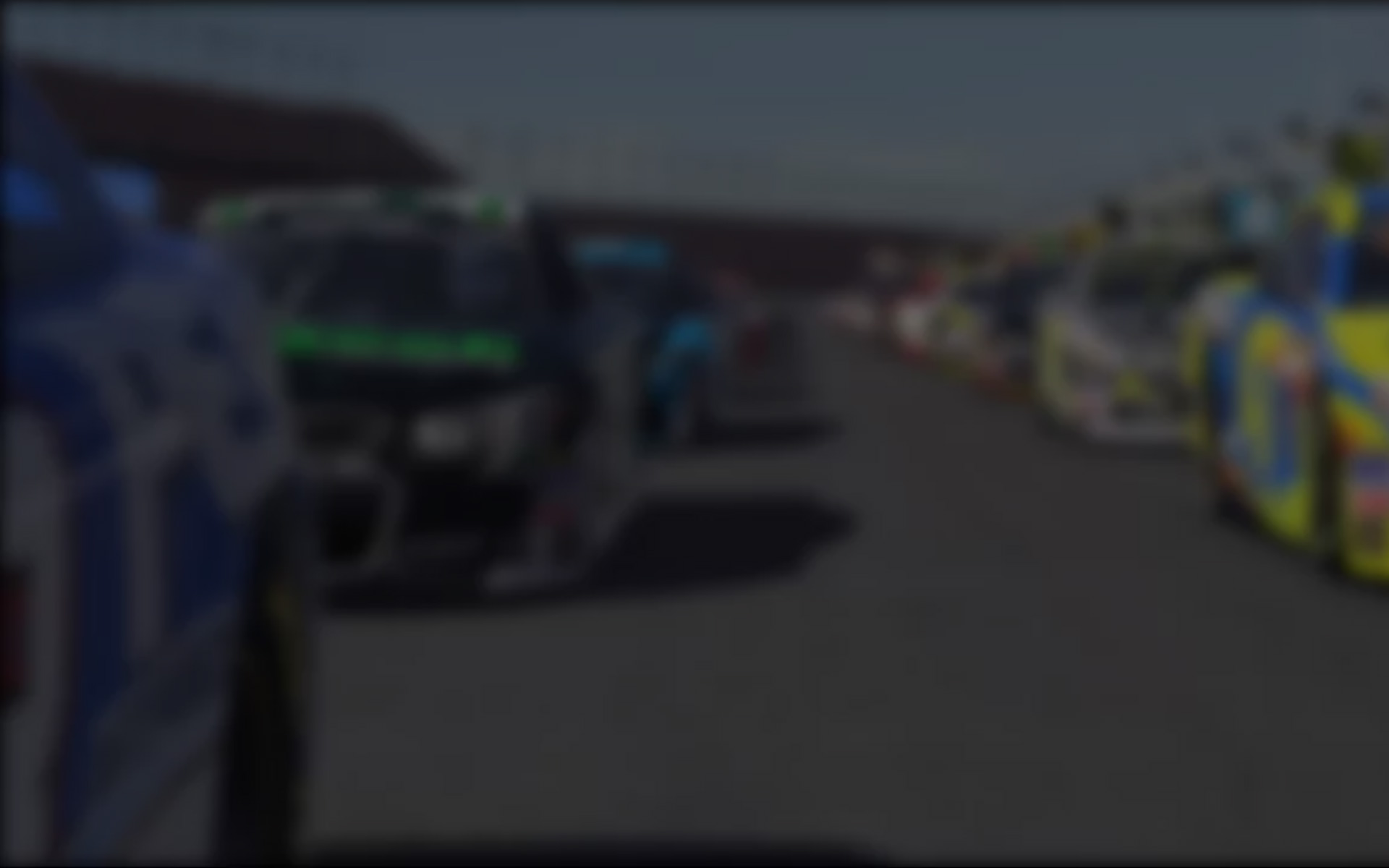 As the iRacing Drivers World Championship Road Racing (iDWCRR) departs the Infineon Speedway following the sixth week of the online racing series, many of the World Championship drivers were left nursing virtual headaches after the toughest event of the season so far. In a race with no less than a half-dozen retirements, Greger Huttu continued his relentless charge to the iRacing's first World Championship title, with another pole-to-flag victory, his sixth on the bounce.
The Finnish racer, who now holds a 127 point lead in the standings table, stole the pole position from Richard Towler with 20 seconds of the qualifying session remaining to put the Team Redline sim racer in the perfect position to break-away from the field come the race and avoid a catalogue of collisions and incidents. "I knew traffic in the race would be much worse than the last couple of races so I needed to get some good laps in on the first stint,"  Huttu shared with inRacingNews. "I got a good gap before the pit stops but as always I hit some traffic right before my stop. I was going to pit on Lap 26 but there was a group of cars some way out in front of me so I pitted on Lap 25. On the second stint of the race there was a lot of traffic so it was hard to get any kind of a rhythm going. At some point I noticed that Rich had dropped back so I was able to take it easy from there on."
Although Towler looked set to assume the role of serial runner-up whilst running a few seconds behind Huttu, the Englishman made a rare mistake on his thirty-third tour of the dusty Infineon circuit, resulting in a trip to the tyre barrier and subsequent suspension damage. "The race was going pretty well, I had an easy second place until I locked up after my pit stop in the downhill left, the car drives so stupid in that corner," offered Towler post race. " I almost saved it, but got into the grass and as everyone knows it takes five miles to slow down on the grass and you have no control over it. I'm pretty mad at myself with making that error but oh well."  With his Dallara Indy car crabbing around the IRL configuration, Towler continued to persevere for a further four laps, several seconds off the pace before retiring in twenty-seventh position.
Filling the gap left by Towler, Team Redline's Bastien Bartsch found himself on the second step of the podium by the time the chequered flag dropped, the Frenchman having been rewarded for his dogged approach to the slippery Infineon tarmac.  After started the race in fourth, Bartsch looked set to finish in the same position, as he found himself turning most of his race laps with no other cars in sight.  But a mistake by team-mate Dom Duhan at half distance, and then Towler's later exit, gave him an express route to the podium.
Duhan, who would eventually clinch a podium sweep for Team Redline with a third place finish, had been showing the same form that got him into the world's leading online racing series.  But a spin on cold tyres thwarted what, ultimately, would have been second spot.  "After a few laps I settled down and was pulling away slightly from Bastien in fourth. Then the drama started," explained the Englishman this week. "After pitting on Lap 25, I exited the pits and saw a car in my mirrors.  By the time I looked back I was deep into turn two. I spun… I lost around 10 seconds or so and my chance of third place, I just managed to hold off Ilkka (Happala) on that lap and started to try and hunt down Shawn (Purdy), Luke (McLean), Bastien. After driving hard for 10 laps I finally caught them, unfortunately [Ed: for them] Shawn and Luke came together and this allowed me to get back in third place."
Collecting fourth position and his second top five finish of the season, Haapala was another iDWC driver capitalising on some dramatic incidents late in the race. The Finn had been hovering on the cusp of the top five for most of the race, but then a dirt tracking trip for Ben Cornett and the  demise of Towler, McLean and Purdy, handed him valuable positions in the closing laps. "Infineon and I have never got along great so I'm happy I survived the race," said a relived Haapala. "My pace was nowhere near good enough and I need to figure why that keeps happening. I lost a couple of position after my pitstop, as the out lap was a bit crazy with cars going off in front of me forcing me to slow down few times. In the end, I was a few seconds behind the train for second position. Then I got handed two positions when I saw Shawn's car facing the wrong way in the last corner and Luke going slowly through the main straight."
Although Cornett was carving out his own line through the Turn Two sand, the Australian was still able to recover from his trip to the beach to make it four Redline cars in the top five. "I couldn't focus, I had no consistency, I had no plan," he confessed at the end of the race. "I had exited the pits and amazingly closed a six second gap to Illka to come out ahead! I then pushed hard and immediately crashed.
So I circulated for the rest of the race and did my best to avoid the front runners who decided to make today international demolition derby day. . . and came home for an entirely undeserved fifth place. Goodbye Infineon. I won't miss you."
Pushing Cornett to the finish line with a late charge to the chequered flag, Dion Vergers ran out of laps to attempt a pass on the Aussie iRacer. Having seen the Redline driver make several mistakes ahead of him in the final 10 laps, Vergers closed a six second gap to just five tenths by the time they reached the flag.  "I was already very happy with ninth, since that would have been a repeat of my best finish so far," a delighted Vergers shared. "But with Richard going off, then Shawn and Luke getting into troubles, I was actually able to get into sixth. Which is way more then I was hoping for. Unfortunate for these guys though, since they seemed to be running a great race so far. Anyhow, a pretty eventful race for me, with a 'lucky' ending. Just hope I can get a good pace next time again, and hopefully keep scoring top tens."
Finishing seventh, and the only remaining driver on the lead lap, Darren Marsh put-in a workman like performance to stay out of trouble and claw his way through the field. "My race was going well in the first stint. Dion got a cut track (penalty) in the last corner which got me a spot and about 15 laps in I got into a good rhythm and was able to pull out a bit. I pitted at  half distance which was a mistake. I lost 1.5 seconds on my out lap which let Dion jump me. After that I ran out of energy. After a couple near off's I decided to settle but lucky for me a few of the front runners went off moving me up to seventh," offered the Australian to waiting media.
If there was an award for the most battered car to finish the race, then Luke McLean would be winning it hands down this week. The opening laps of the race proved to be an omen of things to come for the Redline driver, after he was sent into the gravel following contact with Illka Haapala. Although he was able to recover and continue, McLean would later find himself involved in a scuffle with Orion Racing's Shawn Purdy that nearly sparked an 'International event'between the battling pair.
With just five laps remaining McLean was holding third position, with Purdy tucked under his gearbox. Approaching the final hairpin, Purdy hit the Australian in the braking zone, sending the duo spinning-off with McLean suffering suspension damage. After gathering themselves back up, the twosome entered Turn Four side-by-side . . . and collided again.  This time Purdy ended-up as a passenger as his Dallara buried itself in the tire wall. Although it's now accepted there was no intent on the part of the Team Redline driver, Purdy was clearly fired up after the incident. "I've got nothing positive to say," the angry Canadian fumed. "I had fourth place, and I was just cruising home; I bumped Luke accidentally than he crashed me intentionally afterword."
However, after an explanation from McLean the pair have resolved their differences. "I am sorry to Shawn, I apologized straight after the race." said a rueful McLean. "I was seeing red mist and was not even thinking about who was behind me after the accident. The car was pushing sideways badly which may have looked like I intentionally moved but through certain turns it was a total crab car."
Round Seven of the iDWC heads to the bumpy concrete of Sebring. With many drivers just relieved to be getting away from the challenges of Infineon Raceway, they'll be looking to wipe the slate clean and reassert their championship credentials.
---
You may also like...
---