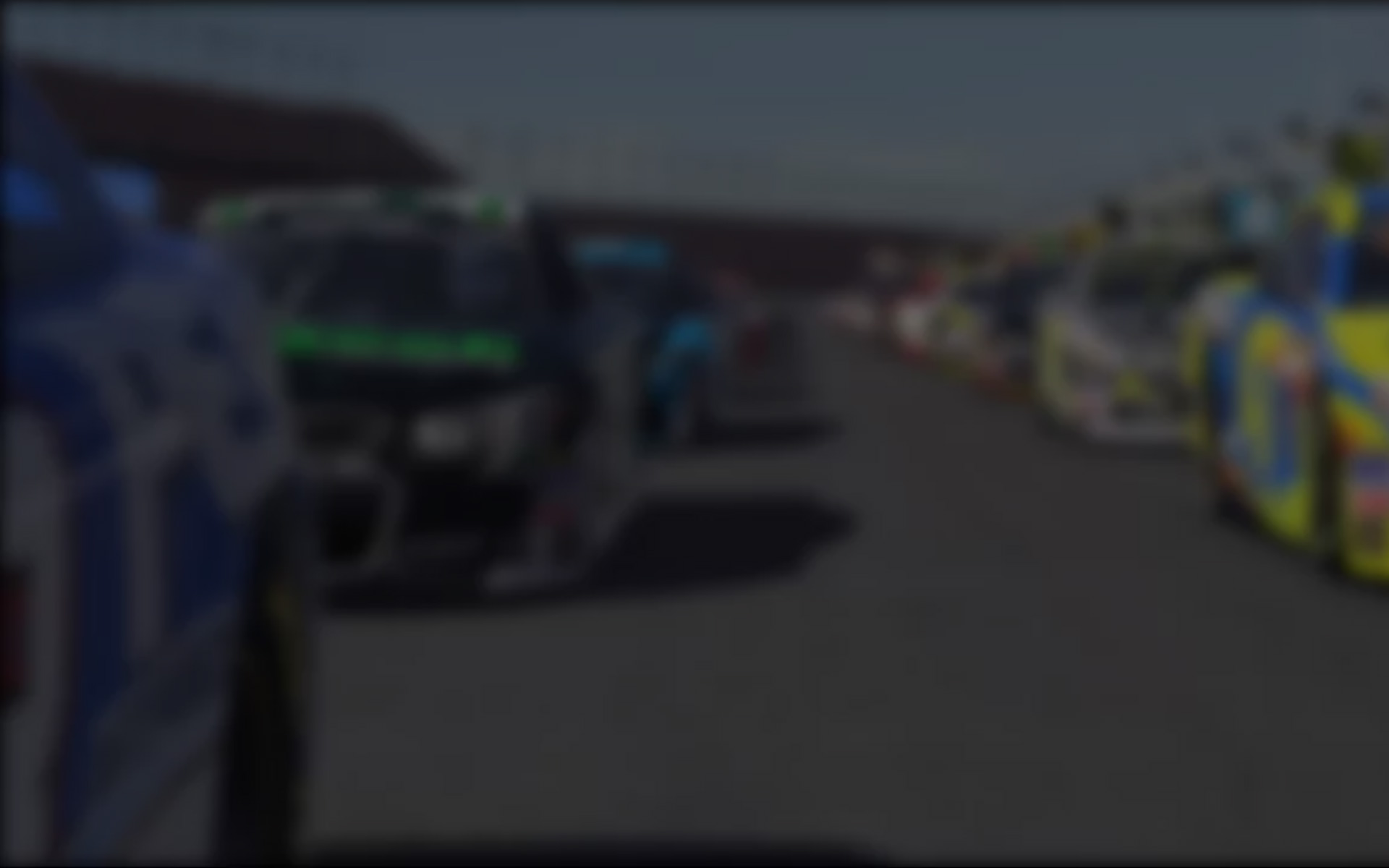 It's a rare but fortunate occurrence when two seemingly unrelated talents in a person's skill-sets complement one another . . . think of crooner Tony Bennett, whose paintings grace the covers of several of his record albums/CDs or, on a slightly more elevated plane, of Leonardo da Vinci who used his artistic virtuosity to illustrate his scientific genius.
Dylan Sharman may have a little way to go before his work attains the level of the Mona Lisa or even I Left my Heart in San Francisco, but his skill as a sim-racer figures to dovetail nicely with another of his passions: furniture design.  As a three time champion of the iRacing.com Cadillac Cup, Sharman possesses a treasure-trove of Cadillac swag, including three helmets autographed by Cadillac Racing drivers Johnny O'Connell and Andy Pilgrim.  Who better to design the ideal resting place for those helmets than a sim-racer studying furniture design at Technical and Further Education, South Australia (TAFE SA).
"I studied furniture-making in high school and loved it," explains the resident of Nuriootpa, South Australia.  "Once I left high school I took a break to really figure out what I wanted to do and I applied to TAFE SA to study Furniture Design and Technology.  I'm into my second year and I'm loving it and It's a really good feeling to see the finished product.
"I have the (Cadillac) helmets on display in my room," he continues.  "Hopefully, I'll be able to make a nice cabinet that I can put them in, because I had three fantastic seasons in the Cadillac Cup series.  I personally want to thank iRacing for a great year with the series, and Cadillac for putting-up some fantastic prizes."
The Cadillac Cup is hardly Sharman's first taste of success in iRacing.  Indeed, but for Rusty Greer, he would have been working on his second three-fer when he slipped behind the wheel of the virtual Cadillac CTS-V.  During his post-high school sabbatical, Sharman got hooked on the iRacing.com SK Modified Series and won back-to-back titles in 2011 only for Greer to deny his bid for a hat trick.  Hard feelings?  Hardly.
"Rusty stopped me from making it three in a row," Sharman says, "but it was really fun.  The SK Modified is still one of my favourite cars because I do love my short track racing."
In any case, Sharman wasted little time worrying about what might have been in SK Mods.  With the introduction of the Cadillac CTS-V in 2012 Season 2, he found a new love.  While he may have been attracted by the Caddy's "newness" and sexy looks initially, he quickly found the CTS-V's beauty was more than skin deep.
"It's like all new cars, everyone really gets behind it and gives it a run for a few weeks," he recalls.  "But I loved the car and still do.  After some people stopped racing it, I continued on because it was fun to drive, the competition wasn't too bad and then around Week Seven, Sean Siff did a forum post saying there would be some neat prizes.   By this stage I had almost secured the championship and I was over the moon, as you would be.
"I kept racing the car in the following season because it was a massive season.  We had SOF races of 3500 every week and it was really fun and intense. You couldn't let your guard down because there was always someone behind waiting for an error, so you had to stay 100% focused.  The prizes were just an added bonus and to get a perfect season and go three in a row was very special."
"To get a perfect season and go three in a row was very special."
Sharman swept the board in 2012 S4 with 19 wins in 19 starts – making-up for the appalling S3 that saw him take a paltry 23 wins from 24 starts.  Although his numbers are impressive, to say the least, it's not as if he had an easy time of it.  Fellow Aussie Nathan Moore gave him a run for the money and Iberia's Carlos Reyes Aiguadé won a mind-boggling 102 wins from 117 starts.  Sharman couldn't be more pleased to see his old rival atop the standings as the finish line for the 2013 S1 Cadillac Cup comes into view.
"I won three titles and had a lot of success but so has Carlos," he says.  "As much as I would have loved to won another helmet I feel like Carlos has deserved one too because he has been a big supporter of our SOF races in the past few seasons.   We pushed each other each week in qualifying and in the races because he is extremely fast in the Cadillac."
Sharman is taking a bit of a break from sim-racing this season while he's away at TAFE SA during the week, and following another interest – tennis.  Nevertheless, his name still appears regularly on inRacingNews through his weekly reports on the iRacing.com V8 Supercar Series.  Although his schedule makes it next to impossible for him to compete in the V8 Series' weekly SoF races, he follows the weekly broadcasts on www.V8sonline.au and stays involved through his coverage of the series.
"I do the articles each week for the V8 Supercar Series for inRacing News and I do the media stuff on Facebook for my team (TTL)," Sharman says. "So I'm always watching each week and I saw an opening (at iRN) and was just thinking to myself whether or not I should take it on.  I decided to give it a go and It's now a year later and still going strong.  I guess the reason I do it is to help the guys try and grow the V8 community and now each week we have articles and live streamed events by V8sonline."
As a seasoned observer of the V8s, Sharman is squarely on the fence when discussing his bet for the 2013 S1 title.
"It's hard to go past five time champion Madison Down" he says, "but Joshua Muggleton has showed everyone — and his supporters at MuggoNation — he has the potential to win the championship.  And you can never count out Justin Ruggier who all season long has had consistent results keeping him in the championship fight.  No doubt it will come down to the final week and it will be between these three guys to see who takes the title."
With school, tennis and his inRacingNews duties, Sharman hasn't had much time for sim-racing this season.  Although he's taking a well-deserved break, he's shown he's lost none of his touch on the sim, witness wins in inRacingNews Challenge and GRAND-AM Series; and there figure to be more wins in the future . . .
"I have slowed down a little this season," he concedes. "I'm really just having a break from serious racing, I guess re-charging myself so when the new season comes around and the Cadillac goes into an open setup series I will step back behind the wheel. The Cadillac in the new open setup series is going to be fun, and I cannot wait for the new season to roll around."
And what red-blooded Aussie wouldn't be licking his chops at the prospect of Bathurst being added to the iRacing catalogue in the future?
"For iRacing to get a laser-scanned version of the most well-known track in Australia — and one of the world's best race tracks — I think it's safe to say I will be staying up when that is released," he laughs. "After going to the track for the 2011 and 2013 Bathurst 12hr events, it's just an amazing track to see in person.  I can't wait for the release, fingers-crossed, later this year."
Sounds like Sharman plans to acquire some more hardware to compliment those Cadillac helmets in the trophy case.
---
You may also like...
---