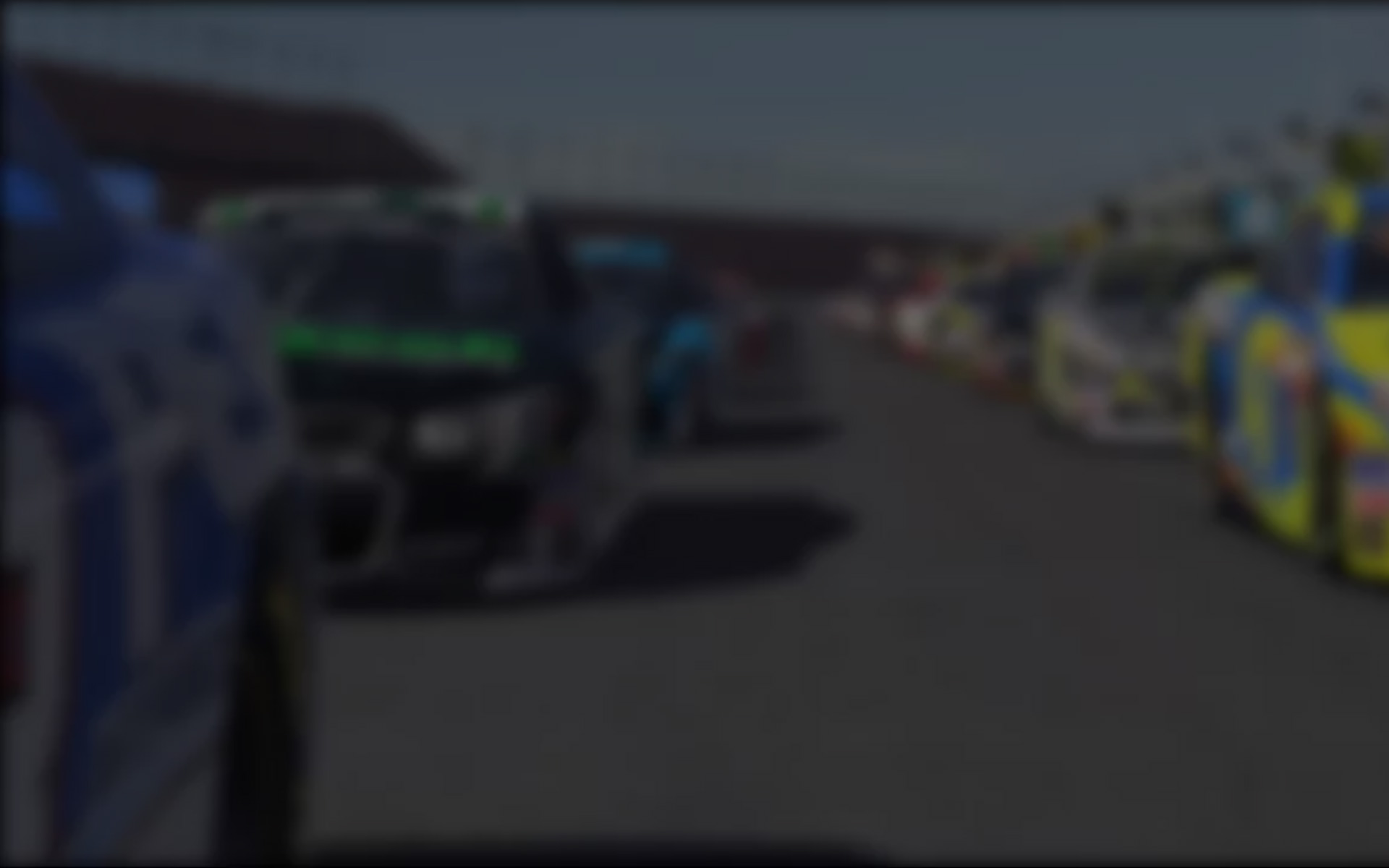 September 29th, 2010 by KevinB
Lexington, Ohio was the host city for this week's Red Sox race at the Mid Ohio Sports Car Course.  This is one of the toughest tracks on the RSR 2010 Season 3 schedule.  The 2.25 mile, 13 turn configuration includes blind hill crests and off-camber corners, which makes it virtually impossible to see or react to slower cars.  In the end, "Ohh No its Mid Ohio" proved itself to be a very fitting name for this event.
Twenty-one drivers made the trip to Mid Ohio.  Les Turner, Tommy Rhyne, and Darren Kersey dominated the practice sessions with lap times under the 1:20 mark, and their quick lap times carried over into the qualifying session.  Rhyne earned the pole with a lap time of 1:19.520.  Turner grabbed the outside of row one with a time of 1:19.576.  Kersey was not far behind with a 3rd place qualifying effort of 1:19.759. Reed Rundell served notice he would be a force to be reckoned with as he qualified in 4th place with the only other sub-1:20 lap time (1:19.888).
Terry McCuin was 5th on the grid with a time of 1:20.024.  He was followed by Gary Jorgensen (6th), Barry Blocker (7th), Scott Husted (8th), Ed Sutcliff (9th), Jeff Thomas (10th), Bill Hadden (11th), Kevin Kyle (12th), Jody Green (13th), Jim Albertson (14th), William Kabela (15th), Divina Galica (16th), Robert Latuga (17th), Mark Plank (18th), David Pyner (19th), Daniel Willis (20th), and Dennis Heaney (21st).  Engine problems forced Willis to retire from the event before the field took the starting grid.
The race began with a rolling start behind the iRacing Ford Mustang Pace Car.  It was a big departure from the standing starts used in previous RSR seasons, but proved to be just as exhilarating.  The green flag waves at Mid Ohio just before the leaders negotiate the final corner so most of the pack is still in the Carousel as the leaders thunder down the front stretch towards the starters stand.
Although danger lurks at many places along the Mid Ohio course, Turn 1 appeared to be the Devil's Den for many of the RSR drivers.  McCuin was the first victim as he ran wide and slid off of the track in the first corner.  He was forced to watch helplessly as the entire field passed by.  Gary Jorgensen, was the next to taste the corner's wrath when he clipped the inside curb on Lap 3.  Barry Blocker followed suit on Lap 5.
Jeff Thomas joined the Turn 1 carnage on Lap 7 when he lost the back end while carrying too much speed through the fast sweeping corner.  Blocker, who was following Thomas after his spin 2 laps earlier, was collected in the aftermath of Thomas' incident.  Next to fall victim to the corner was Jody Green, who spun harmlessly into the grass after reacting to the smoke from the Thomas/Blocker incident.  He was able to rejoin the racing action unscathed after losing 3 positions.  Robert Latuga also suffered a late spin in Turn 1 and collected Divina Galica while attempting to rejoin the circuit.
Although pole sitter Tommy Rhyne led every lap of the race on the way to earning his first RSR victory, the racing action between the lead pack of cars was exciting and close for most of the race.  It wasn't until they had to begin negotiating lapped traffic that Rhyne was able to build a slight lead over the others.  Clean driving proved to be the winning key as Rhyne eventually completed all 33 laps without incident.  Only three other drivers (Sutcliff, Hadden, and Kabela) managed to complete the event without an incident.  Several drivers collected so many incident points in the race it was a wonder their cars were still drivable.
Rhyne was ecstatic after his first RSR victory.  "Tonight was a great win for me and Northern Tool + Equipment.  I had never been to Mid Ohio until just last week, so we were lucky to be able to get in a few long testing sessions.  The practice really paid off as it helped us get up to speed."  Local race fans were impressed with Rhyne's ability to learn the tricky layout so quickly.  "During qualifying I tried to knock Turner off the pole for the entire session and finally did it with less than 3 min to go.  I really wanted the inside of Turn 1 on the start.  My plan was to run a clean race without making any mistakes and stay with the lead pack."
It was a strategy Rhyne worked to perfection.  "Once the race started, Tuna could have over taken me in the 1st few laps if he had pushed the issue because I really wanted to take care of the car early on.  Les was being patient and riding right in my tire tracks until we hit lap traffic.  That was the deal breaker for him because once I got around the lapped car, I pushed the Northern Tool Mazda to its limit to try and break away.  Turner had a tough time fighting to get around that same car.  Once that plan was carried out, all I did was concentrate on hitting my marks and being careful not to overdrive and overheat my tires.  I only pushed the car when necessary and kept focus on what corner was coming up next the whole race.  I look forward to VIR next week. I have some experience there in the Corvette and Mustang, so I hope to bring home another win in the Mazda!  Thanks again to Northern Tool + Equipment, Red Sox Racing, and Tuna & JT for letting me run here!"
Second place finisher Reed Rundell had his share of scary moments during the race.  "We started in 4th place tonight, and I was immediately thrown into the fire with the fast group at the front.  I fell in line and for the first 14-15 laps you could literally throw a blanket over the top 4 cars!  I was being careful not to get into the back of Darren while trying to get a run on him.  I tried to make several passes, but just couldn't get it done.  Then on lap 14, I got a great run on the front stretch through Turn 1 and down the straight into Turn 2.  I almost tried to out brake Darren going in to the Keyhole, but thought better of it and was lucky enough to get a great run off the corner and down the long back straight.  Darren gave me room and I was able to complete the pass in the second part of the Esses."
The effort needed to pass lapped traffic is always an issue on road courses, but the problem was amplified through the tricky corners of Mid Ohio.  Rundell explained it this way:  "After I got past Darren, Tommy had started to open up a little lead and Les was busy trying to run him back down.  I kept my focus and started trying to catch Les, but lapped traffic started playing a role in how we were racing as both Les and I were held up a bit.  Once we got past the slower traffic, it became a matter of hitting our marks and trying to run consistent lap times.  By Lap 18, I was starting to close back in."
"Les and I have known each other for a long time, and have a long history of contact while racing, (most of it me getting into him), so I didn't want that to happen!  I had a huge run on him down the backstretch before the Esses and was able to get inside of him before China Beach just like I had with Darren, only this time at the top of the hill, I pushed off into the grass giving the spot right back.  Several corners later, Les was kind enough to run a little wide just as I had, putting me right back on his bumper again.  I was able to get back by him a lap later, but by then Tommy had pulled out a substantial lead.  I'm not sure I had anything for Tommy anyway, but it sure was fun trying to catch him on worn tires!  All in all, I'm very happy with my 2nd place finish in my first run with RSR."
Despite his 3rd place podium finish, Turner wasn't very talkative after the race.  "We had the car to beat here tonight at Mid Ohio.  The Teamdraft 911 Tribute Mazda was dialed in and we were able to keep the pressure on Tommy for 15 laps until slower traffic held us up allowing him to get away.  Our chance for the win was over after that", said the dejected driver.  "This was our last night running the 911 car and we really wanted to put it in Victory Lane.  We are pretty upset that the opportunity was taken away from us.  Congratulations to Tommy for the 1st win!"
Terry McCuin finished the race in 4th place.  Like most of the other top finishers, he knew that a good result would require a bit of luck as well.  "I keep running out of talent during the opening laps of these events.  We were good enough to qualify 5th, but then we spun out in the first turn!  My right rear tire caught just a little bit of the grass and around she went.  Luckily no one else got caught up in that one, but I was in 17th place after that.  My apologies to Divina, I was on her rear wing for a couple laps when she started to slide a bit exiting the last corner.  She probably would have been able to save it had I not been so close to her."
"I also owe a huge apology to Darren.  We were nose to tail for the last two laps.  In the last turn, I tried to sneak my nose in mid corner just as he was coming down to get a good run off.  Needless to say that didn't end well.  It was a stupid mistake on my part for pushing the pass like that.  It was a good race overall and I am happy with a 4th place finish, but not happy at all with the incidents I racked up.  Hopefully next week will be a better one."
Scott Husted brought the Hustedia.com/Racing Historian/Android Mazda across the line in 5th place.  "This was the second uneventful race in a row for us.  Mid-Ohio isn't a track I have a lot of laps on, so I was really concentrating on just staying on course and getting consistent lap after lap and then attempting to pick up the pace.  My pit crew took a cautious approach and gave me a bit over 9 gallons of fuel to start the race.  That added some weight to the car, but the positive was the car was consistent over the course of the run and I did not need to make any brake bias adjustments or driving input changes as the run went on."
"I really didn't have any heated battles, although Ed and Bill were consistently about 1 – 1.5 seconds behind me for the first half of the race. I gradually opened that lead up to about 2.5 – 3 seconds until I made a driver error and double down shifted and almost spun out.  Ed was able to close up to within a second of me, but I was able to settle down behind Barry Blocker and just run consistent lap times to hang on for a top-5 finish.
Sutcliff crossed the line just behind Husted.  "Wow, what a crazy race!  I lost count of how many wrecks I witnessed in Turn 1 tonight.  This track is very unforgiving.  I don't have many laps of practice here, so my goal was to qualify in the top-10, then run a clean race so I could get a decent finish.  I tried hard to keep Husted in sight once the race got underway, but he was just a little too quick for us to keep up with.  Bill Hadden pushed me the entire race, but did a great job of not forcing a pass which could have ended either of our races.  I'm pretty happy with a 6th place finish here!"
Kersey earned a 7th place finish after a last lap incident which saw him drop three positions.  "We had a very good car tonight.  I held onto 3rd place for most of the race, but fell back to 4th after Les managed to make that pass on lap 24.  The top four qualifying cars were very evenly matched tonight.  We had some great racing going on until we reached the lapped traffic.  Congrats to Tommy on his win."
Bill Hadden was next to cross the line as he earned an 8th place finish.  "The first half of the race was quite fun.  Scott, Ed, and I all turned pretty similar laps and shared some tight spaces around the tricky turns here at Mid-Ohio.  Around Lap 11, I found myself a bit too close to Ed.  I locked up, and came to a complete stop, somehow managing not to spin.  Rinse and Repeat 10 laps later, and that's when I lost sight of him.  Once Ed and Scott had 6 seconds on me, I did the math and changed my focus to bringing it home without incident.  In the end, we're satisfied with a top-10 zero incident race, and congrats to Tommy, he ran a heck of a race."
Co-winner of the race's "Hard Charger" award, Jim Albertson climbed 5 spots to finish in 9th place.  Albertson had missed the first race of the season due to sponsorship obligations, so he was eager to return to the racing action.  He qualified in 14th position, but crossed the start line in 15th.  He was concentrating so hard on the rolling start that he didn't even notice.  "I didn't know it until later in the opening lap", said Albertson after the race.   He and Kabela fought hard for position in the early laps.  "Once we were underway, I realized this was going to be a very hard place to make passes", said Albertson.  "I finally got past Kabela, but even though I could see Kevin, I didn't have enough to catch him."
"Turn 1 looked like it was collecting a lot of victims tonight.  From mid race on, it was just a matter of maintaining concentration and trying to hold on to the 9th position. I missed a zero incident race when I had to take evasive action to avoid an out of control car in the racing groove at one of the blind corners.  I was hoping for a better finish, but the new young guns just plain outdrove me. Congratulations to Tommy and his crew for the win. They earned it."
Kabela finished in 10th place to share the "Hard Charger" award with Albertson.  "We managed to avoid a lot of the carnage in tonight's race", said Kabela.  "I am pretty sure this track was designed by a sadist!"
The remaining finishing positions were earned as follows; Jorgensen (11th), Blocker (12th), Green (13th), Plank (14th), Pyner (15th), Galica (16th), Latuga (17th), Thomas (18th), Kyle (19th), and Heaney (20th).  Kevin Kyle had been running in the top-10 until his engine blew on lap 20.
The 18th place finisher, Jeff Thomas, also had an eventful night.  He was upset after the race, but went out of his way to apologize to the other drivers who got caught up in his incidents.  "First, I have to apologize to Barry Blocker.  He got caught up in my self-induced spin and probably thinks there is a Teamdraft conspiracy against him, as this is the 2nd straight week one of us have caused his demise.  My evening was just a bit more eventful than we hoped for.  With only 2 laps to go, I just flat got taken out by a fellow competitor after I'd finally gotten most of the way past him despite several laps of him blocking our path.  Just as I thought I was clear, the other driver turned right into me.  We are sure glad to see Mid Ohio in the mirrors.  Congrats to Tommy Rhyne taking the win in only his 2nd event with RSR, and congrats to Les for taking over the points lead.  We have some great battles going on for this season's point championship."
Les Turner's finish at Mid Ohio vaulted him two positions to take the lead in the points chase.  He leads 2nd place Kersey by 5 points, and 3rd place McCuin by 6 points.  The top 11 drivers are within 100 points of the top spot.  Rundell was the biggest mover in the points chase as he climbed 14 positions to grab the 8th spot.  Rhyne's win vaulted him seven positions to move him into the top-5.
RSR members travel to Virginia for next week's event, the "Virginia is for Racers Grand Prix", at the Virginia International Raceway.
Video Recap:
---
You may also like...
---