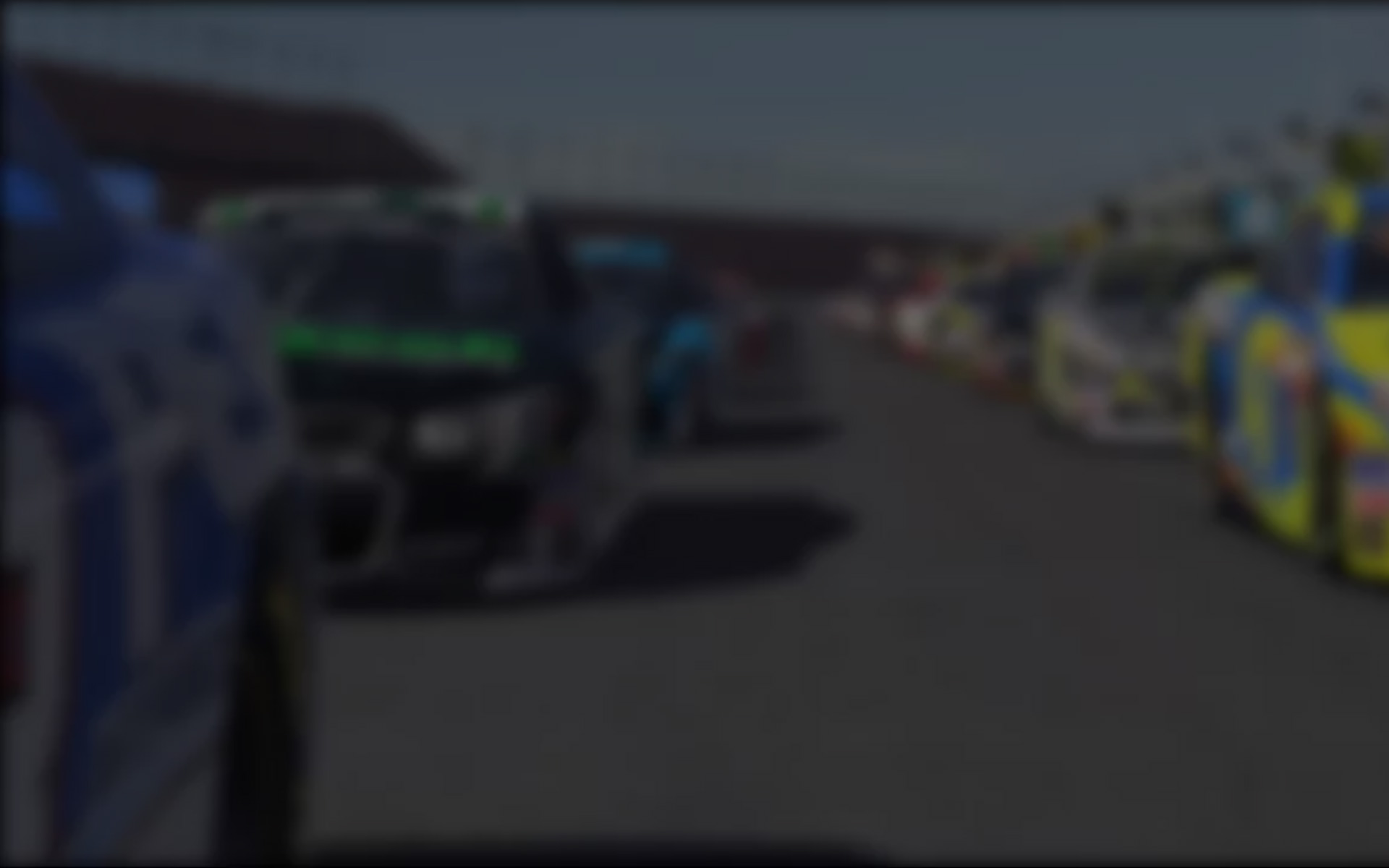 Riku Alatalo's 16th Street Racing League debut ended with an exclamation point, as the road course ace from Finland followed up a Transfer Race win by leading flag-to-flag in a walk-off performance at Mazda Raceway Laguna Seca. Alatalo lapped all of the online race's 38 entrants except podium finishers Yang Ou (2nd) and Tim Holgate (3rd) and immediately moved to fifth-place in the 16th Street overall championship standings, and to the top of the International Light Technologies road championship.
It was Yang and Holgate who were expected to be amongst a select few to challenge for Tuesday night's race win, but Riku's surprise appearance in Monday's open practice session quickly threw another contender into the road course mix. The result was a much-needed bounce back effort for Yang and Holgate, who both were collected in accidents a week ago in Homestead. Yang ran into trouble late in the race, as he was two gallons short on fuel and had to limp his car to the finish line while keeping a charging Holgate from advancing another step on the podium.
Riku, who also captured the UltraForce Sim Pole Award, admitted in his GlacierTV interview post-race that he will not be participating in ovals, his sights are set on the International Light Technologies Road Championship. And with the pace we saw from the Finn on Tuesday, there are not many drivers who can maintain the pace the iGPSWC driver has shown thusfar.
Lierle Grabs Another Top 5, Moves to Second in Points
One of the surprises in the early goings of the 16th Street Racing League has been Doug Lierle's quick climb to second position in the overall championship battle with Top Five finishes at both Homestead and Tuesday at Laguna Seca. Lierle again had to qualify for the Feature by way of the Transfer Race, but again was unaffected and the Californian has made himself an early contender for the overall championship.
"The race went pretty much as I expected," Lierle admitted.  "Lots of havoc with traffic and blue flags, but that's the norm with so many cars on a small track with a pretty good gap in speed among the drivers."
Holgate, McCracken Emerge as Dark-Horse Championship Contenders
While we're just two races into the season, having run on both a high-banked superspeedway and a tricky road course has given outsiders a glimpse into how the overall championship battle could shake out late in the year. With the number of road course events on the schedule, the league champ may end up being an oval ace who performs the most consistently on the non-oval courses. If Tuesday was any indicator, Tim Holgate and Mitch McCracken did their best to put themselves on the shortlist for darkhorse championship contenders. Of those, Holgate showed he could run in the same weight class as Yang on the road courses, but still had a long way to go to catch the former Fall 2010 16th Street Champion. McCracken has always been lightning quick on oval tracks and probably isn't giving himself enough credit for his road course prowess.
Mike DuTemple is another driver who is quickly entering the championship conversation.
More Struggles for Championship Favorites Stroud, Doyle
It was another long Tuesday night for championship contender Shaun Stroud, who had an eventful day before finally retiring in the 27th position. This after being a helpless victim a week ago at Homestead where he finished 26th. It's not the start many expected for Stroud, who at times has been dominant in the IndyCar Series, as the Englishman now sits in 31st in the overall point standings. Despite that, many know Stroud is capable of ripping off a string of race victories that could get him back atop the point standings in a hurry.
"(It's) not something I wanted or expected early on," Stroud said of his slow start.
Tim Doyle elected to start from pit lane to avoid the potential mayhem in Turn One, but Doyle – who qualified 18th – was a lap down just 10 laps into the race. Doyle actually had contact with Alatalo at one point in the race, but managed to bring his car home in 13th position by the end. Doyle, who missed Homestead due to technical difficulties, is expected to get back into the championship fight quickly, as the next two races on the schedule (Richmond and New Hampshire) are two of his best.
"I survived," Doyle said after the race. "Long race, but was satisfied with where I finished and (how) limited my mistakes were. Laguna Seca isn't a track that I normally fare well at."
Veteran Mike Peters Reconsidering Post-Race "I'm Out" Comments
Longtime 16th Street driver Mike Peters was off the pace Tuesday night and following the race was quoted as saying he was done with the league. The mercurial driver charged to the front of the field in Homestead a week ago but ultimately caused an incident that took out McCracken. Many expect Peters will continue in 16th Street an ultimately be a contender at select ovals.
"I don't belong in a league running (road courses)," Peters said. "I'm out."
Tony Johns Transfers, Impresses in Debut
Racing Press founder Tony Johns has been one of the 16th Street League's biggest supporters and many were happy to see him advance to the Laguna Seca Feature Race. Johns, who qualified 33rd, has had just 10 official iRacing starts since 2009 but was quick to knock off any rust that had accumulated from the long layoff. He kept it steady on Tuesday night and barely put a wheel wrong while working his way up to a 12th-place finish. With a solid effort at Richmond next week, he could find his way inside the Top 35 and locked into the field.
International Light Technologies Sponsors Road Championship
The 16th Street Racing League is proud to announce a partnership with International Light Technologies for the road championship portion of the 16th Street schedule.  With the road championship getting started tonight at Mazda Raceway Laguna Seca, this news comes just in time to get the ball rolling for the full road championship.
The road series championship will now be named the "International Light Technologies Road Course World Championship" and will have its final event at the "International Light Technologies Road Course World Finale at Road America" on March 5th, 2013.   The 7 race championship fight will be broadcast live on GlacierTV:
Nov. 6 Mazda Raceway Laguna Seca (49 laps)
Nov. 27 Sebring International Raceway (International Course, 37 laps)
Dec. 11 Suzuka International Racing Course (Grand Prix Course, 38 laps)
Dec. 18 Watkins Glen International (Boot Course, 39 laps)
Jan. 15 Mid-Ohio Sports Car Course (Full Course, 49 laps)
Feb. 5 Sonoma Raceway (Full Configuration, 39 laps)
Mar. 5 International Light Technologies Road Course World Finale at Road America (Road Course, 35 laps)
The driver with the most points after the seven-race championship will receive $100, an iRacing hat, a National Guard hat, an iRacing T-shirt, and a National Guard crew shirt.  To contend for this championship, go to the Leagues page and apply for the 16th Street Racing League.
For more information about International Light Technologies visit:
www.intl-lighttech.com
---
You may also like...
---