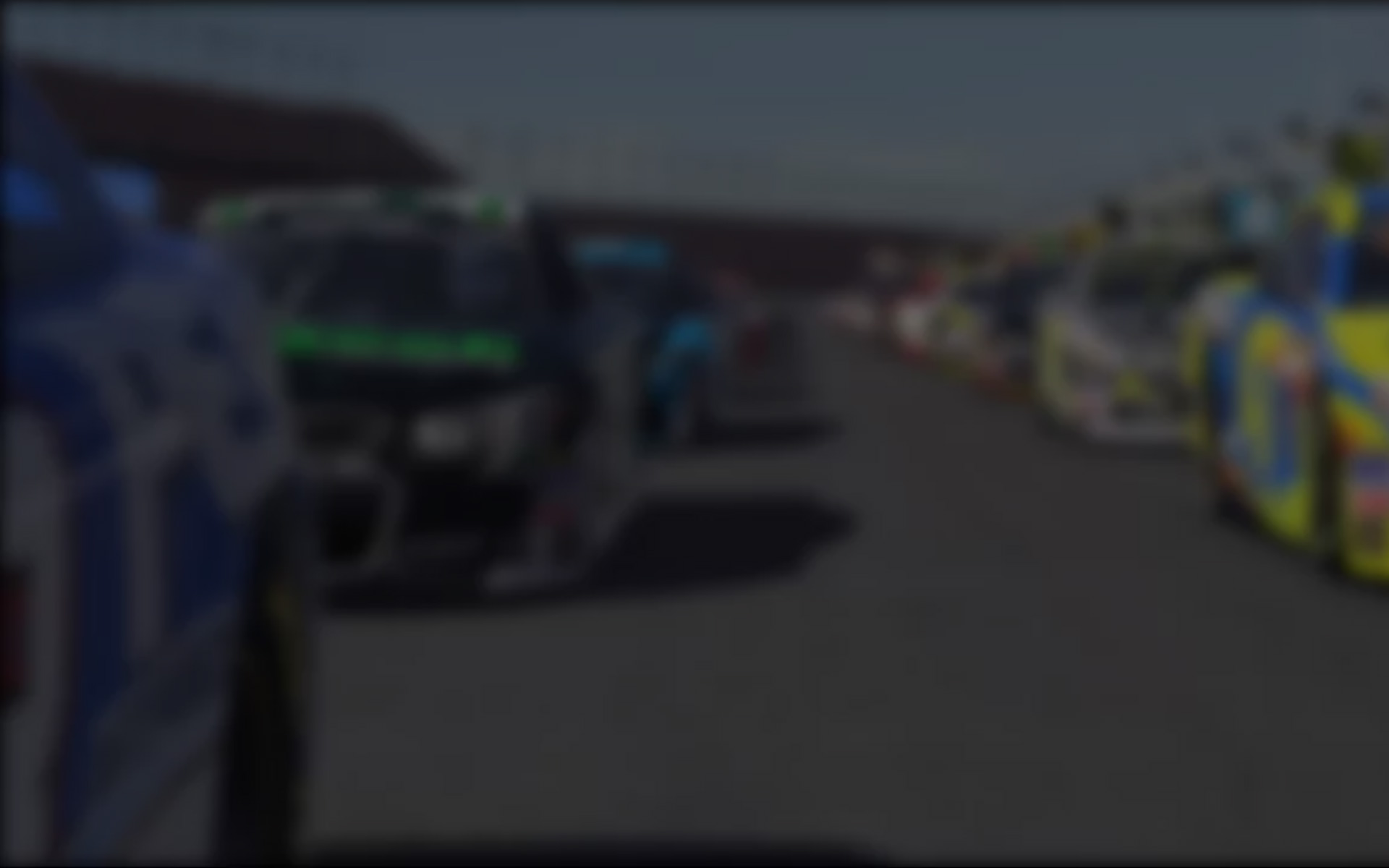 Road Atlanta is a favourite venue of many and good racing took place there both in Week Eight of the iRacing Pro Series Road Racing and now again in Week 21.  As a result, Richard Towler finds himself in the lead of the iPSRR in what has become a three horse race between himself, Luke McLean and Shawn Purdy.  Towler enjoyed a tremendous week last week at Watkins Glen, as he scored two race wins and suffered an electrical problem whilst enjoying a huge lead in a third race, thus missing-out on a clean sweep of the entire round. At Road Atlanta, he picked right up where he left-off in Thursday's race and the fight amongst the lead trio should be very entertaining over these closing rounds.
Thursday Race
Another familiar grid for this race with Towler (pole) sharing the front row with Purdy, McLean and Dario Frattini on the next row and Ian Lake and Florian Godard on the third.  By Turn One McLean moved ahead of Purdy with Lake ahead of Frattini and the remainder of the top five unchanged. Godard, who was swamped at the start, suffered further when he got a run on Luca Ceretti through Turn Three only to get loose and run off track at Turn Four, finally rejoining at the rear of the field.
Godard was close to the action again at the start of Lap Two as Tomas Kopnicky allowed him by to the outside meaning the latter was low into Turn One, consequently running off the turn and into the wall ending his day.  Later that lap, Ceretti and Matt Shea went side-by-side into Turn Seven as they fought for seventh spot. A circumspect Craig Byerley was just behind and, to his anger, his caution was rewarded by a punt from behind, courtesy of Marc Payne. Later that lap Byerley was unable to get his car to go right over Turn Eleven, probably due to damage from the contact with Payne, and he ran off-track into the wall, ending his day.
Lake was in a solid fourth position until he got a little too far to the right braking for Turn 10a, putting his right side wheels on the grass and the car immediately speared to the left.  Although Lake never hit anything, he spun all the way past 10a and 10b resulting in a slow-down flag, allowing Frattini and Ryan Murray to drive past into fourth and fifth places. Unfortunately for Lake his woes continued when at the start of Lap 14, whilst attempting to hunt down the two beneficiaries of his earlier "off," he ran wide into Turn One and met with concrete, ending another's day.
I crash all on my own by reverting back to 'Dallara gearing' for Turn One," said Lake, "and only changed down one gear, ran wide, over the curb, spun, wall."
Meanwhile, a great duel between Frattini and Murray for fifth place was decided on Lap 19 when Murray caught the inside curb through Turn Three and spun, costing him any chance of taking Frattini's position.
The top five was now decided with the competitors simply spreading out further over the remaining laps. Towler was simply too good on this day and pulled to an eleven second margin over McLean at the flag with Purdy an additional four seconds behind.
Rich was unbeatable here," McLean said. "Pre-race I had tested a five gear setup and was a lot more comfortable with it and was running low 15s. With the four gear set I only had run a couple of laps and realised early on in the race that I was going to have to settle for second."
"Pressure was on this race to get a good result after the last couple of Thursday races," said the winner. "From the start it went really well. Managed to get to Turn One first and the first 10 laps I took it kinda easy so I had some pace left at the end.  This was working pretty well as I was still pulling some time outta Luke and Shawn. Than (I) just started picking up the pace while trying to remain consistent and the car just got quicker and quicker as the race went on."
Honourable mention goes to Godard for a good recovery drive up to sixth position after being last earlier.
Final Standings –
1.    Towler
2.    McLean (-11.003)
3.    Purdy (-15.060)
4.    Frattini (-1:12.317)
5.    Murray (-1:14.448)
6.    Godard (-1:17.400)
Fast lap – Towler (1:15.486)
Saturday Race
Pole-sitter for this race was Brian McDaniel, flanked by Florian Godard.  The next row featured Mauro Bisceglie and Matteo Calestani with Ryan Kowalewski and Richard Crozier on Row Three.
McDaniel fended-off Godard at the start and, after a few hairy moments on the opening lap, proceeded to build a two second lead.  Although Godard kept him honest for the entire race, apart from one anxious moment of his own making, McDaniel was never seriously threatened as the top two started, raced and finished in the same order.
"I didn't get a very good start and Florian pulled alongside or a little ahead of me going into Turn One," said McDaniel. "I was able to hold the inside and he left me room, so I kept the lead up the hill toward Turn Three. I almost almost missed Turn Three, but kept it on the track, and from then on was just watching F3 trying to keep a good gap to Florian and not hit anything. I've always hated this car at this track, so I didn't feel comfortable for any of the race. I had a big scare on Lap 19 in Turn Five, and can't believe I didn't end my race there."
Bisceglie's race went from bad to worse, beginning with a poor start and finishing with a race-ending incident on Lap 30 that also involved Crozier. Calestani took adavantage of Bisceglie's poor start to take third on Lap One and never relinquished it. Kowalewski lost fourth place to Crozier on Lap Six and those two stayed put for the remainder as well which determined this race's top five.
I got a rubbish start but held position into Turn One," said Crozier, "but then Mauro spun in front of me into Turn Three and I rear-ended him and sent him even further round  The ensuing melee allowed the top five to break clear.  I got past Ryan quite easily early on, and from there spent the whole race never more than 2.5s behind Matteo, pushing like mad to try and catch him. With the help of some awkward traffic, finally got on his tail with three to go, then bloody half-spun it in Turn Three, grrr. Still a good result I guess, and particularly nice team result for Orion: 1-2-4-8-9-10."
Final Standings –
1.    McDaniel
2.    Godard (-02.842)
3.    Calestani (-05.654)
4.    Crozier (-09.095)
5.    Kowalewski (-24.910)
6.    Tomas Kopnicky (-45.819)
Fast lap – McDaniel (1:15.980)
Sunday Race
Sunday's race produced an interesting front row consisting of Shawn Purdy (pole) and Bastien Bartsch, while the second row included Chris Palmer and Mauro Bisceglie, with Tim Holgate and James Andrew a row further back.
The top five got through the initial turns without change but Andrew was swamped at the start, losing four spots. Christian Aranha and Milos Miljkovic both ran off Turn One on the opening lap but never hit anything, thus losing nothing but time. At Turn Five the dreaded sand man struck, sending Holgate spinning across the track and into the concrete barrier, ending a promising day for him.
Over the first ten laps Purdy slowly built a two second lead over Bartsch with the remainder of the top five — Palmer, Bisceglie and Crozier — more spread-out. On the tenth lap the Turn Five sand man struck again in the exact same way and with the exact same result for Crozier.  So was another promising day ruined.
After starting twenty-first, Ben Cornett had driven superbly to get up to seventh position by Lap 14 only to be the third victim of the Turn Five sand man, this time sending him right and into the opposite concrete wall but with the same race-ending result. A lap later and Andrew, who had driven away from the sixth placed Bryan Heitkotter, out braked Bisceglie into 10a to take fourth place. His glory was short-lived as the next lap saw him duplicate Lake's Thursday feat of putting wheels off to the right of 10a under braking, spinning past 10a and 10b and getting the slow down flag as Bisceglie and Heitkotter drove around him. No doubt to his own disgust, Andrew repeated his gaffe on Lap 18, costing him another three spots and undoing a lot of good driving on his part.
Up front, Purdy enjoyed a five second lead and seemed to have too much for the rarely-seen Bartsch on the day.
"(It) was a lot of fun though the first 30 laps," Purdy said, "as Bastien was no further than 2.5 seconds back the whole time. I was on for a really good average even with all the traffic, but someone spun point blank in front of me going into the Esses with 4 laps to go, my heart went into my throat as I had to back completely off, and wait for the spinning car to stop as there wasn't anyway to predict where it would end up. Anyway was able to increase my points a bit this race, and had a fun race with Bastien."
By lap 38 the top six of Purdy, Bartsch, Palmer, Bisceglie, Heitkotter and Payne were spread out and looked set to finish as the top six.  But the dreaded Turn Five sand man was yet to claim his last victim in the form of Palmer who was spat out to the left and into the wall. He limped home but cruelly finished tenth after seemingly having third position in the bag.
"Had a really good qualifying to start in third and got away nicely to hold the spot," said Palmer. "(I) had a real nice pace keeping Bastien and Shawn in sight for a while and opening the gap to Mauro in 4th. It was all looking good until I got spat at Turn Five with three laps to go! Came out just a little wider on the concrete apron than usual but had the car straight – it just caught the edge of the sand and put me in the wall. Unbelievable! Limped home in 10th to salvage a few points – should have been so much more!"
Final Standings –
1.    Purdy
2.    Bartsch (-05.052)
3.    Bisceglie (-31.976)
4.    Heitkotter (-36.399)
5.    Payne (-44.277)
6.    Daniel Almeida (-56.013)
Fast lap – Purdy (1:15.608)
Weekly Wrap Up
Qualification: Fast lap of the week –  Richard Towler (1:14.446)
Race:  Fast lap of the week – Richard Towler (1:15.486)
So we now have a new series leader with England's on-form Richard Towler, Australian Luke McLean has dropped back to second place by a mere 5 points while Canadian Shawn Purdy is 237 points behind him. Coincidently McLean had held the series lead since the other Atlanta track, Atlanta Motor Speedway Road, Round Eight. Purdy is still in it though due to only having 18 of 19 weeks counted thus far and the picture will be much clearer after next week when these three all have their best 19 results to date stacked up against each other. Slovakia's Tomas Kopnicky is now just outside the top 50 bubble and Poland's Artur Turcu is a spot above him. So as we head to the awesome Virginia International Raceway the pressure for top 50 spots intensifies as does the battle atop this series. See you at VIR!
About the iPSRR
The iRacing Pro Series for Road Racing (iPSRR) is, in this inaugural year, a 25 week series with six drop races (i.e. a driver's best 19 results will count toward his season tally). In addition to crowning a seasonal champion, the iPSRR qualifies its top competitors for the 2010 iRacing Drivers World Championship for Road Racing which will be worth $10,000 in money and prizes for the champion. There is a parallel series for oval racing (the iRacing Pro Series Oval – iPSO). The top 50 drivers in each Pro series will compete in the iRacing Drivers World Championship Road Racing and iRacing Drivers World Championship Oval set to start in February of 2010.
iDWC (Road and Oval) winners: Trophy, Jacket, $100 iRacing credit and additional cash and/or prizes valued at $10,000 U.S. dollars.
iDWC (Road and Oval) second place: Trophy, Jacket, $75 iRacing credit and additional cash and/or prizes valued at $3,000 U.S. dollars
iDWC (Road and Oval) third place: Trophy, Jacket, $50 iRacing credit and additional cash and/or prizes valued at $1,000 U.S. dollars
iPS (Road and Oval) winners: Trophy, Jacket, $100 iRacing credit
iPS (Road and Oval) second place: Trophy, Jacket, $75 iRacing credit
iPS (Road and Oval) third Place: Trophy, Jacket, $50 iRacing credit
iDWC (Road and Oval) rookie of the year: Trophy, Jacket, $50 iRacing credit
iPS (Road and Oval) rookie of the year: Trophy, Jacket, $50 iRacing credit
---
You may also like...
---