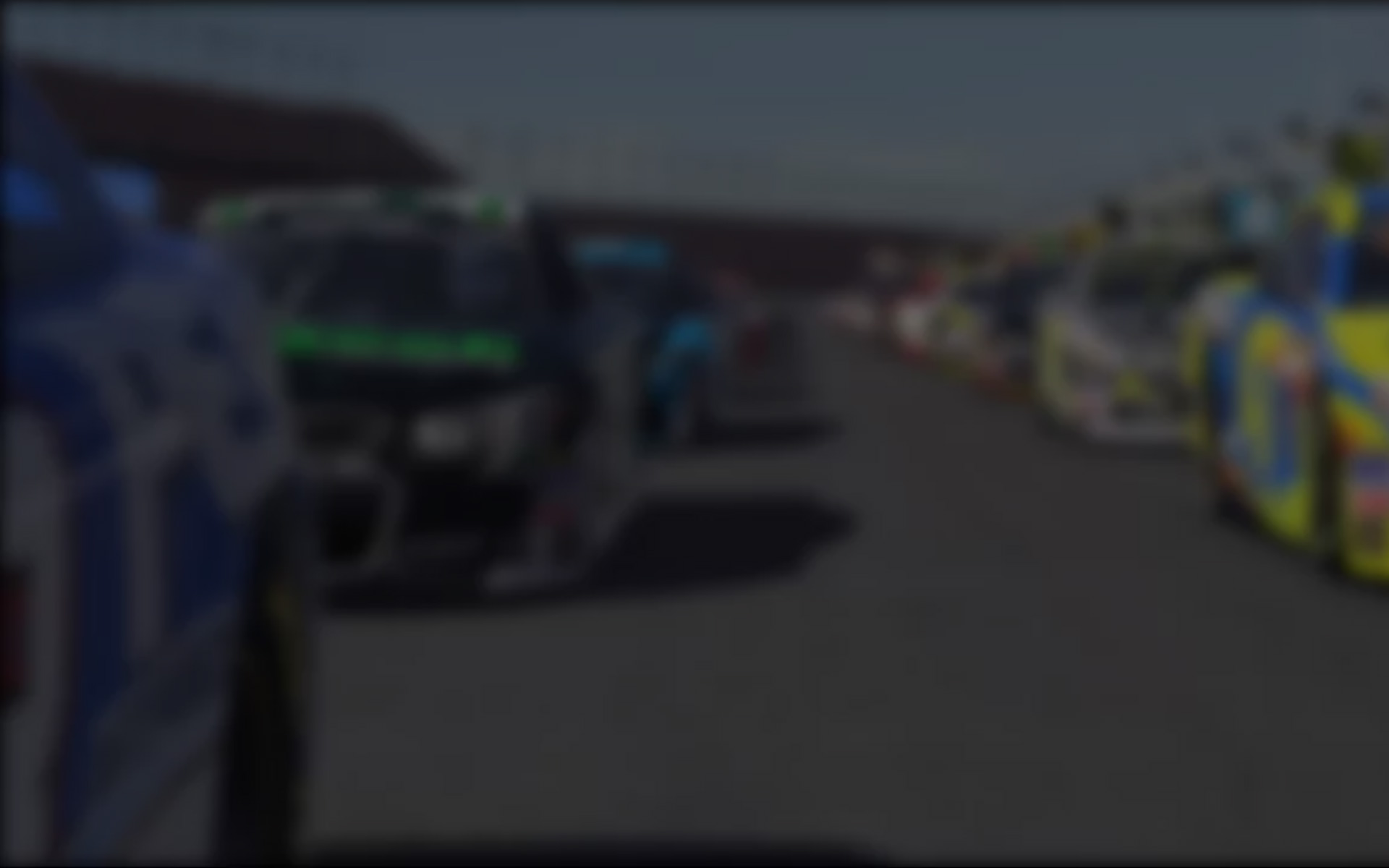 As the NASCAR iRacing Class A Series (NiCAS) departs the second round of online racing at Chicagoland, it's Justin Roberts who continues to lead a tightly-bunched championship table. The Virginias' Club driver scored a podium finish in his first race of the week, which was superseded by a subsequent win a few days later, earning Roberts 159 points from the Illinois circuit. "The Racing was pretty good in both races I ran, we didn't get long long runs but they were good for about 30 lap runs." offered an upbeat Roberts after collecting his second victory of the season. "In my second race Brian Schoenberg sent me his set-up and it was a lot better. I led all the laps that were not part of a pit cycle. Adrian Calabria somehow went 60 laps on fuel and got second, I give him kudos for that." Carrying just a 10 point lead in the championship, Roberts is pragmatic about his title hopes. "It is early in the season, so thinking about the title, it is too early for that. I am just trying to go out and score as many points as possible."
Despite collecting a mark in his win column, Brian Schoenburg's rise to second in the NiCAS series came about from a podium finish behind Steve Sheehan, which gave the Californian 168 points, the third highest tally for the week. "The NAPA car drove pretty darn good in the race I ran at Chicagoland," a delighted Schoenburg responded in the Chicago twilight. "We had a three second lead on Sheehan with 20 to go, because he had to start at the rear of the field after a wave around. I thought we could get a victory, but a yellow came out shortly thereafter, and we got second to him, but it was still a great race for us."
Yet to secure a win in the championship, but still in the mix, just 23 points off the series lead, Brandon Buchberger will be hoping to maintain his run of top five finishes as the Impalas make the short hop to Michigan International Speedway. The Illinois club member collected 154 points for a podium third in a race of perseverance. "I had a decent car, but it was not spectacular," an indifferent Buchberger offered post race. "The car was nothing special on the short run, and it just outlasted some others on the long run which earned a third place finish. I had nothing for Nolan Scott or Kyle Hadcock.  They found a groove where their cars worked, where I was just loose off early .  . . It came to me as the run went on, but I was still around two tenths off Nolan and Kyle. I am very happy with the third, but disappointed I couldn't win at my home track. I'm hoping some of the stuff I learned here will apply at Michigan."
The aforementioned Scott's finish ahead of Buchberger was enough to add 163 points to his total and secure fourth in the current standings table, just 11 marks from his countryman. However, shadowing Scott is New York's Hadcock, whose tenacity was rewarded with 157 points for the week. Haddock had started the week with two relatively low scoring finishes, but a podium and then a haul of 172 for his first win of the season boosted the American into the top five. 'I was pleased with my car at Chicagoland," explained Hadcock. "It was a little slow at the start of a run, but 25 plus laps into a long run is where I was really able to make passes and improve my position. A lot of people I saw were extremely fast early on, but they just burned their stuff up and couldn't get off the corner well. I'm hoping a lot of what I learned will transfer to Las Vegas with the NiWC (NASCAR iRacing World Championship)."
Currently sixth in the championship with 330 points, Dustin McGrew was delighted with his performance in Week Two. The Pennsylvania club driver took a win in his only race of the week, and despite the lower strength of field, he was delighted with the result. "Chicagoland was great. My car was really tight in the middle but was a blast to drive," McGrew shared with inRacingNews. "I'm just trying to race as much as I can to prepare for the next Pro Series. Little too early to think about points, especially with how the points ranges seem to fluctuate a lot when fields are small."
Some say high grade motor-oil runs through his veins, and when he passes a mirror, he casts no reflection; all we know is he's called Steve Sheehan. The racing machine that is Sheehan collected five wins from six starts, and despite averaging of his best three scores, the New Yorker still earned the highest tally of the week with 176 points. Now seventh in the championship. Sheehan holds the position by a single point over Sandeep Banerjee, who has 328 marks to his name. The International Club driver – and only active Indian iRacer – put the setback of a seventeenth placed finish behind him, to come back with a win on the same day and take 165 points for his efforts. "Chicagoland's first race went bad for me as someone wrecked right in front of me," responded Banerjee at the end of the week. "But I managed to win on the second attempt leading all 100 laps. It was roughly split-up into two runs by a mid-race caution. I had a close duel with Gabriel Solis in the early parts of both runs but was able to put a gap on him as the race went on."
Rounding out the top ten, Carolina's Timothy George currently sits eighth in the championship after a second place finish in his only race of the week. It puts the American 15 points ahead of Mason Baker, who barely secured a top ten in his sole incident packed event of the week. Heading into the top ten for the first time, Mike Izzo is the third New York driver making an appearance in this week's report, leaving the inRacingNews team to speculate what they put in the water on the East Coast.
Week Three brings the  NiCAS to the wide and fast Michigan Speedway. A chance for many to stretch their legs, and with plate racing now a very distant statistical memory, it's an opportunity to establish a foot hold in the championship.
---
You may also like...
---