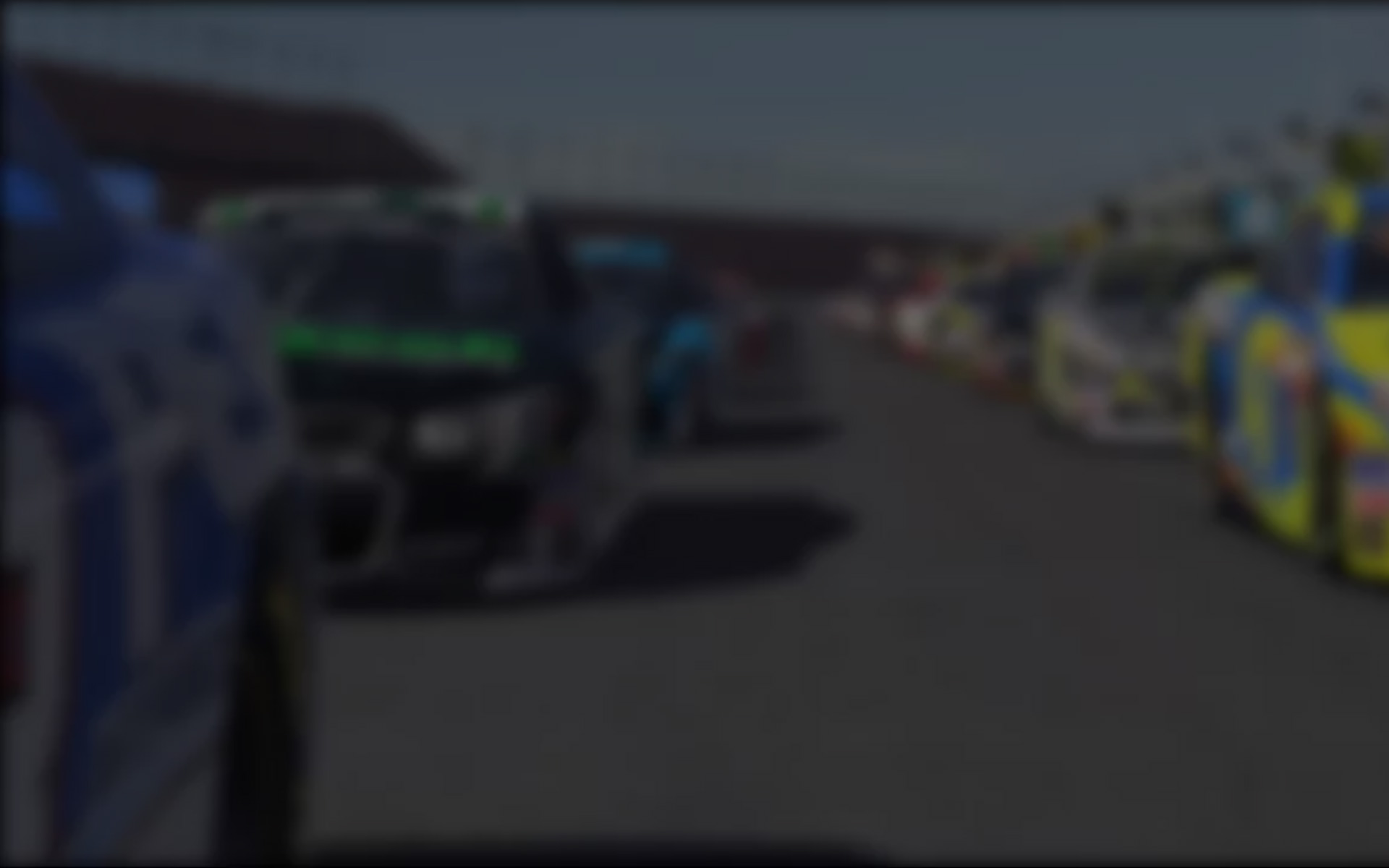 Burris and Majeski Reignite Battle
Oxford Plains is an interesting short track with great history and a unique layout. One way in which this track is different is that it does not have an actual straightaway and so requires drivers to continuously turn left. It is also different in that on the outside lane on the front "straight" contains a pronounced dip, resulting in an off-camber entry into Turn One for drivers who prefer diving down to the apex. With some drivers not even bothering to use fourth gear, loose race cars could be found in abundance and those who did use fourth gear often times found their right front tire had been ground to almost nothing by the end of the race. Considering Oxford is in the shape of a full moon, it brought some interesting races and drama to the midway point of the NASCAR iRacing.com Late Model Series. The challenge for sim-racers this week was throttle control, and as always with these lengthened races, tire consumption.
Week Six's 2537 Strength of Field race boasted close competition and much drama.  As the top three drivers duked-it out for the win with finesse, the back of the pack saw door slamming and drivers giving one another the bumper . . . and that was just the start of the craziness. Nathan Hammock started on the pole position but would soon yield the position to Juston Rosenow who was making a push from third on the grid. Hammock finished three tenths of a second behind Rosenow but ahead of   Bill Tomer started second and was forced back into the third position, where he would run for the rest of the race before finishing another three tenths of a second behind the leader. Michael Carpenter was shuffled from his fourth place starting position towards the back where he would be forced to push his way through other drivers, eventually recovering to finish 15 seconds behind the leaders in fourth. Thomas Nolden and Kevin Cooke survived the drama to finish one lap behind, while Justin Queen finished five laps down after being taken down by another driver in a moment of rage. Brandon M. Thrasher, Chris Svoboda, and Paul Kudlick suffered DNFs.
Due to his SoF victory Rosenow sits on this week's top spot with 153 points followed by Charles Cosper at 143. Kenneth Smith is breathing down Cosper's neck with 141 points and Mike Alexander sits fourth with 135 points. Nick Zautner made 14 starts this week, winning a dozen times, leading 1089 laps and  equalling Jim Whaley Jr.'s 133 points. Ty Majeski ran one race this week to take home a safe 130 points ahead of Peter Fisher (127), AJ Godsey (125) and Kevin Burris (124).  Tomer and Caleb Williams would take eleventh and twelfth with 123 points.
Following Week Six of the NASCAR iRacing.com Late Model Series, sim-racers have a good idea who the front runners for the series will be. Although Burris is classified as our overall leader, he now finds himself tied with Majeski at 906 points.  Zautner trails the leading two with 887 points while Steven F Burnett sits behind with 806. Clay Jones and Ron Hagolin are taking their drop weeks as they only have scored for five weeks, but still have 767 and 760 points respectively. Tomer sits fourth with 760 points and Rosenow comes into the picture with 750 points. AJ Godsey sits ninth with 725 points and Justin Trombley rounds out our top ten with 698 points.
In Week Seven of the NASCAR iRacing.com Late Model Series, sim-racers take their machines to the high banks of the Monster Mile, Dover Downs. At Dover it will not be so much a test of tire wear, but rather a test of who can hang onto their beast off the corners of the concrete canyon and who has the stones to give their opponent a bump to get by at speeds around 110 miles per hour in the corners.
---
You may also like...
---