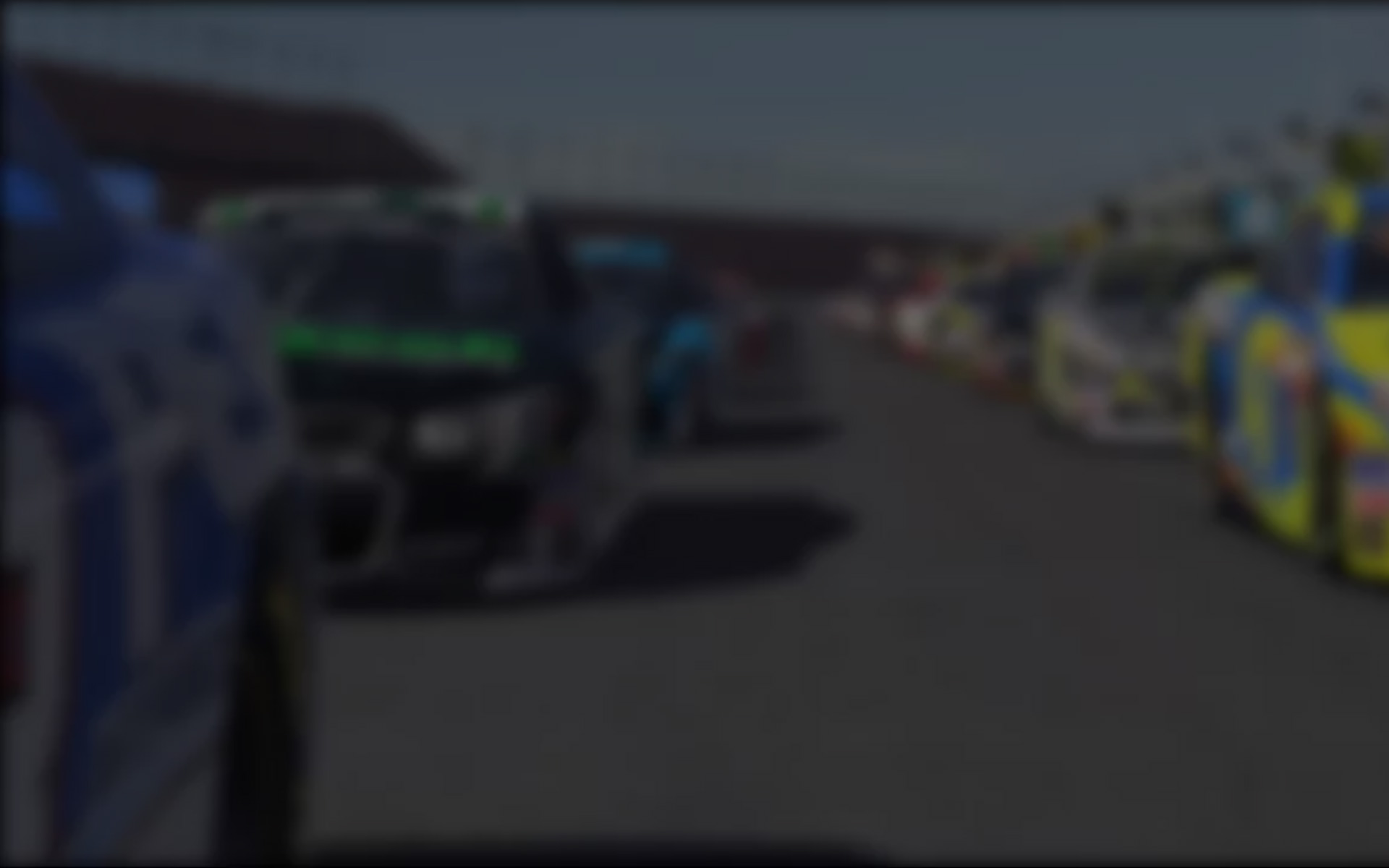 34 sim racers took to the field for Round 5 of the Continental Endurance Sports Car Series (CESCS) at the 3.62km Mid-Ohio Sports Car Course on April 7th.  The mixed class online racing series features the Ford Mustang FR500S in the GS Class and the Mazda MX5 Cup in the ST Class.
Qualifying
The top three qualifiers from the previous race at Virginia International Speedway where back at the top again for Mid-Ohio with the #69 of Trace McRae topping the timesheets with a 1:35.246 and Oscar Sahlin in 2nd with a 1:35.767 followed by Russell Klaesson with a 1:35.845.
Aussie James Stevenson qualified 1st in the MX5 class yet again, with a 1:39.109.  But, he was followed closely by two newly recruited drivers in Flavien Vidal and Stefan Overgaard,  with times of 1:39.113 and 1:39.265 respectively.  Another new recruit Dylan Sharman could've had pole, posting the fastest time in final practice with a 1:38.702, but was unfortunately unable to match this time in qualifying.
Race Review
So, as we go green the Mustangs are off to a clean start again, and as has become common the early action occurred in the ST class with Wes Earick making contact with Ryan Worley at the Carousel, sending him around and to the rear of the field.  This happened as the leading MX5 driver James Stevenson and 4th placed driver Dylan Sharman pitted for their mandatory pit stop at the end of lap one.
On lap 4 the first caution of the day came out for Hang Ho Tao and Chris Moran.  With Tao running wide into China Beach and Moran spinning while trying to avoid Tao as he rejoined the track.  At the end of lap 6 we saw McRae pit from the lead as well 16 other drivers, all deciding to take the opportunity to make their mandatory pit stop while the field was under caution.  Exiting pitlane we saw Steve Brown this time rejoining in front of Trace McRae.  Out in front, with those drivers not having stopped, Oscar Sahlin was now leading back to Russell Klaesson and Alexis Molina in 3rd.
Green conditions were short lived after the restart as we were back under caution again on lap 10 for a stationary David Whamond at the Carousel.  Sahlin took this opportunity to pit from the lead while under caution, handing the lead over to Klaesson.  And, on lap 14 we were back to green with Klaesson leading, Alex Molina second and Stephen McPherson in third.  But, right behind McPherson in 4th place we find Steve Brown leading the charge of those having already pitted, and in prime position to retake the lead once those in front pitted.  And, behind Brown we had the leading MX5's of Dylan Sharman, Flavien Vidal and James Stevenson, all having already made their pitstops and sitting in positions 5th to 7th outright.
On lap 16 we were yet again under caution.  This time for Worley tapping the rear of Antti Tuominen's MX5 sending them both into the gravel trap at turn 9.  And, with the pits closed while the pace car picked up the leader, Russell Klaesson found himself caught out having yet to make his mandatory pitstop.  He elected to pit while they are closed, incurring an end-of-line penalty for his actions, sending him to the back of the field.  Also, while under caution Dylan Sharman suffered mechanical gremlins while leading the ST class, as well as sitting in 3rd outright.  He was able to rejoin later, but, his race was over.
As we begin lap 21 we go green again, and it's Steve Brown under attack from McRae.  And, with the number of cautions so far, we find the MX5 drivers of Vidal, Stevenson and Jason Bryfogle not only occupying the top 3 positions in their class, but 3rd, 4th and 5th outright.  Turn 11, and McRae goes around the outside of Brown to get the inside line for the Carousel, and take the lead.
Over the following laps battle packs formed between the GS drivers of Edmund Hershberger, David Waters and Oscar Sahlin for 3rd place.  And Vidal, Stevenson and Giancarlo Lenzi for 1st in the ST class.  On lap 25 Waters misses a shift along the straight prior to the keyhole, allowing Sahlin to get by to take 4th place.
Lap 28, and Stevenson gets up beside Vidal into turn 1 to take 1st.  Vidal having to roll out of the throttle to slot back in behind, loses momentum, allowing Lenzi to get a run on Vidal and quickly sneak by as well.  But, Flavien was not going to be outdone, and with Lenzi leaving the door open into the keyhole, found Vidal back up the inside to take back a position. Soon after we had our 4th caution of the day.  Replays showing Matthew Reinoehl getting a tap by Jarrett Lawson exiting the Carousel.
On lap 32 the field goes green again…only to be under the 5th caution of the day moments later with Wes Earick, Chris Moran and Ryan Worley all making contact at the keyhole.
Lap 36 sees the green again (for the last time), and positions are McRae leading back to Brown and Sahlin in the GS class.  And, Stevenson, Vidal and Lenzi battling for the lead in the ST class.  Lenzi is able to get alongside and past Vidal into China Beach, but, as he turns left into turn 5, he gets a tap from Vidal and spins, with Lenzi losing several positions.
Lap 45 with a 4 second lead Trace McRae, closes in on Antti Tuominen and John Montoya who are fighting for position in their MX5's.  Coming around turn 9, Tuominen loses control and spins into the path of McRae and the two make contact sending Trace into a 360 spin.  Trace would fall back to 3rd position.
The closing stages saw Oscar Sahlin challenging Steve Brown hard for the lead, but Brown was able to hold off Sahlin to take his first series win.  Sahlin finished the bridesmaid again, with Klaesson making a hard charging recovery to take the final spot on the podium in the GS class.  The wounded #69 of McRae coming home 4th.  James Stevenson won the ST class for the 4th time, with Lenzi fighting hard to recover in 2nd place and Vidal in 3rd.
So, the finishing positions after a caution-filled race are:-
GS Class Podium
1. Steve Brown (No.82 Buffalo Wild Wings Bar & Grill)
2. Oscar Sahlin (No. 84 The Black Rebels)
3. Russell Klaesson (No. 22 vApex Racing Group / Inside Sim Racing TV)
ST Class Podium
1. James Stevenson (No. 11)
2. Giancarlo Lenzi (No. 02 Team Northwest / Fanatec / NVidia)
3. Flavien Vidal (No. 09)
Race Statistics
Laps completed (by leader):  48 laps
Cars finishing on lead lap: 24
Overall lap leaders:  Trace McRae, Oscar Sahlin, Russell Klaesson, Steve Brown
Full-course Cautions: 5
DNF's: 4
Fastest Lap (GS class): 1:35.306 – Trace McRae
Fastest Lap (ST Class): 1:39.054 – Arthur Chan
Race Marshal: Mike Perry
The 6th Round of the CESCS will be held at Road America on April 21st.
——————————————————————————–
The CESCS is an official iRacing league which mirrors the Grand-Am Continental Tires Series. It features the Mazda MX-5 Cup competing in Street Touring (ST) and the Ford Mustang FR500S competing in the Grand Sport (GS) class. It was established to provide a proper mixed-class racing experience for drivers of the MX5 and the Mustang beyond what is currently offered and especially to provide a true endurance series for drivers of both vehicles. The schedule aims to replicate the real-world series featuring timed endurance race distances run at the same tracks as the real series including Daytona, Mid-Ohio and, this season, Indianapolis!
You can follow our races streamed live over the internet through GlacierTV or via our Live Timing & Scoring app. Both links are located on our Schedule page.
For more information on the Continental Endurance Sports Car Series check out the official website.
---
You may also like...
---