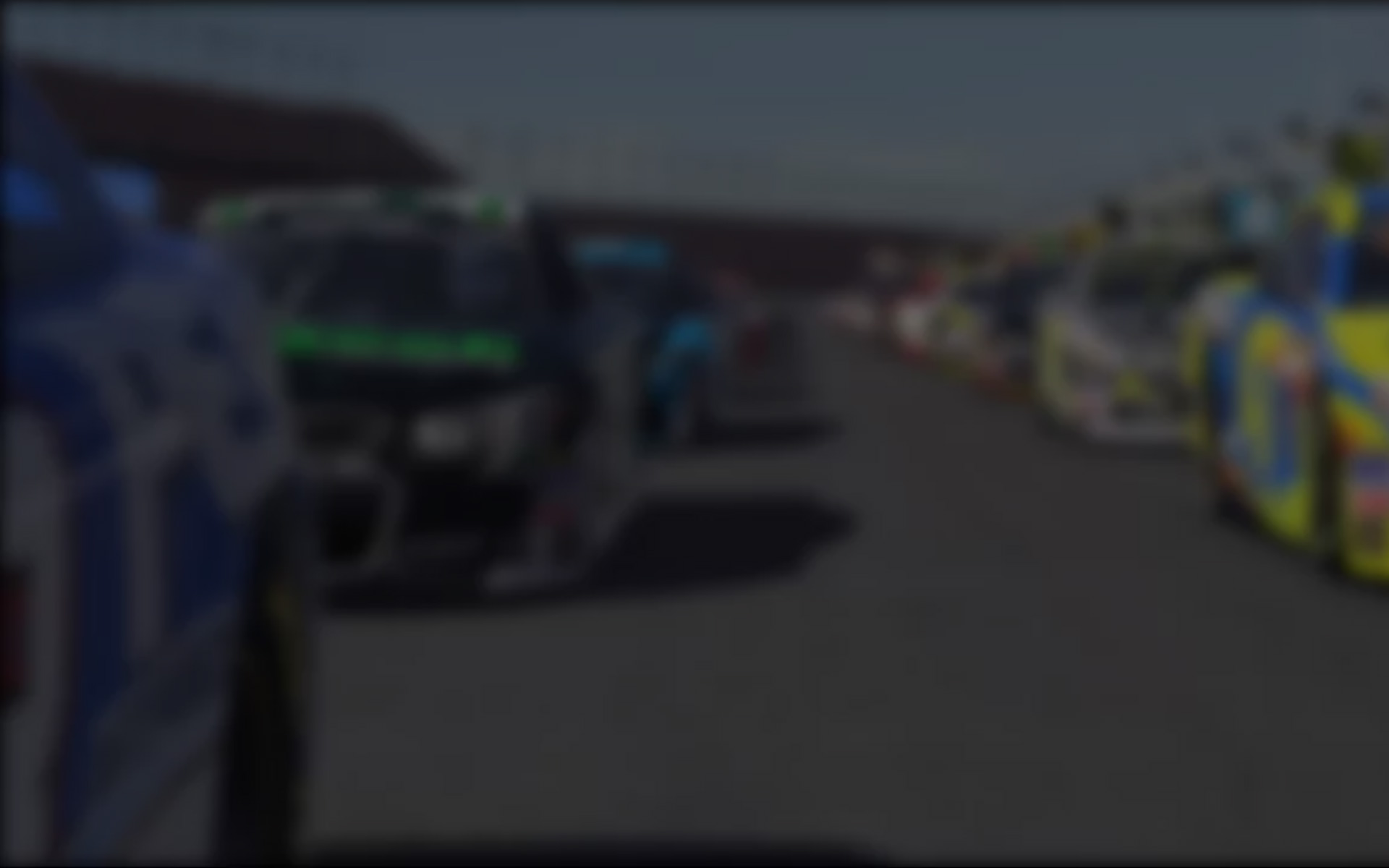 Red Sox Racing League 2013 Season One recap
Forty-seven drivers, the largest opening day roster in Red Sox Racing League history, signed up for the league's inaugural season of racing with the McLaren MP4-12C GT3 in Season One of 2013.  Forty-two  showed up for the "Gentleman Jim's Day" night race at the Daytona road course.  The race was held in honor of "Gentleman" Jim Albertson, a founding member of the league who died in November of 2012 after a long struggle with cancer.  The opening day roster included so many past RSR winners and  champions that odds-makers in Las Vegas refused to take bets on who would win the opening race.
Their hesitation to gamble on a front runner was well founded as three different drivers (Paul Hesla, Dustin McGrew, and Brad Vincent) won multiple events, and eleven drivers (Hesla, McGrew, Vincent, Patrick Guerin, Tommy Rhyne, Nim Cross Jr., Les Turner, Reed Rundell, Dean Moll, Chris Weidner, and Douglas Beard) earned podium finishes during the twelve race season.  Scoring rules allowed for three drop weeks, so nine strong finishes were required to compete for the overall points championship.    When the dust settled after week twelve, twenty-two drivers had finished nine or more races.  Eight drivers completed all twelve events.
Although he closed out the season in convincing fashion, Vincent had a real battle on his hands early on.   Paul Helsa won three poles and took the checkered flag in both the first two races at Daytona and Road America.  He was leading the points race after a third place finish at Laguna Seca.  The Empty Keg Racing driver dropped out of contention when he missed all but one of the remaining races.
Dustin McGrew gave Vincent a run for his money by notching victories at Laguna Seca, Homestead, and Phillip Island, but five missed starts doomed his chances of keeping pace in the points race.  The TOC driver finished the season with six podium finishes in seven races.
Patrick Guerin, of Empty Keg Racing, began the season with four top-5 finishes, including podiums at Road America and Mosport, but fell out of contention when he missed the rest of the season.
Vincent began the season with two 3rd place finishes and a 2nd place finish, then ripped off a string of four consecutive victories in weeks four through seven (Road Atlanta, Mosport, Spa, Watkins Glen).  The wins vaulted him into the points lead.  He kept the pressure on with a 2nd place finish at Homestead in week eight and a victory at VIR in week nine.  Vincent maintained the points lead despite skipping Phillip Island in week ten.  Back to back wins at Sebring and Suzuka to end the season gave Vincent eight poles, seven wins, and an average finishing position of 1.5 in eleven starts.  Vincent ended the season having led 121 laps of the 207 laps he completed (72.7% ).  He had an average starting position of 1.8, and an average finishing position of 1.5.  He collected 25 bonus points against only one penalty point in eleven starts.
Les Turner finished in second place in the points race on the strength of nine bonus points collected from incident-free events and an average finishing position of 5.5.  The Teamdraft Srt driver began the season with a top-5 finish, then reeled off eleven top-10 finishes, including a 2nd place finish at Spa and  3rd place finishes at Homestead and Sebring.  Turner dominated voting for the "Good Hands" driver award with a final incidents per race average of 0.4.  Thomas (1.2) and Sutcliff (1.3) were his nearest competitors amongst drivers who completed all twelve events.  Turner also tied with John Koscielniak for the "Iron Butt" award for completing the most miles (672.450) and the most laps (227).  Sutcliff finished behind them with 670.212 miles and 226 laps.
Turner was pleased with his effort; " "Well the TeamDraft Batmobile is on the second step of the podium once again. With the competition this season, I will gladly wear the Bridesmaid dress. Early in the season I was fighting to stay in the top 5 week in and week out. At the end of the day, we did not have anything for Brad. Congratulations to him for another fine performance this season. He had a bit of competition early from Empty Keg Racing, but he took control and dominated the rest of the way. Good Job once again! For me the key was to keep the fenders on it and keep it on the track. Leading the league with 0.4 incidents per race was the difference between finishing 2nd or 3rd this season. I still hear Jim Albertson in my headset from time to time, man I miss him so much. It was a fantastic first season in the McLaren, so looking forward to Season Two!"
Reed Rundell finished third in the final standings with ten top-10 finishes and podiums at Spa, Watkins Glen, and Sebring.  The TOC Racing2 driver had his best season in recent memory and finished with an average finishing position of 7.3.  "This is the best I've raced in a long time.", said Rundell.  "The folks at TOC Racing2 kept me focused all season and I did a good job of staying out of trouble in most of the races.  Congrats to Brad on his championship." 
Koscielniak (4th), Wolf (5th), Humphrey (6th), and Moll (7th) all came up just short in their effort to knock Turner and Rundell out of the top-3.  Koscielniak had eight top-10 finishes, with his best being 4th place at Sebring.  "Storm Front Racing did a great job this season.  We gathered crucial data during the test sessions before each race and really concentrated on keeping our cars on the track and out of trouble.  The hard work paid off!  I will be running a limited schedule in Season Two, so our team is looking forward to Terry Daul keeping our team in the hunt.  Terry and I will be at Barret Jackson auction in Palm Springs to sell off damaged car parts and sign autographs during the break before Season Two."
Wolf had seven top-10 finishes, with his best being 4th place at Phillip Island.  Humphrey had eight top-10 finishes, with his best being 4th place at Watkins Glen.  Moll had 7 top-10 finishes, including podium finishes at Watkins Glen (2nd), Phillip Island (2nd), and Suzuka (2nd).  Only poor finishes at Laguna Seca and Mosport kept Moll from contending for a podium spot in the championship race.
Scott Husted (8th), Dustin McGrew (9th), and Tommy Rhyne (10th) rounded out the top ten spots.  Husted earned four top-10 finishes, including a 4th place at Spa.  McGrew collected one pole, three wins and notched six top-5 finishes in only seven starts.  He was the only driver to finish the season in the top-10 without having nine starts.  Rhyne logged six top-10 finishes, four top-5s, and 3rd place finishes at Road Atlanta and VIR.  He was in 4th place in the points race after week nine, but failed to start the remaining events.
Douglas Beard (11th), Terry Daul (12th), Jeff Thomas (13th), Dennis Griffen (14th), Ed Sutcliff (15th), Andrew Gantman (16th), Cyril Roberts (17th), James Prostell Jr (18th), David Weiss (19th), Andrew Feldman (20th) completed the top-20.  Beard had seven top-10 finishes, including a 4th place finish at Road America and a 3rd place finish at Suzuka.  Daul had three top-10 finishes, with his highest being 8th place at Spa.
William Kabela (21st), Dean Ayer (22nd), Nim Cross Jr (23rd), Michael Gagliardo (24th), Kevin Kyle (25th), Gerald Livingston (26th), Divina Galica (27th), Patrick Guerin (28th), Paul Hesla (29th), Tony Duffy (30th), David Berry (31st), David Holzwarth (32nd), Giles Mourette (33rd), Chris Weidner (34th), Bill McCaw (35th), Stefan Hojnowski (36th), Gary Jorgensen (37th), Dylan Roberts (38th), Pierre Robitaille (39th), Chad Tracy (40th), Michael Baley (41st), Brian Irby (42nd), Patrick Spence (43rd), Wilbur Gildersleeve Jr. (44th), Greg Harris (45th), Kyle Young (46th), and Terry Schmidt (47th), completed the final season standings.
Four drivers (Turner, Wolf, Thomas, and Sutcliff) finished nine or more races without collecting a single penalty point.
Team VBR (Brad Vincent/Douglas Beard) won the team championship with a fifteen point margin of victory over TOC Racing 2 (Dean Moll/Reed Rundell), and a fifty-nine point lead over Teamdraft Srt (Les Turner/Jeff Thomas).  Storm Front Racing (John Koscielniak/Terry Daul) and TOC Racing (Dustin McGrew/Scott Husted) finished 4th and 5th in the team standings.  TOC Racing 3 (Andrew Gantman/Andrew Humphrey), Arrested Development Racing (Andrew Feldman/Ed Sutcliff), Teamdraft2 (David Holzwarth/Kevin Kyle), Team Retro (Bill McCaw/Dean Ayer), Roberts Racing (Cyril Roberts/Dylan Roberts), and Empty Keg Racing (Patrick Guerin/Paul Hesla) completed the team scoring.
Next Event
RSR members resume action when Season Two begins on May 9, 2013.
Final Standings / Video coverage
2013 Season One Final Standings:
http://rsr.ileaguerace.com/champ/show_champ/Red-Sox-Racing-League/432
League Video Site:  http://www.youtube.com/user/draftin11
---
You may also like...
---