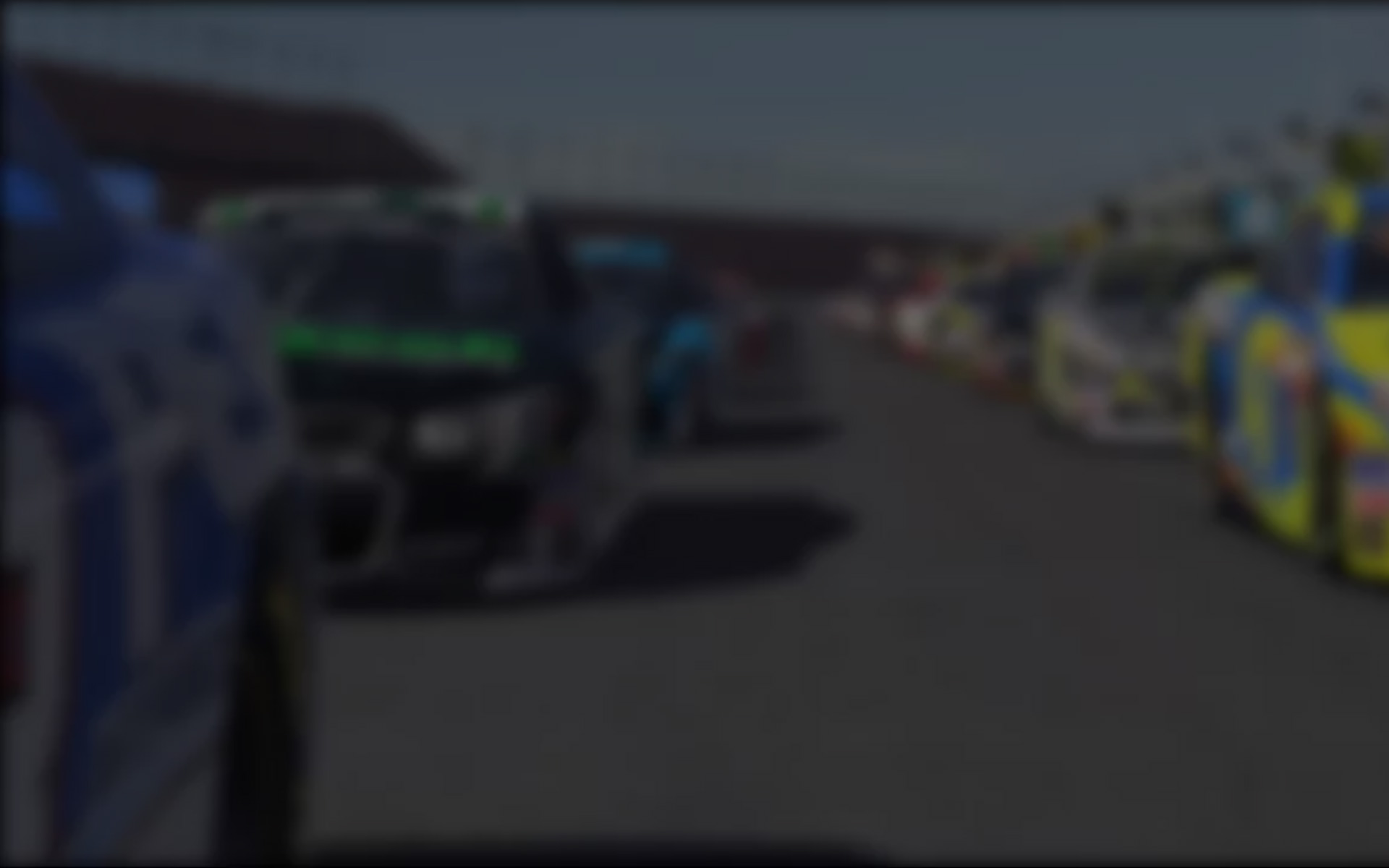 Florida's Sebring International Raceway hosted the final RSR league race of the 2010 Season Three schedule.  As drivers and fans arrived for the "24 Laps of Sebring" event, all eyes were glued to the garages of Les Turner, Tommy Rhyne, and Terry McCuin.  With only 12 points separating the top three sim racers, everyone knew the Sebring event would decide the season championship.
Sebring is the oldest permanent road racing course in the United States.  The international layout is 3.7 miles long and includes enough transitions between smooth asphalt and hard concrete to rattle the bolts off cars.  As if the changing track surfaces weren't enough of a distraction for drivers, the seventeen haphazardly placed corners of the layout make Sebring one of the most challenging tracks on the RSR schedule.
The long straight leading to Sebring's start/finish line often lulls drivers into a false sense of security as they prepare to enter the blind, fast Turn One.  If they manage to survive Turn One, drivers must then navigate four slippery corners before they exit Big Bend and try to catch their breath.  They can't relax for long on the short straight section however, because the appropriately named Hairpin Corner is lurking just as the cars get back up to speed.
Slowed to a crawl by the Hairpin, cars are pushed to their limits as drivers try to gain speed through Fangio and on towards Cunningham corner.  If they get through that section cleanly, they are immediately met by a brutal backstretch section consisting of five corners of varying speeds and radius.  Drivers must remain focused if they hope to reach Le Mans Corner in one piece.  Then it is on to the long, fast section at Ullman Straight.
What seems like a short break in the torture quickly turns into a nightmare as drivers are forced to downshift blindly for the endless cornering at Sunset Bend and then attempt to negotiate a line through the nasty bumps mid-corner while trying to get back on the throttle.  So what is their reward for successfully exiting Sunset?  Having just enough time to reach top speed on the front stretch before seeing Turn One again!
And so it is at Sebring; total concentration is required for every corner of every lap.  Passing opportunities do exist, but just getting around the circuit in one piece is usually difficult enough to keep most drivers happy. If ever a track deserved the cliché "race the track, not the competition," it is Sebring International Raceway.
Despite the track's tough reputation, RSR decided to hold its last race of the season at Sebring.  The decision meant Sebring was where three very talented drivers would be forced to battle for the season championship.  With just twelve points separating the top trio, the choice of venue seemed extremely cruel.
Turner was fastest in the pre-race practice sessions, and he kept the top spot by posting the only sub 1:59 lap in qualifying.  Turner's lap time of 1:58.905 was quick enough for the pole, but he knew the rest of the field would be chomping at his heels once the green flag dropped.
Darren Kersey (1:59.306), Tommy Rhyne (1:59.314), Reed Rundell (1:59.460), Terry McCuin (1:59.752), Robinson Shields (2:00.500), Robert Magee (2:00.735), Bill Hadden (2:00.882), Ed Sutcliff (2:00.965), Jim Albertson (2:01.153), Jeff Thomas (2:01.908), Divina Galica (2:02.210), Andrew Feldman (2:02.368), and Kevin Kyle (2:04.326) followed Turner to the green flag.
Rhyne and McCuin were close enough to Turner on the grid to keep their hopes of catching the Canadian in the points battle alive, but Kersey, Rundell, and Shields were also in the mix and would go on to prove just how competitive RSR racing has become.  If Les, Tommy, or Terry thought the rest of the league would sit back and watch them compete for the championship, they had severely underestimated their fellow drivers.
Lap One was uneventful as RSR members once again demonstrated why their league is known for its safe drivers.  Turner held onto the lead as the race settled into a rhythm and about half the field jostled for position.  Kersey offered the inside row the racing line into Turn One, giving Rhyne a perfect position from which to apply pressure on Turner.  Unfortunately for McCuin, he could not quite get alongside from his third row starting position and was unable to follow Rhyne through and had to fall in behind Kersey.
Magee was the first driver to succumb to the track's dangers as his night ended with a bone-jarring impact with the barrier in Turn One on Lap Three.  "This hasn't been a great season for us," said Magee afterwards.  "We had several top-five finishes, but just couldn't put it together long enough for a run at the points chase.  We'll come back hard next season."
Kersey, winner of two races in Season Three, was the next to fall victim when he too miscalculated the speed necessary to survive the first turn and made hard contact with the barrier in almost the exact spot that Magee's race had ended only two laps earlier.  "The bumps in Turn One are a nightmare," he said.  "I thought we had it figured out in practice, but pushed a little hard while trying to keep up with Tommy and Les.  See everyone next season."
Just as it looked like the defending two time points champion would have a real battle on his hands, Rhyne gave Turner an early Christmas gift when he spun in Turn 17 of Lap Seven.  "The Northern Tool & Equipment car was a rocket tonight," said a disappointed Rhyne after the race.  "I thought we were going to give Les a real run for his money, but I got a little too anxious and lost it in Sunset Bend.  I was pushing way too hard after that and ended up in the tire barrier.  This has been a great season for our team.  Congratulations to Reed on his win, and to Les for winning the championship."
Kyle's night also ended early when he hit the outside wall on Lap 12.  "We ended our season kinda like we started: crashed," said Kyle.  "Overall, it was a good season for us. Even though we didn't get a podium finish, we still had a blast all season long.  I would like to congratulate Les Turner on his third championship in a row, and Reed Rundell on winning the season's final event.  Congratulations to all the Red Sox Racing League drivers for making this one of the best seasons to date, cya all in 2011".
Turner continued to lead lap after lap as he calmly ignored the chaos going on behind him.  After collecting the bonus points for leading the most laps and ensuring the championship if he just finished the race, Les backed it down a notch and put it on auto-pilot.  It wasn't long afterwards that Rundell and Shields filled his mirrors.  "I knew that once we backed-off, they would be coming," said Turner. "I had already made the decision when I led Lap 13 that I wasn't going to battle drivers who had nothing to lose for the win.  When Reed finally got to us on Lap 19, I waved him by, and then let Shields go on the following lap."
"Tuna had bigger fish to fry tonight," said Reed in Victory Lane after the race.  "We love it down here in sunny Sebring, Florida!  Trust me, it is always nice to get out of the cold.  I've got a lot of laps at this track, so was confident I could do well tonight.  The hardest part was qualifying.  Les, Tommy, and Terry were all trying for the top spot so they could win the championship, plus we had guys like Darren and Robinson in a grid full of potential winners.  I told Terry before the race that I would let him go with the others on the inside row at the start because I didn't want to mess up the championship battle.  Terry must have gotten tired of me tailgating him though, because he waved me by after one lap."
Reed continued; "Darren made a dreaded mistake in Turn One several laps later.  His car twitched and then snapped right, sending him into the grass and off into the wall in the high speed left hander.  I was right behind him, but our Dupont car avoided the incident and motored on, putting me into third place.  I was in a perfect spot to watch Tommy battle Les for the championship."
Tommy's chance for the title ended when his car got loose in Turn 17.  Reed watched it unfold in front of him and described the incident this way; "Tommy did a long, lazy slide when his car got loose.  I locked up the brakes to avoid him, and was able to slip by on the inside."
Fans and drivers alike figured Turner would get away from the field at that point, but Reed had other plans.  "I started to slowly reel him in by hitting my marks lap after lap.  I knew he'd be more concerned with the overall championship than he would about protecting the race lead if I could get close, and that is exactly what happened."
Robinson Shields obviously had the same plan, as he continued to put pressure on Turner not wanting Rundell to get away from him. After Rundell and Shields were out front, Turner settled into a safe rhythm to complete the final few laps and collect the Championship trophy.
In the closing laps of the race, Rundell was aware of the fast approaching Shields, but was confident he could keep the lead and earn the victory.
"I almost handed him the race with two laps to go," explained Rundell,  "but managed to recover quickly enough to keep the lead.  Ending the season with a win at Sebring feels great.  With the uncertainty of funding and scheduling for the upcoming RSR season, it was a great feeling for the entire Dupont team.  I want to congratulate Les on another Championship and a great season along with Tommy and Terry, and everyone who participated. It was a blast racing with all of you!"
Shields finished in second place when he crossed the line just 0.327 seconds behind Rundell.
"I had an eventful race tonight!" he exclaimed.  "We had an electrical problem that kept me out of practice and half of qualifying.  I only got three laps in during the qualifying session, so we were lucky to have started in sixth place.  The car felt good throughout the race.  I was up to third place by Lap 10 and had a pretty good lead on the fourth place car.  It took forever to catch up with Reed though because I kept making little mistakes that cost me time."
"I got a black flag for cutting the course on Lap 11 that cost me three seconds.  Les let Reed around him on lap 19, and then I got past on lap 21.  Reed was driving like a man possessed, but he bobbled once and I was able to get to his rear wing for the last lap.  It wasn't enough though.  Overall it was a good weekend.  Congrats to Reed for the win, and Les for the championship.  I am looking forward to trying the F1 car next season, and enjoy racing with such a good group of people. Thank you to everyone involved, and will see you next season."
Turner finished third place by maintaining just enough speed keep a comfortable lead over McCuin.
"I knew we'd get the championship if I finished ahead of Terry and Tommy," said Turner.  "I was coasting along in the lead for a long time, but didn't want to risk an incident when Reed and Robinson caught up to me.  They were both trying hard for the win, so I just let them past and concentrated on keeping Terry behind me.  This championship race was the hardest I've ever been a part of.  The RSR league is full of fast drivers, many of whom are capable of winning races each week.  Party at my place this week… everyone is invited!"
McCuin was not thrilled about the way the season ended, but congratulated his teammates and competitors.
"Congrats to Reed for the strong win.  He was fast again tonight.  There was just no stopping him.  Also, Congrats to Les on his third Championship run.  Three in a row is impressive to say the least.  I hate to see the season end, but am going to practice during the off time so we can give Les another run for his money next season."
Albertson crossed the line in fifth place, less than a second ahead of Sutcliff's sixth place car.  The elder statesman of the RSR league won the "Hard Charger" race award.  He was pleased with his effort.  "Our crew gave me a great car for the grand finale at Sebring.  The POW/MIA Star Mazda was like a rocket again, and the result meant we were able to move past Sutcliff in the final standings."
"Ed Sutcliff, Jeff Thomas, Bill Hadden and I were locked in a tight battle in the opening laps tonight.  I took it easy for the first few laps, but Ed and I slowly started pulling away from JT and Bill as the tires heated up.  I never could seem to get to Ed because even though we were faster on the straights, he was flying through the corners.  We finally got past him when Ed had to slow down for a mistake on the curbing at Turn 15.  He stayed on my bumper after that and almost got his position back several times.  I would like to congratulate Reed on winning the race tonight and Les on winning the championship."
Sutcliff took several minutes to exit his car after the race.  "I just don't know what else we could have done this season," said the Georgia based driver.  "I drove the wheels off the FBI/Glock car at every race, but the competition just kept getting tougher and tougher every week.  These past two races were perfect examples.  Jim was right on my bumper in both races when I made tiny mistakes that let him by.  I'm not happy with the way Season 3 ended for us, but we'll come back strong in 2011.  Congratulations to Reed on the win tonight, and to Les for winning his third consecutive season championship."
Hadden recovered from his early race incident to finish in seventh place.  "Overall, the Umphrey's McGee Star Mazda team had pretty solid season.  If there were a stat to track lessons learned and improvement, I'm quite sure we'd be at the top of the list.  Improving our season standing by six positions, and lowering our avg. inc/race by more than three has given us a ton of confidence to move forward with.  Congrats to Les on a third consecutive championship.  Expect us to be nipping at your heels next season!"
Eighth place went to Divina Galica.  Having just competed in Bobby Rahal's "Legends of Motorsport" event at Sebring, iRacing's Director of Partner Relations was very comfortable on the track.  Unfortunately, she was caught up in early race incidents which slowed her progress through the field.  Galica dropped to 13th place before working her way back into the top-10.  "I want to thank Les for helping me prepare for this track.  His tips allowed me to cut time off of my laps in the real world and sim races.  Congratulations to him on his championship!"
(Read all about Divina's experiences in the "Legends of Motorsport" event at http://www.inracingnews.com/iracing-news/the-fountain-of-youth)
Ninth place went to Feldman.  "We climbed all the way up to eighth place tonight, but a last lap incident cost us that position.  Congrats to everyone for the great racing we had this season.  Reed ran another great race tonight and Les is a true champion."  Jeff Thomas was two laps down and the last car on the track when he crossed the line to finish in 10th place.  Rhyne's early exit earned him an 11th place finish, while Kyle's early exit gave him 12th place.  Kersey finished 20 laps down in 13th place.  Magee finished 22 laps down in 14th place.
From top to bottom, the point races between RSR drivers were some of the tightest in recent memory.  The final standings for the 2010 Season Three schedule saw the following drivers in the top 10 spots; Les Turner, Tommy Rhyne, Terry McCuin, Bill Hadden, Reed Rundell, Jim Albertson, Ed Sutcliff, Darren Kersey, Andrew Feldman, and Scott Husted.  Turner's final margin of victory over Rhyne was 16 points.  Rhyne finished just one point ahead of McCuin.  The battle for fourth and fifth places was just as tight as Hadden and Rundell finished in a tie.  Albertson bested Sutcliff by four points, while Kersey finished ahead of Feldman by seven points and ahead of Husted by twelve points.
Most leagues would be satisfied with that sort of competition and opt for the status quo.  RSR is not most leagues.  In a move which surprised several insiders, the RSR brain-trust recently announced a transition to the Williams-Toyota FW31 car for Season One of the 2011 calendar.  They have also decided to implement fixed setups and forced pit stops into the mix.  The league hopes the move will make the 2011 season even more exciting than the previous three seasons running the Formula Mazda car.
2010 Season 3 Final Standings: http://www.danlisa.com/scoring/season_standings.php?series_id=105
2010 Combined Final Standings: http://www.danlisa.com/scoring/season_standings.php?championship_id=34
Sebring Race Photo Still Recap: http://www.youtube.com/watch?v=IAjBSB4OadE
RSR YouTube Video Channel: http://www.youtube.com/user/draftin11?feature=mhum

---
You may also like...
---