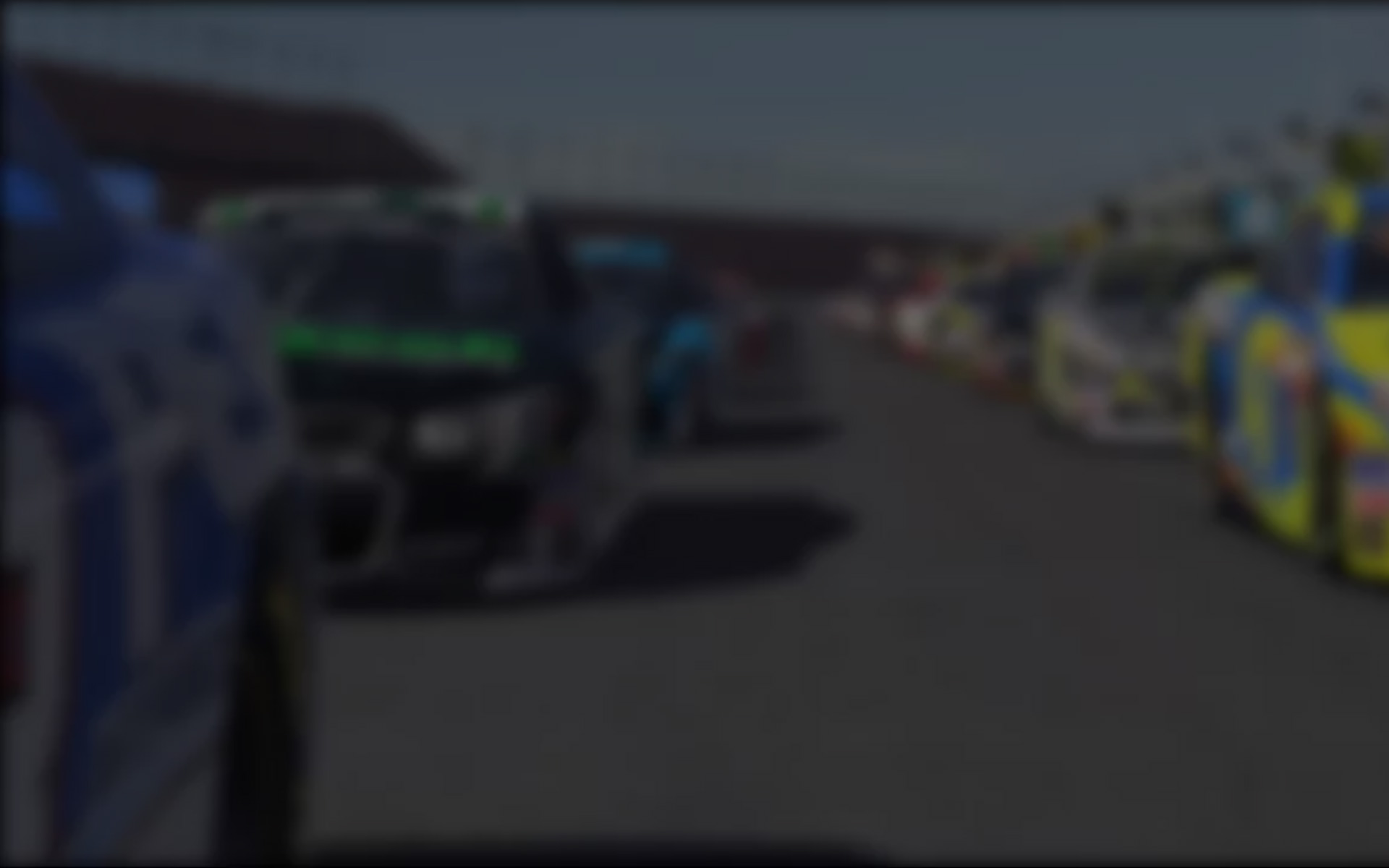 The Direct Clutch Services Race of Champions was a two night event, featuring four cars (Skip Barber F2000, Ford Mustang FR500S, Riley MkXX Daytona Prototype and the Chevy Monte Carlo Late Model) on four different tracks (Infineon, Phillip Island, Twin Ring Motegi and Homestead-Miami Speedway).
Race One was Sunday night featuring the Mustang at Homestead-Miami Road Course B.  Shane van Gisbergen took pole position over Joshua Muggleton while Justin Ruggier would start on the inside of Row Two alongside of a Terry Nightingale Jr who was destined to suffer multiple Internet problems, with Kris Tarrant starting fifth.
Van Gisbergen took the win over Ruggier with Muggleton and Tarrant having the best battle of the online race, at one stage spending at least half a lap if not more side by side, before "Muggo" took control of the spot.  Benjamin Smith rounded-out the top five just ahead of Christian Aylward, while Stephen Clarke, Chad Chastain, Christopher Osborne and Cal Whatmore completed the remaining spots in the top ten.
Race Two which started 30 minutes later would feature the Late Model in fixed setup mode on the Infineon "Cup" layout, with qualifying a four lap shootout. Van Gisbergen snatched another pole position over Madison Down (who missed the first race due to work commitments) with Peter Read third ahead of Ruggier and Muggleton.
The race saw Trans Tasman Racing's Down and Muggleton pit first while ANZ drivers van Gisbergen and Ruggier stayed out, a tactic which gave Down the lead when both ANZ drivers came in to pit.   But a slow Down enabled van Gisbergen to close right up behind Muggleton.  With a handful of laps remaining, Muggleton and van Gisbergen had an accident which sent both drivers to the pits and out of the race, putting a huge dent into their chances to win the series.
Down pulled away from Whatmore in the final few laps, taking the even as Whatmore was running out of fuel on the last lap!  Ruggier was the first to capitalize, going past to take second place with Mitchell McLeod third from John Emerson and Aylward.  A disappointed Whatmore finally took sixth, courtesy of a push from Paul Keeghan.
Coming into the second and final night then, Ruggier had a good lead over Aylward as their main rivals Day One problems put them back in the field.
Monday night's Race Three featured the Riley Daytona Prototype at Twin Ring Motegi.  For the third time in as many tries, van Gisbergen took the pole position, with Down and Muggleton starting second and third respectively. Ruggier would start fourth ahead of Aylward, while Scott McLaughlin got his first appearance in the series off to an encouraging start by qualifying sixth.
A miscommunication at the start saw Ruggier get a black flag "drive through" penalty while van Gisbergen blew the motor into the Hairpin on Lap Five, forcing him to take a quick tow and (once again) ending his race prematurely.  When the engine let go, Muggleton had nowhere to go but into the side of the ANZ Riley.  Luckily, the collision didn't do any terminal damage, so Muggleton was able to push on . . . and that he did, taking the flag ahead of his partner on a TT-R team sporting new sponsorship by Hyper Stimulator. Ruggier would finish in fifth place with Aylward closing the margin between himself and Ruggier. Richard Hamstead finished third after a hard day at the office on Sunday in Races One and Two.
The fourth and final race would feature a process of elimination in the Skip Barber at Phillip Island.  In other words, it effectively boiled-down to a one lap shootout in qualifying to see who would take pole position. No surprise making it four from four, van Gisbergen lined-up on pole position ahead Down while Hamstead would continu his good form in Race Three and start from third place. McLeod started from the second row of the grid in fourth with Muggleton starting along Ruggier in fifth and sixth place on the third row, while a 1x in qualifying saw McLaughlin start from 29th on the grid for the final race.
Into Honda hairpin for the first time Muggleton touched the side of McLeod, breaking his car and sending him into Ruggier and breaking his car as well.  As no one was allowed to pit before the second lap, Ruggier had to drive around with a broken car for two laps unless he wanted to face a massive penalty which could cost him the title. Muggleton and Ruggier did pit as soon as they could to fix their cars, putting Aylward in prime position for the title.  However, a title-winning recovery from back in the pack up to fifth saw Justin Ruggier hold off Aylward who would finish in sixth just behind Joshua Muggleton in fifth place.
Although van Gisbergen led, with a few laps to go his error allowed Down to pass.  But into MG corner van Gisbergen sent it down the inside and make the pass stick, re-gaining a lead he was not about to surrender a second time.  He went on to take the win over Hamstead while Down would come home in third place after a computer forced him off the road even as McLaughlin stormed from 29th on the grid to finish fourth place after an amazing performance!
Ruggier would finish on 162 points with Aylward second on 155 points and Joshua Muggleton completing the podium with 153 points. Van Gisbergen would finish in fourth on 148, just six better than Down despite the latter missing 25% of the series.
You can watch all the race replays on www.v8sonline.com.au.
Big thanks to Madison Down and Clayton Brooks for the images!
---
You may also like...
---